The fashion and apparel industry is in continuous evolution and the brands that don't adapt and innovate could be in danger of slipping behind others that do. Modern-day marketers have also realized that they need to evolve and provide customers exactly what they desire.
1:1 personalized experiences are what all your customers need and seek. Thus, the onus on marketers like you to ensure that customers are served relevant, personalized experiences that keep them engaged with your brand.
How important is Personalization for Fashion & Apparel eCommerce Brands?
E-commerce brands rely on customers returning back to purchase more and more products. To ensure this can happen, customers will need to resonate with a particular brand to become a repeat customer.
In an era where there are multiple channels through which a customer can associate with your brand, you need to grab their attention and offer them individualized shopping experiences with the most relevant product recommendations at the right time.
Right from when a new customer enters your website for the first time, you need to focus on gathering and processing all possible customer-level data-points. You can leverage the data to provide your customers with the best possible experience.
How Can You Deliver Personalization?
Customers want to see the products that they are looking for at the earliest and with minimal effort. The solution to this is omnichannel personalization.
In the first part of this two-part blog series, we highlighted how marketers could build a data-driven foundation for personalization. We also outlined how Netcore Smartech can help marketers personalize their customers' journey by offering 1:1 discounts, showing relevant product recommendations across the website, and most importantly, delivering a memorable shopping experience.
This post digs deeper to showcase more compelling use cases on how fashion and apparel eCommerce brands can maximize conversions through personalized product recommendations.
1. Cross-sell complementary products through dynamic product bundles
Cross-selling is a commonly used marketing technique that encourages customers to buy more and increase their average order value per active session.
Our AI engine, Raman, analyzes historical, and live customer behavior to come up with relevant complementary product recommendations that can go along with the product that is most likely to be purchased.
Cross-selling offers you great potential in the fashion and apparel industry as the products are all interconnected, and complementary product recommendations can be given easily to encourage customers to buy more. Even a customer initially not looking to buy those complementary products can be tempted to buy them based on accurate product recommendations.
For instance: Here's an example of a customer who visited the page intending to buy a formal shirt. Once he selected the shirt that he liked, he was given product recommendations that included trousers, blazers, and accessories to complete the look.
Now, his intention was only to buy a shirt, but he may consider buying the trousers that complement the shirt. Such product bundles can trigger enhanced purchasing intent by tapping into individual customers' tastes and preferences.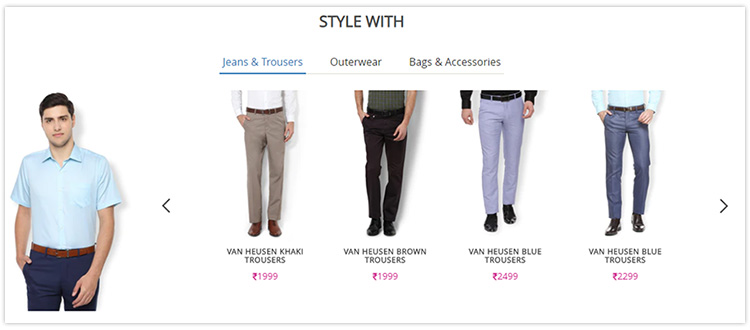 2. Upsell superior products to increase average order values per customer
Upselling is another commonly used marketing technique to increase conversions.
It needs to be done subtly to ensure that you highlight the value that the superior product can provide and the product that a customer is about to purchase or most likely to purchase.
For instance: Here's an example of a brand showcasing similar shirts that are marginally more expensive. The right product recommendations displayed at the right time can open up upsell opportunities every time a customer transacts on your e-commerce platform. And, the power of AI on Netcore Smartech turns that dream into reality.
3. Implement personalized recommendation widgets on different web pages
You need to design and deploy personalized widgets based on your customers' interests, preferences, and behavior across different pages of your e-commerce website.
At Netcore Smartech, we empower you to deploy these personalized widgets on high conversion web pages such as the Home Page, Product Listing Page, and Product Display Page.
These widgets group together a similar category of products as the more relevant recommendations under. These widgets promise higher CTRs and conversions as these are tailor-made to individual customers.
Some of the common widgets include:
Recommended for You
Similar Products
Recently Viewed
You May Also Like
New Arrivals
Best Sellers
Trending Products
Customers Also Bought
When used effectively, these widgets can lead to an increase of 90-120% in the CTR of the web pages.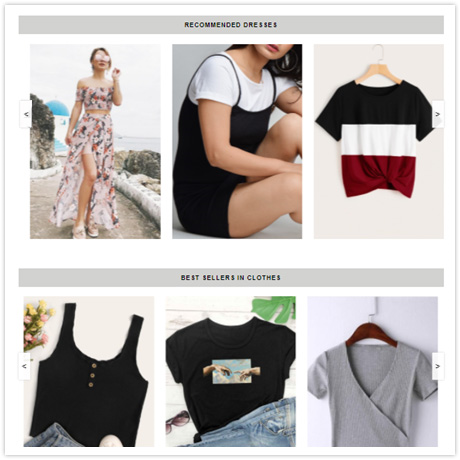 4. Showcase products most recently viewed by the customer
There could be occasions when a customer browses products without actually buying it. They also sometimes end up forgetting what they had viewed in their previous session.
In such a situation, you can display those products that the customer has viewed recently the next time the customer arrives at re-trigger purchase interest.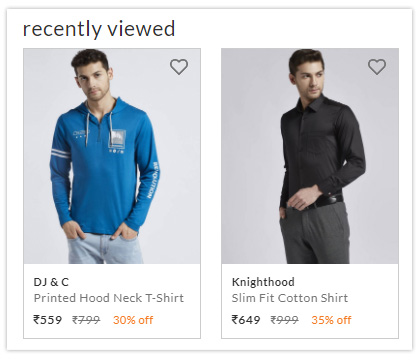 5. Create an exclusive personalized virtual storefront for every customer
Brands can rise the personalization mountain by creating a specifically curated boutique page for each customer. Netcore Smartech's AI engine, Raman, can create such a virtual storefront based on past and real-time customer behavior – containing only those product recommendations with the highest probability of being viewed, clicked on or purchased.
Given the degree of hyper-personalization on this page, the product recommendations need to be refreshed dynamically, based on customer eyeball data.
Your customers need to feel that this was a page curated specially for them. They should also interact on this page by clicking on the 'like' or 'dislike' button to share real-time feedback about their choices and preferences.
And these are all actions and factors that we account for while enabling leading e-commerce brands to curate, such as personalized storefronts.
Building a personalized boutique page can actually enable brands to increase CTR by almost 120-150%.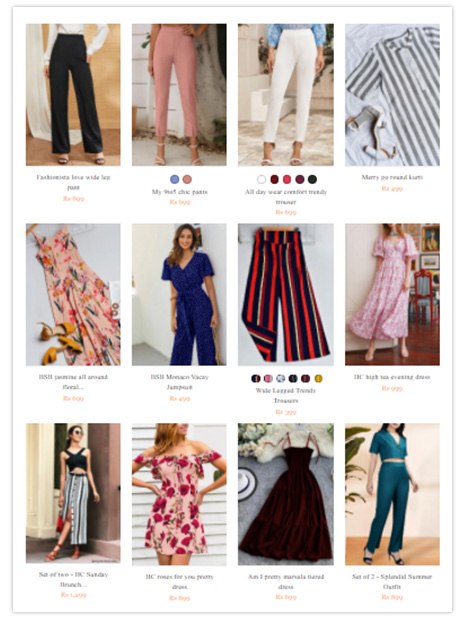 6. Trigger exit intent web pop-ups
You can also trigger web pop-up messages when a customer lands on a certain pre-defined web page or is about to exit the web page. These messages are targeted at customers who may still be hesitant to buy.
These work best when personalized product recommendations are showcased and some incentive – in the form of a discount or promo code – is offered to entice customers into completing the purchase.
These pop-ups, when implemented effectively can even lead to a 10% increase in the conversion rate.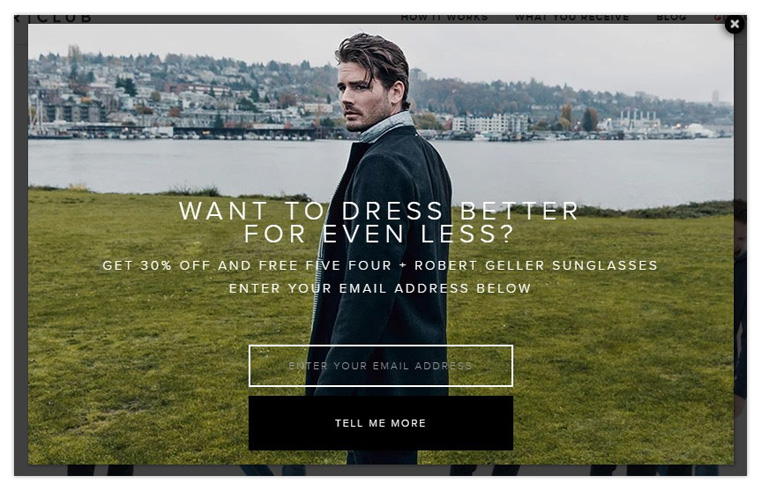 7. Trigger relevant multi-channel messages on cart abandonment
There is always a chance that the customer is browsing products, has added a few to the cart for checkout, but has then dropped-off without completing the purchase. In such a case, a web push notification can be triggered to remind the customer that there are products that have been added to the cart.
If the customer has not reacted to the web push notification for a specific time, a personalized email can also be triggered, notifying him of the abandoned cart. Additionally, cross-selling can also be done, or discounts can be provided as a part of the email campaign.
Such an approach leverages the power of data-driven marketing automation to drive personalized shopping experiences further.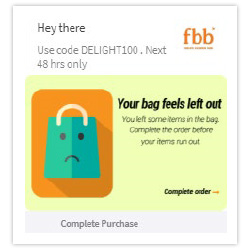 8. Reactivate dormant customers to encourage re-purchase
As a data-driven e-commerce marketer at a fashion and retail brand, you need to focus on customer retention every single day. You need to ensure that your Customer Lifetime Value (CLTV) exceeds your Customer Acquisition Costs (CAC).
There will always remain a situation where some customer segments remain dormant and don't make a purchase on your platform for some time. These customers are usually re-targeted with a 'We Miss You' email, app push notification, or web push notification campaign.
This is a strategy to spike up the interest of customers who are dormant or likely to have churned. By providing personalized product recommendations, you can attempt to regenerate interest in a dormant customer.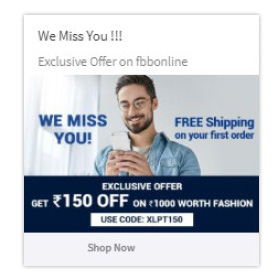 9. Offer 1:1 product recommendations that take your inventory into account
There are cases where certain products remain in the inventory for too long. For numerous brands, inventory is the heaviest expense item that leads to the most financial woes.
You will be aware of the products that have remained in stock for the maximum duration. You will also know the kinds of products that your customers are looking for. You can combine the data you have at your disposal and push those products that have remained in stock for a long time.
You will have greater control over how you want to ensure that they can catch the customers' attention. You can offer customers exactly what they desire from a wider assortment of products- at more affordable prices. This can be achieved by offering these products at discounted prices or sold on sale to manage inventory costs more efficiently.
The COVID-19 pandemic impacted the sales as customers were slow to purchase fashion and apparel products due to the cash crunch and the enforced lockdowns. This resulted in products lying in the inventory for an extended period of time.
In such a scenario, with the understanding of your brand's situation and the customer's interests, you will offer your customers relevant products that stand a better chance of leaving the inventory.
Key Metrics that Omnichannel Personalization Can Impact
There are a number of key metrics that you need to track to identify the effectiveness of your omnichannel personalization strategy. Here are the key metrics that would get impacted:
Improve individual customer-level behavioral predictions by 20%
Elevate website click-through rates (CTR) by 30-60%
Increase add-to-cart rates (ATC) by 6-9%
Increase e-commerce website conversions by 8-13%
Uplift marketing ROI by 10-12X
The Exciting Future for Fashion & Apparel E-Commerce Personalization
The most exciting thing about omnichannel personalization for you, as marketers and customers alike, is that it is constantly evolving with technologies like Data Analytics, Artificial Intelligence, and Machine Learning. We may not have seen the best of it yet.
Personalization is all set to become an integral component in marketing. It is said to grow manifold over the coming years giving your customers exactly what they desire the most.
Now that you understand the power of personalization and 1:1 product recommendations – why not see the magic yourself? To understand how we can help your brand develop and deploy a game-changing personalization strategy powered by AI, get in touch with us today!