The dependency on online groceries has been amplified even more since the pandemic as customers have preferred to stay at home and order instead of risking their safety to step out and purchase at nearby grocery stores. Online grocery is expected to swell to 21.5% of total US grocery sales by 2025, more than doubling its share of the overall grocery market at the start of 2020.
The online grocery market is competitive and retailers need to stand out by delivering great shopping experiences to customers. They need to scale up to stay ahead of their competitors constantly. Some of the challenges that online grocery sites face are:
High acquisition costs. High customer acquisition cost and a low customer lifetime value (CLV) are the toughest challenges today. Most online grocery businesses invest heavily in customer acquisition – sales and marketing costs over a period of time, including marketing tool subscriptions, ad spending, staff and agency costs, inventory, and shipping costs. Capping the acquisition cost and increasing CLV should be at the centre of every online business's growth strategy. A high CLV equates to high ROI and customer loyalty. In other words, more customers will stay with you for a longer time.
Finding the right channel. A lot has changed in the way customers consume content now. They search products on Amazon, read reviews on Social Media, and are comfortable with online payments. Therefore, grocery retailers need to figure out where their audience is and how to attract them without spending a fortune on online advertisements.
The need to rethink selling tactics. Today, customers are gravitating to brands that listen to them, understand and take their special needs and desires into account. This is where personalization enters. Brands are able to contextualize their messages, promotions, and experiences according to the unique profile of each visitor. Personalization is a powerful technique to grow, engage and retain your customers. More than 3 in 4 shoppers want a more personalized customer experience.
Brands can gain a competitive advantage by leveraging a powerful and intelligent customer engagement platform to create delightful and personalized omnichannel customer experiences, thereby boosting engagement and retention.
Customer engagement starts with creating a seamless shopping experience for your customers. It is an experience that spoils your customers—for good! They no longer need to go through pages and pages of products to find the ones they love. When customers get used to your brand experience with relevant recommendations sent at the right time, they will get accustomed to good grocery shopping experiences. They become your customers-for-life. Start by creating an intuitive website experience where shoppers can easily navigate. Shopping for groceries, even at retail stores, isn't always fun, but by creating smooth customer journey flows, you can offer pleasant experiences for them on your grocery website and app.
An omnichannel customer experience starts with understanding how and where your customers interact with the brand. The next step is to ensure a consistent experience across all channels. All of these begin with visualizing the customer journey. By completing this exercise, you will discover bottlenecks and challenges your customer might face. Analyze the customer's behavior to build personas and then target them better.
The customer experience in grocery is exceptionally critical. While online grocery shopping is convenient and saves time, customers would also want eCommerce brands to understand better their behavior, interests, likes, and affinities and deliver personalized shopping experiences accordingly. 7 in 10 retailers who invested in personalizing CX have seen an ROI of at least 4X. That's not all. Customers who have a uniquely valuable experience with your grocery brand are more likely to purchase and make larger orders.
Brands have also seen a significant uplift in other key eCommerce metrics like conversion rate, average order value, and average revenue per user.
Here are 18 concrete examples of customer engagement strategies adopted by leading online grocery brands that you could adopt to scale your growth. You can also gather deep insights into the impact these personalized touchpoints could have on your eCommerce site and mobile app.
1. Show first-time visitors your appreciation by giving them a great deal
Offering new visitors exciting deals and coupons as soon as they visit your website is a great approach to grab their attention instantly and encourage them to make purchases. Consider a new customer who is accessing your site for the first time. You are working with hardly any behavioral data for this segment of customers. Leverage data points such as geolocation, browser type and version, access device, etc., to deliver a personalized experience for such customers.
You can offer discounts on certain products to these first-time visitors or freemium users and encourage them to sign up by providing their personal information like email ID, phone number, gender, and date of birth. These data points can then become the core of your subsequent marketing activities.

Giving new visitors a discount coupon right away, just like Kroger does, will encourage them to take a closer look at your products because they know that there's a discount waiting for them at checkout.
2. Highlight the hottest deals on your homepage
Face value is the most critical aspect of any business. The homepage of a brand website or mobile application determines the brand's face value.
The best way to capture visitors' attention in a few seconds is to use the home page wisely.
Personalized homepage promotions influence 85% of customers to buy because they consume most of the content shown there.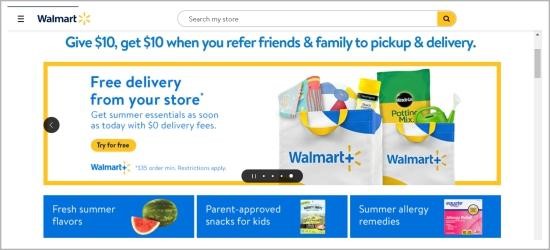 Display enticing discounts and offers to encourage customers to click more. Ensure that they are right in the eye line of the customers when they land on your home page as Walmart here has done.
3. Leverage the power of smart segmentation
Customer segmentation is not a new process for marketers. The general rationale behind market segmentation is to increase engagement, repeat sales, CLTV, and so on. As a smart marketer, you need to concentrate on the needs and behavior of your customers – which are rapidly evolving, rather than personality traits, which frequently persist through a person's life. Don't forget that segments are also being rapidly reshaped by technology, fluctuating economics, and new consumer niches. A study by the Aberdeen Group shows that organizations utilizing predictive analytics achieve a 2X uplift in their marketing campaigns when compared to organizations that don't. As marketers, there are several KPIs that are to be met. Be it acquisition, retention, etc, and of course optimizing your ROI. Predictive analytics plays a key role here.
Use predictive segments to:
Anticipate your customers' behavior
Adopt a proactive marketing strategy instead of being reactive
Utilize your customer data to the maximum potential
Improve your multi-channel campaign performance
Improve your marketing ROI
Scale your other relevant marketing KPIs
4. Keep your shoppers engaged with exceptional new products
New ones continuously replace old items. Customers are always on the lookout for the latest and latest developments in the market. Thus, new products have a better possibility of selling faster.
You can showcase your latest products by deploying a 'New Arrivals' widget to capture your customers' attention. Consumers can quickly locate new products that they haven't come across yet. These products are bound to be popular amongst your customers as well.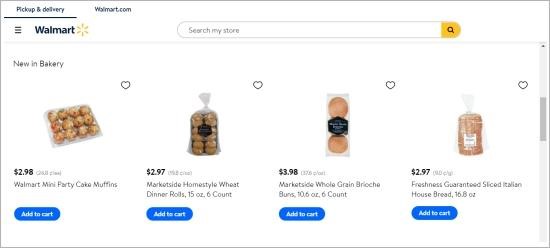 Walmart ensures that its new products grab more eyeballs.
5. Use A/B testing in tandem with personalization
Traditional A/B tests provide you with a one-size-fits-all result. Personalization can take your A/B testing strategy to the next level. Instead of running experiments across all of your traffic, coupling your A/B strategy with personalization can provide the most relevant experience to visitors.
Take a look at this banner from Sam's Club.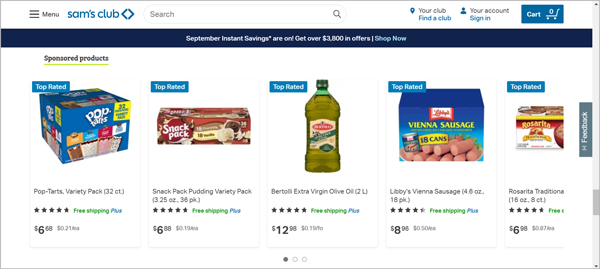 Below is another version of the same banner.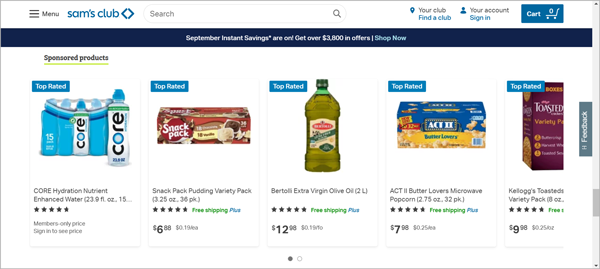 Let's say you perform a split test on both of these banners. The results of the A/B test are: banner A gets a higher clickthrough rate than banner B. On average, banner A performs better, so you use it going forward.
But here's where we run into a problem.
Just because banner A wins in an A/B test, doesn't mean that it's the global winner. There are many other behaviors at play. For instance, young adults could prefer landing page B while an older customer prefers banner A.
That's why it's better to split your audience into segments in order to carry out more personalized A/B tests.
6. Use Push Notifications to re-engage visitors that have abandoned your website
Web Push Notifications are a great bet for remarketing. Because they are browser based banners, they don't suffer from such problems as spam filters or inbox inertia.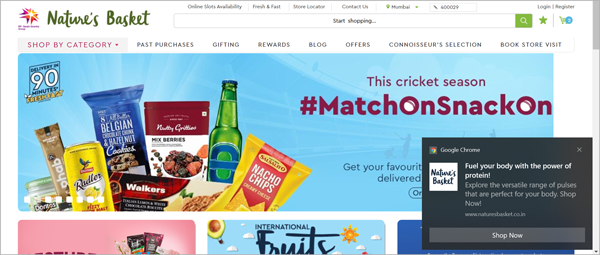 A good abandoned cart remarketing Push Notification can transform cart abandonment from lost sales to potential profit. Like cart abandonment emails, they are sent to subscribers who have left purchases at your checkout. As the notification message is the central element, it's important to keep it short & keep it simple. Below are some tips:
Stick to the character limit. The character limit varies for different browsers ranging from 40 to 120 characters. Decide on the most important value proposition and create a concise copy with a CTA that takes the user to the next step in the customer journey. Add rich media to make your notifications stand out.
Send a series of push notifications. The first notification can be a reminder of the product abandoned. The next notification can create a sense of urgency by promoting a limited time discount offer.
7. Let your customers discover products on the go using visual search
Visual search is another powerful tool that creates a smooth shopping experience as it instantly shows results without the customer having to type search terms. Only 8% of retailers have image search on their eCommerce websites, yet the global visual search market is expected to pass $14M by 2023.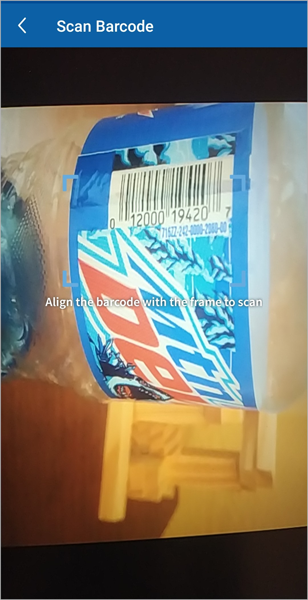 Visual search allows customers to discover products by uploading a photo rather than describing it by typing, as in a standard text-based search. Users could snap a picture of an item their friend is wearing or a product in a store, then use visual search to find items as similar as possible.
8. Integrate your messaging campaigns with an App Inbox
App Inbox is essentially a screen within an app which will list all your notifications. In a way, it is kind of like an email inbox but available within the app itself. App Inbox is an often overlooked channel that can play a crucial role in in-app engagement.
It is excellent for messages that need to stick around for a while. The message will go away for channels like push notifications and in-app messages once you click on them. But app inbox offers you a way to keep your notifications persistent that users can refer back to at any point.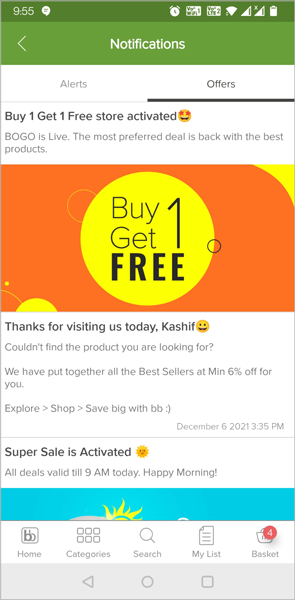 Push notifications are a great channel to engage your users. The user can immediately click on the notification and engage with your app. But what about notifications that are not time-limited? For example, a coupon that is valid for a month? The user may not even remember the offer. Therefore it is a good idea to follow BigBasket's example and have an app inbox that can store such coupons, and the user can refer to them.
9. Uplift mobile engagement with contextual short messages
SMS is a high-impact channel to engage your customers with time-sensitive messages on their smartphones. Emails require the customer to be connected to an internet connection, while the SMS channel does not require so. Most users instantly check their SMS, so it is an excellent way to immediately grab the customer's attention.
To learn more about SMS marketing, check this blog on How to make money.
With 1:1 communications, you must add value every time you send a message. Keep the messages concise and keep just one CTA. Use text messages to inform your customers about a sale, send coupons directly to their inboxes, tell them when their order is out for delivery, etc. You can also add scannable barcodes for quick checkout in SMS. Inform customers about your store locations and timings to drive traffic to your brick-and-mortar store. You can also transition your loyalty program to mobile to have no hassle of lost cards. Use SMS to inform them of their savings and the points accumulated to encourage purchase.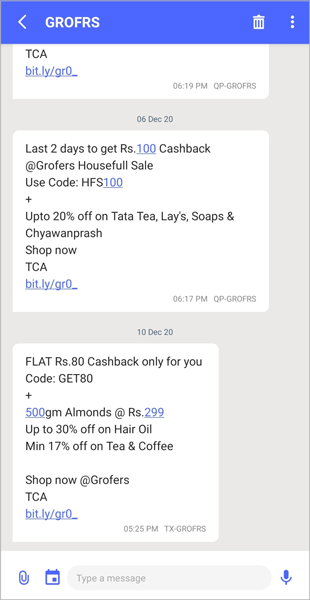 Personalizing always helps. Segment your customers based on your preferences—this will help you personalize messages for them. Some of your customers would be interested in ready-to-eat food, others could be interested in organic staples, and others could be looking for gourmet. "Just for you" deals can be sent through SMS.
10. Increase engagement across all channels by creating personalized marketing campaigns
A customer journey is all about understanding your users, how they behave while they visit your website, and what you can do to improve their trip so they keep coming back.
Visitors can take any step after landing on your website. They can visit a particular page, make a purchase, or add items to the cart and drop them off without making a purchase. You can ensure more conversion if you have a journey orchestrated for all of these. Map out and orchestrate even the most complex customer journeys—quickly to maximize ROI. Design, execute, and master customer interactions at scale to retain end-to-end campaign control. Deliver contextual messages via email, app push notifications, or web messages based on the customer's behavior.
Brands that map out the customer journey can reach out to their customers at touchpoints already chalked out. Consider the following email from BigBasket. It shows how BigBasket will send all the customers who have purchased and received their orders a personalized confirmation.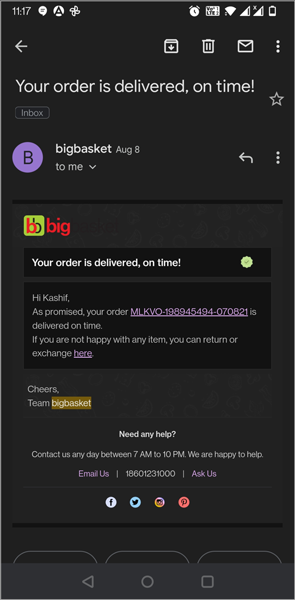 You could send special coupons to influence users who have bounced off after adding to the cart. Recommend the right products, content, or discounts to increase engagement, loyalty, or arrest churn.
11. Make relevant recommendations based on customers' interests and preferences
Show your customers products that are likely to be relevant to them. Understanding your customers' likes, interests, affinities, buying history, and purchase habits will help you recommend the right products that they are likely to buy. Customers are more likely to click and check out products personally recommended for them.
Offering personalized product recommendations based on customer behavior to capture your visitors' attention can help you generate up to a 120% increase in CTRs.

Encourage your customers to buy more with intelligent recommendations, like BJ's Wholesale Club.
12. Increase your sales by cross-selling complementary products
Cross-selling is a clever way to increase sales by suggesting a supplementary product, and as a result, raising the average order value per active session. According to a study, 3 out of 5 (60%) retailers perceive an increase in average order value of 10% or more after personalization.
An intelligent AI engine may assess the browsing and purchase history and recent consumer behavior to generate appropriate complementary product recommendations that users can use with the most likely to be purchased product.
Bump up your conversions by cross-selling products like Sam's Club.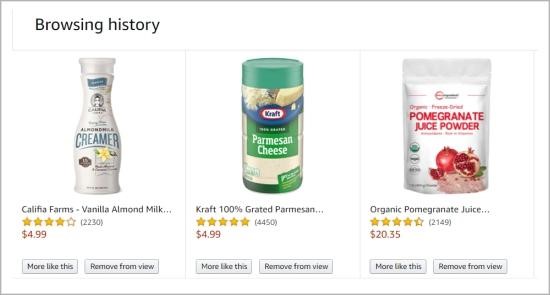 For example: If a customer is about to buy a packet of bread, you can offer them a complimentary item. You could offer them cheese, sauces, or some veggies. It allows them to get more out of their purchase while simultaneously resulting in a higher profit margin.
13. Optimize your revenue by upselling
Upselling is another clever sales and marketing technique that involves persuading a customer to buy a more expensive item. The goal is to increase the size of the deal you have previously made. Or, in more formal terms, to improve the average order value (AOV) of your customers.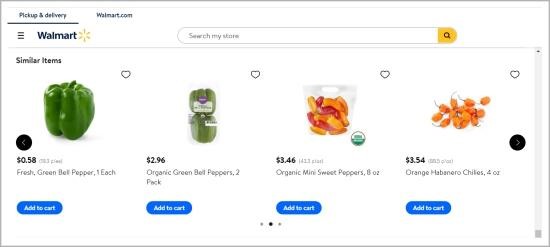 Subtly upsell products the way Walmart does. Here Walmart is recommending identical but slightly more expensive items. Every time a consumer transacts on your platform, there is an opportunity to upsell high-end products by delivering accurate product recommendations.
14. Personalize subject lines and deliver emails when customers are most likely to open their mailbox
Send time optimization (STO) is an AI-powered capability for your email marketing campaigns. It analyzes the historical engagement and interaction of your customers with emails and determines the accurate time to send the message when they are most likely to open their mailbox.
And it can be scaled to accurately deliver emails for millions of customers at the right time.
Sounds exciting?
Do you know that on average it takes 2-3 days for an agency to come up with subject lines that boost your open rates? Now you can use an AI-powered tool with the subject line generation capability to analyze and optimize subject lines in seconds. Just enter the keywords or your planned subject line and the model SLO helps the marketer finalize the best possible subject line for a campaign, by suggestively guiding him/her to select the best possible subject line.
15. Prevent your customers from dropping off the website through Exit Intent pop-ups
If a customer has been inactive on your website for a while or is on the verge of exiting your website, an exit-intent pop-up can encourage them to keep shopping. It is a targeted attempt to keep a potential consumer on the page.
Pop-ups can increase your conversion rate by an incredible 10% when used effectively. Keep customers on your platform by displaying a personalized collection of products they can't skip.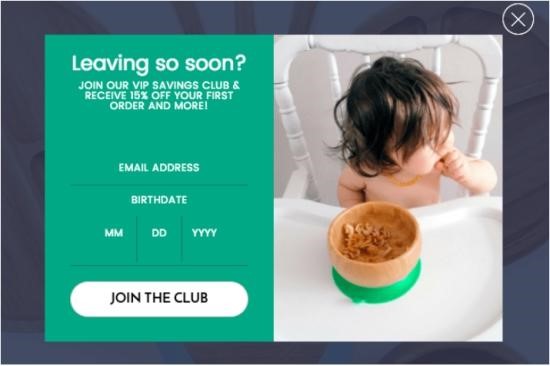 Exit-intent pop-ups reduce bounce rates or increase click-through rates, but clever pop-ups can even boost conversion rates.
Don't let your users go without transacting.
16. Personalize your recommendations based on occasions or festivals
Creating seasonal marketing initiatives demonstrates that you serve your customers with loads of care. Holidays are a time when people's emotions run high, and this is the time when customers make more purchases than usual. Grab this opportunity by showing them products related to the season or occasion, or festival that is coming up and appeals to your customers' emotions.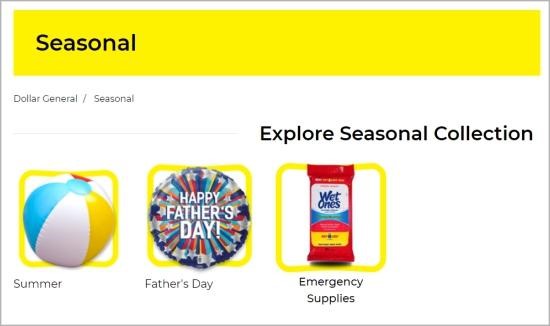 Dollar General extensively uses of the seasons, festivals, and occasions lined up. Adding some tailored offers and discounts can boost your sales during the holiday season.
17. Reduce cart abandonment by sending reminder notifications
Customers adding products to their cart for checkout and then leaving without completing the transaction are common in grocery eCommerce. Adding products to the cart but not checking out can trigger web push notifications to remind the customers.
If the customer has not reacted to the web push notification, send a personalized reminder email to them to remind them that there are products in the shopping cart. You can also offer deals or discounts to lure them back to the website or app.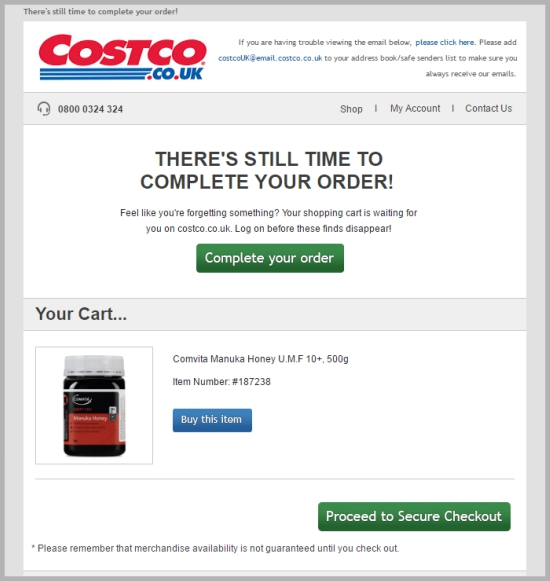 Bring your customers back onto your platform like Costco does by sending reminder emails.
18. Reactivate customers by sending personalized communications
The most crucial investment any company can make is in customer retention. Acquiring new customers is five times more expensive than retaining existing customers. You will want to hang on to a new customer once you have gone through the trouble (and expense) of acquiring them.
It would help ensure that your customer lifetime value (CLTV) is more significant than your customer acquisition costs (CAC).
Customers can drift away and cease responding to your prompts. When this happens, it is critical to be aggressive in your efforts to reclaim them. Sending personalized communications to them through multiple channels is an effective way.
If your customer hasn't uninstalled the app but hasn't visited your website or app for a substantial period, you could trigger personalized app push notifications to regenerate interest. Otherwise, sending personalized emails is an excellent way to pull your dormant customers back onto your website or app.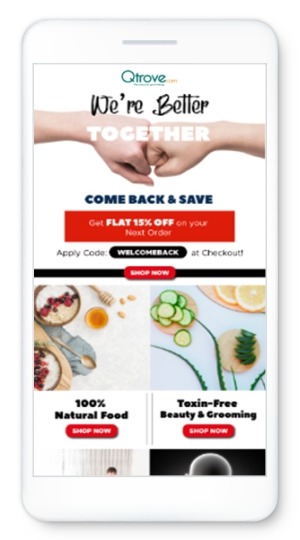 Make your business more profitable by leveraging customer engagement
Grocery shoppers have made it abundantly clear: they want personalized eCommerce platforms that customize their experience to make it easier, faster, and more accurate. According to a study, retailers witnessed a 45% rise in conversion rate after investing in personalization. Personalized recommendations are essential to your online store. They are so crucial that if online eCommerce business owners don't implement them, they risk losing potential customers because their competitors already are.
Customers want to feel special, and personalized recommendations help them do this. The important thing is that you customize the recommendations based on the customer, not the product.
It would help if you took the guesswork out of engaging with customers using AI-backed data analysis. Customer engagement is essential to your online store. It is crucial that if online eCommerce business owners don't implement them, they risk losing potential customers because their competitors already are.
Customers want to feel special, and a Customer Engagement tool analyzes customer behavior at every stage of their conversion journey. Using this information, you can tweak your strategy based on real-time dashboard insights on your revenue, DAU, app stickiness, user flows, and any other north star metric.
If you are not using a full-stack Customer Engagement platform yet, we hope you see how you can improve your marketing efforts by increasing customer engagement.
So what are you waiting for? Create delightful experiences across all touchpoints and win customers for life. Get in touch today by visiting us at Netcore Cloud.