Introduction
When a marketing leader today reads any serendipitous article from a news media outlet about the changes in the retail industry over the last three years or even the previous decade, the content will seem fairly predictable.
"The traditional retail store has undergone a complete and total transformation. In-store experiences are unrecognizable from what they were like three years ago; we are witnessing nothing short of an in-store-commercial revolution".
– Nicholas Einstein, VP of Product Marketing and Global Head, Analyst Relations, Netcore.
Marketers are now left without a choice. They must adapt to a combination of in-store and online experiences to maintain a competitive advantage. With online shopping and social media becoming increasingly popular harmoniously, consumers expect a seamless and personalized shopping experience across mobile devices and all social and retail marketing media channels. And the best ecommerce digital marketing platforms we know today have capitalized on this evident growth; they have allowed retailers to meet those expectations by offering features like personalized recommendations, easy checkout processes, and fast shipping via their platforms.
But it's not just about making shopping easier for consumers. Advancements in "smart" technologies have also made it easier and more cost-effective for retailers to sell products online. Artificial Intelligence/Machine Language (AI/ML) has made it easy for brands to predict performance, manage complicated warehousing, and more.
Many traditional brands, which have benefited from advertising across organic and offline sales channels, have had to pivot. They have invested in these advanced ecommerce capabilities to drive sales and ensure they can continue to reach their shoppers amid the pandemic and even today.
E-commerce personalization has been the flagbearer in this revolution as it guarantees better customer lifetime value and experiences. Brands can tailor the shopping experience for individuals by leveraging customer data to deliver relevant content, product recommendations, online sales, and personalized offers to encourage and retain customers.
Here are some stats and reports that illustrate how ecommerce personalization can boost conversions, sales, and ROI:
Customers have grown to expect and desire personalized experiences: a survey of 1,000 US adults by Epsilon and GBH Insights found that most respondents (80 percent) want retailer personalization.
Another report, curated by Accenture, stated that 91% of consumers prefer to shop with brands and retail stores that provide relevant offers and recommendations.
This blog discusses the complexities behind creating a personalized website experience, implementing a search personalization strategy, and the technology behind it – the planning, testing, development, and research – there's also a bonus chapter revealing what a highly personalized web and search experience would look like in the future.
So there you have it – the rise of ecommerce has wholly transformed the retail industry. And if you're a marketer, you must stay on top of these changes to remain competitive. Let's dive in!
Search Result Personalization
Search Result Personalization is an integral part of a brand's retail marketing strategy. It refers to customizing search results for individual shoppers to improve product discovery and increase engagement and conversions. The role of Artificial Intelligence (AI) in providing these experiences is enormous, as advanced technologies learn from real-time shopper signals to customize the shopper's browsing based on their preferences, behavior, and demographic information.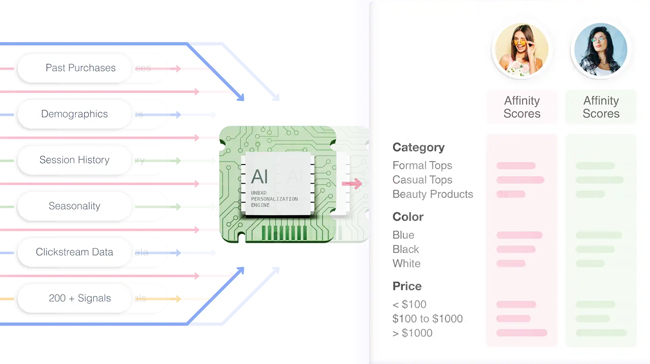 Netcore UNBXD's AI-powered Search Result Personalization
Achieving Search Result Personalization mastery is a three-pronged process. Using this process, ecommerce brands and retail marketers can provide:
a. 1:1 experiences: Creating unique experiences for individual shoppers based on browsing behavior, purchasing history, and affinities. This retail marketing strategy aims to curate search results that shoppers will dynamically buy.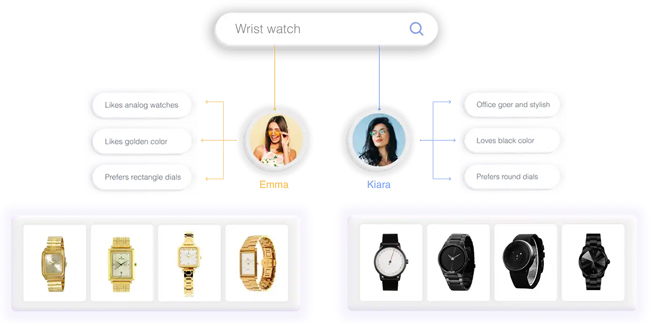 How Netcore UNBXD can dynamically curate 1:1 search results
Did you know?
E-commerce sites that use personalized search results see an average increase in conversion rates of 14.8%. (Source: Baymard Institute)
Personalized search results can increase the average order value by up to 50%. (Source: SmarterHQ)
b. Personalization based on demographics and affinities: Not all shoppers who visit online stores come with behavioral data. New customers could also visit. In such situations, retail marketing brands must leverage demographic, device-specific, location, and affinity data to personalize results based on how similar shoppers browse and purchase.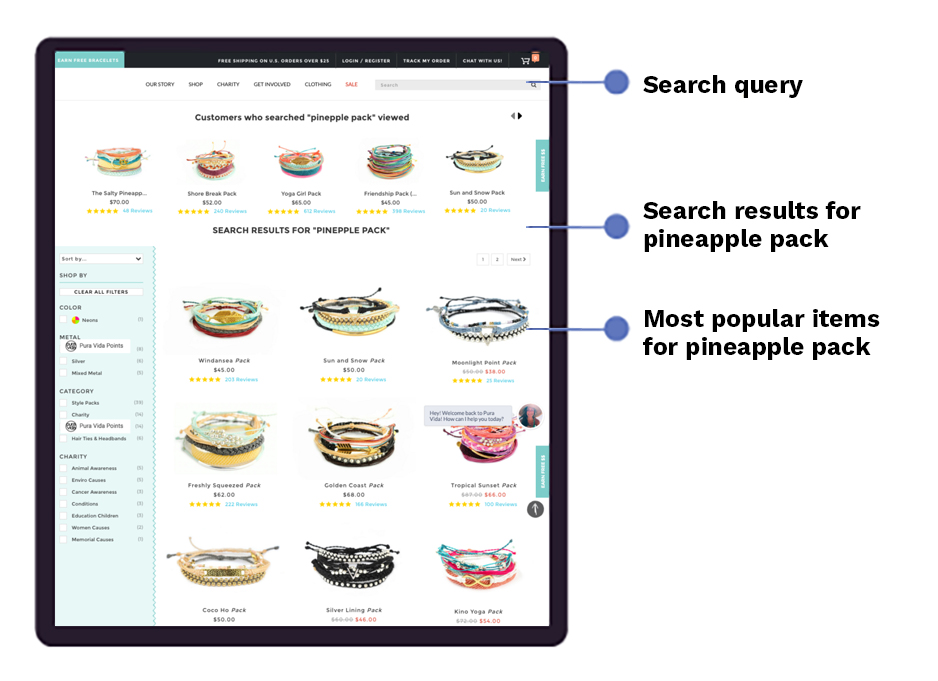 Display of Web Personalization via demographic, device-specific, location, and affinity data
c. In-session search personalization: This involves personalizing search results based on a customer's search history during their current session in real-time. For example, if a customer has been searching for red shoes, the marketer can personalize the search results to show more red shoes. AI analyzes user actions in an ongoing session. The data helps understand their intent and preferences at that very moment and dynamically reorganizes the search results as the session progresses.
How does it work?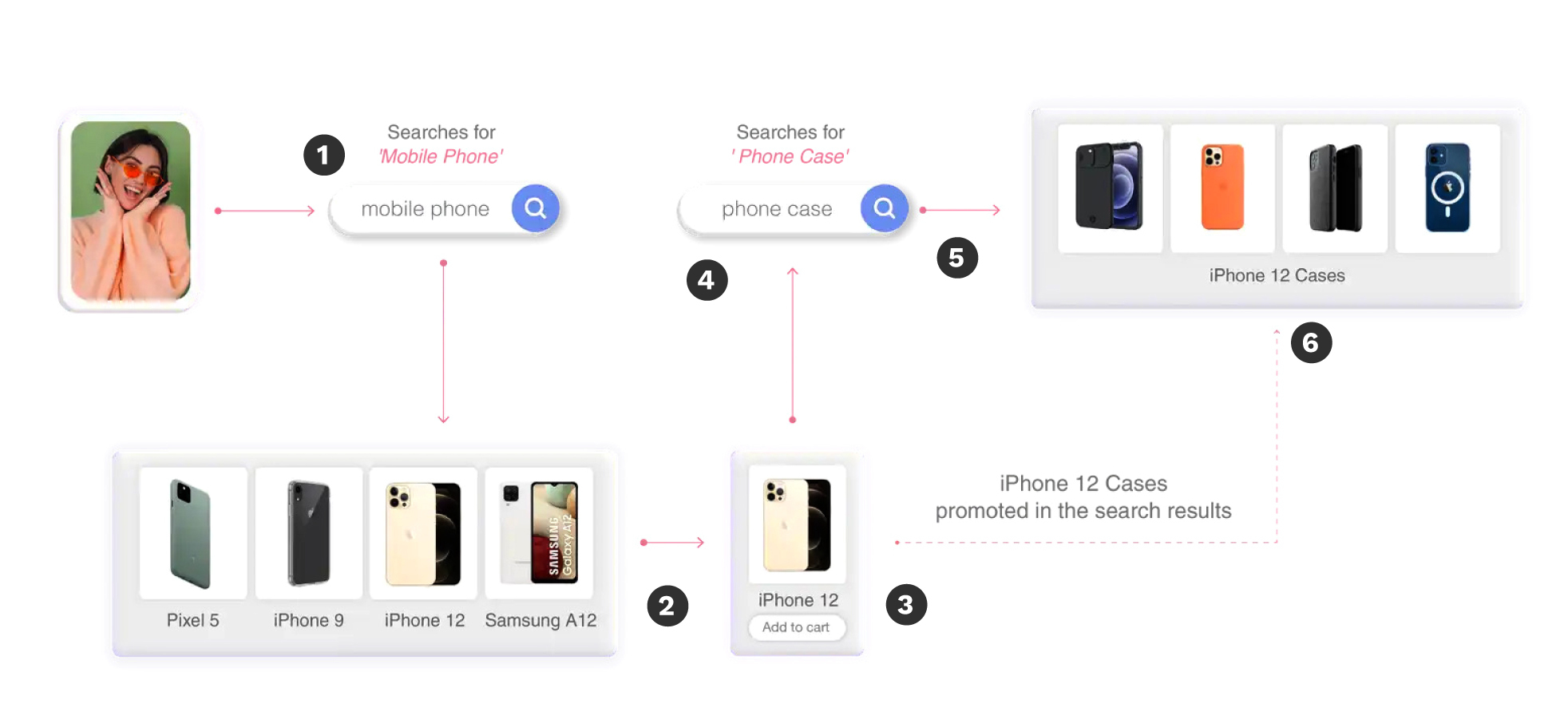 Sophie decides to buy a new phone. She searches for it on an ecommerce site.
She is presented with numerous options from various phone manufacturers.
She chooses the iPhone 12 after carefully weighing her options. She adds it to her shopping cart.
Sophie now wants to buy phone cases, but instead of typing the manufacturer's name into the search bar, she types "phone cases." Netcore's advanced in-session personalization, powered by AI, analyzes her previous interactions with the ecommerce store, and voila! the search results automatically display phone cases for the iPhone 12.
Sophie selects the case she wants from the options without correcting the query manually.
To learn more about in-session personalization, visit Netcore UNBXD. It will transform your search capabilities.
Did you know? With Netcore UNBXD, Jerome's Furniture, a leading furniture retailer from the US, was able to showcase personalized search recommendations to their site visitors and increase conversions.
They leveraged 50+ self-optimizing AI/ML models, such as Query Category Predictor (QCP), Intelligent fallback mechanism, Autocorrect, and Catalog auto enrichment, to power industry-leading search relevance across search, browse, and recommendations.
Watch this video to learn how Jerome's Furniture dove into a personalized shopping experience with Netcore Unbxd AI-powered retail marketing strategies and solutions.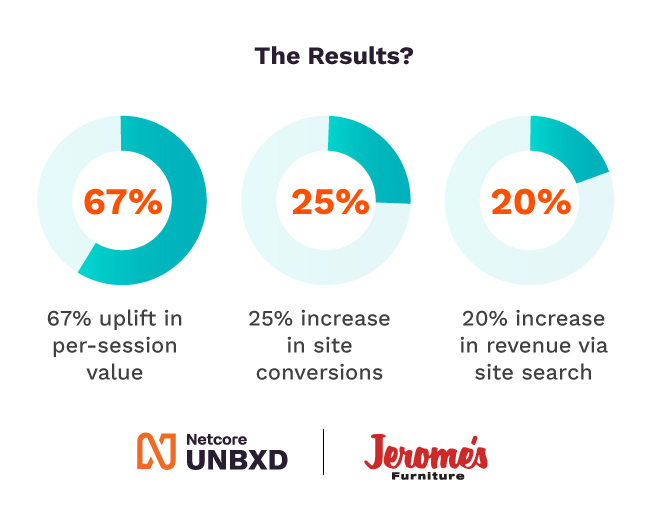 What's more? You can read the entire case study here. To learn more about achieving search personalization mastery, download our solutions guide today.
Now that we have gone in-depth through a critical pillar of retail marketing, the concept of search result personalization, and explored the techniques to implement it, the next topic we will explore is modifying, testing, and fine-tuning the personalization approach to develop unique 1:1 personalized experiences for each shopper.
Testing and Fine-Tuning Personalization Models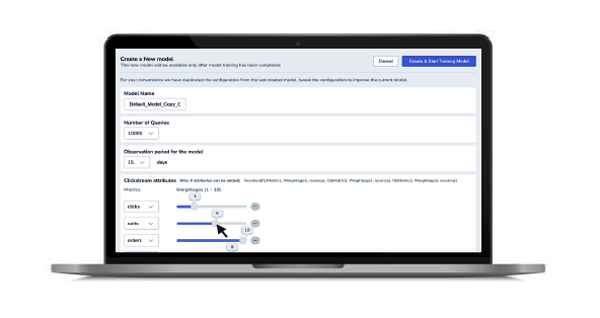 Leverage Netcore UNBXD's console to deploy AI models with confidence.
Personalization is a crucial aspect of any ecommerce business, but it's not bound by a 'one-size-fits-all' approach. Every brand is unique; what works for one retailer may not work for another. This is why it's essential to test and fine-tune ecommerce personalization models as a part of the retail marketing strategy. Those tests will reveal the best approach for each unique business.
Believe it or not, this can be done with minimal to zero development effort. With this process, marketers can learn how to use the technology to impact their operational efficiency significantly.
Businesses can use a Visual UI Workbench like Netcore UNBXD's to create customized experiences based on shopper segments. They can even change their AI models to better align with clickstream data such as clicks, carts, and orders or to include custom attributes such as profit margin.
Here is a more in-depth look at testing and fine-tuning ecommerce personalization models :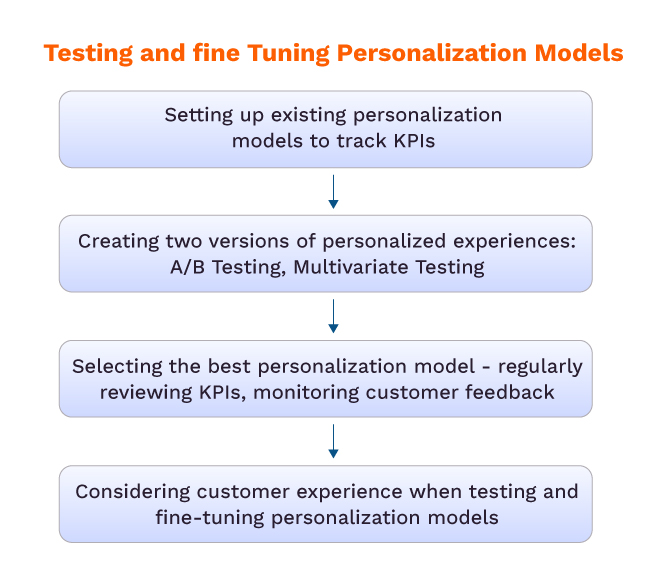 Workflow for Testing and Fine-Tuning Personalization models
Step 1 – The first step is to establish a baseline in a retail marketing strategy. This means setting up the existing ecommerce personalization model and tracking key performance indicators (KPIs) such as conversion rate, average order value (AOV), and revenue.
Once a baseline customer base has been derived from the data and a target market has been established, businesses can test different ecommerce personalization and retail marketing strategies to observe trends and discover which performs best with their target market.
Step 2 – One way to test ecommerce personalization models is through A/B testing. This involves creating two versions of a personalized experience and randomly showing each to a subset of potential customers. Next, measure the performance of each version. Determine which version performs better and use that version as the new personalization model.
You can learn more about Netcore's powerful A/B testing tool here: Explore A/B Testing Today!
Did you know?
Another way to test ecommerce personalization models is through "multivariate testing". While A/B testing compares two versions of the same element, such as a headline or call-to-action button, or a widget, multivariate testing tests multiple variables simultaneously, such as headlines, images, and calls-to-action on a single page, to determine the best combination.
With A/B testing, visitors are randomly assigned to one of two groups. In contrast, in multivariate testing, each variation is tested with a portion of the total audience, and the results are analyzed to determine the optimal combination of variables. Multivariate testing is more complex and requires a larger sample size to draw statistically significant conclusions, but it allows for more detailed insights and optimization of multiple factors at once.
Do you need help testing your mobile experiences? Would you like to perform multivariate testing on your target market? Explore the powerful capabilities of our AI-backed testing platform at – Netcore's Multivariate Testing Platform.
Step 3 – What's next? Once a new ecommerce personalization model has been established, businesses must continue testing and fine-tuning them. Regularly optimize customer journeys, review KPIs using valuable customer data and feedback, and adjust the personalization model.
Step 4 – The next step involves reviewing the customer experience. While it's essential to drive more sales, conversions, and revenue, ensure the personalized experience is enjoyable. Ensure the complete personalization tool is synchronized to display relevant and helpful content and ensure the experience is not overly intrusive.
Many leading ecommerce companies and social-media-heavy retail marketing brands have used testing and fine-tuning to improve customer retention and ecommerce personalization efforts. For example, Amazon constantly tests and modifies its ecommerce personalization algorithms.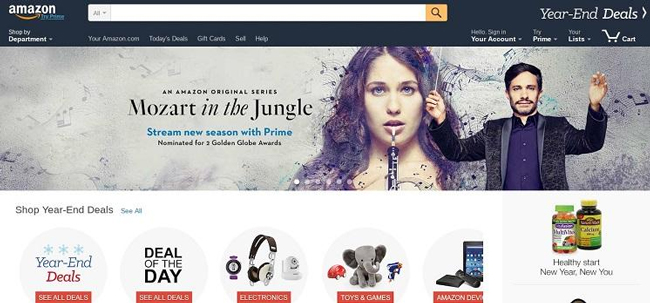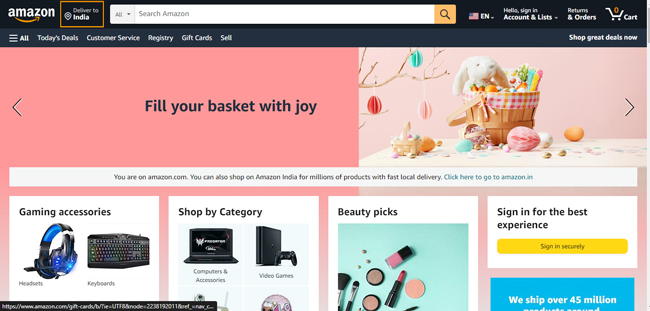 No Amazon home page looks the same every day. Why? Amazon skillfully Tests and Fine-tunes its Personalization models.
If we were to perform a Google search about the effect of testing and finetuning personalization models, we would find that – Developing an ecommerce and personalization strategy is not a one-size-fits-all solution.
Brands must test and fine-tune personalization models to find the best business approach for their retail marketing strategy.
Learn more about testing and finetuning ecommerce personalization examples and models with the Netcore Product Experience Platform. Click the following link to test, modify, and deploy ecommerce personalization and retail marketing strategies that guarantee conversions today – Explore Netcore PX now.
Dynamic Facets and Filters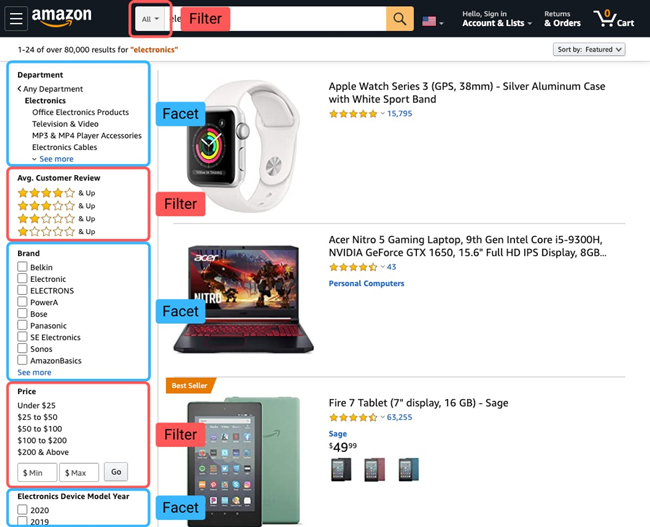 Amazon's extensive array of Facets and Filters
Dynamic facets and filters provide specific parameters to narrow the options and refine the search results. Dynamic facets allow new and existing customers to easily navigate large catalogs of products and find exactly what they want.
Dynamic facets display attributes or characteristics of products that marketers can use to filter search results – such as color, size, brand, price, and more. Filters, on the other hand, are the tools that allow customers to apply those facets to their search results.
One of the key benefits of dynamic facets and filters is that they improve the search experience. Customers can easily find what they seek without sifting through irrelevant results saving time.
Leading ecommerce brands have successfully used dynamic facets and filters to enhance their customers' search experiences. For example, as displayed above – Amazon has a robust set of filters that allows customers to narrow their search results by brand, price, size, color, and more. The company also uses dynamic facets like customer ratings and reviews to help customers make informed purchase decisions. These filters and facets help customers find their desired products quickly, leading to higher conversion rates and increased customer satisfaction.
In conclusion, dynamic facets and filters are potent tools for ecommerce brands to improve their search experiences. They provide customers with relevant search results and business owners with the ability to refine those results quickly.
Read this blog by Netcore UNBXD to learn more about facets, filters, and their implementation. You can also download our comprehensive solutions guide for free today!
Now that we have understood the importance of dynamic filters and facets, it's time for us to explore a retail marketing technique consisting of personalization that no marketer can ignore – it's called 'autosuggest recommendations.
Autosuggest Recommendations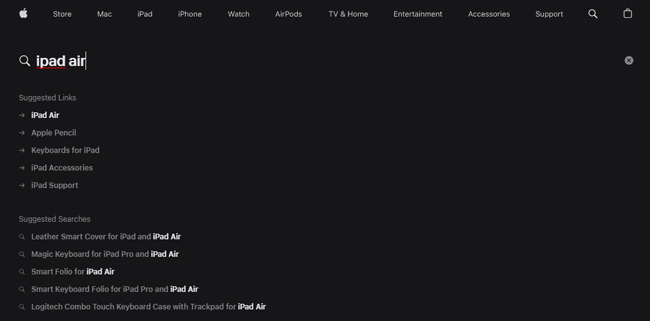 Apple's robust 'Search Autosuggest' runs across their online store
What exactly are 'Autosuggest recommendations? (They are also known as autocomplete or type-ahead suggestions). When a user starts typing a query, these search predictions appear in a dropdown list or some other format. These suggestions are based on the user's search history, popular search queries, and trending topics.
They help ecommerce retailers improve the customer search experience, increase conversion rates, and reduce search time. They are a very impact-oriented topic on the web/search landscape. To truly grasp their importance, let's evaluate their benefits in detail.
Can be used to increase conversion rates – Like Dynamic facets, autosuggest recommendations increase conversion rates. They leverage the customers' search history to entice them to make a purchase they may not have otherwise considered. That increases revenues.
Can reduce the search time taken by customers – They simply eliminate the need for the customer to type out a complete query by presenting a list of suggestions as soon as the customer starts typing. This saves customers time. It also reduces the frustration and effort to find precisely what they want.
Autosuggest recommendations can be used in several ways to improve the web search experience. One everyday use case is to suggest recent searches to customers. Customers can quickly access previous searches they may want to repeat. Present a list of their most recent searches. It saves time and reduces the frustration of starting a search right from scratch.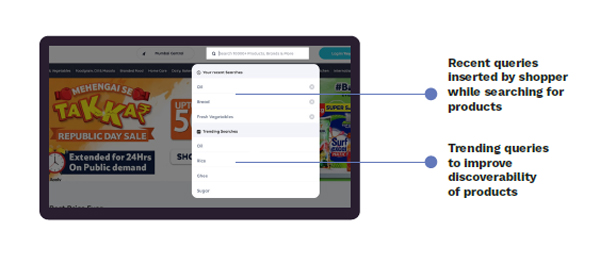 Use case – Recent Searches powered by Netcore.
Marketers can also use trending queries to provide autosuggest recommendations. Monitor what other customers are searching for and suggest popular queries relevant to the customer's current search. This can provide social reinforcement. The customer is now aware that others are searching for similar items.
Leading ecommerce brands have successfully used autosuggest recommendations to improve their web/search experience.
Sephora's autosuggest recommendations, for example, give a dropdown list of popular search terms as shoppers type in the search box. So customers find products more efficiently. It also increases the likelihood of purchase. To entice customers to explore further, Sephora's autosuggest feature also includes popular brands and categories.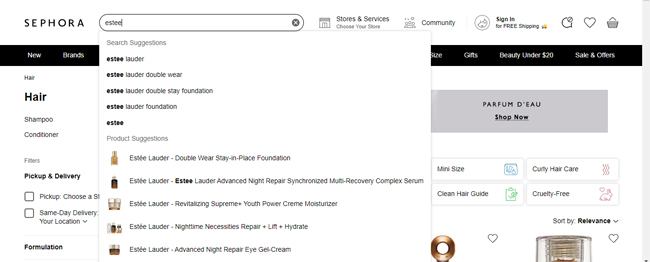 Sephora's brilliant implementation of search autosuggest
Explore Netcore UNBXD's Search Autosuggest functionality by clicking the following link – Rethink Search Autosuggest for your business today.
Now that we have understood the importance and impact of Autosuggest recommendations, let's take a close look at examples of personalized web pages.
Examples of Personalized Web Pages
Businesses in 2023 must realize that the right approach to achieving web and search personalization mastery is to use data and insights to personalize a website's content, design, and overall experience for each different shopper.
In the 20th century, businesses would alter their store location as a retail marketing strategy to encourage customers to revamp and drive more sales. However, changing your location is not a viable business option today.
Brands must focus on providing product recommendations based on a shopper's browsing or purchase history. Display personalized messages or deals. Alter the layout and navigation of the website to align with a shopper's preferences. This enhances engagement and conversion rates. It gives each shopper a more relevant and personalized experience.
Here's a look at personalization across some web pages in the ecommerce industry:
Home page: Personalize web pages by highlighting discounts and popular styles in a specific region. Additionally, customize the content based on user input, such as their name, age, and other preferences.

Use case – Home Page Personalization powered by Netcore

Product display page: Showcase interesting recommendations that pair with the product browsed; when done well, this can increase average order value.

Use case – Product Display Page Personalization powered by Netcore

Personalized cart page: Brands can showcase product recommendations not only on the display page but also on the cart page. This adds convenience as shoppers can now easily add those products before checking out. It works a lot like those small items you see displayed at your local grocery checkout counter. Customers just can't resist adding those to their shopping cart as an afterthought.

Use case – Cart Page Personalization powered by Netcore

Personalized category page: Showcase many options and personalized recommendations across different category pages. Showcase fresh items and best-selling products in multiple categories.

Use case – Category Personalization powered by Netcore

Personalized boutique: Unique experiences sell, and to do just that, showcase unique personalized pages tailor-made for each shopper via 1:1 personalized boutique pages.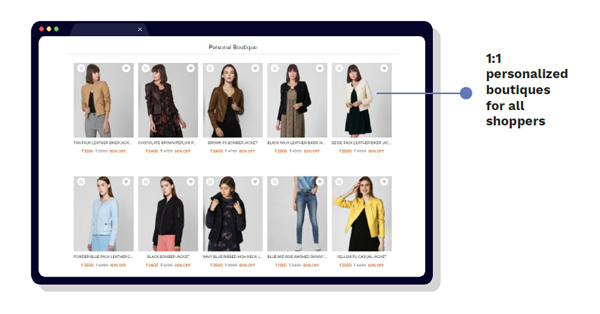 Use case – 1:1 Personalized Boutiques powered by Netcore
Go through our comprehensive solutions guide to understand these web personalization use cases in depth, and Download the guide for free today.
We've gone over the different aspects of personalized shopping experiences – the various techniques, their deployment, and the strategies used around personalization models. We now also have a visual representation of what personalized web pages for shoppers look like. It's time to immerse ourselves in another exciting topic – Predictive Personalization.
Predictive Personalization
In ecommerce and retail marketing, predictive personalization has emerged as a powerful tool to boost sales and enhance customer engagement. Predictive personalization leverages advanced algorithms to analyze customer behavior and predict future actions.
Use Predictive Personalization to deliver highly personalized recommendations to customers in real-time. Leading them into higher conversions, repeat purchases, and, ultimately, get increased revenues. Use predictive personalization to understand customers and preferences better. Use it to analyze customer data, gain insights into what products customers are most likely to buy, and then tailor marketing campaigns and strategies accordingly.
An interesting way to implement predictive personalization is to include the use of triggers such as "People also bought", "Complete the look," and "Recommended for you." These triggers leverage machine learning algorithms, Artificial Intelligence (AI),and other advanced technologies to analyze customer behavior and generate personalized recommendations.
To learn more about the use of such triggers, our solutions guide is a comprehensive resource. Download it for free today to explore the use cases that fit your business requirements perfectly.
Did you know? Netflix uses predictive personalization to recommend content to its users based on their previous viewing behavior so skillfully it made them a leader in the streaming movies business.

Netflix's predictive personalization, the technology that separates them from the crowd
Here's a holistic demonstration of predictive personalization in an ecommerce setting: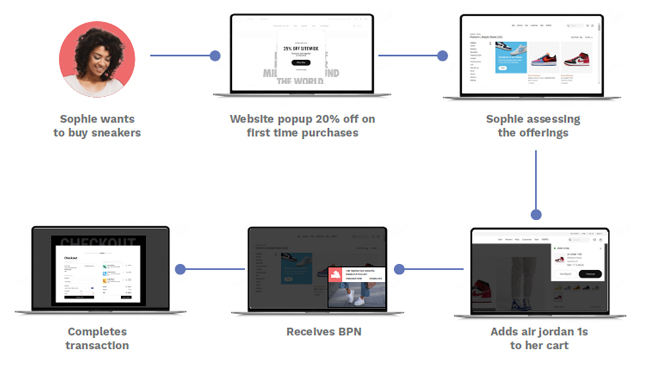 Sophie decides to buy new sneakers and searches for them on an ecommerce site.
Sophie is identified as a first-time shopper, and a pop-up appears for a special 20% off on first-time purchases.
She fills in her data, which is then analyzed in the background, and based on that data, she is presented with bestsellers from the site. She assesses the numerous options from sneaker manufacturers.
She chooses a particular shoe after carefully weighing her options and adds it to her shopping cart. However, she also leaves some items in her cart as unpurchased.
The system identifies that a transaction has yet to be completed from her end and presents a web push notification to remind her of items remaining in her cart.
She clicks on the notification and completes her purchase.
How does it work?
If you want to implement predictive personalization like the example above, visit Netcore to understand our capabilities around the subject better.
However, if you want to explore different use cases – Download our comprehensive solutions guide. It will be a valuable resource for marketers in 2023.
Conclusion
Personalization is critical in ecommerce. It significantly enhances customer experiences and drives conversions. The six personalization techniques discussed in this blog – search result personalization, testing and fine-tuning personalization models, dynamic facets and filters, autosuggest recommendations, personalized web pages, and predictive personalization -have been successfully adopted by leading ecommerce brands.
Personalization has been proven to increase customer engagement, loyalty, and revenue. To create tailored customer experiences and comprehend customer preferences and needs. Continually test and fine-tune personalization strategies to offer customers the most compelling and relevant experiences. Utilize tools such as visual UI workbenches to make this process more efficient and straightforward. Finally, adopt personalization techniques that align with business objectives and customer requirements. By doing so, enhance the overall customer experience and increase conversions. With growing competition in ecommerce, personalized experiences are more crucial than ever, and brands must deliver to stay ahead.
Use Netcore martech to personalize website experiences at every stage of the shopper's journey. Discover how to nudge shoppers down the funnel to conversions, how to get repeat purchases, and higher AOV via personalized pages, and how to use product recommendations, push notifications, and exit intent messages. You can also simplify product discovery with AI-powered onsite search and curate search experiences to cater to unique shoppers. Use Netcore Martech to see and improve search experiences and get more conversions.
Read more on Netcore's Web and Search Personalization capabilities today by downloading our comprehensive solutions guide for marketers in 2023. It walks you through all the capabilities mentioned earlier and use cases.
Access the Solutions Guide for Free