Introduction
As a marketer, one of your primary goals is to acquire new customers. But what happens when those customers become inactive? It's not uncommon for customers to lose interest in your products or services, but that doesn't mean you should give up on them.
Rajesh Jain raises a very pertinent question in his blog, "The probability of selling to an existing customer is 60-70%, whereas the probability of selling to a new customer is 50-20%. So why do only 18% of companies have a greater focus on customer reactivation strategies as opposed to 44% of companies who have a greater focus on acquisition?"
Winning back inactive customers is a profitable way to increase your revenue and build brand loyalty. Consider email marketing campaigns as the most effective tool for it. According to a study by Return Path, the average email open rate for reactivation email campaigns is 12.7%. You should capitalize on the customers' affinity for such emails and make the most of it.
This blog discusses the best practices for creating effective reactivation email campaigns to get back inactive customers. We also share case studies that illustrate the success of this strategy.
The importance of reactivation email campaigns
Reactivation email campaigns are an essential part of any customer retention strategy. They constitute targeted marketing efforts to re-engage inactive customers. These campaigns help businesses to reactivate customers who have become dormant – not engaging or interacting with your messaging anymore.
According to a study by Winback.org, a website dedicated to reactivation campaigns, "it costs six to seven times more to acquire a new customer than it does to retain an existing one." In other words, focusing on reactivating dormant customers rather than acquiring new ones is much more cost-effective.
Identifying inactive customers is the first step in creating a successful reactivation email campaign. You can do this by analyzing your customer data for purchase or response behavior. Once you have identified your inactive customers, create a targeted (customized/personalized) campaign to re-engage them.
Best practices for creating effective reactivation email campaigns
1. Segment your list
Segmentation is the process of dividing your email list into smaller groups based on specific criteria. It is crucial for creating effective reactivation email campaigns because it allows you to target your message to the right audience.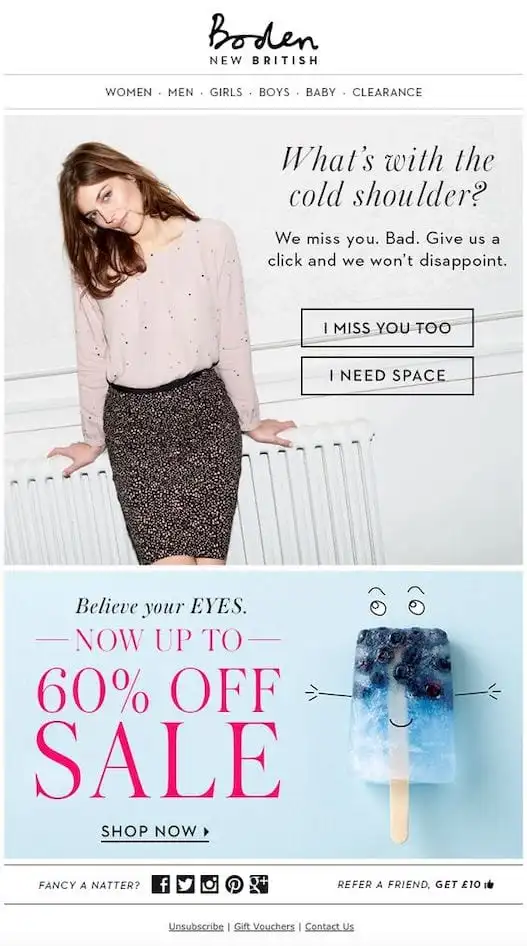 You can do segmentation based on various factors, including demographics, purchase behavior, and engagement levels. For example, you could make a segment of customers who have not made a purchase in the last three months. You could then create a customized reactivation email campaign specifically designed to win them back.
2. Personalize your emails
Personalization is the practice of tailoring your message to the individual recipient. It can increase engagement levels and make your customers feel valued. According to a study by Experian, personalized emails have a 29% higher open rate and a 41% higher click-through rate than non-personalized emails.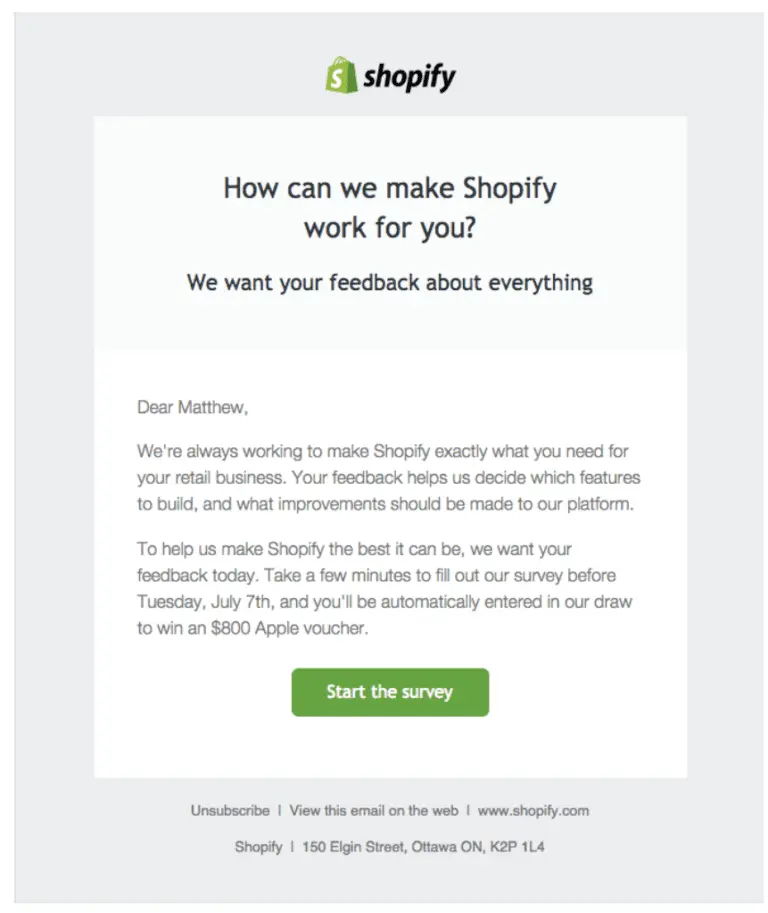 Personalization in reactivation email campaigns can be as simple as addressing the recipient by name or as complex as using dynamic content to tailor the message to their interests and preferences.
3. Use a compelling subject line
The subject line is the first thing your customers will see when they receive your email. A compelling subject line can increase open rates and encourage them to read the rest of the reactivation email.
According to a study by Adestra, subject lines that include the recipient's first name have a 26% higher open rate than those that do not. Other effective subject lines include those that create a sense of urgency or curiosity.
4. Provide value with relevant hooks
Your customers are more likely to engage with your email if it provides value. Your reactivation email campaign should offer something your customers want, whether a discount, free trial, or exclusive content.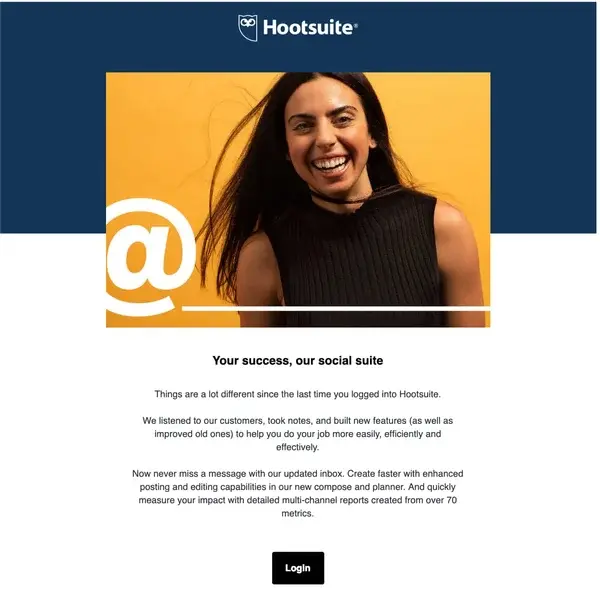 According to a study by MarketingSherpa, the most common reason customers unsubscribe from email lists is that the content is no longer relevant. Making your email content or the product/service suggestions relevant to customers is what will keep them engaged with your brand.
5. Use a clear call-to-action
A call-to-action (CTA) is a statement or button that encourages your customers to take a specific action. Your CTA should be clear and direct, telling your customers exactly what you want them to do.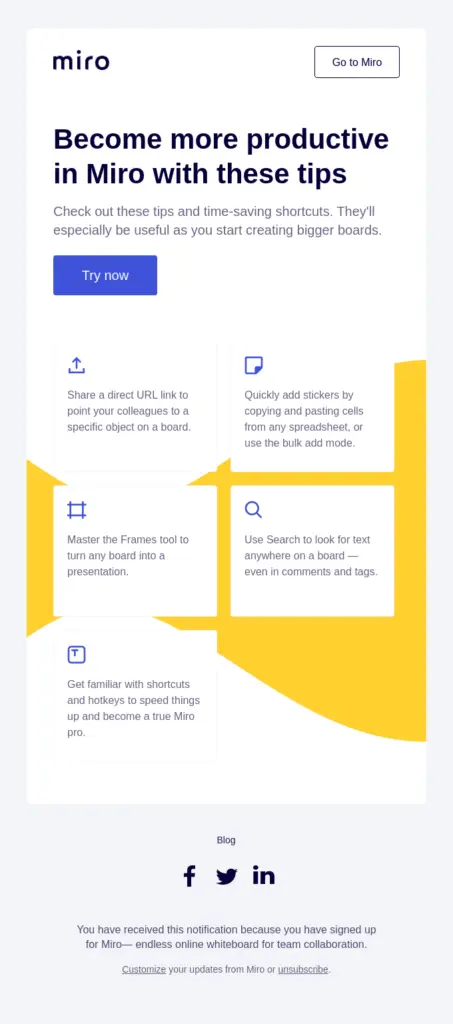 Examples of effective CTAs include "Sign up now," "Claim your discount," or "Download our free guide."
Display your CTA prominently in your reactivation email, making it easily visible. It is not mandatory to have the CTA at the end of your message – you can even bring it up after a short and convincing introduction.
6. Remember to follow up
Following up with your customers is essential to ensure that your reactivation email campaign succeeds. Have a plan in place to follow up with customers who do not respond to your initial email within a certain time frame – since it would be a reminder, do not wait too long.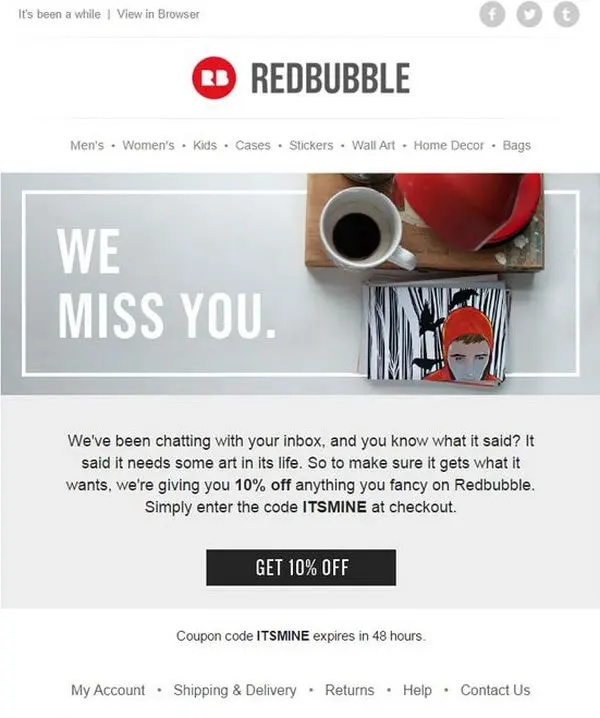 You could send a second email a few days after the first one, offering a different incentive or emphasizing the urgency of the offer. You could also consider reaching out to customers via social media or push messages if you have their contact information.
7. Use A/B Testing to know what works and what doesn't
A/B testing, also known as split testing, is a technique that involves creating two different versions of your reactivation email and sending them to a small subset of your audience. You can then analyze the outcomes to determine which version performed better and use that version for the rest of your audience.
Before sending your reactivation campaign, use A/B testing to test different elements such as your subject line, email content, offer, or call-to-action. Based on test results, you can optimize your reactivation email campaign for maximum interaction.
8. Analyze the campaign results and adjust your strategy
After implementing your reactivation campaign, derive actionable insights from the response patterns to determine its effectiveness. You can use email marketing analytics tools to track metrics such as open times, click-through rates, and conversion rates.
Analyzing your campaign's results can help you identify areas that need improvement, such as your subject line, the value of your offer, or your call-to-action. It can also help you determine which elements in the email worked well to replicate those elements in the future.
Adjust your reactivation email campaign strategy across all critical aspects to improve future outcomes. It might involve refining your targeting, changing the messaging, or revising the send time of your emails.
9. Keep your brand in mind
While it's essential to focus on winning back inactive customers, keep your brand personality in mind. Your win-back campaign should reflect your brand's tone, style, and messaging.
If your brand is known for its fun and playful tone, your emails should predominantly reflect that. If your brand is more formal and professional, your reactivation messaging should look and feel likewise. Just because it's a reactivation campaign, it should not step out of the line and come across as too eager or too imploring etc.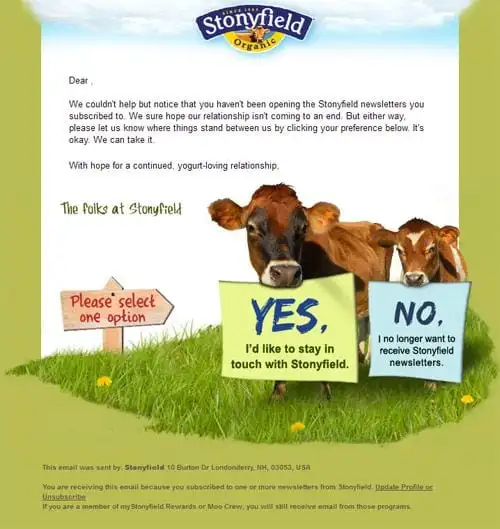 By keeping your brand in mind, you can ensure that your email communication is consistent with your overall brand messaging and reinforces your brand's values and identity.
10. Consider offering a loyalty program
In addition to offering a discount or incentive, run a loyalty program to win back inactive customers. A loyalty program can encourage dormant customers to start making purchases from you again and help build a long-term relationship.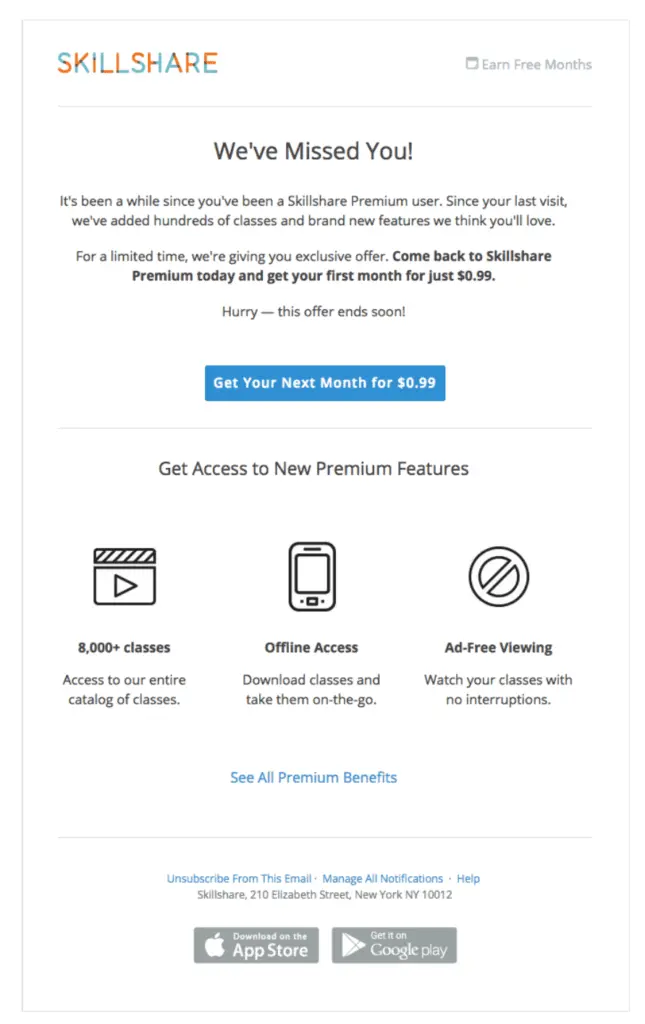 You could reward extra points for the very first purchase an inactive customer makes. Enable them to redeem the points for instant discounts or deals. By introducing a time-bound loyalty program in your reactivation email campaigns, you can incentivize customers to take immediate action.
Case studies that showcase successful win-back initiatives
Lyft
Lyft is a ride-sharing company that uses reactivation email campaigns to win back inactive customers. The company analyzed its customer data and identified customers who had not taken a ride in over a month.
Lyft created a targeted email campaign that offered these customers a $10 discount on their next ride. The campaign saw a 15% increase in rides taken by inactive customers.
Zappos
Zappos is an online shoe and clothing retailer that uses emails to reactivate dormant customers. The company created a targeted reactivation email campaign that offered customers a $25 discount on their next purchase.
The campaign's outcome was a 33% increase in purchases made by inactive customers. Zappos also followed up with customers who did not respond to the initial email, sending a second email a few days later that resulted in a fresh round of conversions.
Blue Nile
Blue Nile is an online retailer that specializes in diamonds and fine jewelry. They wanted to win back inactive customers and convert them into repeat customers. Blue Nile created a reactivation email campaign targeting customers who hadn't purchased in the past year. The email offered a $50 discount on their next purchase, along with a personalized message and product recommendations.
The campaign generated an impressive 40% open rate and a 10% click-through rate, besides resulting in a 50% revenue increase from repeat customers.
Netflix
Netflix is a streaming platform that provides TV shows, movies, and original content. They wanted to re-acquire customers who had canceled their subscriptions.
To do this, they executed a personalized reactivation email campaign that targeted customers with customized recommendations based on their viewing history. The emails also spoke about upcoming content that matched their interests and favorite genres.
The campaign witnessed a 6% conversion rate, resulting in a remarkable uplift in revenue and a boost to their customer base.
Dell
Dell is a technology company that manufactures computers, laptops, and servers and provides Deploy as-a-Service (DaaS) cloud storage solutions. They wanted to attract customers whose past purchases would have become older or outdated as compared to the newer line of products and innovations.
Dell created a reactivation email campaign that made product upgrade recommendations and offered a discount on their next purchase via personalized messages.
The campaign resulted in a 10.6% open rate and a 4.2% conversion rate, which significantly increased revenue and customer re-acquisition.
Final thoughts
Reactivation email campaigns are an essential part of building up the customer base and growing the business. According to a study by EmailMonks, reactivation email campaigns can increase revenue by up to 12%.
The six essential elements of creating effective win-back campaigns are segmenting your list, personalizing your emails, using a compelling subject line, providing value, using a clear call-to-action, and following up.
Remember that every business is unique; tailor each of these components in your reactivation email campaigns according to your specific business and audience profiles. Get insights and directions by analyzing your results and testing different elements.
Netcore can help you create outstanding email campaigns to reactivate your dormant customers and increase ROI. We can help you implement the best practices and strategies described above to win back customers at scale.
For the second year in a row, Netcore received the highest overall customer rating as a customers' choice in the 2022 Gartner Peer Insights' Voice of the Customer' Report.
We were also recognized as "Ahead of the curve at applying AI to marketer workflow" as per The Forrester Wave™: Email Marketing Service Providers Report 2022.
Connect with us to understand how your customer reactivation email campaigns can benefit from our expertise and experience – we send over 20 billion emails a month on behalf of 6500+ businesses across 40 countries.