A study by Omnisend states that the average expected ROI is up to $40 for every $1 you spend on email marketing. The efficacy of email, especially when it comes to engaging and converting users, has long been established. However, the journey from the initial engagement to conversion involves a particular kind of effort – lead nurturing.
Lead nurturing is the process of building relationships with potential customers by providing them with relevant and valuable content. Lead nurturing email campaigns aim to develop an affinity with the leads and keep them involved with your brand until they are ready to purchase.
However, not all lead nurturing email campaigns are created equal. Most work to some extent, but few work better than others and provide outstanding results. In this blog, we explore the eight best email campaigns with proven success in nurturing leads into lucrative customers. We also showcase some success stories and statistics to support our claims.
1. Welcome emails
Welcome emails are crucial in establishing a solid foundation for your brand-customer relationship. They serve as the first touchpoint, enabling you to make a memorable impression on your subscribers. By crafting personalized and engaging welcome emails, you can effectively introduce your brand, set expectations, and build anticipation for future interactions. Moreover, welcome emails provide an excellent opportunity to nurture leads and guide them through your sales funnel.
According to a study by Experian, welcome emails have an average open rate of 58.7%, much higher than the average open rate for promotional emails. Welcome emails also have an average click-through rate of 14.4%, making them an effective way to drive traffic to your website.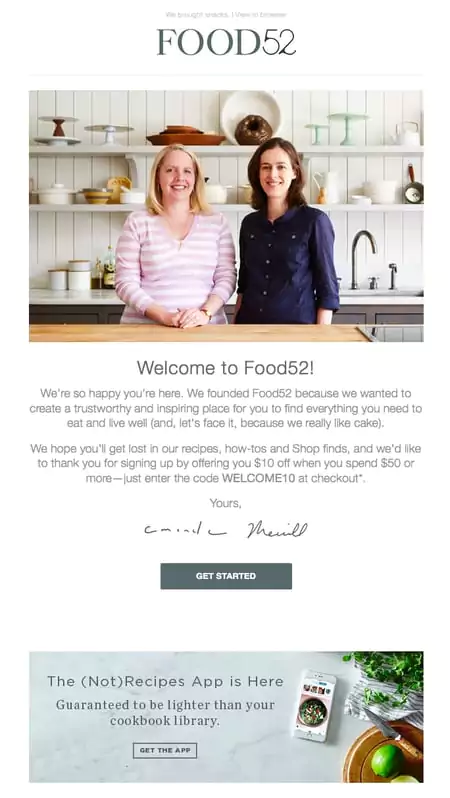 A highly-engaging welcome email campaign comes from Dollar Shave Club. Their welcome email is simple and to the point, introducing their brand and thanking the recipient for joining the club. They also include a clear call-to-action to encourage recipients to complete their account setup.
2. Educational emails
Educational emails serve to acquaint users with your brand and position it as a star or industry leader. You can build trust with your audience and help them make informed decisions by sharing useful insights that go beyond the product/service you sell.
According to a study by HubSpot, educational emails have a higher click-through rate than promotional emails, with an average of 17.6%. Moreover, 68% of consumers say educational content helps them make better purchasing decisions.

To check out an excellent educational email campaign, look to HubSpot. They send out a series of emails that provide verified and up-to-date information about inbound marketing, including best practices and tips. This is how they build trust – by giving their customers data points that can be relied upon and used to drive tangible results.
3. Promotional emails
Promotional emails are a staple of email marketing and have been long-time favorites of marketers to popularize products or services. However, it's essential to balance promoting the brand and providing value to the audience. By doing so, you can avoid being overly sales-y and maintain the affinity you have built with your potential customers.
According to a study by Mailchimp, promotional emails have an average open rate of 21.33%, which is lower than the average open rate for other types of emails. However, they have a higher click-through rate of 3.71%, indicating that promotional emails can effectively drive traffic to your website when done correctly.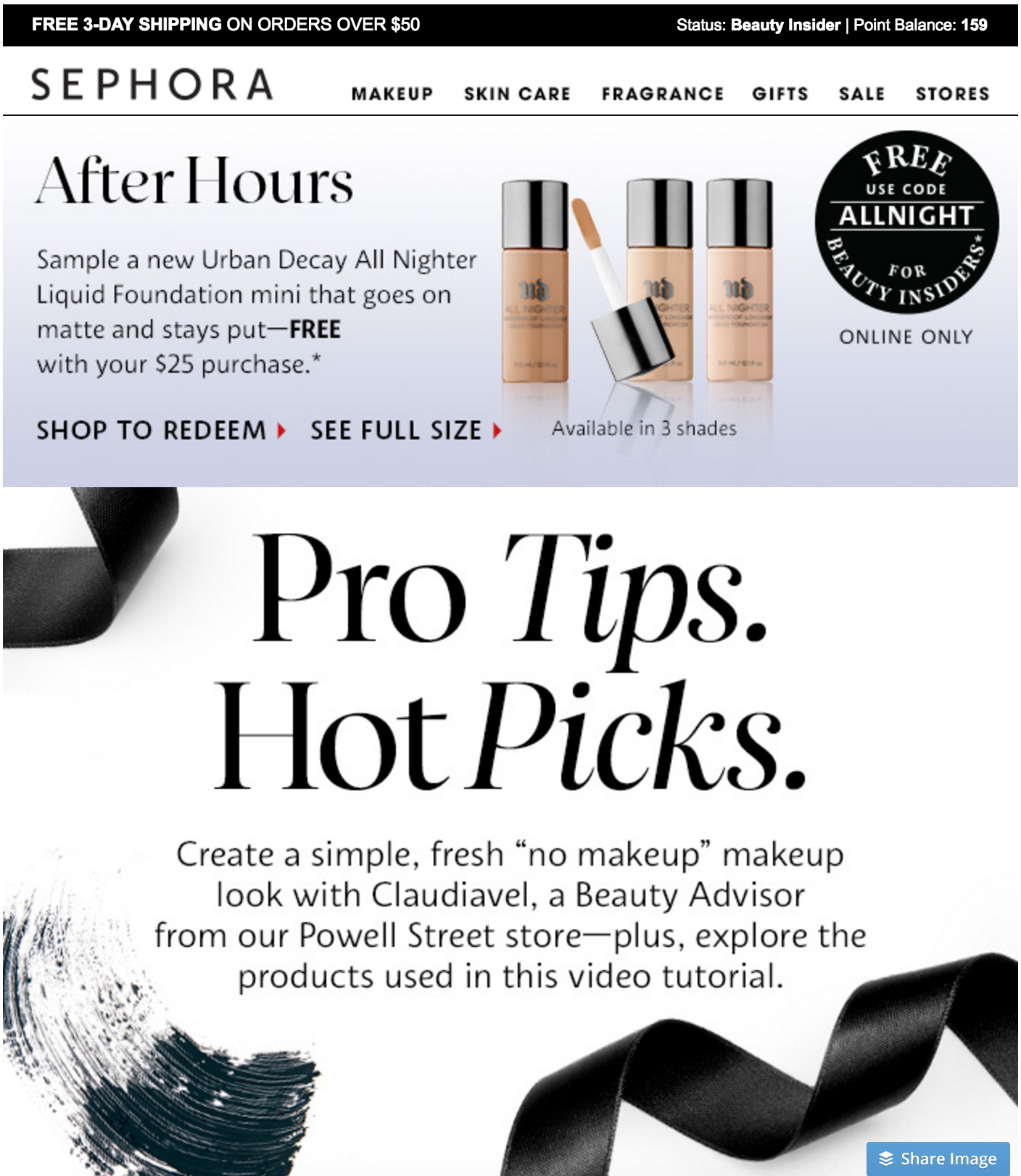 Sephora runs a value-added promotional email campaign. They send out regular marketing emails that highlight their latest products and deals. However, they also provide tutorials and tips on how to use and maintain their products best.
4. Re-engagement emails
Re-engagement emails play a significant role in bringing back prospects who have gone cold. By reminding them of your brand and offering them an incentive to return, you can rekindle their interest and get them to re-engage with your brand.
According to a study by Return Path, re-engagement emails have an average open rate of 12.9% and a click-through rate of 5.3%. While these numbers may seem low, the potential ROI of re-engaging a cold lead can be significant.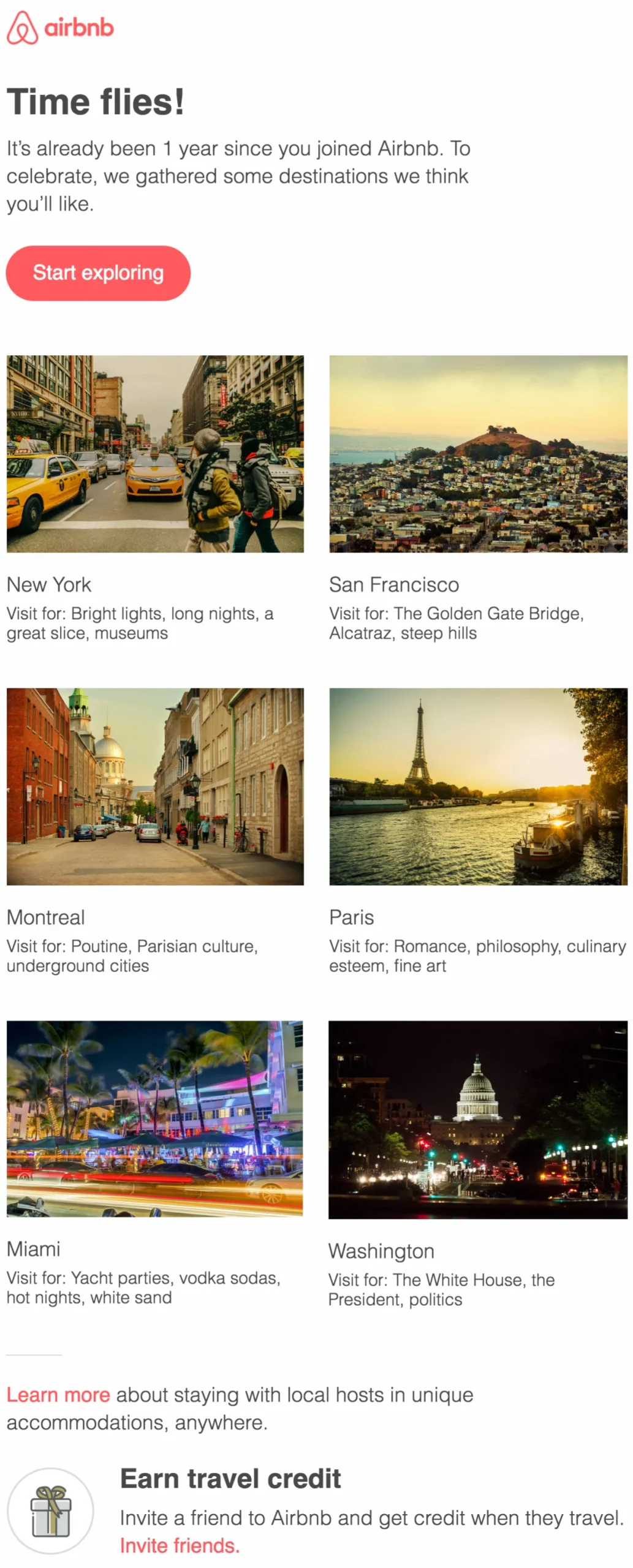 In this case, Airbnb truly stands out. They send exciting emails to users who have not been active in a while, offering personalized recommendations and incentives to encourage them to book again. It helps Airbnb to hedge customers who may otherwise have been lost to the competition.
5. Cart Abandonment emails
Cart abandonment is a common issue for eCommerce businesses, with many users adding items to their cart but not completing the purchase. Cart abandonment emails are spot-on in reminding such customers what they have left behind and incentivize them to complete the purchase.
According to a study by SaleCycle, cart abandonment emails have an average open rate of 44.1% and a click-through rate of 11.6%. It indicates that these emails effectively re-engage potential customers and drive sales.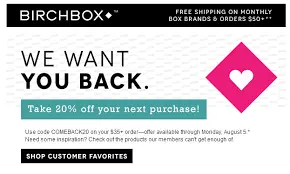 Birchbox's emails do a great job of cart recovery, reminding customers of the pending items and offering them a discount code if they complete the purchase within a stipulated time.
6. Survey emails
Survey emails help collect customer feedback and gain insights into their needs and preferences. By asking for and showing that you value their opinion, you make people feel heard and validated – which, in turn, builds trust and strengthens the relationship with your audience.
According to a study by Campaign Monitor, survey emails have an average open rate of 29.9% and a click-through rate of 11.5%. It is interesting to note that 73% of consumers say they are more likely to buy from a brand that listens to their needs.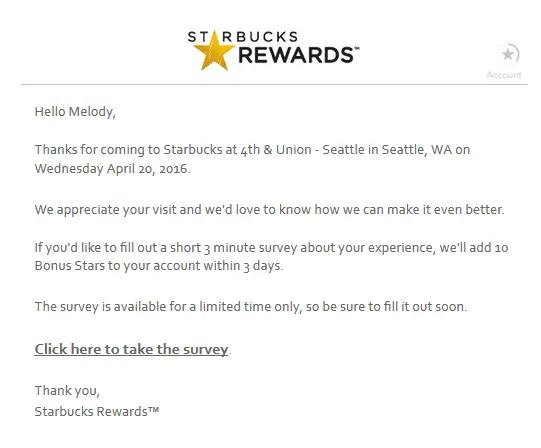 Starbucks is a master of survey emails. They regularly send surveys to their customers, asking for suggestions on their products and services; and they definitely make it worth the customers' while to take the survey. It enables Starbucks to gain valuable insights and make improvements that matter a lot to customers.
7. Event Invitation emails
Event invitations engage with users to build excitement around things happening with your brand. Inviting them to events can create a sense of exclusivity and give them a firsthand experience of your new launches or upgrades.
According to a study by Eventbrite, event invitation emails have an average open rate of 31.2% and a click-through rate of 13.3%. Here is the key insight: 74% of consumers say engaging with a brand in person helps create a more meaningful relationship.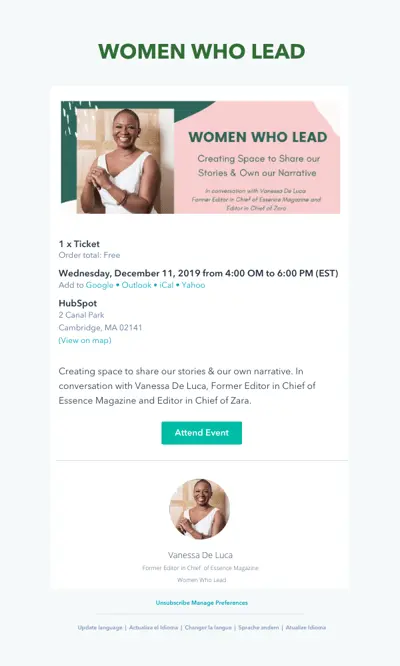 Nike raises the bar of creativity when it comes to crafting event invite emails. They regularly host exclusive events for their customers, including product launches and fitness classes. By encouraging their customers to participate in such events, they create a strong sense of community and loyalty around their brand.
8. Referral emails
Referral emails leverage existing customers to widen the reach and bring in new business. You can tap into customers' personal networks by incentivizing them to refer your products to friends and family.
According to a study by Extole, referral emails have an average open rate of 25% and a click-through rate of 2.5%. Additionally, referred customers have a 16% higher lifetime value than non-referred customers.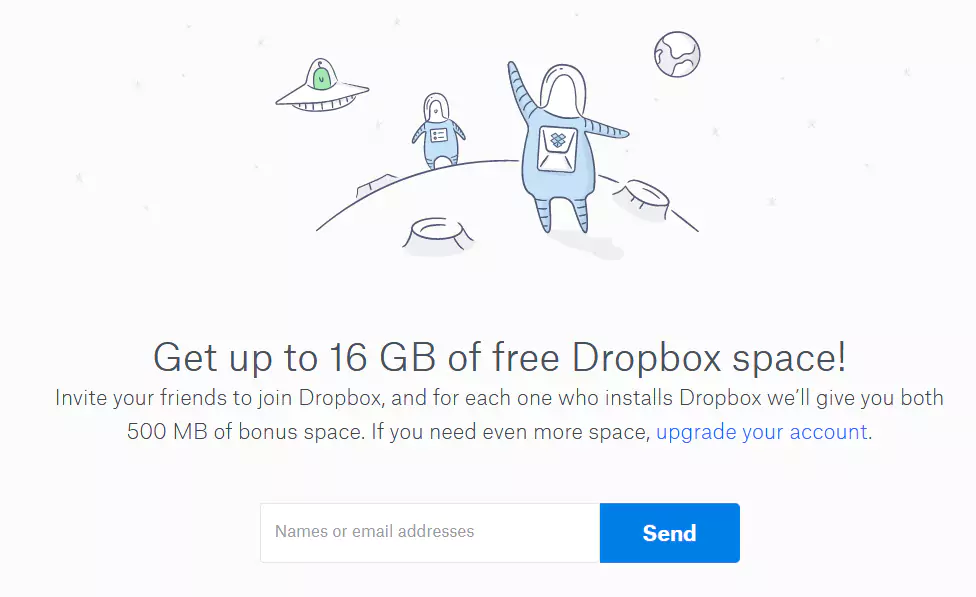 Dropbox is especially good with referral emails. They offer their existing customers additional storage space for referring their friends to the storage service. DropBox has been able to grow their user base significantly through such word-of-mouth referrals.
As you nurture, so shall you convert
Email campaigns are an effective way to nurture leads and turn them into customers. By being in touch and providing value to your audience, you can ensure their conversion, which leads to increased revenue.
The success stories and statistics mentioned above demonstrate the effectiveness of various email campaigns for lead nurturing. From welcome emails to cart abandonment emails, each type provides unique benefits. You can tailor them to the specific needs of your audience and business.
To get more out of your email campaigns, consider implementing some of the nurturing email variants discussed here and tracking their effectiveness. Here at Netcore, we obsess about email efficacy, and we can help you optimize your lead-nurturing email campaigns to drive up your ROI to unprecedented levels.
We are leaders in the email deliverability and transactional email space, and the world's most recommended ESP as acknowledged by G2.com. For the second year in a row, Netcore received the highest overall customer rating as a customers' choice in the 2022 Gartner Peer Insights' Voice of the Customer Report.
We were also recognized as "Ahead of the curve at applying AI to marketer workflow" as per The Forrester Wave™: Email Marketing Service Providers Report 2022.
Connect with us, and let's figure out exactly which emails you need to boost your email ROI to its moonshot numbers. We send over 20 billion emails a month on behalf of 6500+ businesses across 40 countries, and we'll bring that expertise and experience to the table at every conversation with you.