It is widely agreed that personalized customer engagement is the cornerstone of a standout digital experience on ecommerce platforms. But before getting to the intricacies of hyper-personalized customer engagement, we must address one of the most significant and obvious obstacles to ecommerce marketing: user anonymity.
In the age of data privacy, cookie blockers, and guest logins, anonymous users make up almost 97-98% of ecommerce website visits. Out of these, 80% don't receive any messages from the website after their visit. As anonymous users increase, so is the likelihood of high drop-offs and low user retention. This is because shoppers are not only accustomed to a hyper-personalized customer experience but anticipate it.
The optimization of ecommerce personalization and analytics tools is a two-pronged exercise –
Analyse information gathered through customer interactions in real-time
Configure an Identity & Access Management (IAM) Solution
Achieving this is no easy feat. Without the right marketing solutions and Identity Management Solutions, customers can still slip through the cracks, never to revisit. But if chosen wisely, the ideal solution would make ecommerce marketers' lives a whole lot easier.
So what should you be looking for to make an anonymous user's journey memorable?
Elevate Session Based Personalization with AI
While gauging the intent and interests of unidentified visitors is challenging, enough contextual clues can still help optimize a user's digital experience. Add AI to the mix, and you can take it a step further. For Example:
Geo-tagging
Leverage information on a user's time zone, weather conditions, and region for personalization. For instance, you can start by greeting a user 'Good Morning' based on the time zone and display weather-appropriate products (e.g., cotton garments during summer).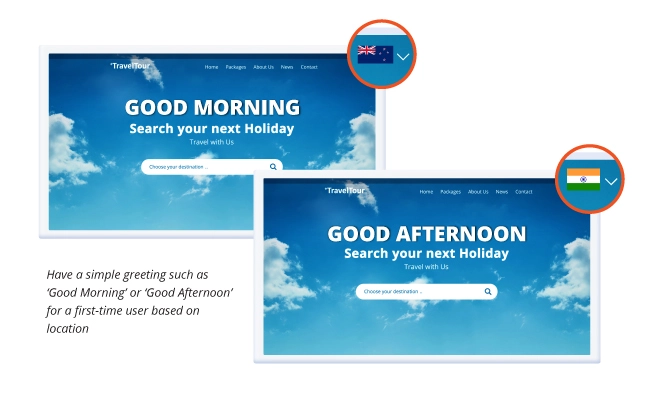 Real-time browsing activity
With an AI-powered Digital Experience platform, take your cues from a user's browsing session to set up the next trigger. This includes dynamic personalization through widgets and pop-ups to show products in step with the user's real-time interactions. So even when the user is anonymous, you can personalize engagement across the lifecycle to encourage conversions and retention.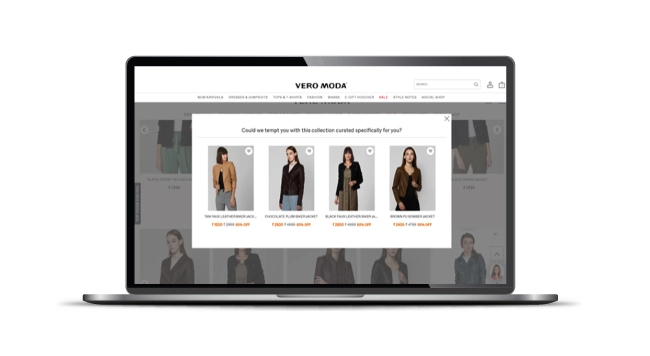 While there are certain limitations to a sound solution for crafting personalized user journeys for unidentified visitors, session-based personalization, this is where the second stage comes in – the introduction of an Identity Management System. However, just about any IAM will not make the cut. As the question of sensitive customer data and data privacy arises, you need a reliable and infallible IAM solution.
Identify, Authenticate & Onboard with Google Identity Services
Launched in 2022, Google Identity Services consolidates multiple identity offerings under one software development kit (SDK). Of all the solutions under the new SDK, the one which is a must-have for ecommerce marketers is the low-friction sign-up and authentication feature – One Tap.
One Tap revolutionizes user onboarding, customer identification, and data security. The Google Login Prompt benefits the customer and the brand. Yes, the no-sweat sign-up helps identify and relate the user's accounts with existing customer profiles to deliver a seamless shopping experience from the first click. However, customers feel safer using the password-free login that protects them against any security vulnerabilities.
Simplify onboarding
A long-drawn sign-up journey can stave off the most ardent shopper. To avoid user drop-offs, enable auto-signup and log in with One Tap.
Personalization from the first click
With easy login, deploy personalization by identifying customer ids right from when the customer visits the website. Combine the capabilities of a marketing automation solution and One Tap to deliver 1:1 personalization and dispatch contextual omnichannel messaging at every stage of the user lifecycle – from identification to deployment.
Improve data security
The latest SDK protects against clickjacking, pixel tracking, etc. With Google-verified accounts, mitigate against fraudulent duplicate user Ids to reduce your support burden. Additionally, Google Sign-in and One Tap ensure your customer's privacy.
Streamlined Authentication E Authorization
The Google Identification Services API enables 2-factor authentication and password recovery flows with ready-to-use code snippets to minimize development time and effort.
Consolidated Library to support other business integrations
The consolidated library will ensure seamless user onboarding and authentication and support user identification for your additional business integrations. Additionally, there's automation to trigger workflows and sequences whenever a user signs in with Google.
Introduce Auto-fill for easy checkouts
You get auto-fill, feedback, delivery details, and much more with Google Sign-in. Eliminate the arduous task of filling out forms to simplify your user experience.
Combine the power of Netcore Cloud and Google Identity Services
No more users under the radar! Enjoy the dual benefit of Netcore Cloud's Customer Engagement Platform and Google Identity Services' SDK kickstart personalization right from the get-go.
When a customer visits a website from a new device, it becomes challenging to identify the user for a continuous, interactive, and personalized customer experience. Event-based data from one session will only convey a contextual understanding of the customer. So, a lot of your online marketing depends heavily on the website visitor logging in. But what if they don't have the credentials or can't be bothered to go through the tedious password recovery process? That's where One Tap and Sign in with Google comes in. Instead of waiting for the user to sign in, the One Tap pop-up prompts them to log in with their existing Google id. This expedites user identification and customer profile building right from the beginning of the purchase lifecycle. For instance, Crocs India uses Sign in with Google, which enables Netcore Cloud's CEE to use historical and real-time behavioral insights associated with the user's Google id to help the brand orchestrate user journeys and deliver a hyper-personalized experience tailored to perfection for every single one of them.
The ease of Signing up with Google will reduce friction, boost customer acquisition and logins, and enable user identification for Netcore Cloud's CEE and Personalization platform to orchestrate bespoke shopping journeys tailored to each user.
So if you want to deliver exceptional customer engagement and enticing user experiences to win customers for life, book a demo.