What is Customer Engagement?
Customer engagement refers to the level of interaction and involvement that a customer has with a company or brand. It involves creating a positive and meaningful customer relationship between the customer and the business through various interactions with engaged customers, such as customer service, marketing campaigns, social media interactions, loyalty programs, and other communication channels. Customer engagement is about building a connection with customers that goes beyond simple transactions.
It's about creating an emotional attachment that keeps customers coming back and also encourages them to spread positive word-of-mouth about the brand. Effective customer engagement strategies involve understanding customer needs, preferences, and behaviors and using that knowledge to create personalized and relevant experiences to engage customers.
It also involves actively listening to customer feedback and addressing any concerns or issues promptly. Ultimately, a high level of customer engagement can lead to increased customer loyalty, advocacy, and overall business success.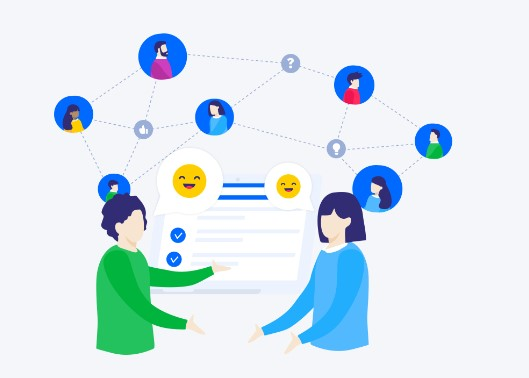 In a nutshell, Customer engagement refers to the interactions and communication between a customer and a business or brand. It's about building a relationship with the customer that goes beyond just buying or using a product or service.
This involves creating a positive and memorable experience for the customer through various channels such as customer service, social media, loyalty programs, and marketing campaigns.
The goal of customer engagement campaigns and customer relationships is to create a connection with the customer that inspires them to stay loyal to the brand and share their positive experiences with others.
Why does customer engagement marketing work?
Customer engagement marketing works because it focuses on building a strong relationship between the customer segments, the most engaged customer, and the brand. By engaging with customers through various channels such as social media, email, and other communication channels, businesses can create a personalized and relevant experience that resonates with the entire customer journey.
When a customer feels connected to a brand, they are more likely to stay a loyal customer, make repeat purchases, and even advocate for the brand to others. This not only helps to retain customers and increase sales but also helps to create a positive reputation for the brand.
Moreover, a customer engagement marketing strategy allows businesses to collect valuable feedback from their customers, which can be used to improve their products or services, customer brand engagement as well as overall customer experience. This feedback can help businesses to identify pain points, address their customer's queries and concerns, and create better solutions to meet the needs of their customers.
In summary, customer engagement marketing works because it creates a positive and meaningful emotional connection between the customer and the brand, which ultimately leads to increased brand loyalty, increased customer spending, advocacy, and business success.
How to implement a customer engagement strategy?
Implementing a customer engagement strategy involves a few key steps: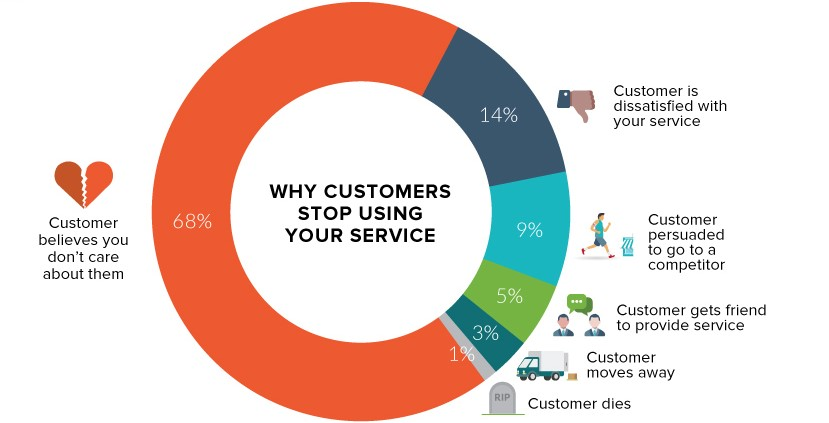 1) Identify your customer history and target audience:
Before you can engage with your target customers further, you need to know who they are. Define your ideal customer profile, their needs, and their behaviors.
2) Define your objectives:
Determine what you want to achieve with your customer engagement strategy. Do you want a loyalty program to increase customer loyalty, calculate customer engagement, drive sales, or improve average customer satisfaction?
3) Choose your communication channels:
Identify the communication channels that are most effective for engaging with your target audience. This could include social media, email, SMS, in-app messaging, or other channels.
4) Create engaging content:
Develop content that resonates with your existing customers, engaged new and existing customers, and aligns with your brand values. This could include blog posts, social media updates, email newsletters, videos, and other types of content.
5) Personalize your customer interactions to retain loyal customers:
Use customer data to personalize your interactions, personalize customer experiences and offer relevant recommendations and promotions to personalize customer experiences that are tailored to each customer
6) Listen to customer feedback:
Collect and analyze customer feedback to improve your products or services and make changes to your own relationship marketing and customer engagement strategy accordingly.
7) Measure customer engagement metrics, examples and your results:
Track and measure your customer engagement metrics, such as your customer engagement efforts, rates, conversion rates, and customer satisfaction, to evaluate the effectiveness of your customer interaction strategy
By following these steps, you can create a successful customer engagement and strategy that builds meaningful connections with potential customers and your loyal customers and drive business success.
What are the top 5 Customer Engagement Strategies in 2023
Based on current trends and best practices, here are the top 5 customer engagement strategies that businesses can consider for the coming years:
Personalization: Offering personalized experiences tailored to the customer's preferences and behaviors can significantly improve customer engagement. This can include personalized recommendations, product offerings, and marketing messages.
Omni-channel engagement: Providing a seamless experience across multiple channels, including social media, email, SMS, and in-person interactions, can help build stronger relationships with customers.
Community building: Building a community of customers around your brand can help to increase engagement and loyalty. This could include online forums, social media groups, and in-person events.
Customer-centric content: Creating content that focuses on the customer's needs and interests rather than just promoting products or services can help to establish a deeper connection with customers.
Voice and conversational interfaces: With the increasing popularity of smart speakers and virtual assistants, implementing voice and conversational interfaces can offer new ways to engage with customers and provide personalized assistance.
What are the Examples of Customer Engagement?
There are various examples of customer engagement strategies that businesses can use to interact with their customers. Here are a few examples:
Social media engagement:Interacting with customers on social media by responding to comments and messages, posting engaging content, running social media campaigns, and creating user-generated content.
Loyalty programs:Offering loyalty programs that reward customers for their continued engagement and purchases. This could include discounts, freebies, and other incentives.
Personalized recommendations:Providing personalized recommendations based on the customer's previous purchases, browsing behavior, and preferences.
Interactive content:Creating interactive content such as quizzes, surveys, polls, and games that customers can engage with and share on social media.
Email marketing:Sending personalized and relevant email campaigns to customers based on their behavior and preferences.
Live chat support:Offering live chat support to customers on your website or social media channels to provide quick and personalized assistance.
In-app messaging:Using in-app messaging to engage with customers and offer personalized recommendations and promotions.
Overall, effective customer engagement strategies involve providing a personalized and relevant experience that meets your engaged customer base's needs and preferences and builds a meaningful relationship between the customer base's highly engaged customers and the brand.
How to Move to a Powerful Customer First Strategy?
Moving to a powerful customer-first strategy involves putting the needs and preferences of your customers at the center of your business decisions. Here are some steps to take:
Understand your customers: Conduct market research to gain insights into your customers' needs, behaviors, and preferences. Use this data to create customer personas and journey maps that help you understand your customer's pain points and how you can solve them.
Align your organization around the customer: Foster a culture that puts the customer at the center of all decision-making processes. Encourage cross-functional collaboration to ensure that all teams are working towards the same customer-centric goals.
Create a seamless customer experience: Offer a seamless experience across all touchpoints, including social media, website, email, and in-person interactions. Provide personalized recommendations and support to customers based on their preferences and behavior.
Collect and analyze customer feedback: Use surveys, customer support tickets, social media listening, and other tools to collect feedback from your customers. Analyze this data to identify areas for improvement and create a better customer experience.
Continuously improve your customer experience: Use customer feedback and data to make iterative improvements to your products, services, and customer engagement strategies.
Invest in employee training: Train your employees to prioritize the customer and empower them to make decisions that benefit the customer.
Measure your success: Set metrics and KPIs that measure the success of your customer-first strategies, such as customer satisfaction, retention rates, and net promoter scores.
By following these steps, you can create a powerful customer-first strategy that fosters excellent customer service and brand loyalty for retaining customers, drives business growth, and creates a positive reputation for engaging customers with your brand.
Everything You Need to Know About Customer Experience Research:
Customer experience customer engagement research is the process of gathering information and insights about customers' interactions with a brand, customer's relationship, product, or service.
It is a crucial component of creating a positive and seamless customer experience, and customer engagement metrics can help businesses identify pain points and areas for improvement to increase customer engagement.
Here's everything you need to know about customer experience research:
Types of research: Customer experience research can take many forms, including surveys, focus groups, usability testing, and customer interviews. Each type of research offers unique insights into the customer experience.
Goals of research: The goal of customer experience research is to identify areas of strength and weakness in the customer experience, understand customer behavior and preferences, and gain insights to improve customer satisfaction and loyalty.
Importance of research: Customer experience research can provide a competitive advantage by helping businesses understand their customers' needs and preferences. It can also help to identify opportunities to differentiate from competitors, improve customer retention, and increase revenue.
Data analysis: Data analysis is a crucial part of customer experience research. By analyzing customer feedback and behavior, businesses can identify patterns and trends that can inform decisions about product development, marketing, and customer support.
Tools and technologies: There are many tools and technologies available to help businesses conduct customer experience research, including online survey platforms, user testing tools, and data analytics software.
Ethical considerations: Businesses must consider ethical considerations when conducting customer experience research, including the protection of customer privacy and the use of unbiased data collection and analysis methods.
In conclusion, customer experience research is an essential tool for businesses looking to improve their customer experience and gain a competitive advantage.
By understanding customer behavior and what customer preferences are, businesses can create a more personalized and seamless experience that drives increased customer engagement, loyalty, and revenue.
India's top 5 customer engagement softwares:
There are many customer engagement software options available in India, each with its own set of features and benefits. Here are five popular important customer engagement options:
1) Netcore – Customer engagement Platform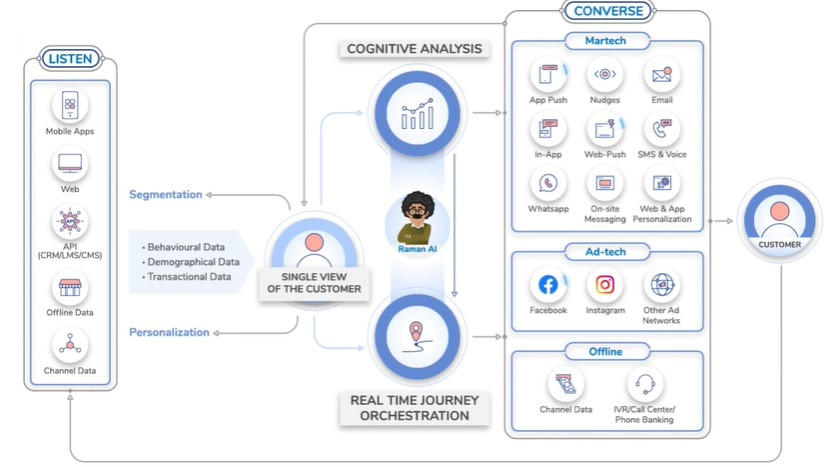 Netcore Cloud is a globally recognized marketing technology SaaS company offering a full-stack of martech solutions that help product and growth marketers deliver AI-powered intelligent customer experiences across all touchpoints of the user's customer journey throughout.
Building a unified view of customers, orchestrating omni-channel customer communication journeys, personalizing the apps and websites, optimizing user experience, real-time reporting, and providing actionable analytics, Netcore Cloud represents an all-in-one solution for a marketer.
Netcore Cloud serves over 5000 clients spread across 18 countries. Industry-leading brands like Canon, Puma, Crocs, Hamley's, The Body Shop, Standard Chartered, Pizza Hut, Sendo, Mobile Premier League, BYJU'S, and McDonald's trust Netcore Cloud to power their customer acquisition, engagement, and even customer retention, goals. With over 25+ years of experience and a global presence across Asia, Europe, and the USA, Netcore offers a rich martech solution on a single platform!
Users on G2 have praised Netcore for the following points:
Netcore Cloud is a platform that enables website and mobile app brands to achieve omnichannel growth.
The platform uses data analysis backed by AI/ML to automate the delivery of personalized multichannel campaigns.
These campaigns are targeted at the right user segments at the right time with real-time reporting and product analytics.
Netcore Cloud is a no-code platform, which means it's easy to use and adds speed and agility to the creation of amazing product experiences.
The ultimate goal of Netcore Cloud is to engage, convert, and retain users through personalized and effective multichannel campaigns.
2) Iterable: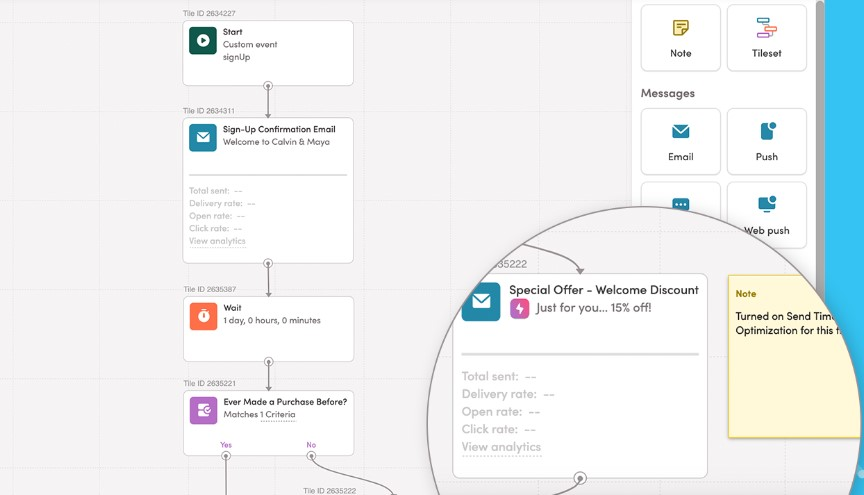 Iterable empowers growth marketers to create world-class user engagement campaigns throughout the full customer lifecycle of user behavior and measure customer engagement across all channels.
Marketers segment users, build workflows, connect and automate relevant touchpoints, measure and manage customer engagement well, and test strategies at scale without engineering support.
Users on G2 have praised Iterable for these points:
User-friendly and easy to learn.
Provides solid functionality and customization options for marketing automation needs.
Open API infrastructure for transparency and external platform connectivity.
Support team is prompt and responsive.
Offers visibility into all platform activities.
3) Omnisend: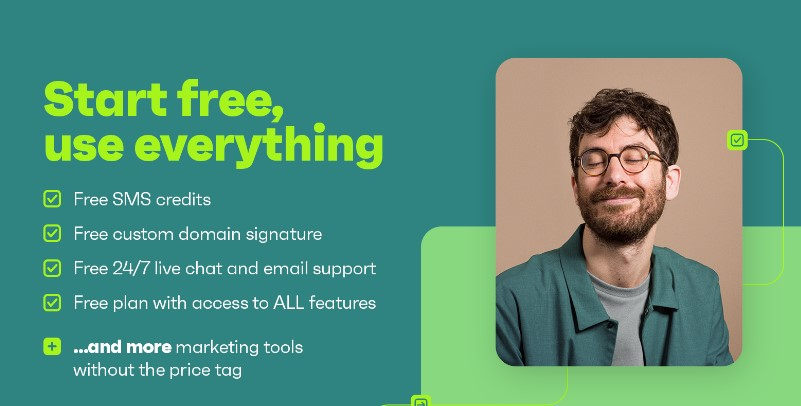 One can choose Omnisend's email & SMS marketing to increase their sales, not the workload. Full integration with ecommerce platforms, pre-built automation workflows, and intuitive, no-code editing make it easy to get up & running without diving into the gritty details – unless you want to. More than 75 e-commerce brands use Omnisend to grow their businesses on autopilot, converting their customers with quick-to-build, highly-relevant emails & texts.
Users on G2 have praised Omnisend for these points:
The platform offers useful integrations for e-commerce websites, such as showing successful orders and setting up automation for cart abandonment.
The email builder is user-friendly and offers drag-and-drop functionality like any other ESP.
Omnisend can be easily integrated with WooCommerce, even with basic WordPress knowledge, and it's easy to set up signup forms, abandoned cart recovery emails, and launch campaigns.
The heat maps are a great feature that allows users to see who clicked on their email and where they clicked, which can help to target specific customers.
With the help of the platform, the user was able to recover multiple abandoned carts even before launching their campaign.
4) Braze :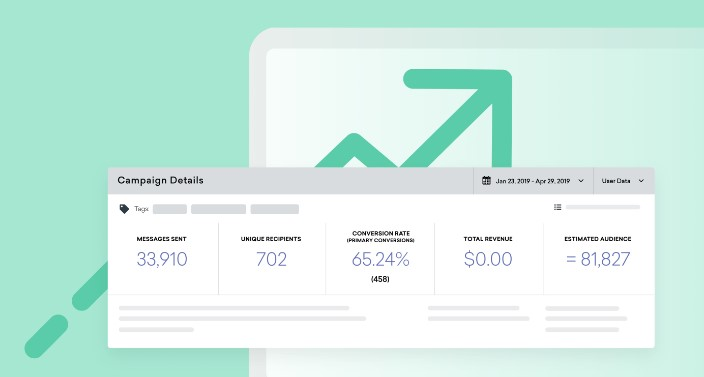 Braze is a leading comprehensive customer online and offline engagement platform that powers interactions between consumers and the brands they love.
With Braze, global brands can ingest and process customer data in real time, orchestrate and optimize contextually relevant, cross-channel marketing campaigns and continuously evolve their customer engagement and drive customer engagement and marketing strategies together.
Braze has been recognized as one of Fortune's 2022 Best Workplaces in New York, Fortune's 2021 Best Workplace for Millennials, and 2021 UK Best Workplaces for Women by Great Place to Work. The company is headquartered in New York with offices in Austin, Berlin, Chicago, London, Paris, San Francisco, Singapore, and Tokyo.
Users on G2 have praised Braze for these points:
Braze is highly customizable and easy to use.
Braze is considered a standard for customer engagement platforms.
Braze's customer service team is top-notch and responsive.
Braze is one of the best in its category, outperforming other platforms such as Hubspot, Pardot, IBM Marketing Cloud, and Mailchimp.
Braze has a straightforward and intuitive user interface with advanced scheduling and AB testing options.
Braze offers an easy-to-use journey editor and works with liquid programming language.
Braze offers flexibility with the ability to create Braze-to-Braze API calls and has many training materials available to further users' knowledge.
Wrapping up:
After gaining knowledge about the fundamental concepts of customer engagement, the implementation of customer engagement marketing in your campaigns, and observing successful companies that have employed this strategy, you can now apply it yourself.
Utilize the techniques outlined in this article to establish a customer experience that will ensure your brand is remembered by both new and existing customers.