As the holiday season is slowly reaching its peak, email volumes are increasing exponentially. Subscribers are getting flooded with promotional offers, sales, and discounts in their inboxes. There are only two ways this holiday season can pan out for an email marketer: either you win big and maximize your ROI, or your campaigns sink in the inbox deluge.

We bring you a few last-minute email strategies that you can still implement to stand out from your competition. We conducted a webinar with the founder of Email Optimization Shop, Jeanne Jennings, to get her perspective on seasonal trends. She also shares some expert tips to make your email program for holidays extraordinary. Read on!
Macro trends affecting the holiday season 2021
1. Shopping season to start early amid customer demand
According to the NPD group, 51% of consumers will shop early—before Thanksgiving is over—this year. Pent-up customer demand and panic over shipping delays will lead to an earlier-than-expected start to the shopping season this year.

The marketer needs to stock in advance and be ready to roll out early-bird offers and other promotions.
2. Emergence of the hybrid shopping model
Over the past 18 months, online shopping has become a lifestyle habit due to the pandemic. Sales from eCommerce grew 9.3% YOY in Q2-2021. According to the NPD group, 85% will shop online this year, but 74% will also want to shop in-store. With fewer restrictions around, there could be a strong return to in-store shopping.

The challenge for the marketer will be to provide a good shopping experience, in-store and virtual, for keeping both sets of customers satisfied.
3. Impact of global supply chain disruption
Global shipping and logistic delays occurring in China and Europe might disrupt the shopping season for the consumers. They will have to settle for buying what's available over what they want. Global shipping delays might impact timely deliveries or even create product shortages.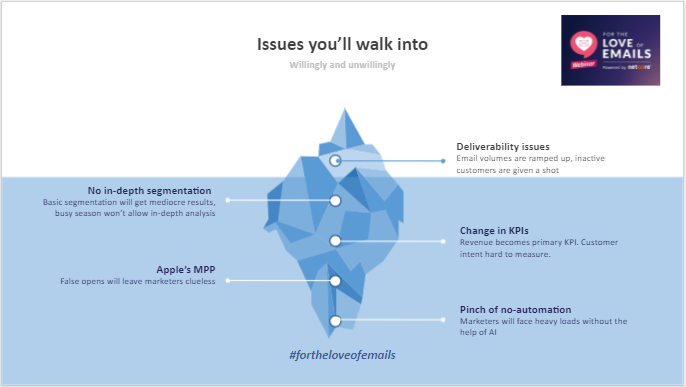 Last-minute expert strategies to nail your holiday program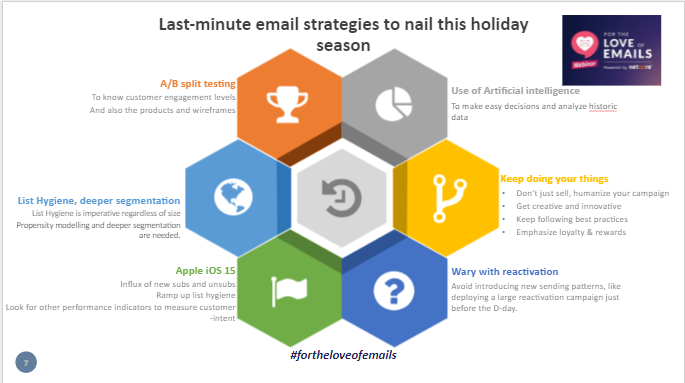 1. Introduce A/B split testing and continue throughout the season
Keep testing your emails throughout the holiday season till December. Use scientific methods with logic for A/B testing.

Your A/B tests should include:

– The number of products used inside the email body: there exists a sweet spot number that gets good results. You will need to find your sweet spot.

– Rather than using bullet points and a product picture, experiment with just using images.

– Subject line variants are commonly used for A/B split tests. Make sure your key message is included inside the first 25 characters. The same rule applies to your pre-headers.
– Test your call-to-action buttons based on scientific hypotheses; for example, a red button might indicate 'stop,' and a green one could mark 'start.'
A/B split tests are highly rewarding – think through the processes and logic behind the variants you are testing.
2. Ramp up your list hygiene significantly
– In Jeanne's opinion, you should be running your list through a validation and verification process every time you add new email addresses.

– Test the different sources of your data collection forms: some sources are more effective than others in getting genuine subscribers.

– Decrease the mailing frequency for subscribers that aren't responding for the last three months or so. If they haven't interacted with your emails for that long, they may never will.

– Apple's latest "Hide my email" feature enables users to generate new temporary ids. You could get an influx of temporary ids in your list, which stop responding after the first purchase. They may not even exist in a week!

– Develop a relationship with your subscribers and allow only genuine users to sign up for your email newsletters.

Your email list may not be bigger, but if it has only those users who wish to receive emails from you, it's definitely better.
3. Don't just personalize, but humanize your campaigns
– Provide value in your email content without pushing a purchase every time.

– Good educational emails will lead to subscribers remembering you for the right reasons.

Holidays are not always a stress-free time for the family and some find the preparations and get-togethers demanding. Offer tips on how they could arrange gifts, entertain guests, handle kids, and be a great host.

Humanize your emails and bring positive vibes to the table. You should provide reasons for your subscribers to open the emails and feel good.
4. Use strategic resends to maximize your conversions
Jeanne provided a golden nugget called 'Strategic Resends' that she experimented with during the last holiday season.

– Strategic resends mean sending the same email campaign again to the specific audience who had earlier clicked but not converted. This tactic saw a dramatic shoot up in revenue that was 10 times the original.

– If the audience had clicked on the email, it meant they found the content relevant and engaging. Re-targeting such customers is not likely to result in unsubscribe or spam complaints.

– The segment selected for targeting could be a small percentage of the list, but the audience will be highly engaged.

Try out the above tactic this season for your campaigns, and let us know how well you did!
5. Avoid disruptive reactivation patterns that cause deliverability issues
A common complaint from email marketers during the peak holiday season is the delivery delays and reputation hits from mailbox providers. These issues result from sudden changes in sending patterns that cause the spam filters to tighten up.

– These changes generally occur when marketers try to re-activate the inactive subscribers and include them in their regular promotions. It leads to an overall increase in volume, spam complaints, and unsubscribes.

– Jeanne provides great advice here as she asks to avoid introducing any new sending patterns before D-day campaigns like Thanksgiving and Christmas.

– To re-engage those inactive subscribers, consider separating your IPs and sending domains to avoid reputation hits. If you are sending your regular emails on dedicated IPs, use a shared IP for sending your re-engagement campaigns.

– Another strategy is to decrease the frequency of targeting inactive users, which will reduce your spam complaints and deliverability issues.

– Peak season is not the time to aggressively re-activate your dormant customers. Send them relevant content and ask for feedback but with a lower cadence.
6. Don't hold back, just communicate with your customers
Avoid misunderstandings by being honest in your communications about shipping delays and the last date of sale for your products.

– Do not put off informing about delivery delays: timely and transparent communication only makes your brand look better.

– Include real-time shipping information inside the email, and save customers the trouble of navigating to a website to track their package.
– Keep an eye out for snags in your supply chain deliveries and stay updated on possible changes to your inventory management.

– Just-in-time inventory system may not work for this season. Issues could arise if you sell the customer any product that you haven't procured.
7. Make use of AI-powered tools to get the right audience instantly
– If your email service provider (ESP) supports AI-powered features like Raman for Netcore Cloud, you can make the best use of them for selecting the right recipients.

– AI tools in email marketing provide amazing results for the global brands we consult. Predictive segmentation, using the AI engine, yields an extensive analysis of your past campaigns, relevance, propensity scores, interactions, and website behavior.

– It can come up with the right segment that will result in maximum conversions for your next campaign.
– Predictive churn forecasts what percentage of your audience is at risk of churning out and needs remedial measures. Such detailed analytics will help you design campaigns that are far more effective.
If your current ESP does not support advanced AI segmentation and churn prediction, you should check out Raman and its advanced capabilities today!
Final notes
With the holiday season nearing its peak, it might be challenging to use all of the above strategies. Pick one and start rolling with it; you can try out others one-by-one as you go.

While you're using these holiday email marketing tips in your campaigns, here are some things to keep in mind:
Refine your website landing pages so that when your customers reach your products, they are impressed by the design, look, and feel.
Test everything repeatedly till you are satisfied with the output. Don't be in a hurry to push the send button.
Scale up email volumes steadily over 10-15 days. While subscribers expect more emails during the holidays, you should not overwhelm them – closely monitor your spam complaints and unsubscribe rates.
Collect more zero-party data from your customers. Mail privacy protection makes it difficult to get real 'open' data from recipients. Collecting data on subscriber preferences will help you create more relevant and personalized shopping experiences.
#fortheloveofemails

Author Bio:
Tejas Pitkar is a Senior Product Evangelist at Netcore Cloud.
He likes analyzing data and diving deep to find valuable insights for marketers. He has written Industry benchmark reports and marketing leaders' reports. He also wants to give back to the email industry with his volunteer work at the Only Influencers Diversity Committee.
An #emailgeek at heart, he likes writing blogs, sharing email knowledge, and making thought-provoking videos on all things email.

He enjoys hiking, backpacking, reading books, and drinking his favorite Chai in his free time.
You can reach him via his social handles:
Linkedin: https://www.linkedin.com/in/tejas-pitkar
Twitter: https://twitter.com/TPitkar