The app usage statistics across industries show that only 20% of users entirely use the app and its features. So 80% of the app capabilities are either underutilized or go completely unrealized, taking the app user far from realizing their 'aha moment.'
That is a significant goal for most product managers but not very easy to achieve. Creating a new feature takes weeks of brainstorming, design, development, and marketing. Having these features being overlooked by users can make all of that effort go to waste.
In this blog, we will cover how you can make your features more visible to your users and improve feature adoption for new and existing users.
Defining feature adoption for you
So, a good number of months have been spent building an app. Then there are the long hours of research, design, development, and coding invested in building new features that address multiple user pain points.
For instance, telecom apps today are no longer limited to the basic functionalities of recharging phones. They are the super apps, power-packed with access to OTT platforms, live entertainment channels, subscription of online music streaming apps, ecommerce, e-wallets, payment banks, and a lot more.
All of these efforts are to meet the ever-changing needs of your users and be relevant to them at all times.
It seems like it's finally over and done with, but it's really not! The game has only just begun !
Developing features is only half the battle. What good will these features do if your users aren't even aware of them in the first place?
It's what essentially decides the fate of your new features and the app's success.
While you are exploring and finding ways to make new feature adoption your top game, we're happy to help you with this guide that has the most straightforward answers (yet practical) and some actionable tips to the most seemingly difficult questions.
Why should feature adoption matter to you?
You don't just put your features out there and let the chips fall where they may. You need to be deliberate and strategic about leveraging app features to drive business metrics/outcomes.
Feature adoption is an essential factor in your app's growth journey because it ties back to important product success metrics that matter most to you. Here's why feature adoption should matter to you :
The more people engage and adopt features, the more likely you will retain them in the long haul.
Increased feature adoption signifies increased value to users, which impacts overall customer engagement and product adoption.
Feature adoption helps us avoid app churn worries, lesser conversions, lack of user engagement, etc.
To put this simply, when users feel they are getting much more in return than what they are giving, they experience what you call the 'Aha Moment.' And one of the best ways to do that is to drive the discovery of the right features, to the right audience, at the right time and promote their adoption.
When your customer is on the app, that is your chance to engage them with a delightful experience by nudging them to use relevant features that would solve their problems in the best manner possible and take them closer to the 'Aha Moment!
You can deploy in-app guidance that helps users discover and use features efficiently. It can also help spotlight new and old features and drive maximum adoption.
A user's intent is at an all-time high when they're actually on your app. It would help if you leveraged that moment to drive up new feature adoption.
When we do that successfully, we are in the right direction of winning loyal customers and becoming a favorite brand.
The feature adoption funnel
We, humans, are more often than not resistant to change. We tend to repel anything that is beyond our comfort zone. This psychology sticks to us even in the app-sphere. It's hard-coded in us to keep using a select few features without tapping into what's more in the app.
Like a first-time user, your regular customers go through multiple stages, starting from getting introduced to a new feature to repeatedly returning to it.
When you roll out a product feature, mapping out these questions makes it easier for you to understand a user's journey in the feature adoption funnel. You will see nothing but a mini representation of the user journey funnel.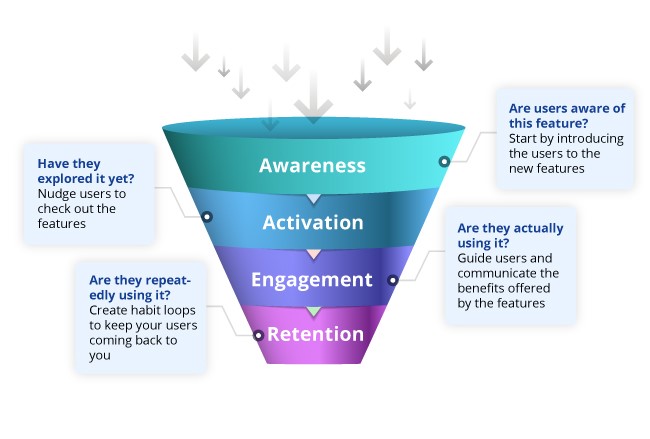 Pinning this funnel to your feature adoption efforts empowers you to optimize new feature adoption at every stage and contextually engage users.
Cracked this cycle ? You have successfully found a loyal user for your app.
Best feature adoption strategies in 2022 to drive new feature adoption
The key to unlocking feature adoption is making the usage of relevant features a daily activity for your users. Here's how you can do that.
Implement contextual nudges
When users launch an app, it's with the intent to take some specific action. This is your cue to make your users aware of new features, grab their attention, and direct them towards features they are yet to explore.
Now, to drive feature adoption, you need to drive feature discovery. And that has to be smooth, relevant, contextual, personalized, and convenient at all touch-points across the app. And what makes all of this possible is the right use of nudges.
Nudges are nothing but simple visual cues that guide users towards the next best step/action based on the user's context at that point in time. Google, for instance, has been leveraging nudges to drive feature adoption across its app.
As an example – Gmail highlights essential emails if you don't respond to them for 2-3 days.
Google Analytics uses tool-tip nudges to grab your attention towards critical features and help you get started with them.
Nudges come in the form of tooltips, coach-marks, beacons, and spotlights that enable feature discovery and eventually drive feature adoption.
Take a look at how nudges and walkthroughs boost feature adoption :
The results nudges bring will truly amaze you! We helped one of our customers, Kumu, uptick their feature adoption rate by 38% using nudges. The brand's primary challenge was low adoption of the search feature, making it difficult for users to get their hands on relevant content quickly. By deploying a spotlight nudge that highlighted the search icon, Kumu enjoyed increased feature adoption.
Create interactive walkthroughs
Improving feature adoption is about having it all laid out for your users to interact and use new (and even existing) features with absolute ease. This is where walkthroughs come in – a series of nudges that lead users to the next step, handhold them throughout, and empower them with all the information they need to start using the feature to achieve their goals.
Let's assume you have a specific segment of regular freemium users. Converting them into paid customers is the obvious goal for you. And let's say you've added more premium features that would surely attract this segment of users. So how do you get users to adopt premium features?
The ideal way is to trigger a walkthrough that gives users a tour of the value these features would add. And that could lead users to upgrade to premium. That's the magic interactive walkthroughs can weave for feature adoption.
Here's how Quick Ride, a ride-hailing app, drove feature adoption for a new feature, 'Auto Confirm' for those users who couldn't end a ride.
Through a series of nudges – a walkthrough, users are guided to the auto-confirm feature and are educated on how to change their preferences.
This way, Quick Ride prevents users from dropping on the app when they can't end a ride. It gives way to increased feature adoption and further encourages user retention.
Generate habit loops for users
Reinforcing habit loops helps drive continuous engagement as users keep taking actions repeatedly. This directly drives more usage of the key app features. The whole concept of habit loops roots in the fact that user psychology drives user behavior.
Our minds are trained to continue doing the same things and avoid any effort as humans. Change requires effort, and we, as users, avoid that. This is also a significant reason for the low adoption rates of even the best features.
The way to approach this is to create habit loops that make feature usage a routine for users. Isn't that what the big four – Google, Amazon, Apple, Facebook, and many other successful customer-facing apps have done?
You need to identify the right triggers that motivate users to take action around the feature and keep coming back to it. And voila! That's one (critical) way of driving feature adoption and overall app growth.
Segmentation on the basis of user journeys
User segmentation is when you separate users into distinct groups, or segments, based on shared characteristics. For instance, ecommerce users can be segmented on the basis of location, device type, personalized data, or cart abandonment.
Creating user segments helps you offer a more personalized experience to each user based on their individual journey.
When you release a new feature, send a well-crafted nudge to your users based on segmentation. Let them know something new is brewing up on the app. That's how you could engage with your users and make them adopt new features on your app.
To sum this up, we'd say that whether it's a first-time user or a regular user, or a dormant user, there's a way to get them to interact more and more with your app and its features. This is what ultimately keeps your revenue wheel spinning and your customer base multiplying.
Read about these feature adoption strategies in detail – Top 10 Strategies for Feature Adoption
Product and feature adoption analytics
Here are some feature adoption metrics and KPIs to measure the impact of all that we have done to drive feature adoption :
Breadth of adoption
How attractive is the new feature? Has it been widely adopted, or only a small proportion of your target audience base has adopted your new feature roll-out?
Implication: This measures the appeal of your new feature to your target customers.
Depth of adoption
How often do they use your features, and to what extent do they use them? Are your users readily adopting the features, or are they facing any difficulty using them? User feedback helps you understand this pain point.
Implication: This is a measure of app stickiness in a way
Time to adopt
How quickly do your users take you up on your new features? Are they using it the moment they discover the features, or do they take some time to use it?
Implication: Whether or not the feature can address the customer's relevant pain point.
Duration of adoption
For how long have your users been using the new features you've introduced? Do they use it just once? Have they been coming back for days and months to that feature?
Implication: Whether or not the feature is able to address the customer's relevant pain point.
These product and feature adoption analytics can be closely monitored and measured with A/B testing. A/B testing helps you run segment-specific tests, and helps you deliver better customer engagement.
Key feature adoption metrics and KPIs you must track
These metrics are an excellent weapon that gives you insights into how successful your feature adoption strategies are in terms of getting users hooked on the app.
Feature adoption rate
Your focus is to see how much time users spend using a specific feature. The more time your users spend with a feature, the higher is your feature adoption rate.
Some best practices to skyrocket your feature adoption rates:
Go for contextual tutorials to better guide users
Use passive nudges and subtly let your users know about new features without interrupting their app experience
Tap onto the potential of personalized communication to get your hero features noticed and used
Do not annoy users by occupying their entire app screen with a blaring message saying, 'Check out our new feature.'
Always give a skip option to old users as well as new ones.
Active users
This basically includes users who have used an app a certain number of times. This can be measured in terms of Monthly Active Users (MAU), Daily Active Users (DAU), and Weekly Active Users (WAU).
Session length
In simple terms, this is an indication of the time customers spend with you from the moment they log in till the time they exit. While a long session length is a reasonable implication, a short session length might not necessarily be a bad thing. Maybe your contextual walkthroughs made it easier for customers to find their way through your features and quickly get what they want. The more time your customers spend exploring features, the more you're able to drive feature adoption and pique your customers' interest.
Here's a quick tip for you: Make your walk-throughs interactive to give your users a taste of all relevant features and tell them how to get the most out of them.
In-app time
This suggests the amount of time a user has spent on the app on a specific day.
While session length tells you the amount of time a user spends per session, in-app time tracks the total time a user is active on the app, including multiple sessions on any given day.
The longer the in-app time, the more engaged users are.
Conversion rates
This metric tells you the percentage of users engaging with you to sign up for something or perhaps complete a purchase.
Here, you want to see what steps your users are taking to get to the final step and how your feature adoption strategies enable this.
Take a look at some of these strategies to drive up your conversion rates:
Nudge your users to speak to a customer success executive to understand your offerings
Educate your users on paying up in installments
Nudge users and inform them of existing discounts on subscription fees
Offer free trials to your users
Leverage contextual walkthroughs and show your users some demos on how the new feature can be best put to use
User retention rates
It's a measure of how many users are coming back to your features. This can be measured in terms of, say, subscription renewals. The higher the feature adoption, the more the user retention rate.
Best practices for providing a more holistic user experience and improving user retention:
Leverage user data
Gather and implement user feedback
Drive user engagement using consistent, contextual nudges
Conduct rapid A/B tests
Run referral programs and build a robust loyalty program.
Surprise and delight users by implementing gamification
Improve personalization for each user journey
Churn rate
The churn rate directly tells you the percentage of users who have abandoned your product/service. Understanding the reasons behind churn gives a clear idea of feature adoption rates.
A high churn rate could be a result of low feature adoption. The more value and benefits your customer derives from the features, the more likely they're to stick to you and not churn out and switch to your competition.
Each time you introduce a feature to a user, it has to be in the right context through the right channel, easy to understand, and convenient to use. There are multiple tools at your disposal to make a user's feature adoption journey highly contextual, targetted, personalized and relevant at every step of the journey.
Pick up cues from your user's behavior and guide them to the relevant features and make every feature interaction count.
While you're at it, keep coming back to the list of KPIs and metrics that matter most to you, and the road to getting features adopted will not be as complex as it may seem.
How to choose the best tools to drive feature adoption?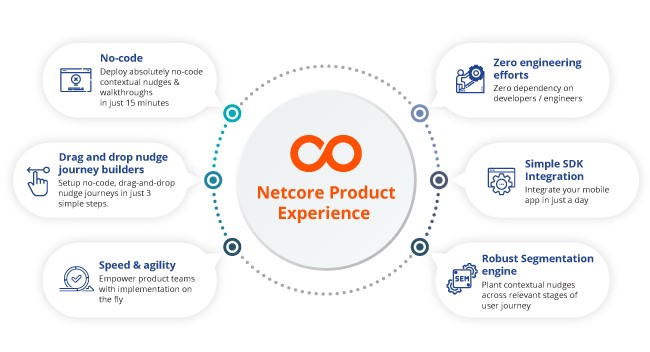 Every time your user comes on to the app, there is an opportunity to create feature awareness and further drive feature adoption. At the end of the day, your product is only as good as its features in it.
You can leverage the multiple ways of grabbing your user's attention at the right time, with the right communication, with a lot less effort and uplift your feature adoption rates. Choosing the right feature adoption tool for your app will provide the necessary boost to your feature adoption strategies.
And that's where a truly no-code product experience platform empowers you to send across relevant contextual nudges and walkthroughs.
A no-code platform saves engineering effort, is easy to use, and gets you going in less than 15 minutes. A no-code product experience platform like Netcore helps you with feature discovery and adoption and helps boost user engagement and funnel conversion.
We are genuinely no-code, and that is what product teams need to drive improved user experience on their apps.
Have better control over feature discovery and adoption for your app with our product experience platform. Explore several use cases for your mobile or web app and see how you can get your users to adopt new features on your platform.
Frequently asked questions related to feature adoption
What is Feature Adoption?
Feature adoption is when a target user starts to "adopt" or use your product's features because it solves a problem for them. When your users find a particular feature to be relevant, they will start to use it. The process of interacting with a new feature over a certain period of time is called feature adoption.
What is the difference between product adoption and feature adoption?
Product adoption is the process of user activation for a web or mobile app, while feature adoption is the process of making your users adopt new or existing features on the app. Improved feature adoption is a prerequisite for a smoother product adoption process.
Why does feature adoption matter?
Feature adoption matters because it shows how successful your product is in solving a user's problem or providing convenience. The more users adopt a feature, the more likely they are to continue using your product. It helps you increase your user retention rate, decrease churn, and attract new users. This is how feature adoption improves vital growth metrics for your app.
How does onboarding impact product and feature adoption?
Onboarding is a process that shows how a product and its features function. It is an excellent way of showcasing your product's problem-solving capabilities.
Onboarding is pertinent for feature adoption as it is the first interaction between your users and product feature. If you can hook them right, you've made feature adoption easier.
How do you encourage feature adoption?
When you are offering a useful feature to your users, all you need to do is have them know about the feature. This is how you drive feature adoption.
What is a good feature adoption rate ?
The adoption rate of a feature shows how successful your product is in providing solutions or convenience to your users. There is no ideal feature adoption rate. But here's how you can measure it:
Monthly Feature Adoption Rate (%) = [feature MAU / monthly logins] x 100
How to measure feature adoption ?
Feature adoption can be measured using the following formula: Monthly Feature Adoption Rate (%) = [feature MAU / monthly logins] x 100