We have all been there: work tirelessly for months to build a new product feature for our app and be confident that it will be a massive hit among existing users. But once it is released, time passes, and nada! It failed to gain the kind of traction/drive the kind of feature discovery and adoption you had imagined. Sounds familiar?

According to a study by Standish Group, only 20% of features are actually used, while 50% are barely ever or never used. This means that most of your app users might not be using all your features! So, how can companies increase app feature adoption? What is the importance of creating a robust feature adoption strategy? These are some of the questions we'll answer in this article as we explain the top 10 strategies to drive better feature adoption in your mobile app.
1. Drive feature discovery
Getting customers to start using a new/existing feature begins with discovery. Feature discovery is critical for B2C mobile apps since it can dramatically improve feature adoption. Spending months of resources on a brand-new feature is pointless if users don't know it exists. For some reason, many companies overlook this critical step or fail to use it effectively.
The best way to make the feature discoverable is by putting it out there for people to see.
Here are some ideas:
Use nudges to guide users towards the new feature
Leverage contextual walkthroughs to help users understand the benefits of the feature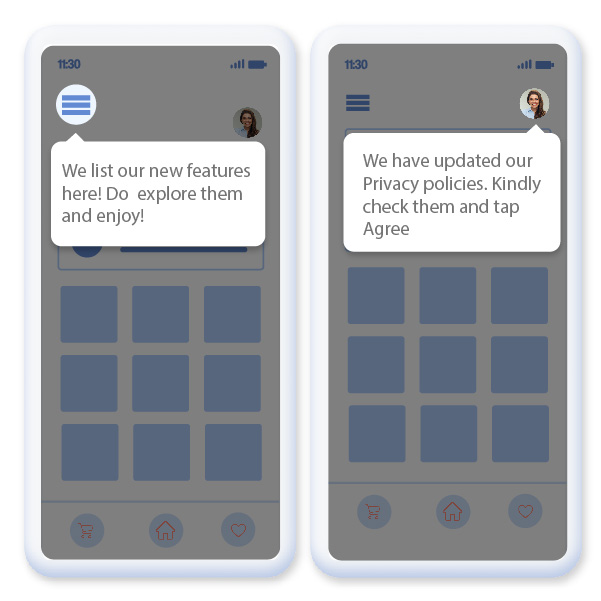 2. Create Customer-centric Features
At a time when everything is data-driven, user experience cannot be left behind. Buzzword aside, data plays a pivotal role in the success of a product, as it can unearth insights into user preferences and behavior.
One of the most effective ways to identify features that your users will love is by listening to the voice of the customer.
Survey nudges – Gather feedback by triggered multichoice/NPS survey nudges at an idle time. For instance, deploying a nudge 10 seconds after the customer has placed an order can be a trigger to rate their experience or participate in a survey.
Analyze the user data on your mobile app to discover trends. Tracking feature adoption highlights the most popular and least used features so that you can head back to the drawing board and further improve the user experience. For instance, the ability to interpret every scroll and tap in the app can help you understand if your user is interested in exploring more content or is unable to find what he/she is looking for. This way you can build and improve on the features that deliver seamless user experiences and keep the customers coming back for more.
3. Nail the Onboarding Experience
Companies that give extra importance to onboarding experience have proficient users. The rise of B2C apps in the market has increased the churn rate of users if they don't find value in the product. Therefore, prioritize educating users about various features that solve their pain points.
Often, feature adoption increases when an onboarding experience:
Quickly explains the functionality and use cases
Use product walkthroughs to expose users to new features. Tell them how the new feature will help them. Trigger these walkthroughs to the right segments of users based on the user's interaction in your app and the specific problem they're trying to address using your app.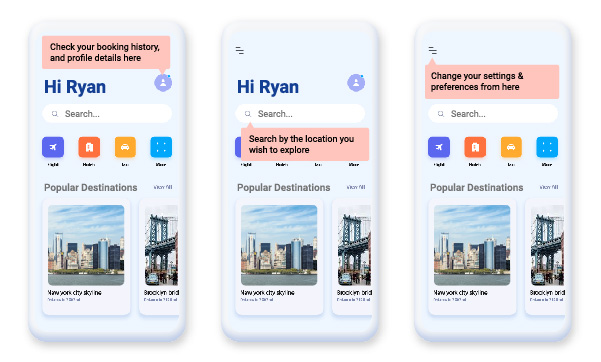 Easily conveys benefits and differentiation
It's important to reiterate that not all customers may benefit from the new feature, or they might use it in different ways. Therefore, send personalized messages that are short and reflect specific benefits to each user group based on their interaction with the app.
Prompts users to leverage the feature over and over again
Use contextual nudges & walkthroughs to show customers relevant content depending upon their context. Nudge them towards features based on not just their previous activity but also external factors such as location, weather, time, etc.
Pro Tip: Gamify the entire onboarding experience to engage users and reward the ones who use your product the most.
4. Leverage Context and behavior
"How Random…" is the last thing you want to hear from your user when they receive a push notification or nudge. Instead, when they see a feature update, they should feel like it solves their problem. That is why it is important to understand multiple contexts in which a feature is introduced to a user.
Being context-aware enhances the overall app experience. Create a strategy that helps you identify the user persona and their activity in the app. This can influence user behavior and make them explore the product and its features. E-commerce companies leverage context and behavior well by suggesting products to their customers based on their past activity, cart, and order history.
Context is the magic you need to drive feature adoption. Understand that new users might find feature A more interesting while returning users may find another more pertinent. For higher feature adoption, send updates based on specific actions taken by the user in the app. Other ways to segment feature updates and notifications include:
Demographics
Location and language
Past behaviour/activity
5. Contextual nudges & walkthroughs
Never leave feature adoption to chance. Instead, have a strategy that includes contextual nudges & walkthroughs to help users get started. Nudges act as guides and encourage users to take the desired action without being intrusive. They can be coach marks, attention-grabbing tags, spotlights, or tooltips. An example of a smart nudge is Google deploying a nudge to highlight an unnoticed mail. If you don't respond to an important email after 2-3 days, you receive a nudge to reply. Thus, nudges positively influence users in the right direction based on the user's context.
Similarly, make customers use your product to its maximum potential by using contextual interactive walkthroughs that cover all the key touchpoints of the feature in a streamlined way. The how-to content should be delivered within the app so that the users don't leave. Interactive walkthroughs are not just limited to new features. It can also demonstrate how other features can be combined with the new one to use your product to its fullest. It ensures you are not only driving feature adoption but also increasing the overall product adoption.
6. Effectively Measure Adoption
On the surface, measuring feature adoption sounds simple: are people using it or not. However, there is more to this than meets the eye. While this is the easiest way to measure success, it doesn't provide actionable insights into further improving feature adoption. When it comes to tracking the performance, it is critical to have a deeper approach that includes:
Range of adoption: How many people are using the feature? Is it adopted by a small percentage of your user base or by a majority? Measuring the breadth of adoption will help you understand the appeal of the feature.
Stickiness: It refers to the depth of adoption and underscores how often your customers use the feature. It indicates whether people are behaving in expected or unexpected ways.
Time and duration: See the time taken by a user to start using the feature – is it immediately or several days (or even weeks and months). If it is adopted immediately, then it indicates that the feature addresses a major customer pain point or need. That's not all. Also, see how long the customer continues to use the feature. Does the user try it often, a few times, or regularly?
In terms of key metrics or KPIs, there are several parameters that you can measure, including adoption rate, average time spent on features, the average retention rate of daily/weekly/monthly active users, and time-to-first important action. Pro Tip: Keep an eye for any positive feedback. It is one of the biggest success indicators.
7. Send push notifications
Push notifications have come a long way and have grown in ubiquity and sophistication. The average smartphone user in the US receives 46 push notifications in a day.
The reason: to be actively reminded of something happening in the app. In the ongoing ferocious battle to engage users in a highly competitive landscape, push notifications can help you stay relevant in the high-stakes marketplace.
Push notification, when used mindfully, can make users return to the product and keep them engaged. A well-crafted and well-timed notification on say a new feature release re-engages the users and ignites curiosity to know more about it.
Pro Tip: Thoughtless use of push notifications can be problematic. Sending too many of them can result in people uninstalling the app entirely. Many companies avoid the guesswork and leverage AI-backed push notifications. These are triggered based on the user's activity in the app and the time they are most likely to click on it.
8. Retire outdated, underperforming features
The oft-quoted phrase "80% of customers only utilize 20% of features," is not an exaggeration. It is based on a century-old Pareto Principle, according to which 80% of the effects are a result of 20% causes. It highlights that most customers don't use all the features of your product. To create the best user experience, many product managers often retire features that aren't in much use or no longer add value.
Empowered with feature adoption data, create a strategy to identify sentiment and user behavior trends. Remove old features or the ones with low adoption and negative feedback to increase user engagement. Think about it this way – why should you spend thousands of dollars on a product feature that is not adding any value for your customers or improving their experience?
9. Embrace split testing
Level up adoption by testing various ways of promoting your new feature. Determine the better-performing variant based on key metrics to improve the overall product. Devise an A/B testing strategy that experiments with several parameters such as placement of a new feature, its layout, Call-To-Action, etc.
Remember, each campaign will provide critical insights about various user segments. Use these insights to improve and further tweak your campaigns to drive faster feature adoption.
Pro Tip: Do not test multiple factors together. Always choose one aspect of the campaign to understand where the increase can be attributed.
10. Generate Habit Loops
"Humans are creatures of habit and routine" – Edgar Rice Burroughs.
What this means for the product management team is that their users' momentum behavior can significantly impact the feature adoption rate. For instance, the Facebook Newsfeed has gained momentum behavior by creating a habit loop of infinite scrolling. Looking at the success of these feeds, LinkedIn and Google have followed suit.
The above example shows that even though humans are averse to change, their habits can be altered to increase feature adoption.
Product teams need to understand their customer's intuitive behavior when they interact with the apps. They then need to identify and understand the habit loops around core features to get users to repeatedly come back to those features.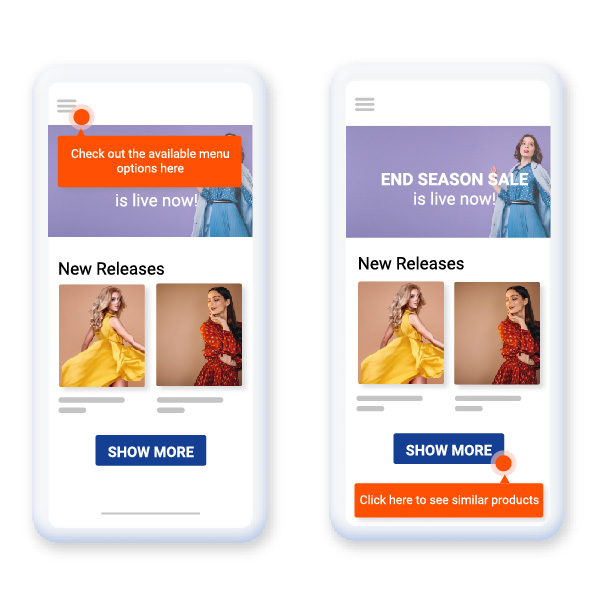 Final Thoughts
Feature adoption is more than just getting your users to interact with the new feature you have launched. Our top 10 feature adoption strategies can help you revitalize old features and make your app users explore new features in a more streamlined manner.
In the end, the true value of your work lies in the success of every feature you ship. Not all may be as successful as you had hoped, but that is where data and key metrics can help. After all, creating a feature is one thing; making your customers repeatedly use them is what makes you stay in business.
To explore use cases you could implement to drive feature adoption on your mobile app, connect with us today!