Hey there,
what's up? So, you are interested in knowing how to use WhatsApp for Business. Well, why wouldn't you?
There are as many as 2 billion people around the world using it as of 2021. If not all, most of your customers could be using WhatsApp. It is certainly a smart move to connect with the customer using WhatsApp –the platform they're familiar with.
Besides, with the launch of WhatsApp Business, it has become easier to connect with the customer in a 1:1 professional setup. Using WhatsApp for Business you can automate your Commented [SP38]: Statistics has been updated responses, have chatbots address customer issues, and provide personalized experiences to your customers and do much more.
Businesses of all sizes –from grocery stores to banks –are excited about using this app. The reason being WhatsApp for Business represents a unique opportunity for brands to provide immediate, fast, and safe communication to its users. Before we move on to discussing how you should use WhatsApp for Business, let's understand a bit about what exactly it is and how it works.
What's WhatsApp Business? How's it different from the WhatsApp consumer app?
Like the name suggests, WhatsApp Business is specifically designed for business use cases. It looks and feels just like the WhatsApp consumer app that you and I use to talk to family and friends. But comes with added capabilities and tools to help businesses communicate better.
Some of WhatsApp Business features are: product/service catalog, business profile, quick replies, analytics, chat labels, and chat migration. Not to forget, you will be able to send emoticons, stickers, photos or videos, audio or video call, and use web access. Customers can interact with businesses without downloading any separate app other than their regular WhatsApp consumer app. And just like WhatsApp consumer app, WhatsApp Business is free to download.
Who's it for and why brand need to use WhatsApp Business?
"Customers today don't want to call or email a business –they want to send a message. And since customers are on WhatsApp, businesses need to be too."
– Mitu Singh, Product Manager for WhatsApp Business
First things first, although the official website says that it was primarily built keeping SMEs in mind, WhatsApp launched its API in 2018 to cater to big brands and micro-businesses. Some examples of which I came across recently are Netflix, KLM, Bookmyshow, Flipkart, and Oyo. And on the personal front, my vegetable vendor and neighborhood grocery store also use WhatsApp Business. So, there you go. The reason is WhatsApp Business app is simple yet sophisticated enough to cater to customers of any business from a vegetable vendor to a global airline.
WhatsApp seems to have benefited greatly from its free messaging, free calls, clean and simpler user interface proposition and continues to grow exponentially compared to its alternatives. According to WhatsApp head Will Cath cart, as of January 2021, approximately 175 million people send messages to business accounts on WhatsApp every day!
Moreover, the WhatsApp Business was downloaded 18 million times across Google Play & App Store in January 2021. The vast majority, 17 million downloads, came from Android users. The remaining 1million installs came from iOS users. Commented [SP39]: Sentence has been replaced as per current statistics-ok Commented [SP40]: Sentence has been added as per
With WhatsApp constantly improving the app and adding new features to it, more and more businesses are expected to join the network. It is bound to become the most lucrative communication platform in the multi-channel marketing mix. By adopting WhatsApp Business, marketers can derive these benefits:
Easy and quick adoption
Powerful two-way communications
Real and rich conversations
Automation at scale
Access to a massive user base in a familiar setting
Recommended read: WhatsApp Business: Reimagine Personalized Customer Engagement through Smartech
7 ways to use WhatsApp Business
WhatsApp Business provides you with an opportunity to interact with users in a more private and secure environment. The simplicity of the platform, further, makes it easy to have informal and friendly conversations with them. That said, WhatsApp is not going to let marketers serve their users with bulk promotional/advertising messages. The core intent, as per the company, remains to create compelling customer experiences.
Keeping this in mind, brands can use WhatsApp Business to only send messages to their existing customers/leads who have explicitly opted-in to receive the communication. Any unwelcome activity is completely frowned upon and may as well get your business barred from using the app. Therefore, marketers must practice caution while using the app.
It is also worth noting that even though WhatsApp Business only allows messaging to the users, there's no end to the creativity that can be employed here. Let's go through some of the use cases that we found so far:
While you go through this article, we highly recommend that you watch this webinar we hosted in partnership with Chetan Kumar, who manages Strategic Partnerships at WhatsApp.
On-demand Webinar – The WhatsApp Business Solution –Reimagine Personalization in the Engagement Economy
The webinar will walk you through varied ways to use WhatsApp Business API across industries, how to setup automation using Netcore, and also addresses some of the key questions related to the product.
1. Delighting customer
In the times of extreme competition, there's no doubt in saying that companies that will engage the customer in the best way will score the maximum wins. Customer engagement no longer remains an option; it's a must. One of the major eCommerce players in India, Flipkart, understood this well. In collaboration with Netcore Cloud, Flipkart designed a WhatsApp chatbot specifically for the Big Billion Sale event. The event,required Flipkart to deal with the massive inflow of traffic to its website and interact with users in a fun and interesting way.
Relevant Read: How Netcore's Whatsapp chatbot helped Flipkart deliver customer delight at scale
2. Tailor recommendations
As human beings, we often seek recommendations –what to buy, what to watch, where to eat, what to wear, etc. There are times when the decision-making doesn't come easily. At such times, it always helps to have someone out there suggesting you best options as per your liking. Businesses can fit well in this role pretty easily using WhatsApp business. Netflix has been doing so in a personalized way and seems to be quite good at it. Based on my watch history, it creates tailored recommendations as to what to watch next.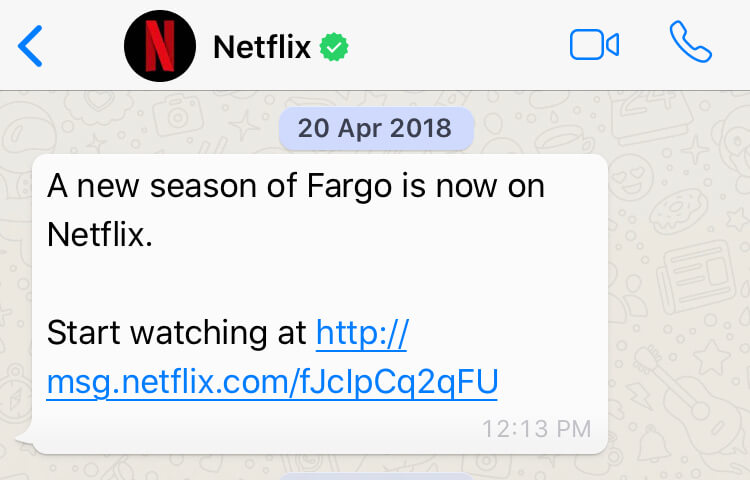 3. Collect customer feedback
WhatsApp Business can be an excellent tool for collecting customer feedback. Businesses can interact with customers at different touchpoints. You can send prompts for customers to share their reviews or ratings with you. Since WhatsApp allows you to interact in so many fun ways, you can go as creative as you want with this.
4. Handling customer issues
Compared to other channels, back and forth messaging is quite easier on the WhatsApp Business app. Since the platform is built in such a way that it demands brevity, it is easy to get the issues resolved, get the answers, and also report issues. If in case, you have a massive pool of users to cater to and a limited size of the customer service team, we recommend you to deploy automated replies and chatbots and turn this into a self-help channel. Besides, bots allow you to respond promptly and can handle multiple customers at once. Here are some good examples of how this can be done:
5. Send reminders, alerts, notifications
While Email marketing and SMS marketing have been useful and successful in their own right, WhatsApp Business adds a new dimension to your multi-channel marketing strategy. Using it you can send important notifications about product updates, new releases, remind users about an event and share any critical information. Some usage examples are payment reminders, cancellation of an order, flight information, travel documents, delivery updates, or downtime notification, etc.
6. Showcase products or services
WhatsApp recently released catalog feature keeping in mind the needs of eCommerce brands. The move is expected to help eCommerce generate new users. Using this feature, businesses can turn the app into a "mobile storefront" for their brand and showcase the whole range of their products and services.
7. Engage withnon-transactional messages
Earlier, WhatsApp Business was limited to sending only transactional updates to customers, prohibiting any promotional activities on the platform. In 2021, however, WhatApp revoked this policy and announced that it would allow businesses in approved countries* to send non-transactional notifications –including promotional messages.
Non-transaction messagesinclude:
• Product recommendations based on customer's purchase history
• Helpful informational alerts
• Relevant offers on products
• Reminders to book an appointment
WhatsApp Business API is a go-to platform for businesses who want to send varied WhatsApp messages to their prospective customers. The WhatsApp Business API makes it easy to send outbound notifications, personalize messages, and interact with customers in real-time.
How to get started with WhatsApp Business
Before you start with the implementation of WhatsApp Business, first you need to decide whether you need WhatsApp Business app or WhatsApp Business API. Here are some key similarities and differences between WhatsApp Business and WhatsApp Business API:
| WhatsApp Business App | WhatsApp Business API |
| --- | --- |
| Ideal for micro and small businesses | Ideal for medium to large enterprises |
| Requires customer opt-in | Requires customer opt-in |
| End-to-end encryption | End-to-end encryption |
| Free-to-use | Charges apply basis cost per delivered message* |
| Allows users to set quick replies, away messages, and greetings | Supports complete automation |
| Cannot be integrated with any existing engagement or marketing automation platform | Can be integrated with existing customer engagement or marketing automation platform. |
*Replies to customer-initiated conversations remain free onWhatsApp Business API.
However, rates for business-initiated conversations and user-initiated conversations vary by market (country or region).You can access the pricing details here on this link.
While the process for implementing the WhatsApp Business app (for small businesses) is as simple as creating your personal account, getting started with WhatsApp Business API takes a bit longer. The reason being WhatsApp has restricted the use of its API to limited users to keep the quality of the service. Businesses need to go through a verification and approval process upon which they can start using the API.
Best practices to using WhatsApp Business app
Send messages to customers who want to be contacted
No one enjoys receiving random messages from unknown numbers. Rule #1 –never ever message users who do not want to be contacted. WhatsApp takes this very seriously and blocks businesses that do not adhere to this basic rule. For any kind of promotional marketing, ensure that you are sending messages only to opt-in customers.
Message with purpose; never spam
While many of your users will authorize you to contact them, it will always be a bad practice if you bombard them with messages. It is always best to plan out your messaging strategy in advance. Think through your messaging type, schedule, and timing for providing a good customer experience.
Be crisp and concise in tone
The very nature of conversations on WhatsApp demand brevity in messaging. As such, marketers should be careful while crafting their messaging. If it is too long to read, customers will barely read it. The best practice would be to keep the messages short and to the point.
Throw in some creativity and fun
WhatsApp supports several features that allow you the freedom to go creative in your conversations. By making use of emojis, gifs and multimedia, you can capture your customer's attention and throw in some fun vibes to your messaging.
Make it personal
Even though the conversations on WhatsApp are supposed to be business-related, the approach needs to be personal. That is to say, your messaging needs to reflect the human side of your business –that is creative, open, and familiar. At the same time, the word of caution here would be to always be aware that you will be representing your company.
Consistency in branding
WhatsApp allows businesses to add details like email, business name, display picture, address, category, description, and website. Like any other channel representing their businesses, these fields are crucial from the branding perspective. In order to come across as genuine and trustworthy, you must always ensure to display an accurate and consistent representation of your brand.
Send the right message to the right audience
Just like email, practicing a good segmentation strategy on WhatsApp will ensure the relevancy of your message. Also, you'll not have to deal with any kind of negative backlash.
WhatsApp being WhatsApp, will always keep on coming up with more exciting features. Since the company is aware of this pressing need of businesses to connect with customers in a personalized way, there's no stopping for them anytime soon. More and more businesses are expected to join their network. And if you too want to talk to your customers and engage them on the channel they like –WhatsApp Business is your place to be at.
For any kind of help in integrating it into your business, feel free to get in touch with us!