The art of cross-selling and up-selling has proven to be a game-changer for businesses seeking to strengthen customer relationships, drive revenue growth, and enhance customer lifetime value. By strategically incorporating these techniques into your email marketing campaigns, you can unlock a world of untapped opportunities and transform your organization's bottom line.
And yes, both these strategies work really well; as seen from some interesting facts culled from various studies.
Here are a few statistics that highlight the revenue and sales impact of cross-selling and up-selling strategies:
This blog explores the power of cross-selling and up-selling within the context of email marketing, providing you with actionable insights and practical tips to help you create engaging and persuasive email campaigns. Read on for the choicest examples of cross-selling and up-selling emails. We'll also make a few observations on why these examples stand out so you can take some ideas with you to your drawing board.
Examples of cross-selling emails
Crate & Barrel

This is the most obvious and effective way of cross-selling. People always open their order confirmation emails to check that the details are accurate. You already have their attention and the digital real estate. Why not use it to showcase other products your customers will enjoy?
Only display products that people with the same interest have purchased. Customers, especially those who have just spent money on you, don't want to feel that you're pushing irrelevant products just to make a buck.
Soak & Sleep

The best time to cross-sell is when you're offering a reward. Soak & Sleep does this perfectly. Entice customers with an eye-catching 50% discount and show them more products they could get at a wildly cheaper price. Cross-selling done like a pro!
Matalan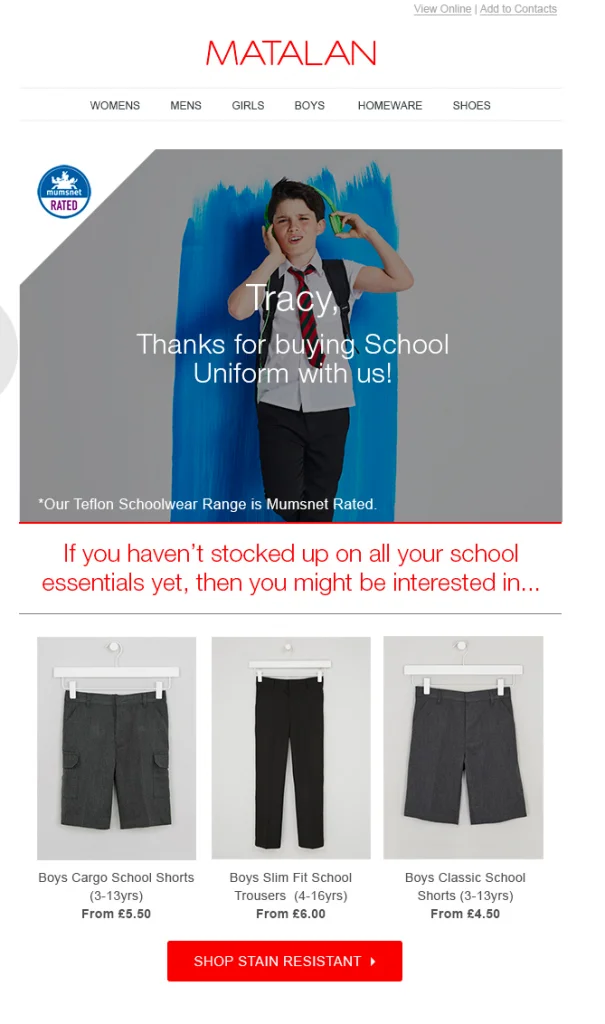 If you can add a dash of urgency to your cross-sells, do it. Matalan reminds customers that they need to get the essentials before the beginning of the school year. And they showcase those essentials. Wouldn't you, as a customer, be likely to buy within an email you've already opened? Or would you want to browse multiple pages and product catalogs to buy the same products anyway?
Examples of up-selling emails
Banana Republic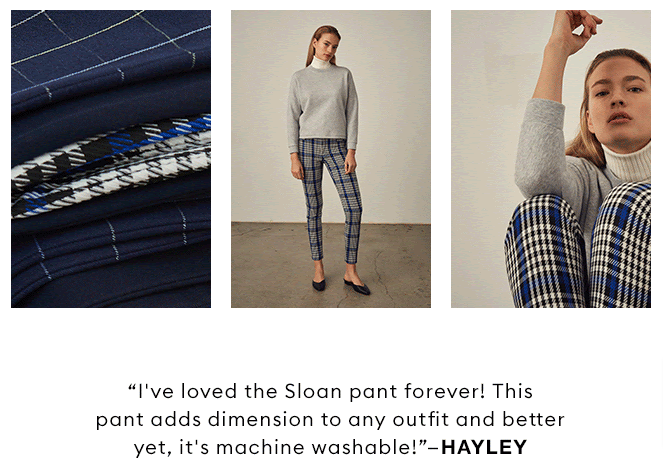 This is one of the smartest up-selling tactics we've seen. Notice how Banana Republic offers images of multiple pants (folded) but offers full-body imagery and testimonials for only one of them. You're still allowing your customers to choose between different products, yet you're subtly suggesting that one is better and deserves more attention.
Evernote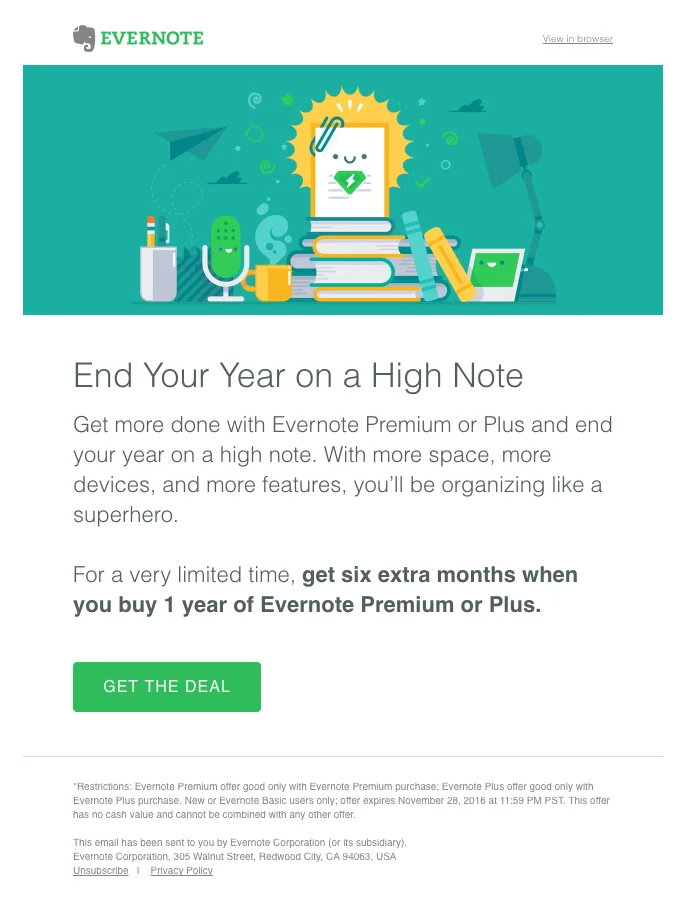 A great deal is always welcome, no matter the marketing tactic. Evernote gets this right by offering a whopping six extra free months if you sign up for a year-long plan. You're getting 150% for the cost of 100%. If you do need software or an app for organizational features, you will remember and recall this deal later – if not buying it immediately.
Zapier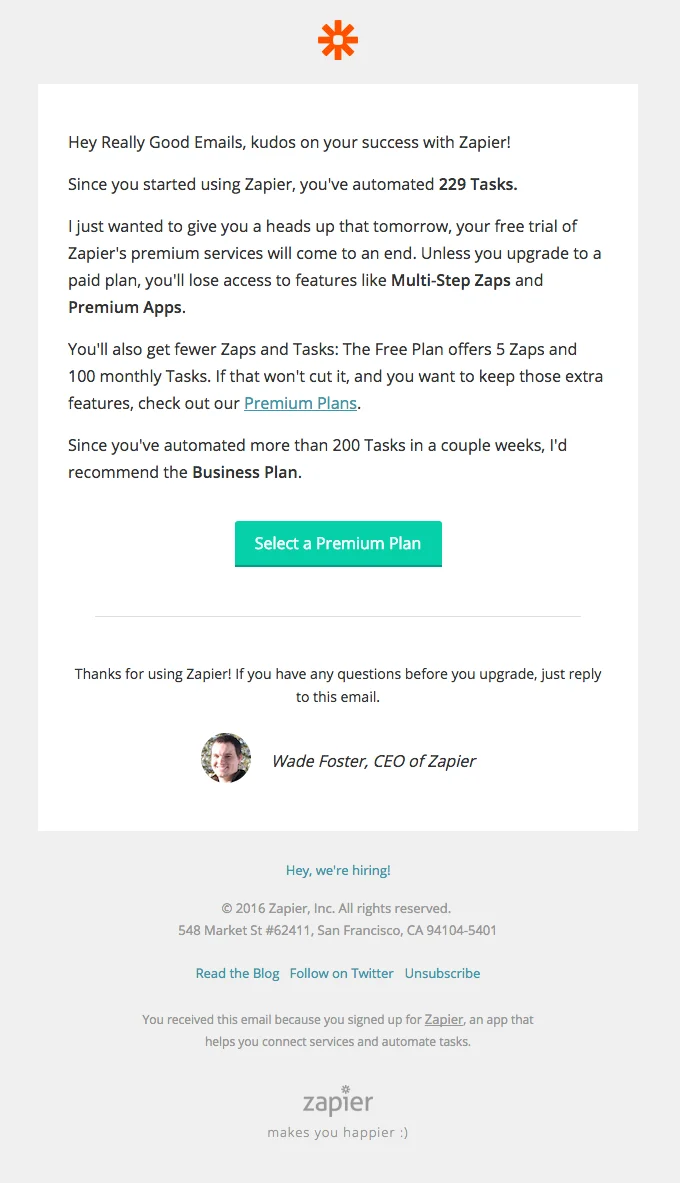 Zapier has an interesting approach here. Tell customers how much value they've already gotten out of your product so that they have a real reason to consider your up-sell pitch.
The customer here has already used Zapier to automate over 200 tasks. That means they're getting real use out of the tool. By reminding them of this, and also of the fact that they will soon lose access to this value, Zapier triggers a completely reasonable urgency.
After this, when they suggest the Business plan, the customer will be likely to listen.
Get the best out of both cross-selling and up-selling
The ability to master the art of cross-selling and up-selling using marketing emails can revolutionize your organization's revenue generation and customer satisfaction.
Cross-selling and up-selling are generally used together. It makes sense because when customers are paying attention to your suggestions about alternate products, they'll also consider upgrading to the higher-priced products you suggest. However, their decision to purchase depends on your email creating the right emotional resonance in your users.
And here is the tricky part. Optimizing the audience segmentation, subject line, content, and email send times and syncing them with the customers' online behavior is the key to successful up-selling and cross-selling. Unless you have dedicated, constantly-updated research and resources to effectively manage these parameters, you will find it challenging to tap into the full potential of cross-sell and up-sell strategies.
But why go at it alone? Why not let Netcore step in and use our research, learnings, and technology to help you get ahead of your competition? We're global leaders in all things email and constantly pioneer innovative solutions in email marketing.
Netcore has been recognized as 'Ahead of the curve at applying AI to marketer workflow' in The Forrester Wave™: Email Marketing Service Providers Report 2022. For the second year in a row, we received the 'Highest overall customer rating' as a Customers' Choice, in the 2022 Gartner Peer Insights 'Voice of the Customer' Report.
Connect with us to understand how you can benefit from our expertise and experience. We send over 20 billion emails a month on behalf of 6500+ businesses across 40 countries.