Marketers' roles have extended far beyond crafting compelling campaigns. It's about unlocking the power of data-driven insights to supercharge performance and generate meaningful returns on investment (ROI). So we present to you Netcore Gen AI, your AI-powered Copilot, here to empower how you interact with your customers and redefine your marketing experience. This transformation is made possible through groundbreaking Natural Language Processing (NLP) combined with a range of cutting-edge solutions.
And the grand finale? The Chat UX-based journey orchestration and segment builder. Picture this: marketing workflows and campaign deployment revolutionized by the art of natural language. No more tedious manual tasks – just pure marketing wizardry at your fingertips.
Think of Netcore Gen AI not so much as a tool but more as your trusty personal assistant. Gen AI is the missing puzzle piece of a stellar marketing strategy, and industry trailblazers like Max Life, Nykaa Fashion, Thomas Cook and Polaris Bank have already found a way to piece it together.
Case in point: Max Life
"Max Life commends Netcore's Generative AI content generator for its exceptional efficiency and creativity. The tool has significantly enhanced our content strategy, accelerating campaign deployment and customization. It's a vital asset that allows us to engage our audience effectively, contributing to our success in the digital realm. Utilizing Netcore's Generative AI, we've observed a significant 18% uplift in engagement, a testament to the effectiveness of this innovative tool"
~ Sameer Jain, VP & Head D2C, Max Life
Max Life has successfully leveraged Netcore Gen AI to enhance campaign effectiveness by identifying the best mix of channel and content.
Similarly, Thomas Cook experienced massive success since integrating Netcore's Gen AI.
"Netcore Cloud's content generator is driving a paradigm shift in the travel industry through Generative AI, amplifying brand impact and customer engagement."
~ Neeraj Singh Dev, EVP Ecommerce, Thomas Cook (India)
Gen AI has also made waves in the BSFI landscape with Polaris Bank capitalising on Netcore's Generative AI capabilities.
"Netcore has undeniably injected a new sense of excitement into email marketing. Its Email Subject Generative AI plays a pivotal role in crafting captivating email subjects, incorporating varying tones such as formal, informal, or witty. This dynamic approach not only amplifies open rates and recipient engagement but also elevates the overall efficacy of our email marketing campaigns. The Send Time Optimization AI also stands as a testament to innovation, strategically identifying optimal message delivery times based on recipient behaviors and engagement patterns. This implementation has resulted in a notable 5% upswing in open rates for the utilized campaigns. "
~ Chibuzor Gift Ekekwe, Digital Marketing Executive, Polaris Bank (Nigeria)
To understand how Netcore Gen AI has redefined ideation to execution read more here.
Netcore's AI co-pilot automates tasks such as segmentation, journey development, commerce search, and campaign optimization, ensuring hyper-personalized customer engagement, significantly cutting down the time required to create, launch, test, and optimize marketing campaigns—from weeks or months to mere seconds.
How Netcore's Gen AI can boost your marketing ROI?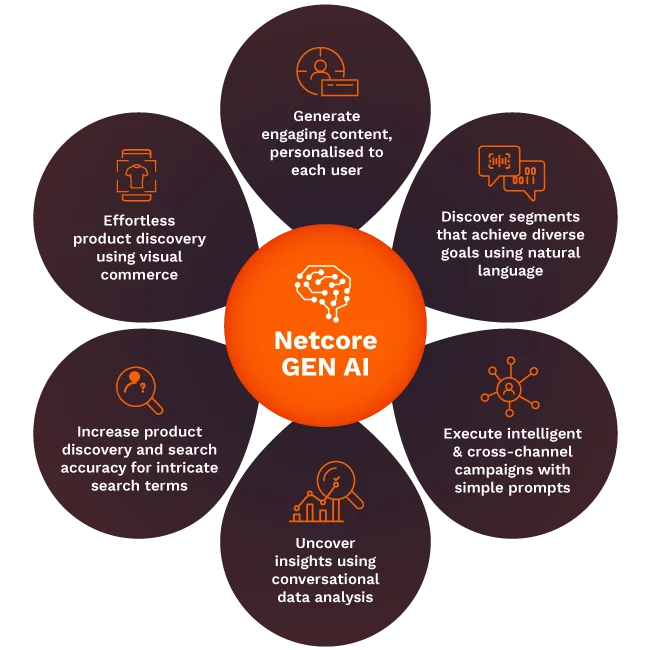 Create predictive segments 20X faster with AI-powered segment creation
Netcore AI will enable you to build profitable audience segments for cross-channel customer experiences 20X faster. All this with a simple Natural Language query given by you.
A simple prompt like 'Show me the segment of the most loyal customers with the highest AOV' would produce a pre-populated, ready-to-use segment to orchestrate high-impact user journeys.
Create cross-channel customer journeys at the click of a button
Netcore AI replaces manual inputs with automated journeys built on Netcore's deep customer intelligence. These journeys ensure the delivery of right message to the right user at the right time. Additionally, Netcore AI makes navigation much easier through prompt-based journey orchestrations to ensure the highest efficiency.
For example, To promote new arrivals to their regular buyers, marketers can use simple prompts like 'Create a cross-channel journey for regular buyers to result in the highest product discovery and conversion,' and Netcore AI will extract behavioural and event-based customer intelligence to design a journey with the right elements and channel mix.
Generate compelling content for all Channels
Content generation and creating engaging campaigns can take a long time if done without the Netcore Gen AI Copilot. But with it, be it email subject lines, WhatsApp messages or App push notifications, with the Gen AI-powered content generator marketers can craft campaigns using simple prompts. For example, using a query like 'Generate an email campaign for Black Friday Sale' and specifying Netcore's Gen AI will create messages customized to the channel and the required outcome.
Enhance search relevance
Netcore's Gen AI utilizes NLP-powered dimension search, which goes beyond just products or attributes to include elements like price and size. This intelligent system doesn't rely solely on keywords; it understands and recognizes dimensions, offering a more comprehensive search experience.
Even for the most complex user queries, the intent search capability understands even complex and vague queries to deliver accurate & relevant search results.
Improve product discovery
Netcore AI significantly improves product discovery. Integrating contextual cues with catalog understanding and search, Netcore AI ensures that each shopper finds the products that align with their specific preferences.
Furthermore, with conversational search capabilities, customers can engage in natural, human-like conversations when searching for products. Netcore AI excels at capturing user intent in real-time, allowing it to deliver highly accurate and relevant product recommendations.
Enable content personalization
Netcore AI will deliver 1:1 hyper-personalized user content at scale based on each customer's unique profile, preferences and behavior.
By altering the entire onsite experience to every customer's unique behaviors, interests, tastes, preferences, and affinities, Netcore AI allows marketers to customize their user content at an individual level.
With Netcore AI brands have been able to navigate the hyper-competitive market and found success in their marketing initiatives. The arrival of Netcore Gen AI marks a revolution in the marketing space, reshaping how marketers engage with their audiences. With state-of-the-art Natural Language Processing (NLP) technology and cutting-edge solutions, Netcore Gen AI is the ally marketers have been awaiting.
Netcore's AI copilot expedites campaign launches and streamlines segmentation, journey development, commerce search, and campaign optimization, drastically reducing the time needed to create, launch, test, and optimize marketing campaigns—from weeks or months to mere seconds to keep marketers 10 steps ahead of the game. If you want to unlock these benefits and experience the future of Generative AI book a demo.