In Part 1, we spoke about the nature of Inbox Commerce, why it is rising fast in the marketing ecosystem, and what advantages it can offer brands and marketers.
In this sequel, we discuss a few real-world examples, glean some insights from a trade show, and talk about the crown jewel of Inbox Commerce – the All-in-Email.
Let's get right to it!
Real-world examples of Inbox Commerce at work
WeChat
This popular Chinese messaging app lets users make payments, talk to brands directly, and even book appointments through WeChat Pay, WeChat Stores, mini programs, and official accounts.
WhatsApp Business
Companies can use WhatsApp Business to create profiles, showcase products, send promotional content, and deliver customer support – all through WhatsApp.
Facebook Messenger
Businesses can use FB Messenger to connect with customers, offer support, and enable transactions via chatbots or human agents.
Instagram
Instagram has a shopping feature that brands can use, tag products on posts and stories. This lets people purchase directly from the app.
RCS (Rich Communication Services)
This is an upgrade to traditional SMS. RCS lets businesses push rich-media messages, promote products/services, and accept payment via interactive content.
Email platforms with AMP (Accelerated Mobile Pages)
Email clients like Gmail, Yahoo, Mail.ru, and FairEmail support AMP. This technology empowers brands to craft dynamic and interactive email content that lets users search, browse, and compare products, read descriptions and reviews, and buy within email.
Apple Business Chat
Apple's messaging platform for businesses enables customer engagement, customer support, and accepting payment through the Messenger app on iOS devices.
The next leap in Inbox Commerce: All-In-Email and AI-driven catalogs
All-In-Email
Visualize this: Every action the marketer imagines gets completed inside the email. From search to shop, pay to play, form fills to feedback, browse to bookings, chat to cart management, surveys to spin-the-wheel – emails can do anything that websites and apps do.
This cuts down AdWaste for brands (spent on directing traffic to websites and apps) to a huge extent. All-In-Emails immediately capture people's attention and solve problems of data poverty. ESPs can offer AMP emails themselves and integrate them with other innovations for broader appeal and functionality.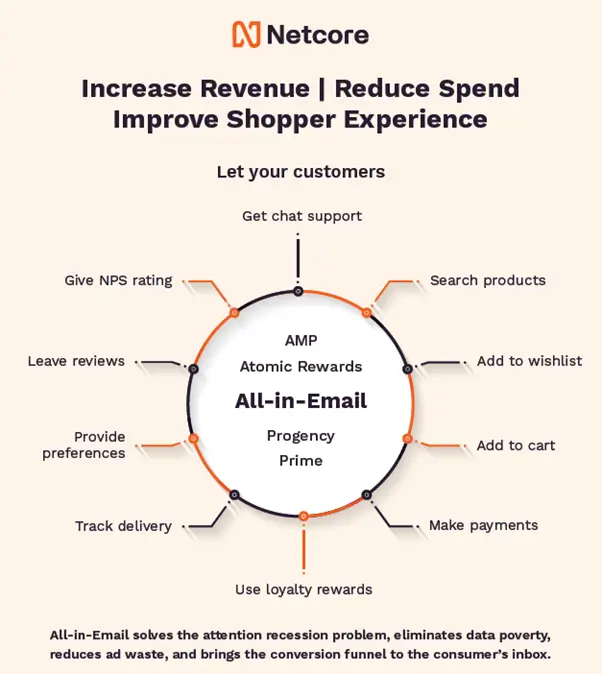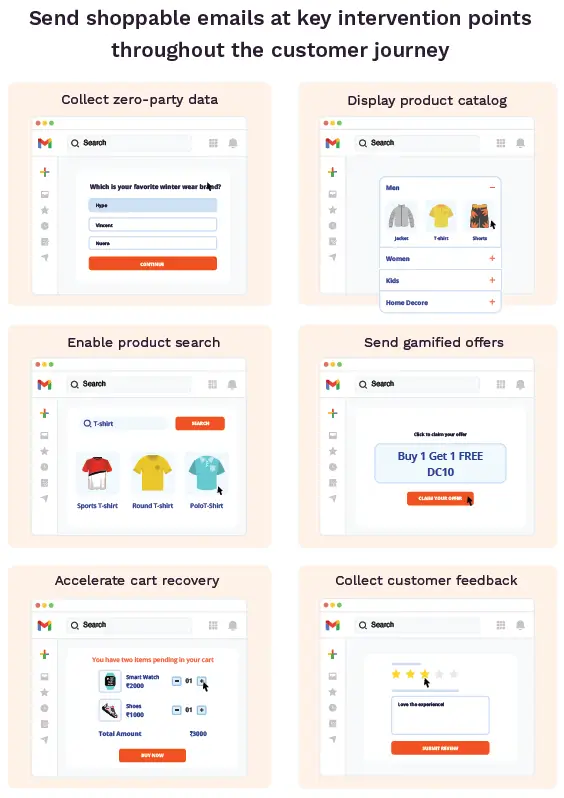 "From filling forms to lead generation, from spinning wheels for offers to using calculators for answers, from getting additional product information to acting on abandoned shopping carts, from searching to paying – AMP is the future of email. Think of it as Email 2.0 – email without the need for clickthroughs and landing pages, a world without redirects."
– Rajesh Jain, Founder of Netcore
AI-led product catalogs
Consider what you can do with the conventional search functionality in eCommerce. You can look for a product by typing in a keyword. If the product exists in different colors, the search may return different pages with the same product in various colors.
However, what if you could just talk to the search function like you would to a salesperson?
"I really like this dress, but can you show it to me in a teal shade?"
And you'd get what you were exactly looking for. Such would be the capability of an AI-driven catalog. Additionally, such an engine would be able to study browsing behavior and push out recommendations more effectively than the current algorithms. The result? More customer engagement and purchases.
Insights from industry events (eTail West and Shoptalk)
At eTail West, Netcore had sponsored roundtables – each was a 20-minute conversation with 7-8 marketers. Here are our insights from the discussions:
The talk began with personalization and friction points in the customer journey. We dug into how Netcore's AI engine solves the problem by enriching the catalog beyond human input. It also brings in the ability to unify customer data with the catalog and deliver highly specified personalization.
The excitement ran highest when we showed how the Gmail inbox could become a shopping channel – with product catalog, search and add to cart function, selecting a shipping address, and payment processing.
At ShopTalk, the experience was quite similar. But a quick anecdote is the best way to sum up the audience's response.
We started by explaining about Netcore and what we did. After a couple of minutes of listening, the founder of a D2C cut us short and said, "What you are describing is what 50 other companies at this show are talking about. What is different about you?"
We simply opened our iPad and showed an example of 'Inbox Commerce' – precisely what had wowed the audience at eTail West. The response was instant. He said,
"Why didn't you start with this? These 30 seconds are all you need to make me want to talk more to your company."
Own the future of marketing with Inbox Commerce
In all honesty, brands are losing customers who are numbed by the current marketing tactics. Marketing must either evolve with the technology or become redundant. With the plethora of channels available, attracting and sustaining customers' interest and distinguishing yourself from the competition is more difficult than ever.
It's time now to make the switch.
Inbox Commerce doesn't just get your customers' attention; it also transforms the attention into immediate engagement and conversion.
This final article of the 2-part series is based on the blog 'The Coming of Inbox Commerce' by Rajesh Jain. He is the founder and Group MD of Netcore Cloud, a bootstrapped SaaS company that helps brands create outstanding AI-powered customer experiences at every touchpoint.