2020 was undoubtedly a difficult year for businesses around the world. Traditional brick and mortar stores had to bear the brunt of the pandemic-imposed restrictions like lockdowns, social distancing, and quarantine. The knock-on effect of this transformation was that the ecommerce industry saw exceptional growth owing to consumers having to stay indoors and purchase online.
Consumers spent $861.12 billion online with U.S. retailers in 2020, an incredible 44% increase over the previous year. That's the highest annual U.S. ecommerce growth in over two decades and also nearly triple the 15.1% jump in 2019.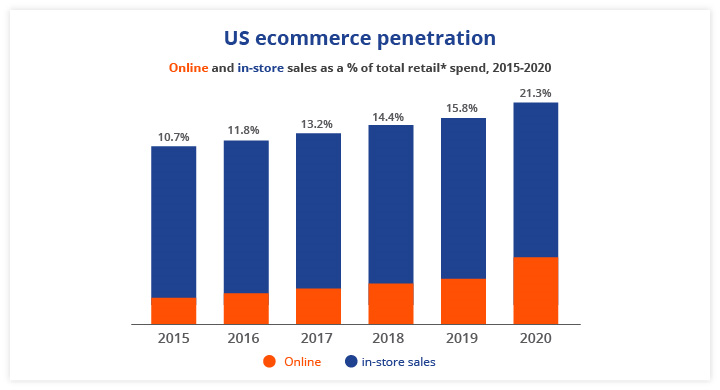 With consumers so heavily dependent on ecommerce brands to satisfy their shopping needs, the responsibility fell on the brands to deliver what they were looking for. So what exactly are the consumers looking forward to?
In order to help ecommerce brands and marketers understand what the consumers are looking for and also to get an understanding of what other leading ecommerce marketers feel about the current ecommerce landscape, Netcore partnered with Wakefield Research to conduct a survey of 200 retailers and 600 consumers to gain deeper insights into the many unanswered questions on the state of personalization in ecommerce.
Here's our Ecommerce Personalization Benchmark Report 2021
The research report explores the following areas-
The consequences for ecommerce brands if their personalization endeavors don't match customer expectations
Major challenges faced by ecommerce brands in delivering personalization
The key metrics and benchmarks for ecommerce brands and how investment in personalization is benefiting them
ROI from investments in personalization
Hottest trends and innovations in ecommerce personalization
Personalization – the need of the hour for ecommerce marketers
An astonishing 91% of shoppers would abandon an online retailer over a poor shopping experience. They believe that it's crucial for retailers to personalize the shopping experience to fit their preferences. A satisfying shopping experience across the customer journey thus becomes a necessity.
What is it that customers seek then?
Ecommerce brands are increasingly focusing on omnichannel personalization as consumers expect a personalized shopping experience across all channels when they shop online. More than 3 in 4 shoppers want a more personalized customer experience. A surprising 41% of retail executives say their ecommerce platform is somewhat personalized at best— while just 13% of online retailers provide shoppers with a completely personalized experience.
Isn't the gap clearly visible now?
The onus is thus on ecommerce marketers to ensure that their customers are delivered a satisfying customer experience across all touchpoints of the customer journey.
How does Personalization help retailers improve their ecommerce metrics?
7 in 10 retailers who invested in personalization have seen an ROI of at least 4X. Now, this is significant:
This coincides with improvements across retailers' most important benchmarks:
Personalization also helps retailers generate more page views which in turn results in more purchases. Before personalization, only 51% of the retailers reported that their shoppers were seeing at least 10 pages while shopping. After personalization, 75% of the retailers have been able to achieve this target, an almost 50% increase. Retailers are thus able to ensure that shoppers end up seeing more pages and products before making a purchase.
The report also dives deeper into specific verticals of ecommerce and analyzes the impact of personalization on the major metrics and benchmarks.
As we can see, brands in each retail category have seen substantial uplifts in conversion rates since they began offering personalization. Our research study also dives deeper into other retail categories like groceries, jewelry, books, and cosmetics. Check out our Ecommerce Personalization Benchmark Report to find out how personalization has impacted the conversion rates of the various ecommerce verticals.
This phenomenon has also been seen in metrics like average order value, revenue per user, and 90-day customer retention rate. The cart abandonment rates have also dropped to well below 50% for each retail category with product recommendations at the right touchpoints encouraging customers to purchase more.
Despite this, personalized touchpoints are offered by fewer than half of retailers:
While 62% of retailers claim to have improved their personalized shopping experience over the last year, a worrying 45% of shoppers believe that they have actually not seen any improvement.
In fact, some of the most common personalization touchpoints are offered by fewer than half of retailers. Most customers love to shop when they are offered personalized discounts and coupons. Yet only 45% of retailers are offering their customers personalized discounts.
Nearly 7 in 10 shoppers (71%) use the search bar frequently and 27% of them use the search bar all the time to shop. However, alarmingly, only 48% of retailers can deliver personalized search results.
The home page is the face of any website. Being the first touchpoint that a customer comes in contact with, it's extremely important to capture their attention immediately. Personalized home page promotions influenced a substantial 85% of customers to continue shopping. Showcasing relevant product recommendations on the home page can even increase click-through rates by almost 90-120%. Yet only 38% of retailers are showing personalized product recommendations on their home page.
If personalization has a significant impact on key metrics and is heavily in demand amongst shoppers, what are the major roadblocks for ecommerce brands?
Half of the retailers say that gathering customer data presents challenges to personalization. This results in significant shares of retailers not using various types of important customer data points such as cross-device and offline data, real-time behavioral data, cookie-based historical data or, users' location, device and profile data.
According to customers, privacy is paramount. In today's day and age where information and data are wealth, customers are more and more cautious about sharing their personal and behavioral information with retailers. Customers need two things from retailers- transparency and a great shopping experience.
35% of shoppers would be more than willing to share data if they were granted transparency about how retailers will use the information. 70% of millennials are willing to allow retailers to track their browsing and shopping behaviors and affinities if it will offer them a better shopping experience.
Thus once again the onus is on marketers to make effective use of the data they can gather from user behavior and work on delivering delightful personalized experiences.
What are the other challenges that retailers encounter then?
Retailers also face challenges like the lack of IT bandwidth and adequate tools for building personalization platforms.
In fact, nearly all retailers (96%) have encountered some challenges to their personalization efforts, indicating an increasing need to rely on trusted third parties to customize the shopping experience. Gathering data is just the tip of the iceberg.
What is the way forward?
This is why numerous third parties are building personalization solutions that can help ecommerce brands delight their customers at ease. Ecommerce brands have the option to tie up with a third-party solution.
With solid industry knowledge and hands-on expertise at our disposal, we can help you effortlessly deliver personalized customer experiences at scale. Check out how third-party solutions could be your answer.
With experience and expertise in this space, third-party solutions will be a great way to get started on your personalization journey. They will be up to pace with the latest trends and innovations in the ecommerce personalization space.
The report also covers the top innovation areas in ecommerce personalization by analyzing what percentage of the survey consumers are looking forward to it and what percentage of the survey retailers have plans of offering it.
According to our study, visual search is the most in-demand trend, both in terms of ecommerce shoppers anticipating it and the retailers who are focusing on it. We also get insights into retailers' and shoppers' thoughts on trends like Search Personalization, Touchless Shopping, and much more.
The Ecommerce Personalization Benchmark Report 2021 reveals key insights on personalization that every ecommerce brand can use to benchmark their personalization efforts as they try to match the shopper's expectations.
Shoppers have made it absolutely clear. They want personalized shopping experiences from ecommerce brands across all touchpoints. Such an experience is what will convince shoppers to stay loyal to a particular retailer. Otherwise, retailers risk losing customers who are becoming less willing to navigate through cluttered search results and irrelevant product recommendations.
With the competition so intense out there, the onus is on you to build personalized customer journeys at scale. Netcore's omnichannel personalization stack can help you develop your personalization at scale. Get started on your personalization journey by reaching out to us today!