I don't like beating around the bush when it comes to personalization. It's a hot topic and there is a chance that you might be saturated with a deluge of information on personalization already. But despite all that buzz, a lot of marketers are still confused and have questions like "Is personalization worth my time and effort? Can personalization help me meet my business ambition? Will personalization really impact my bottom line?
Well, the answer is YES! It's totally worth your time and effort. And it does impact your bottom line.
To give you a perspective, 94% of marketers agree that personalization is critical to their success. It's a different story that most marketers struggle to implement real-time and personalized content experiences.
But the good news is personalization is now almost every marketer's top priority.
An Accenture survey revealed in 2018 that
91% of consumers are more likely to shop with brands who recognize, remember, and provide them with relevant offers and recommendations.
One of our clients, The Body Shop, saw a 13.2% increase in website revenue by adopting personalization as their key strategy. Another well-known brand Zivame saw a 7.5X uplift in marketing ROI with Netcore's personalized recommendations.
The above stats can be compelling for any marketer but my intention here is not to overwhelm you. The idea is to educate you about the direct impact of personalization on your bottom line. And for that, it's important to know how personalization impacts your customer engagement and buying intent.
Also read – important statistics about personalization that every marketer needs to know.
Now the question is how does personalization make such a high impact on the bottom line?
Personalization is all about helping your customers discover what they love, and engage with them in ways they would respond to. When you successfully provide a delightful shopping experience to your customers with meaningful personalized efforts, your customers are more likely to return to your website or App. 56% of online shoppers are more likely to return to a website that recommends products. Goes without saying that it boosts loyalty and CLV (Customer Lifetime Value).
Increasing customer retention rates by just 5% could increase profits by anywhere from 25% to 95%.
So it all boils down to personalizing your customer experience at every touchpoint. Consider the below stats from Forbes on the impact of personalization on your bottom line.
80% of companies report seeing an uplift since implementing personalization
Marketers report that personalization efforts can boost revenues by up to 15%
95% of companies that saw 3x ROI from their personalization efforts increased profitability in the year after their personalization efforts.
Personalization can reduce customer acquisition costs by up to 50%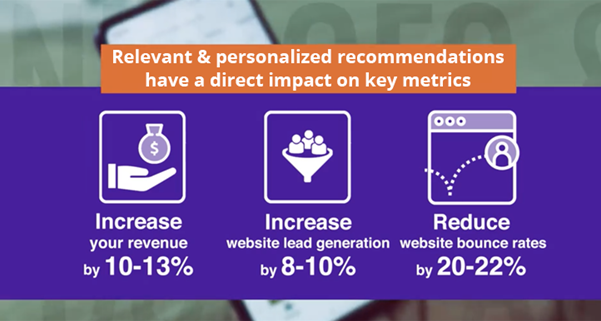 Here are the 4 important ways you could use data-based personalization to impact your bottom line
1. Understand every customer's purchase intent
AI-powered personalization engines are empowered to analyze massive data including historical data based on your users' search, browsing, and purchase behavior. This helps deliver hyper-personalized product recommendations at every stage of their journey. Personalization engines are smart enough to capture the both explicit and implicit real-time data based on clickstream and customer eyeball capture.
Such vital stats help improve the behavioral predictions of personalization platforms by 20%. These data-based predictions then help recommend products your customers are most likely to purchase.
Your "you may also like", "top picks for you", and "similar products for you" tabs can be hyper-personalized based on each individual's taste and preferences. You can even curate personalized boutique pages exhibiting products a specific customer is most likely to view or buy, increasing CTRs by 120-150%.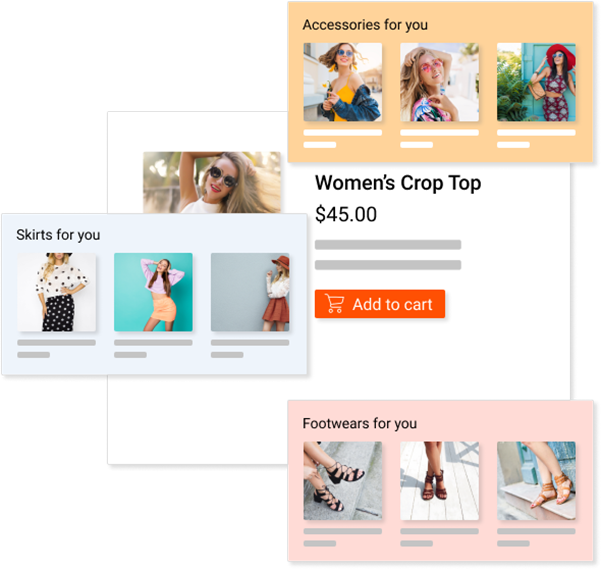 2. Gain a deep understanding of customer behavior to personalize website content for each user
Content that isn't relevant to individual customers generates 83% lower response rates in the marketing campaigns.
Based on your customers' preferences, behaviour, interest and personal tastes, you can personalize each user's website viewing and shopping experience. AI-powered personalisation platforms are even capable of customising your website at an individual level. The data you have collected based on the past and real-time behaviour can help deliver personalized content across the website.
Wondering how will this come across to your customers?
Well, the content and images on the home-page and category page banners will be tailor-made based on what your customer is most likely to engage or purchase.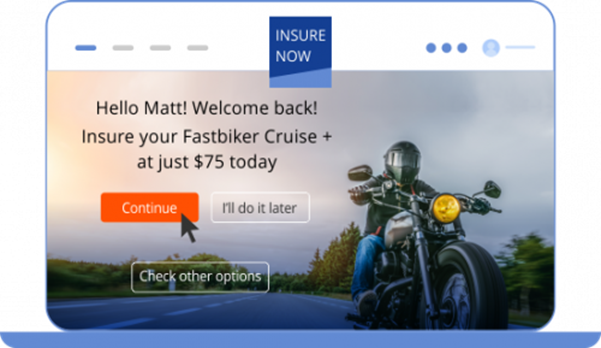 Not just banners, you can modify various website elements like products, texts, images, backgrounds and CTAs. Calls-to-action (CTAs) that are personalized to specific visitors results in a view-to-submission rate that is 42% higher than generic CTAs. Personalised website content is also quite helpful in getting dropped-off and lost visitors back to where they exited or dropped off.
3. Stay relevant to your customers across channels with omnichannel marketing and personalization
Personalization engines not only tailor-make website experiences, but also leverage integrated multiple channels to provide a uniform customer experience. With the help of massive behavioural data points, your AI-powered personalization platform can craft personalized experiences for every customer across devices and channels.
Smart personalization platforms allow you to identify which channels works best for which segment. You can then drive engagement and conversions by personalizing emails, app push notifications, web push notifications and social media ads.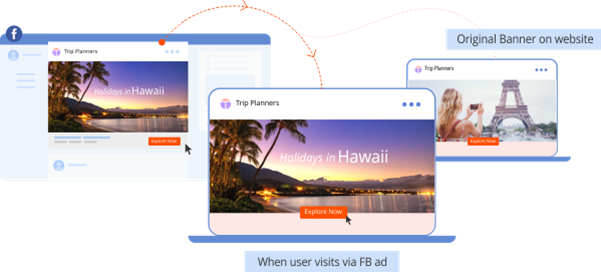 Consider the below stats to know the power of omni-channel personalization
Adobe recently found that companies with the strongest omni-channel customer engagement strategies enjoy a 10% Y-O-Y growth, a 10% increase in average order value and a 25% increase in close rates.
Omnichannel experience results in a 10 percent increase in spend online—and 4 percent in-store.
Statistics show a 19 percent engagement rate for omnichannel compared to 5.4 percent for single-channel efforts.
Some omnichannel marketing research finds a 250 percent higher purchase frequency with omnichannel versus single-channel.
It sounds like a no brainer to invest in customer experience, right?
4. Capture insights and measure results to improve engagements and conversions
Smart personalization engines can track, measure, and attribute the results of your personalization strategy. And this is hands down the most significant way in which personalization impacts your bottom line. Simply put, you can track the journey of each user and understand what worked and what hasn't.
Such data analysis will help you add your users to the relevant segments for improved engagements based on their intent, affinities, and behavior. You can also recalibrate your personalization strategy once you are able to track the performances of your personalized widgets, banners, and product recommendations across the website.
Consider the below data-driven personalization statistics and trends
Businesses that employ data-driven analytics for personalization delivered five to eight times the ROI on marketing spend.
55% of businesses improved segmentation.
47% of businesses could easily analyze cart abandonment on their websites.
63% of businesses improved their analysis on customer journeys.
Parting thoughts
There is a reason brands have moved from sales-driven strategy to customer experience strategy. Don't we instantly relate to people when they say "I understand your feelings and I know what you want"? Similarly, when you understand your customer behavior and provide them with what they love, they instantly relate and engage with you. And they don't shy away making a purchase. They keep coming back to experience that over and over, which increases CLV, and thus, impacts your bottom line.
Even though personalization has become the need of the hour and every marketer is stressing over how to implement it, 74 percent of marketing leaders report they struggle to scale their personalization efforts. And according to a Salesforce report, only 28 percent of marketers were completely satisfied with their ability to engage with customers across channels at scale.
And their biggest roadblocks include data and analytics, customer experience, content personalization, customer insights, and marketing technology. If you are also facing similar challenges, Netcore's complete omnichannel personalization stack can help you overcome these challenges. Reach out to us to implement personalization seamlessly to achieve higher ROI and growth.