The FoodTech industry has seen a major upswing in the last few years with reports suggesting that global FoodTech space will grow to $342.52B by 2027 from $220.32B in 2019. In India too this space is buzzing with tech innovations and is touted to grow at a CAGR of 25-30 per cent to $8B by 2022. If you are a player in FoodTech, these numbers are encouraging. However, what would set you apart from others is creating omnichannel personalized experiences to turn your customers into your loyalists. Here are a few strategies that you can follow to create delightful experiences.
1. 'Bestsellers' or 'Trending Now' widget
You can keep your customers on top of shopping trends with a 'Featured items' widget that displays the items that are most trending on your FoodTech app. Bestsellers are known to increase your click-through rates (CTRs) by 90 to 110%. Definitely use them in your campaigns to gain an advantage.

The above example is of a Featured Items widget that shows the trending items on KFC, showcasing meal combos.
2. Show new visitors a welcome offer
Welcome offers take some persuasion as there is little or no customer data that is available. And there is so little time. According to research, visitors may form an opinion about a website in as little as 50 milliseconds. An impressive tagline and catchy images and content with a discount that your customers will love on their first ever visit will leave a lasting impression.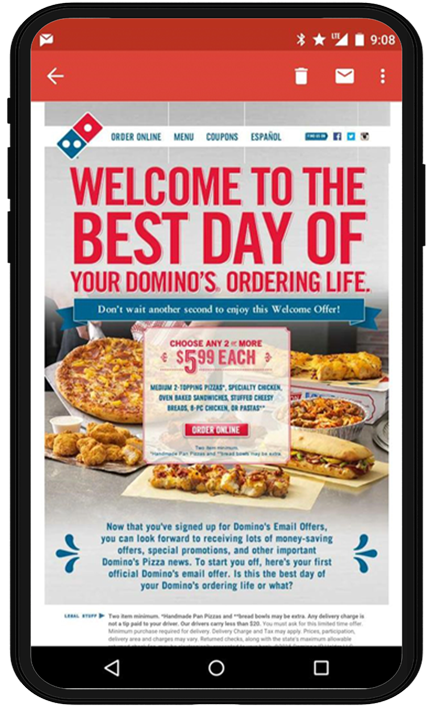 Dominos welcomes its visitors with a new offer that lets users pick two pizzas for a very low price, positioned as the best day of their Domino's ordering life.
3. Show new arrivals
The 'New Arrivals' widget should display the new food items that have just been added to the menu, with just one caveat of course. Those items must be personalized as well to attract customers. Research shows that adding personalization to the 'New Arrivals' section on the homepage helps to get 110% more clicks from customers.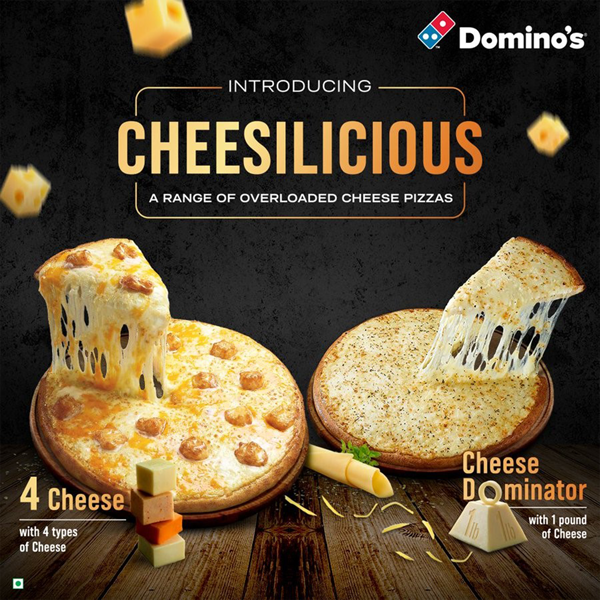 In the example, Domino's is advertising two new flavors of their Cheesilicious Pizzas with some tempting images and great copy.
4. A/B landing page banner
Reports suggest that men prefer espresso and women latte. As a marketer, this information is crucial and offers you an opportunity to optimize and target your messaging right. Offering relevant and personalized offers on the homepage of your app can increase your CTRs by 120% or more. Start with A/B testing and getting the banner right with hyper-personalization.
Here is one example of a banner for Taco Bell UK home page: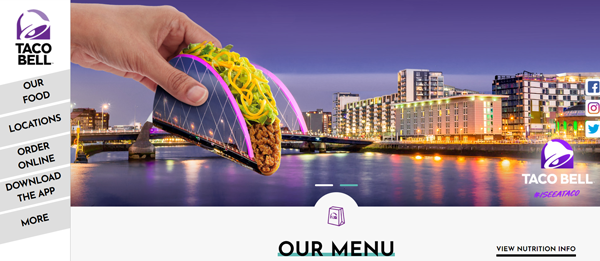 And another one showing a different banner on the US website:

5. Search personalization
In most countries, the customer is overwhelmed by choices when it comes to food. But marketers like you can make their decision-making process simpler. If they search for a particular type of burger, next time when the customer is ordering from an app, they will see their previous burger being recommended. Studies show that offering a personalized experience reduces customer acquisition costs by 50%.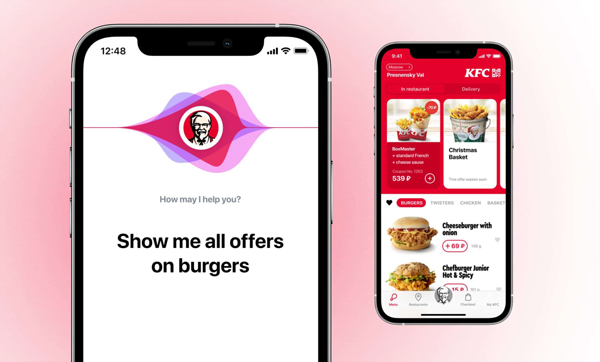 In this particular search personalization example, KFC helps the user search for offers on only burgers by a voice activated search.
6. Product display page
The product display page gives all the information that the end customer would need to know about a particular product. This includes attributes such as portion size, ingredients, calories present, etc. Displaying these attributes is important, as customers are increasingly health and fitness conscious, with nearly 60 to 70% ready to pay a premium for natural, enhanced, or healthier food options.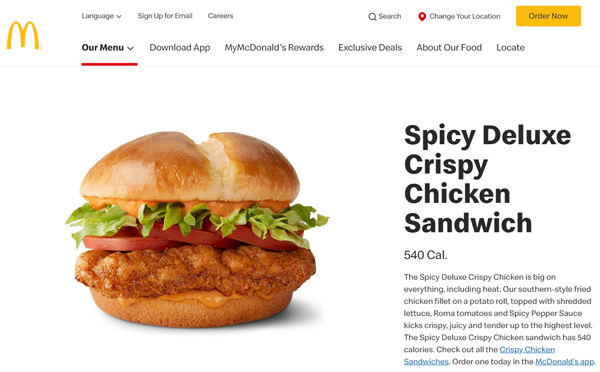 In the example above, McDonald's clearly indicates every product attribute that the consumer will be looking for and even shows calories on the product display page.
7. Delight with seasonal offers
How about chicken in a bucket for kids going back to school after the holiday season? Offers like this work really well as an in-app message. Offers can be shown on the app's home screen for a greater impact.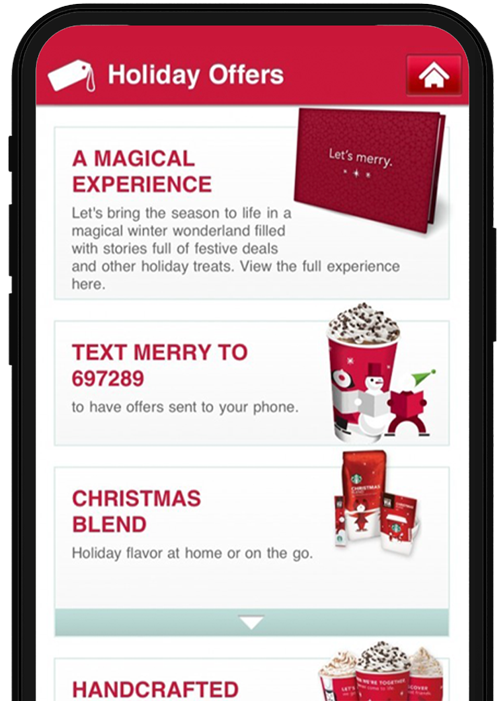 The above image shows a Starbucks Christmas offer reining in the season with offers accessible by SMS and with special coffee blends for Christmas.
8. Recommend products based on customer behavior
Offer a curated menu for the customers based on their preferences. If the customer has been frequently ordering a single patty burger then offer curated recommendations with these other related foods. In a Harvard study, brands that made decision-making simpler were 85% more likely to be purchased than brands that made those decisions very hard.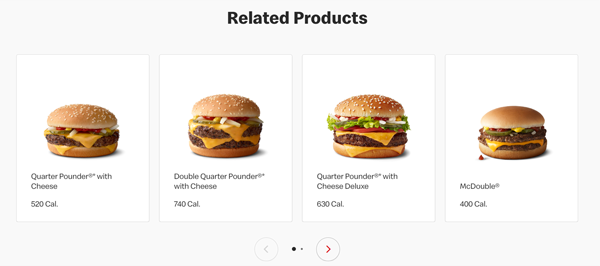 Here, McDonald's is offering a curated menu based on what the customer likes and orders regularly.
9. Cross-selling
Let us say a user orders just a burger. Burger King would immediately nudge the user to upgrade to a meal combo that adds fries and a beverage. The customer would accept this kind of hyper-contextual cross-selling, especially if you offer a larger sized drink than what is generally offered.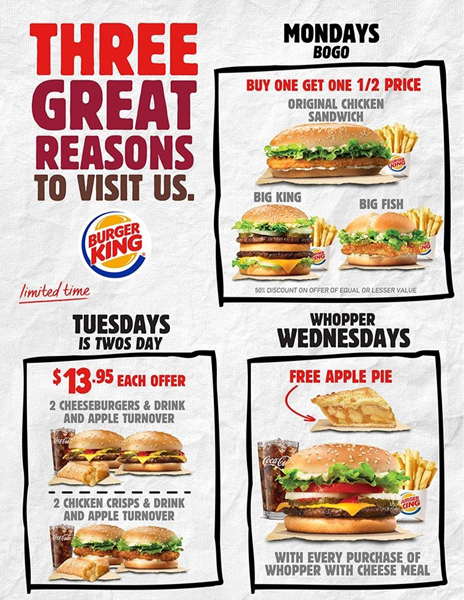 This Burger King promo at the top right has a cross-selling offer of getting the second burger at 50% off on only 3 types of burgers.
10. Upselling
Customers end up going for a larger box of fries versus one that is medium because it offers better value. If the customer has decided to just one burger, all you have to do as a marketer is to make a reasonable upsell offer and nudge the customer towards the purchase.
Here we see an example of Burger King trying to upsell a person with 2 burgers at a lower price.
11. Exit intent popups
Nobody wants the user to leave the app without a purchase. Exit intent popups can help hook the customer with one-time discounts or other offers.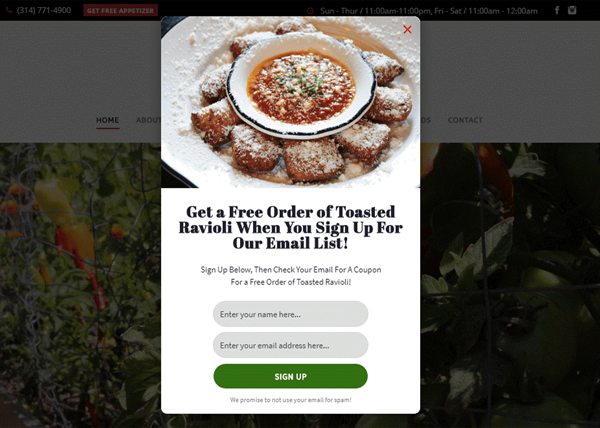 Guidos offers a user who is leaving the page a free order of toasted ravioli when they sign up for the mailing list. This is a clever marketing idea, with the coupon for the toasted ravioli being delivered over email.
12. Personalized cart abandonment emails
If a user abandons the cart, do not let them go hungry. Invite the customer back to the app by crafting a very special and personalized email addressing and then telling the customer that there are items left in the cart. Then make an offer the customer will not refuse! Offer a good discount on the items left behind if the customer completes the purchase soon. This will increase the likelihood of the customer returning to complete the order.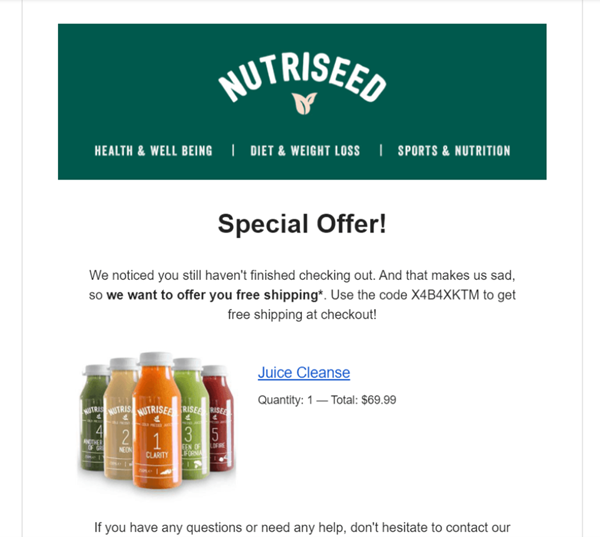 Nutriseed in their email campaign invites the customer back with a free shipping offer through a code that can be applied at checkout.
13. Smart push notifications
Smart push notifications are the same old push notifications, only smarter! Most customers do not receive their push notifications because they have opted out of it. Netcore's smart push technology helps overcome this limitation by targeting the aspects of the push notification system that prevent the final delivery of notifications to the customer. They are hyper-personalized and are sent at the time when the customer's purchase intent is the highest.
Here, Domino's encourages customers through a smart push notification to buy a pizza at menu price to get the other one free (only for carryout during a limited period only).
14. Visual search
A picture is worth a thousand words! And so is great food! Why not bring them together for a stellar experience? Uncle Ben's sold its Ready to Eat Rice in a cheddar broccoli flavor by allowing users to first take a picture of the rice pack and then scan it through Google Lens to reach them and complete the purchase. This reduces the noise and a simple nudge can lead to purchase complete with billing information. Today other D2C food brands have followed suit and this is becoming a revolution of sorts. Research says that 62% of millennials want to use visual search over other technologies when it comes to making a purchase.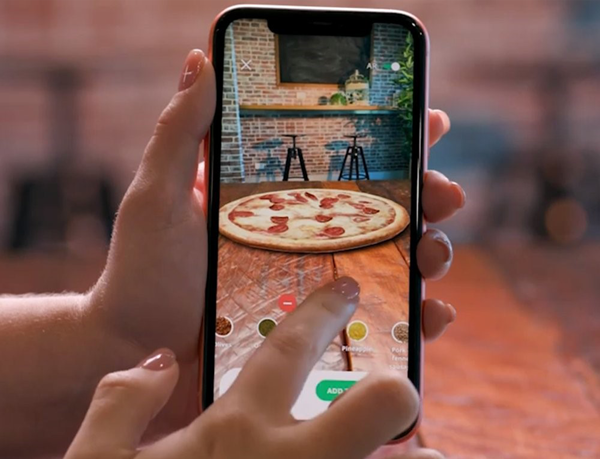 Domino's uses AR and visual search to enable users to add a pizza in their chosen flavor by just taking the snap of any pizza around them!
15. In-app messages
In-app messages in FoodTech apps are generally a welcome offer with a healthy discount for a new user. This could be as high as 50% for the first three orders in an app such as Domino's. It could also be a reminder of cart abandonment. In-app messages are known to drive up user engagement rates by 4 times and improve response rates by six times when compared with push notifications. It's a weapon you must definitely hold on to in your marketing journey.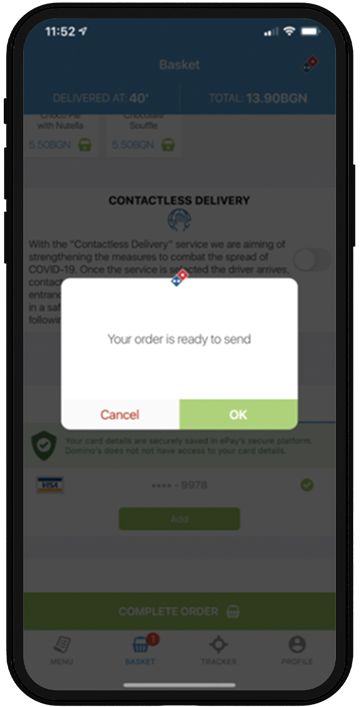 The above in-app message from Dominos merely notifies the customer that the order is now ready to send. An important message nevertheless for the customer.
16. SMS
Lastly, we have the Old Faithful, the SMS. It has been around for some time. Nowadays though it finds use generally to share one-time passwords for transactions, it is also used to remind the user of cart abandonment, order failure, or even about upcoming discounts. While it is a simple and text-only form of communication, it does have its place in the nudge marketing world of today!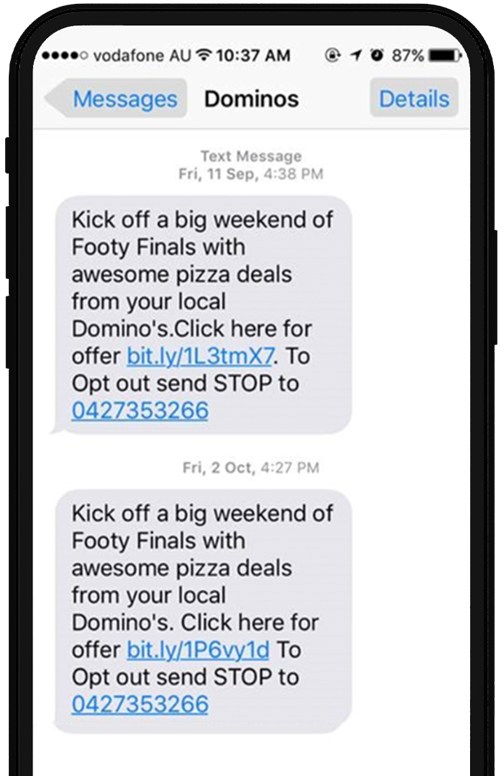 This SMS from Domino's celebrates the Australian Football League and offers discounts at the local dominos outlet on the day of the finals.
Conclusion
Customers today take delight in the power technology gives, using it to make informed decisions that make life better. As a marketer, one ought to tap into the onus that technology offers in the number of channels that can be combined to offer FoodTech customers a delightful omnichannel experience. You can send an in-app message that reminds the customer that the order was not completed, followed by an email and an SMS that the cart was abandoned. Use a nudge to guide users through your FoodTech app to make the right clicks and purchase or wishlist. You get the user to complete the order by guiding them through your food app and with personalized recommendations across channels. Now, that is a great customer experience that you can achieve through the strategies discussed in this blog.