As online fashion and lifestyle brands globally experience massive adoption, the challenge arises in how these fashion brands boost engagement while delivering delightful buyer experiences at scale.
Customer engagement is essential for any fashion brand that wants to succeed. When customers feel engaged with your brand, they are more likely to make repeat purchases, recommend your products to others, and become loyal ambassadors for your brand.
Showing your apparel customers personalized recommendations is only part of the path to increased conversions. More than merely offering personalized recommendations, weaving in omnichannel communications and nudges through a dedicated customer engagement software in your mobile app is crucial to nurturing a holistic customer experience.
Did you know? 80% of customers are more likely to purchase a product or service from a brand that offers them personalized experiences. To wow customers and get more sales, you need to create the best possible shopping experience. An incredible 91% of shoppers would abandon an online retailer for a poor shopping experience, and more than 3 in 4 shoppers want a more personalized experience that fits their preferences.
To truly engage your fashion-forward audience, consider integrating a customer engagement tool that allows for personalized banners, widgets, popups, and recommendations across multiple channels. When you create personalized banners, widgets, popups, recommendations and deliver them through multiple channels, your chances of sales increase considerably.
That's not all. Customers who have a unique valuable experience with your apparel e-commerce website are more likely to purchase and make larger orders.
The power of omnichannel engagement
Harness the prowess of AI-driven personalization through a customer engagement solution. With AI-powered personalization, delivered via an omnichannel experience and boosted with app nudges, you can automatically collect data on an individual's tastes, preferences, and shopping habits. Then, you can use that knowledge to engage with customers on multiple channels where you recommend products to them that are most likely to get better conversions and higher returns on investments.
Here are 21 concrete examples of omnichannel engagement and customer experience for fashion and apparel brands, and the results you could achieve by implementing similar strategies on your e-commerce site.
1. 'Bestsellers' or 'Trending Now' widget
This widget, often found on the home page, displays a unique collection of bestseller items that appeal to each customer's interests and tastes.
Previous users will see items based on their account information or shopping preferences, and the widget even works for new users by incorporating location and device data. The result is the perfect blend of popular, personalized products that can increase your click-through rate (CTR) by 90-110%.

Levi's uses this 'Bestsellers' widget to recommend a sample of the most popular products for each customer.
2. Different banners for different shoppers
Your apparel brand may cater to different segments of audiences. To meet the needs of your diverse apparel audience, employing customer engagement software can be transformative. When you're unsure of what to show where, A/B testing with banners comes in handy.
Old Navy shows women's apparel to women.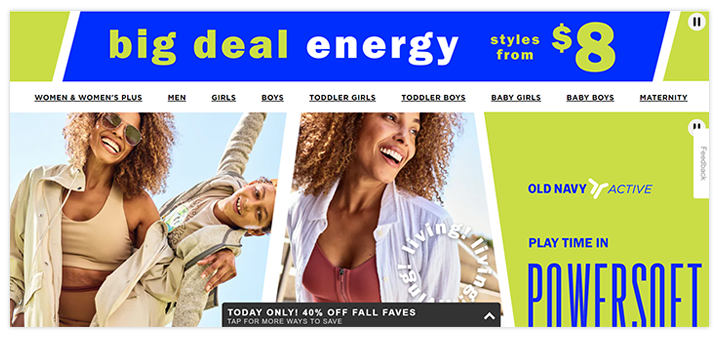 And men's apparel for men.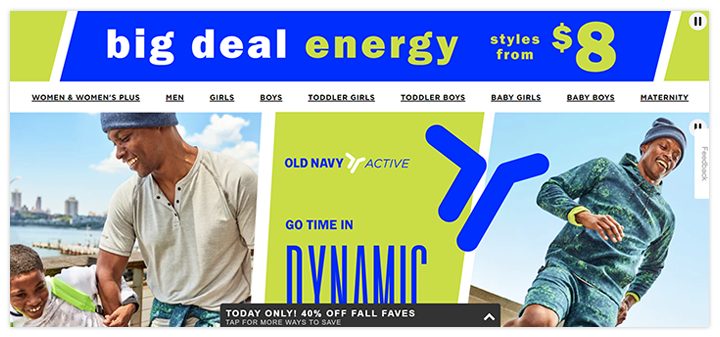 3. Personalized offers for new and returning customers
90% of customers are willing to share behavioral data, like their online browsing habits, to provide a seamless shopping experience. Harnessing a customer engagement solution, you can capture insights from both new and returning visitors, refining messages and promotions for higher conversion rates.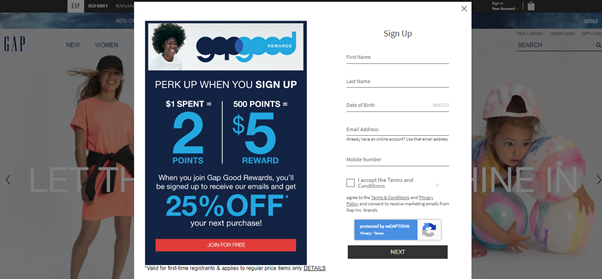 For Gap, this pop-up is the building block of personalization. They can use the data they collect to welcome new subscribers, send birthday messages and other personalized emails and offers.
4. Personalized new arrivals
Even if a product is brand new, not all your customers will care about it. That's where customer engagement solutions step in. Base your recommendations on their previous purchase history or commonly viewed items instead.
Add personalization to the New Arrivals section on your home page to get 110% more customers to click and start browsing products.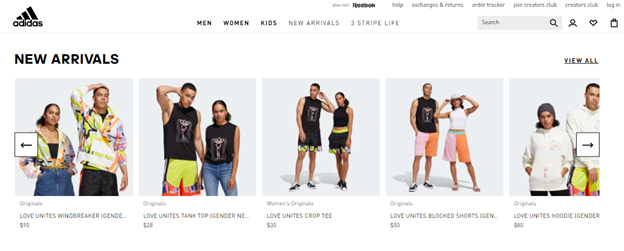 Adidas prominently features a selection of new arrivals on their homepage.
5. Personalized search results
Seeing relevant search results is an important aspect of keeping the consumers interested. By merging diverse data inputs with the search input, a customer engagement platform can refine the results, ensuring heightened engagement. By combining data from different points and the search term a consumer uses, website search results can be personalized to keep good visitor engagement levels.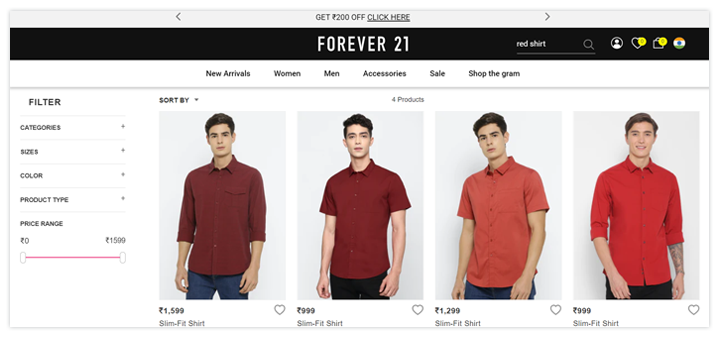 On Forever 21's website, let's say a consumer searches for 'red shirt.' Since an account is created with the data for gender as male, we see red shirts only for men.
6. 'Recently Viewed' widget
The 'Recently Viewed' widget triggers an interest in previously viewed products and makes it easy for customers to complete their purchases. Using a customer engagement tool, the cart abandonment rate can plunge from figures like 60% to around 46% through proficient personalization.

Bestseller makes it easy for customers to revisit products they looked at previously.
7. 'Just For You' widget
Your customers know what they're looking for, but you need to help them find it. By deploying a customer engagement platform, you can serve pertinent, tailored product suggestions right on the homepage to immediately capture your visitors' attention and generate a 120% increase in CTRs.

Bestseller Clothing uses this 'Just For You' widget to provide a carefully curated selection of product recommendations for every website visitor.
8. 'Customers Also Viewed' widget
The 'Customers Also Viewed' widget lets you incorporate personalization with social proof on every product page. By deploying customer engagement software, it's possible to strategically upsell: display personalized recommendations of related high-end items to encourage customers to purchase more.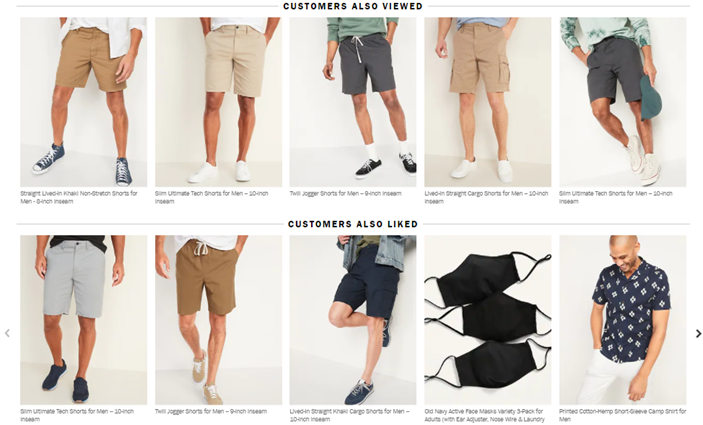 Old Navy gives customers two personalized widgets to choose from on their product pages.
9. 'You May Also Like' widget
Use your knowledge of a customer's tastes and preferences to help them discover incredible products they may not have found on their own.
The power of a customer engagement solution can be leveraged here. You can cross-sell every product or collection page by recommending complementary items that customers are likely to enjoy. For example, you could encourage someone looking at a soccer jersey to browse and purchase other products such as shorts, socks, and boots.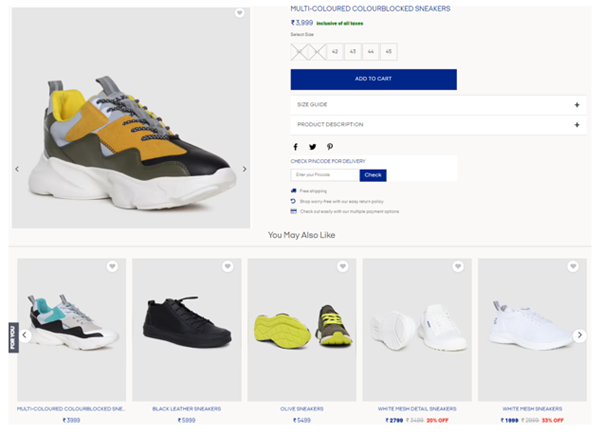 Jack & Jones gives hyper-contextual recommendations so customers can quickly and easily discover other products they may wish to buy.
10. 'Wear It With' widget
Your customers are always trying to visualize how your products will look like an outfit. The 'Wear It With' widget curates suggestions on product pages based on a user's browsing behavior and stylistic inclinations.
Using this method to cross-sell products is one of the most effective ways to increase sales, as 75% of retailers reported 10+ page views per customer after adding personalization.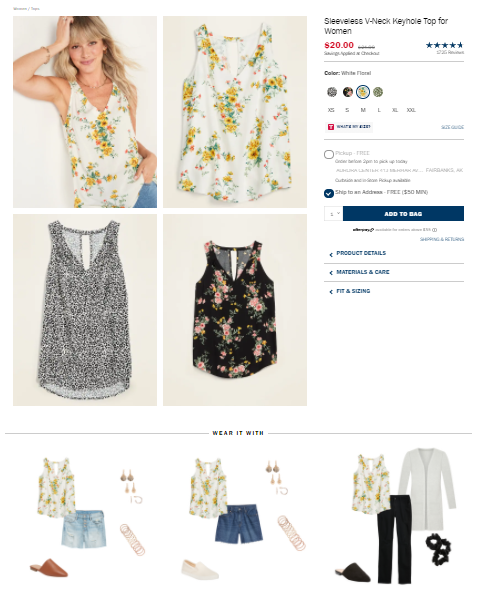 Old Navy recommends tops, bottoms, shoes, and even accessories to help customers build a better outfit.
11. Exit intent pop-ups
If someone is about to exit your website, an exit-intent pop-up can encourage them to keep browsing. When used properly, the pop-ups can increase your conversion rate by an incredible 10%. Keep customers clicking by displaying a personalized collection they can't pass.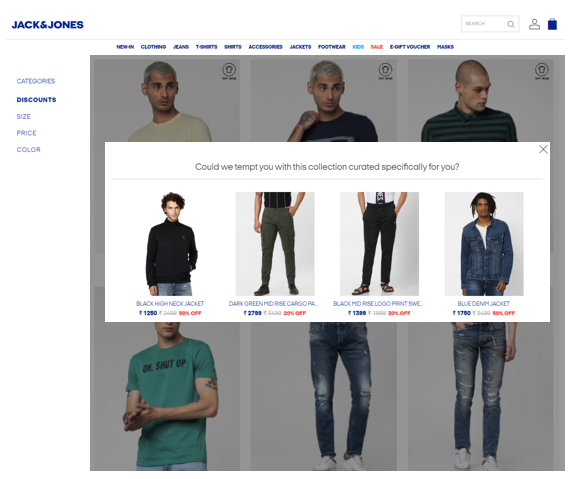 Jack & Jones automatically pull items that are most likely to be viewed, clicked on, and purchased.
12. Personalized discounts through web push notifications
Personalization doesn't have to end when someone exits your site. Leverage the prowess of customer engagement software to deliver personalized web push notifications. If a shopper recently abandoned their cart, send a personalized push notification to get them back online and browsing again. Or use these messages to promote deals of the day, flash sales, or new and exciting products.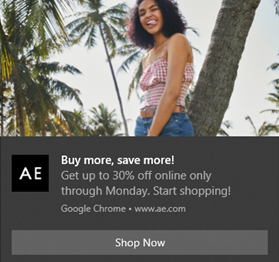 American Eagle uses Chrome's web push notifications to offer a special 30% online discount.
13. Personalized boutique page
A personalized boutique page shows a custom storefront for each customer based on past and real-time behavior. A personalized boutique page is a hallmark of an advanced customer engagement platform. Since these products are chosen to match shoppers' tastes and interests, brands will see up to a 150% increase in CTR and a subsequent boost in revenue.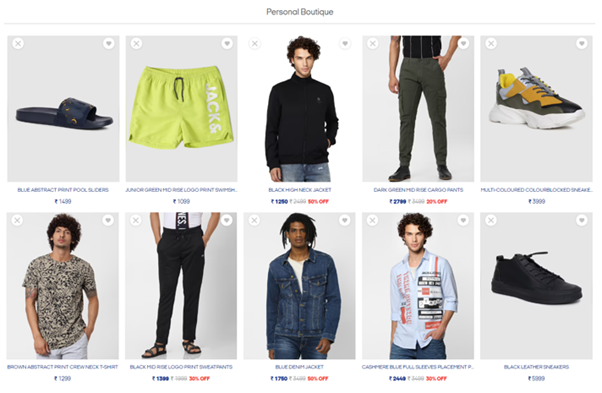 Jack & Jones generates a personalized boutique page for every single visitor.
14. Personalized cart abandonment emails
Targeting the sizable segment of visitors who abandon their cart, personalized cart abandonment emails serve as a vital customer engagement solution. Send abandoned cart emails to the segment of customers who left your platform after adding products to their cart (an average of 70-75%).
Personalize these emails to encourage users to purchase those abandoned products or go the extra mile by upselling or cross-selling complementary products based on data you've already captured.
Adding personalization to abandoned cart emails can deliver a 6X higher transaction rate than a non-personalized email.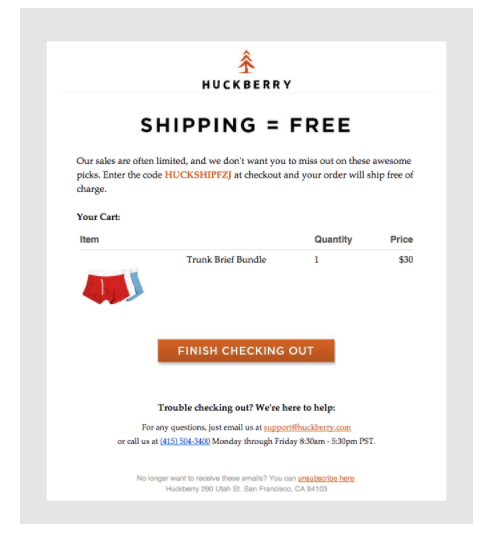 With this email, Huckberry is re-engaging interested buyers even though they've exited the shopping platform.
15. Personalized re-engagement emails
Have some dormant customers who haven't purchased in a while? Ensure that your customers don't stop using your platform and get them back to browsing by sending a personalized 'We miss you!' email to their inbox.
Show them products they would love to see based on previous browsing and purchase history and nudge them back onto your platform. Effective use of email personalization generates 17% more revenue per email than the average campaign.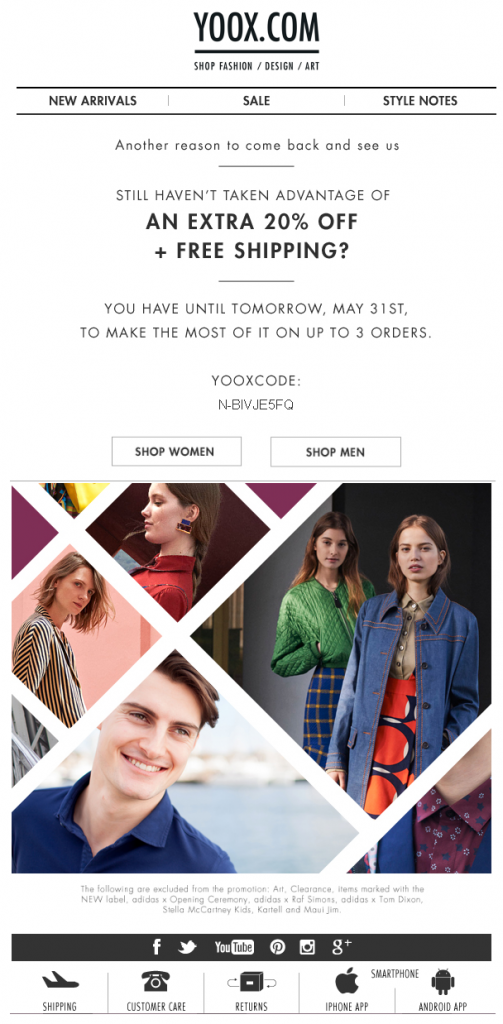 Yoox encourages customers to come back with this special discount offer plus the option to browse new products.
16. Mobile app personalization
72% of customers admit that they only engage with marketing messages customized to their specific interests and desires.
By creating a personalized experience on your mobile app and showing relevant deals or frequently visited categories, you're ensuring that every interaction is specific and helpful.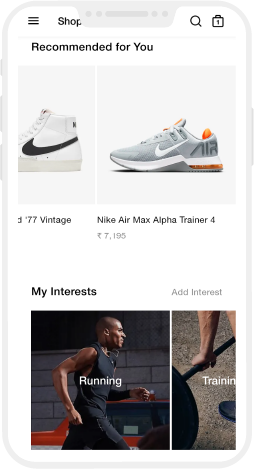 The Nike mobile app's homepage recommends products and even sets of products based on customer interests.
17. Visual search to match with your catalog
Consumers like to shop for something they have seen physically. Perhaps a handbag on a friend or colleague. Asking for lots of details may not always be convenient. This is where visual search comes in. Customers can simply click an image of the item and find it on your website.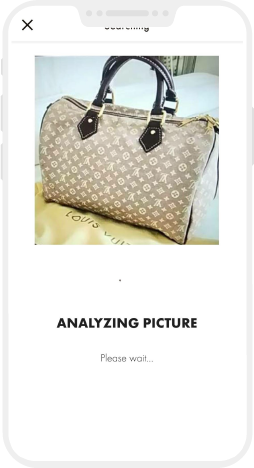 Louis Vuitton's mobile app shows this feature. After uploading, the app analyzes and displays a list of matching products from Louis Vuitton's catalog.
18. In-app messages to boost engagement
Messages placed at the right time can make an impact on how a customer interacts with your app.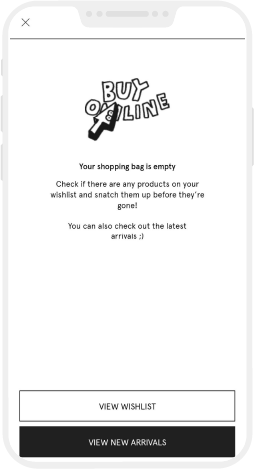 Pull & Bear shows that the cart is empty and immediately shows two prompts—one to open the wishlist and another to check out their new arrivals.
19. In-app nudges at the right time
Subtly guiding users inside your mobile app to take specific actions can boost conversion rates. These guides can be in the form of nudges or tooltips, that are set to be shown based on specific triggers like time or the kind of action a visitor takes and can be set using a customer engagement platform.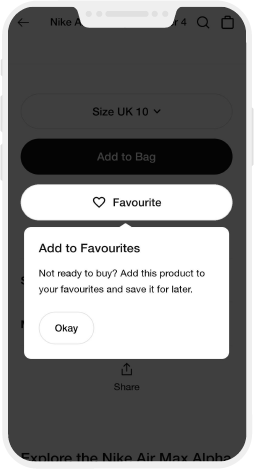 Nike shows a nudge to 'favorite' an item in its mobile app as the consumer scrolls past the initial fold.
20. SMS notifications to nudge customers back to your platform
Other than websites and apps, there's another channel to engage users with offers. Tailored text messages, underpinned by insights from customer engagement tools, nudge users to revisit or re-engage.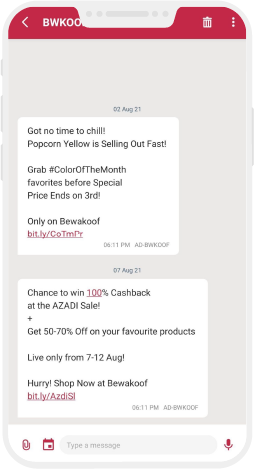 21. Personalized social media ads
Your customer engagement efforts should transcend your website and email channels. Personalization doesn't have to end with your website and emails. Show your customers sponsored ads and stories on Facebook and Instagram based on their browsing history.
Using personalized advertising can increase your marketing spend efficiency by 10-30%.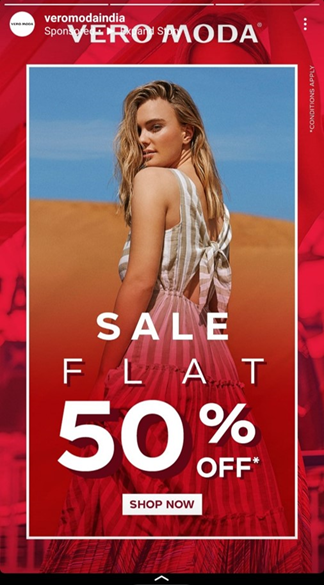 Vero Moda's Instagram ads promote products based on an individual's shopping habits and preferences.
By following these tips, you can use a customer engagement platform to boost engagement with your D2C apparel brand and improve your bottom line.
Reach your apparel customers and engage them for more sales
Website or app recommendations alone are only so effective. Omnichannel engagement and personalized engagements should be crucial in your fashion or apparel brand's marketing strategy. If you're not engaging every customer that lands on your site across different and preferred channels, you're missing an opportunity to cater to their needs and sell more products effectively.
With a personalized experience across touchpoints, you'll become your customers' go-to friendly source for product recommendations and stay far ahead of competitors who are still only using one or two channels for customer engagement.
Skyrocket your conversions with an AI-powered customer engagement and experience platform from Netcore Cloud. Within five weeks, our platform can increase your conversions by 8-13% for your D2C apparel and fashion brand.
To learn how Netcore Cloud can help your D2C business, book a demo today.