"Your customers are the lifeblood of your business. They hold the key to unlocking your success."
Seth Godin's words resonate deeply with brands that have recognized the transformative potential of customer feedback surveys. Leading names such as Apple, Amazon, and Netflix have harnessed the power of surveys to drive their meteoric rise to prominence.
Statistical evidence further solidifies the importance of feedback surveys in modern marketing. According to CX Index's statistics for 2022, 86% of consumers are willing to pay more for a better customer experience.? You can tap into such valuable insights and fine-tune your marketing strategies to exceed customer expectations, ultimately increasing customer loyalty and profitability.
You need to know exactly how happy (or not) your customers are. In other words, you must design and send out customer survey requests at regular (but not annoying) intervals.
This article focuses on leveraging email as one of the most effective mediums to collect feedback. We showcase eight excellent email templates (examples) for customer surveys that got people's attention and drove actual engagement.
Grammarly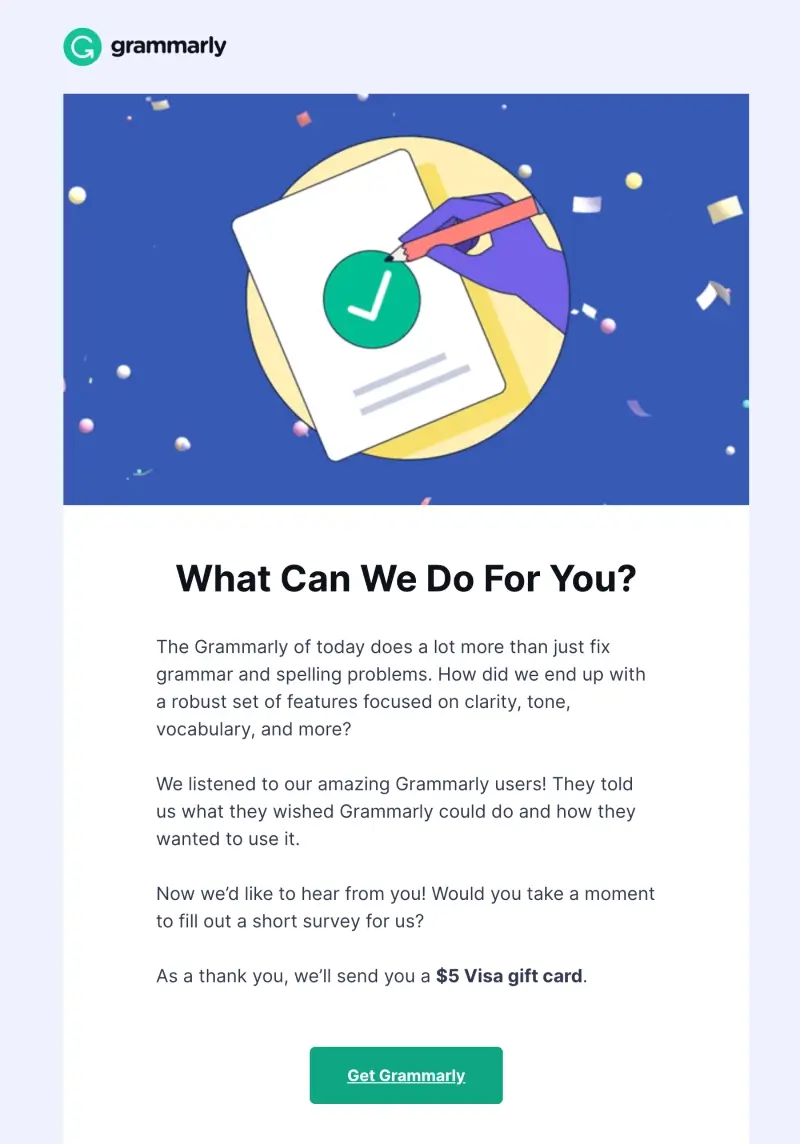 When in doubt, go with a gift card.
While this may not be too creative, it usually works every time. It's also more effective in driving customer delight since you put your money where your mouth is. $5 would get folks a good cup of coffee of their choice. And a free coffee can mean a lot when someone is having a stressful day. Plus, who doesn't like a little pick-me-up?
Expedia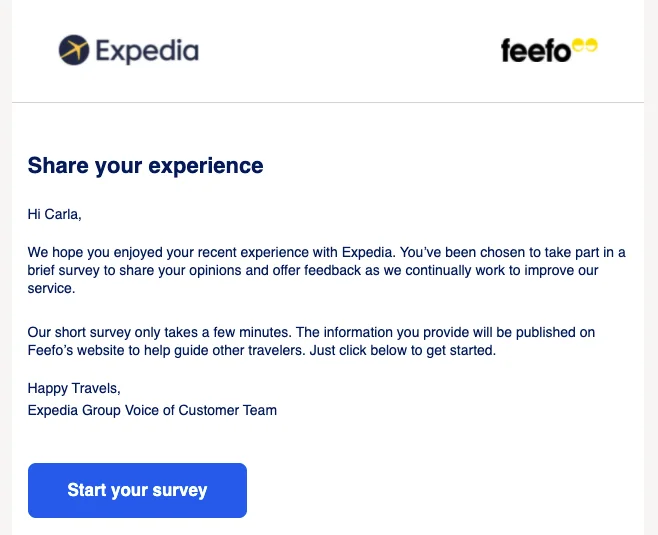 We like Expedia's transparency here. They clearly mention that any information the user provides will be published on Feefo's website to help other travelers. So, you're not just making an effort for the brand but for other people exactly like yourself, i.e., fellow travelers.
Saying this out loud may actually get more people to take the survey. In particular, frequent travelers know exactly how helpful online information from peers is (especially if you're heading to a place for the first time), so they'll make an effort to provide detailed responses.
Slack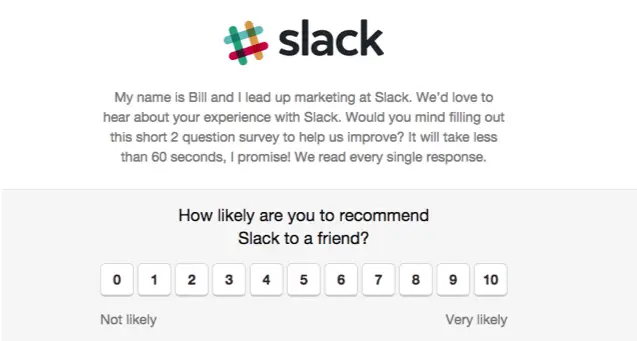 Did you ever think it was possible to create a 2-line survey? Slack certainly has done it.
When you ask customers for such a tiny amount of effort, they will likely oblige. Plus, if the user is in, say, the marketing domain, they might take the survey simply because they're curious. What can you learn about your customer by asking two questions? You would want to click to find out.
23andMe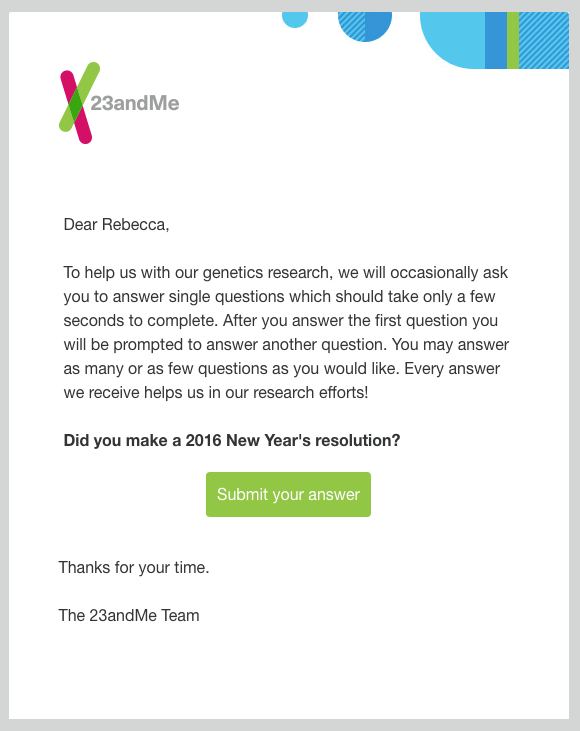 A great way to ensure that customers take your survey is to let them control the time and effort they need to put in. 23andMe enables the customer to handle the wheel; they can answer as many or as few questions as they want.
Once again, customers know they don't have to make a lot of effort to fill out this review, so they're more likely to take it. Additionally, this survey caters to multiple customer segments by allowing them to adjust how much time they put in. So, people who would answer two questions and those who would answer 10 are both likely to take this survey.
Lumen5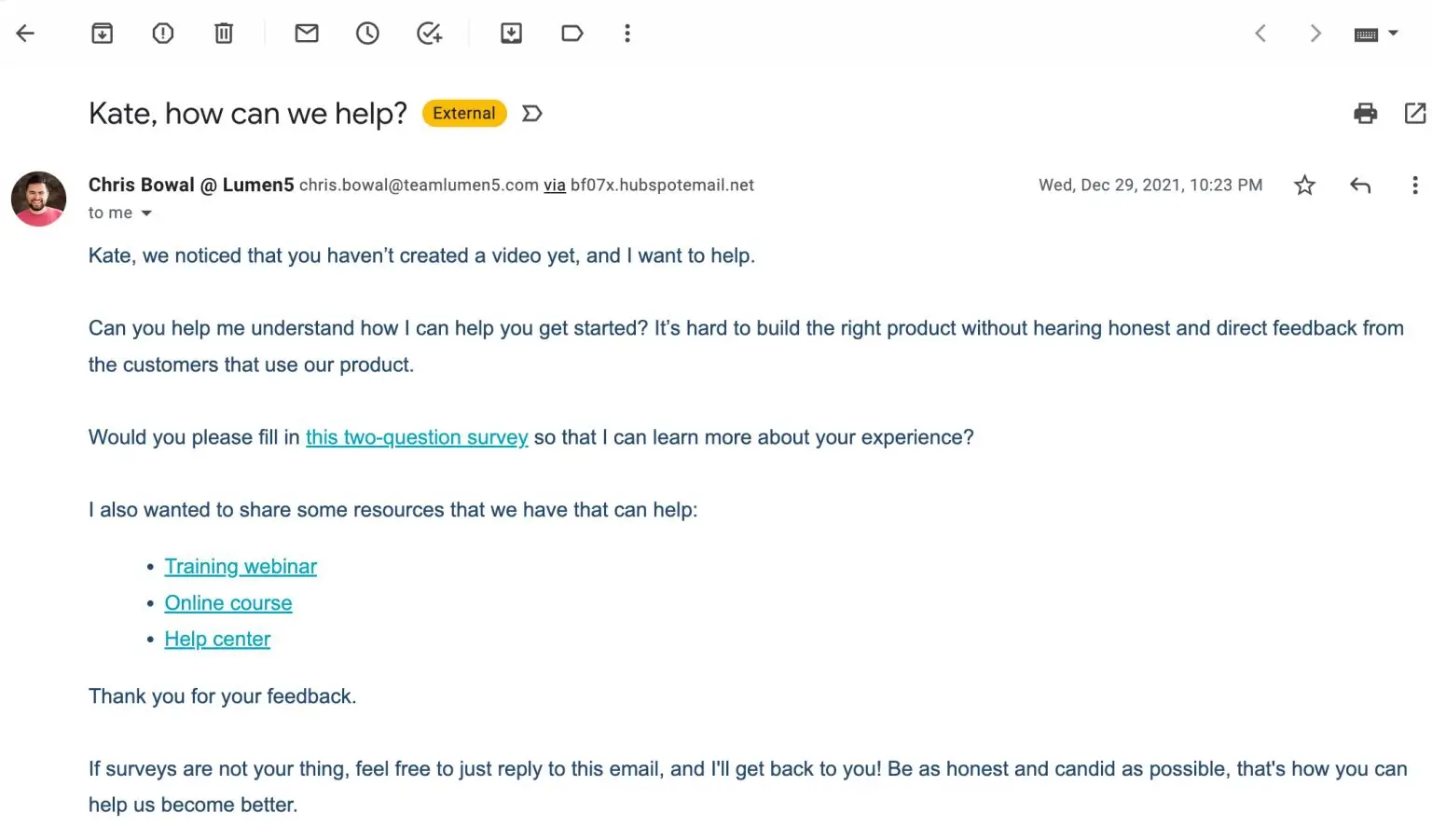 At Netcore, we usually advocate for AMP emails because they have much higher engagement and interaction rates than their HTML counterparts. But, often, a conventional email like this works really well.
When Chris Bowal openly says that they cannot build a good product without the right input, it immediately gives the customer a sense of importance. When you feel your opinion is wanted, you are much more likely to share it, and in detail too.
Since that is exactly what every feedback survey wants, the Lumen5 survey knocked it out of the park.
Aero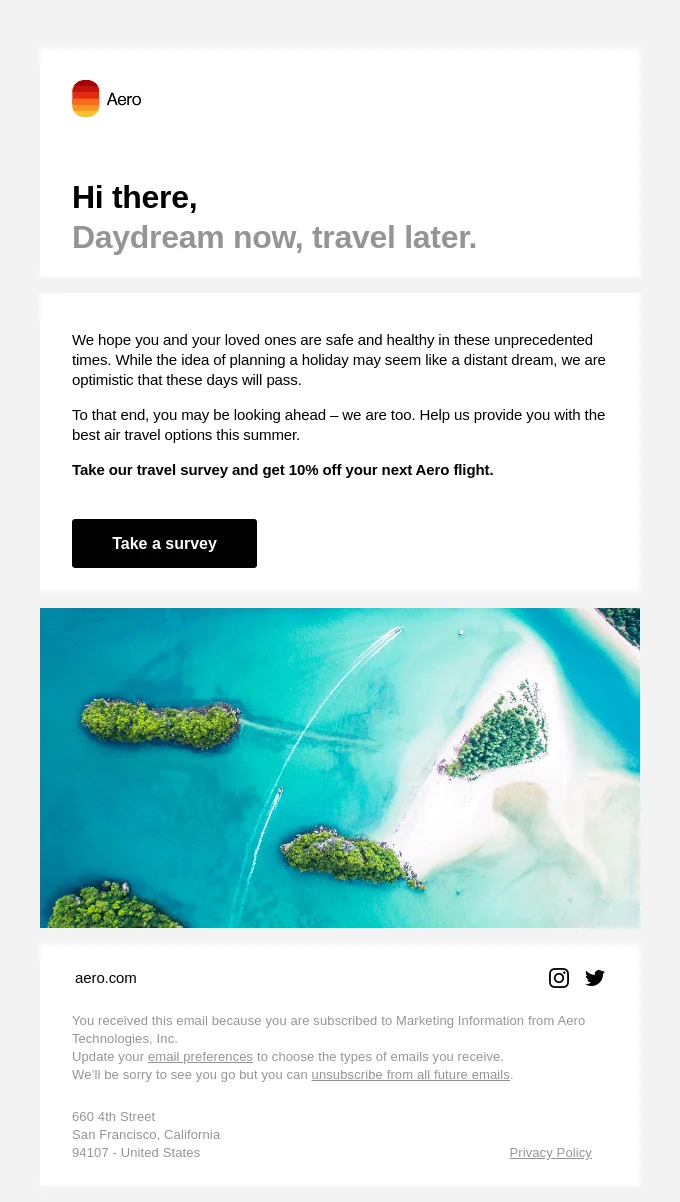 Give people hope. When you can, give people hope.
This survey was sent to people during pandemic times. Here, a travel company is asking people to stay home AND giving them hope for travel (and freedom) in the near future.
This is a great way to get people's attention. You show that you care about your customers' well-being and also give them a reason to look forward to the future. Throw in an incentive – a 10% discount – and customers have every reason to click on and take the survey.
Agriwebb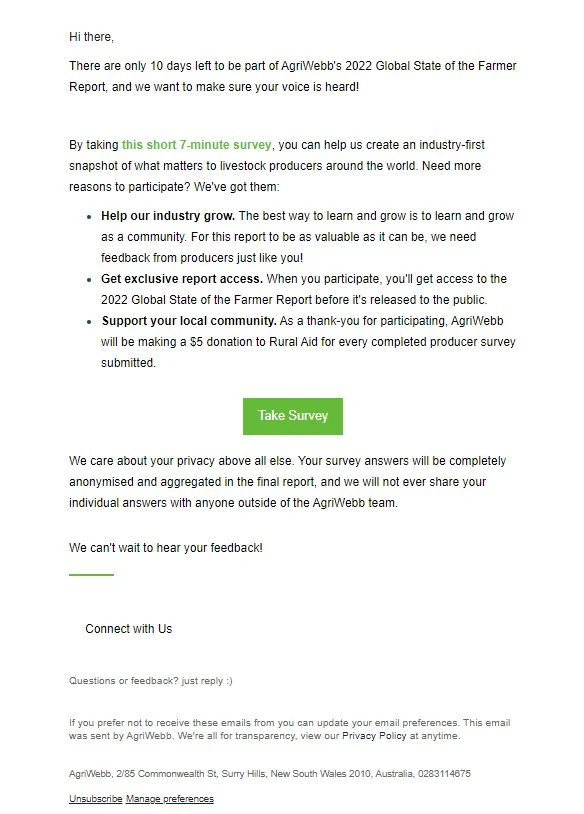 In line with minimizing customer effort, this email invite quantifies it. It tells its customers that they'll only have to spare seven minutes of their lives to take this survey. It's a sliver of time that most people don't mind spending on something, even if it's not directly related to their immediate interest.
Of course, this email does give you reasons for the survey beyond "it's low effort". You get exclusive reports, and help the community and the industry. Win-Win.
Withings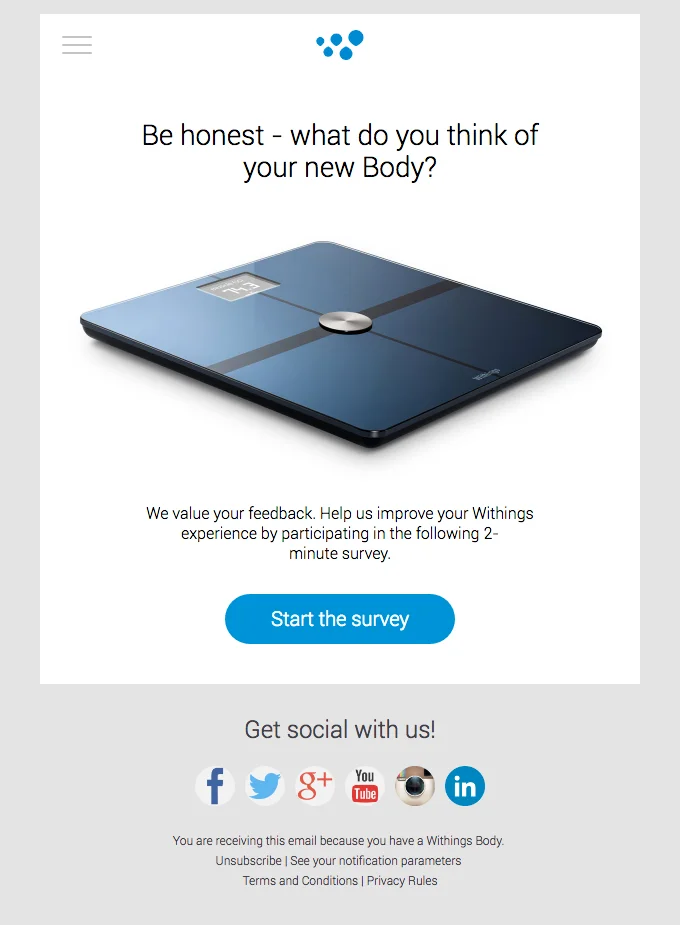 When you want some product feedback, insert an image of the same with some witty copy. Remember to gently graze the customer's pain point but don't be aggressive or obtuse about it. You want people to consistently use your product and then tell you how it worked for them. Overtly highlighting any possible, so-called 'flaws' or 'issues' might put people off your product or brand.
Need help in conducting a customer feedback email campaign?
Feedback surveys offer a direct channel of communication, allowing you to delve into the minds and hearts of your customers. By actively listening to their voices, you gain a deep understanding of their preferences, pain points, and aspirations. Armed with this knowledge, you can create hyper-targeted marketing campaigns, launch products that meet their needs, and deliver exceptional customer service.
Feel free to reach out to us for your customer feedback email campaigns. We have the data analysis and insights from billions of emails, and we keep evolving our email marketing strategies to help our clients stay ahead of competition.
For the second year in a row, Netcore received the "Highest overall customer rating" as a Customers' Choice, in the 2022 Gartner Peer Insights "Voice of the Customer" Report. We have also been recognized as "Ahead of the curve at applying AI to marketer workflow" in The Forrester Wave™: Email Marketing Service Providers Report 2022.
Connect with us to understand how you can benefit from our expertise and experience – we send over 20 billion emails a month on behalf of 6500+ businesses across 40 countries. We're constantly analyzing results, gathering insights, optimizing at different levels, and pushing for the highest achievable ROI in email ecosystems.