There is a famous scene in the series Brooklyn Nine-Nine, where Jake Peralta says, "If I don't see you every day, I will forget who you are. I'm like a goldfish!" Well, that's a lot of us these days.
The average human attention span has dropped to somewhere around 8 seconds unless it's something people are really interested in (like a Netflix series). But when it comes to brands outside entertainment, some serious effort is required to ensure customers don't forget them.
In the marketing ecosystem, an email newsletter is a distinct and effective way to stay on your customer's minds without bombarding them with daily messages. However, your customers, existing or prospective, are getting tons of marketing content all day, every day. You need to stand out, provide content your customers value, and encourage them to explore your website and products.
This could be a tough ask, especially if you're starting your first newsletter. This article takes you through the initial steps of getting your newsletter off the ground. We also showcase some examples of excellent newsletters that'll give you actionable insights to take to your drawing board.
First steps to starting an email newsletter
Ascertain the need and establish the goals
Start Here: Do you really need an email newsletter? You don't if you're already sending weekly thought leadership articles, blog posts, or YouTube videos to users. Flooding people's inboxes with content will just get them to unsubscribe.

Next, decide what your newsletter content is. Will you offer product updates and technical details? Or talk about your predictions and opinions on the industry? Or perhaps, you want to provide more actionable advice like "How to create a face pack at home" (if you're an organic beauty brand, for example).
Finally, what are your goals with the newsletter? Get more leads? Retain existing customers? Establish yourself as an authority in your field?
Look at the experts
Now that you know what kind of newsletter you want to create, look at who else is doing it successfully. Get to know the trending topics and happenings. If your brand is about financial intelligence, look at the email newsletters of think tanks and the top investment firms.
If you're willing to push the envelope a little, gather some creative input from outside the industry. For example, can you use the narrative style of a Brain pickings newsletter to keep users engaged with your content?
Think of multiple niches within your audience
If you're a beauty eCommerce brand, some of your audience would focus on skincare while others buy for their hair. Certain people would care about great deals, while others consistently buy high-priced luxury products.
Creating separate newsletter content for each segment would be fantastic, if you have the time and resources). Those who like their luxury won't care about "12% off this month", so they'll skim over those sections. Curating content specific to each niche keeps them consistently engaged because you're giving them exactly what they want, the way they want it.
If creating multiple variants each week is a lot of work and not always possible, add clearly marked-out sections within a single newsletter. It will help people quickly get to the part that interests them.
Ideate on content (more educational, less promotional)
Refrain from trying to sell most of the time. It's tempting to have the eyes of so many people, but your customers don't want to feel like they're walking wallets. Yes, they know you want them to buy your products, but they won't exactly be excited if they feel pestered.
Your content should be mostly educational. It should be around ideas and topics that can help people, things that make their lives easier in some way or the other. Be it recipes or product tutorials, give people something they can enjoy without having to buy anything from you.
Save the promotional content for huge news, like a new product release, or a new 3rd-party integration with a new API. When you're selling, do so for something people get really excited about.
Oh, and don't forget to create a few short, catchy subject lines.
When it comes to design, keep things simple. By default, clutter repels human eyes and will make your users close the newsletter faster than you can say, "Hey there."
Note: Do not forget to create alternate designs for people who would have enabled the Dark Mode for their email inbox.
Decide on a single or primary CTA style
It would be ideal if you could use the same CTA in every newsletter, as it creates a sense of familiarity and consistency among your audience. If the CTA style is catchy enough, it could also become part of your creative branding exercise.
A single CTA style can be feasible for the content in multiple newsletters. Create one CTA that can connect to your brand image, narrative, and public-facing vibe.
Ensure alt text for all images
A chunk of your newsletter audience may not have images enabled in the email, so they won't be able to see the visual elements in it. However, they can still get a sense of the image through its alt text.
If you're designing your CTA with an image component, inserting alt-text is non-negotiable. You still want people to understand and click the CTA even without the accompanying image, right?
Let people unsubscribe without hassle
Don't make it hard for people to unsubscribe. If they don't like your newsletter and cannot unsubscribe, they'll just mark it as 'Spam'. Being marked Spam is a serious issue because it devalues your domain in the eyes of your email service provider. It's much easier to let people exit easily.
Doing so also emanates a sense of confidence; folks are impressed by brands that aren't trying desperately to retain whoever they can.
Test everything you send
Once you've put everything together (ideas, design, content, subscriber lists, segmentation data, etc.), it's time to shoot off that first email…to yourself.
Not a single newsletter should leave your email without thorough testing. Test every version of every newsletter – Dark Mode version, accessibility-enabled version, etc. If you're creating multiple newsletters for different audience segments (well done!), test every single one.
Sounds overly cautious? Absolutely. But isn't it worth the positive user response?
Examples of excellent email newsletters
General Assembly (for educational content)
Apartment Therapy (for great deals)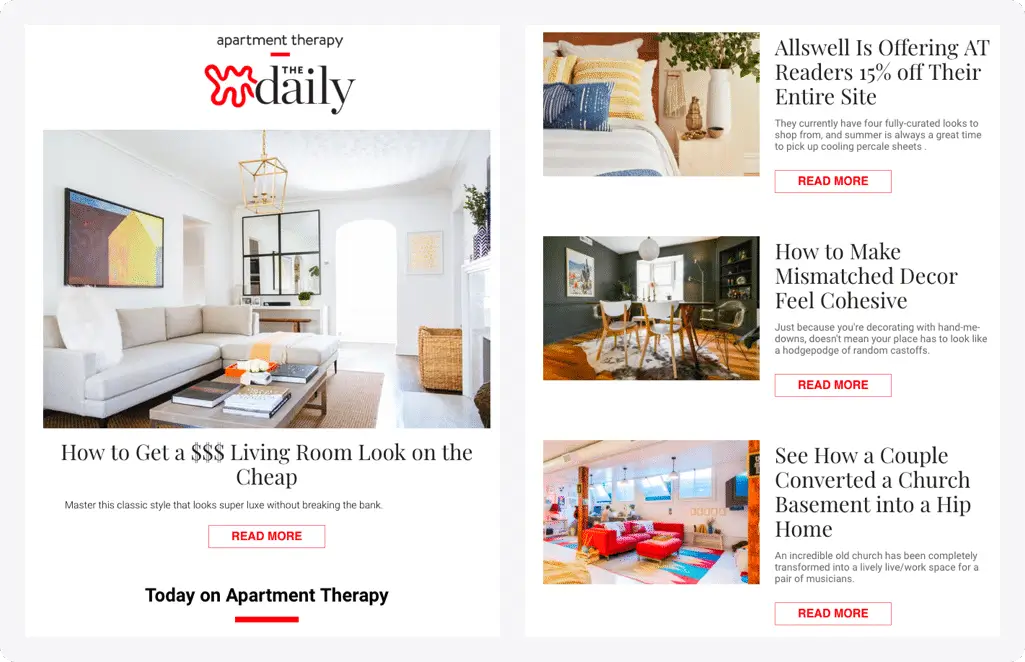 Bloomscape (for eCommerce)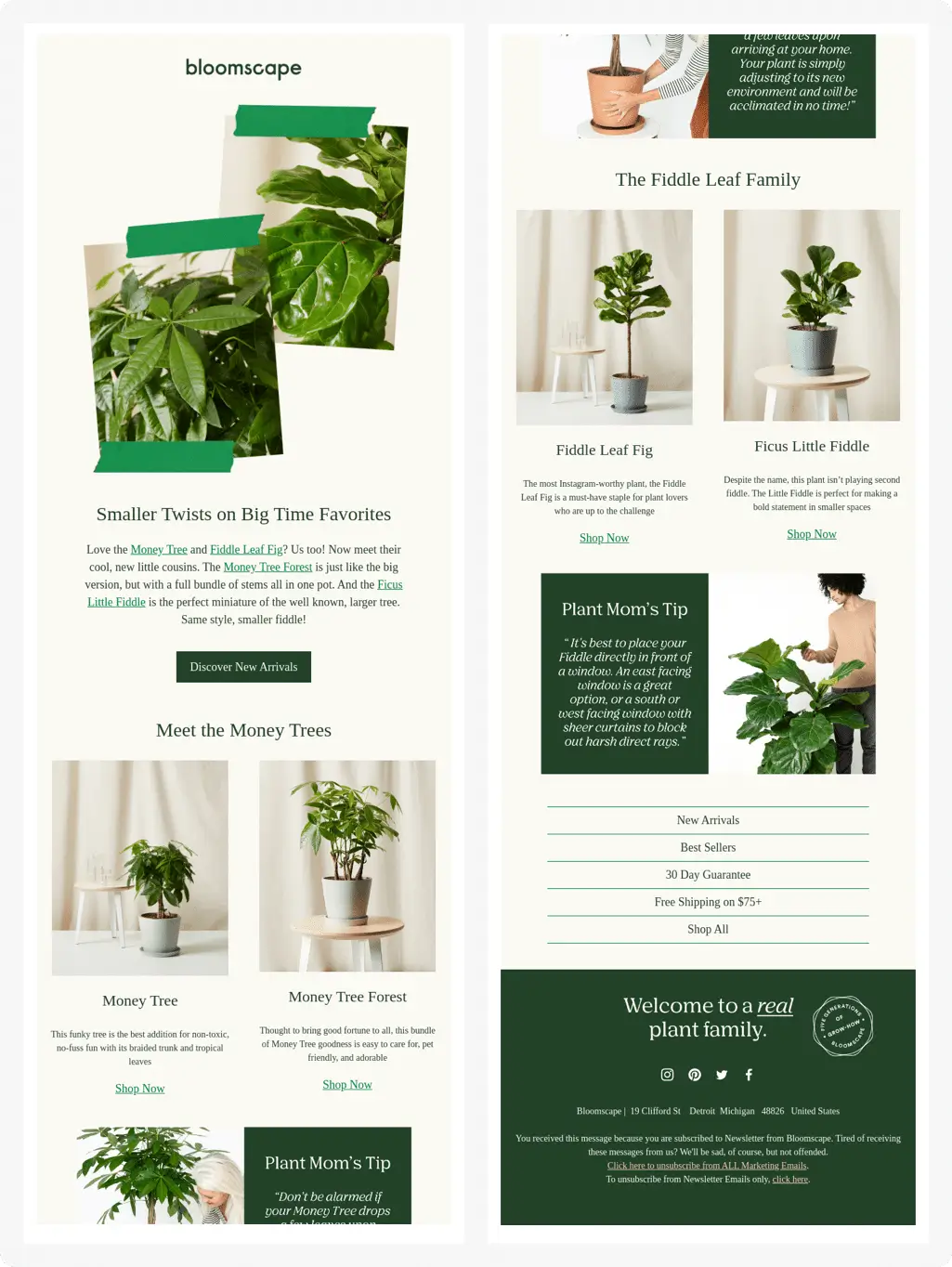 Ben & Jerry's (for food & beverage)

Get it right the first time with Netcore
Starting a brand-new email newsletter isn't exactly a walk in the park. Additionally, you won't get much ROI from the exercise if you're doing a rudimentary job because basic doesn't cut it anymore. You can be sure that your competitors are working to create a rich, layered newsletter with sparkles and chic copy, so you can't afford to be left behind.
On the other hand, do you have the time and resources to gain sufficient expertise, implement everything from scratch, initiate trial-and-error runs, read and analyze user data, and optimize multiple times until you get the perfect newsletter in place?
If you don't, why not let Netcore give you a head start?
Our experts spend their time mastering everything related to email marketing – best practices, new technologies, interesting trends, industry-specific preferences, AI-led innovations, and more. We have all the capabilities you need to send memorable newsletters that supercharge customer engagement.
Netcore has been recognized as "Ahead of the curve at applying AI to marketer workflow" in The Forrester Wave™: Email Marketing Service Providers Report 2022. For the second year in a row, we received the "Highest overall customer rating" as a Customers' Choice, in the 2022 Gartner Peer Insights "Voice of the Customer" Report.
Connect with us to understand how you can benefit from our expertise and experience – we send over 20 billion emails a month on behalf of 6500+ businesses across 40 countries. We're constantly analyzing results, gathering insights, optimizing at different levels, and pushing for the highest achievable ROI in email ecosystems.