Customer engagement platforms have transformed the way you can track customer journeys and interactions with your website or mobile app.
It involves creating a positive and meaningful customer relationship between the customer and the business through various interactions with engaged customers, such as customer service, marketing campaigns, social media interactions, loyalty programs, and other communication channels.
Customer engagement is about building a connection with customers that goes beyond simple transactions. It's about creating an emotional attachment that keeps customers coming back and encourages them to spread positive word-of-mouth about the brand.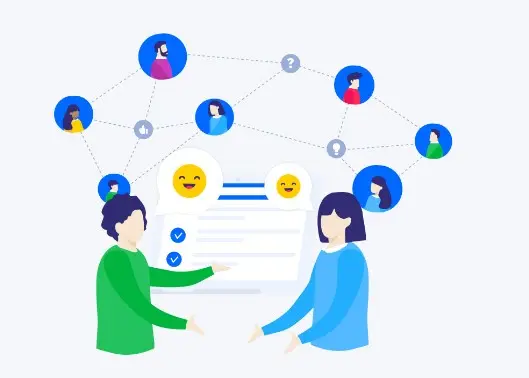 Effective customer engagement strategies involve understanding customer needs, preferences, and behaviors and using that knowledge to create personalized and relevant experiences to engage customers.
It also involves actively listening to customer feedback and addressing any concerns or issues promptly.
Ultimately, leveraging customer engagement platforms to boost marketing efforts can lead to increased customer loyalty, advocacy, and overall business success.
Why does customer engagement marketing work?
Customer engagement marketing works because it focuses on building a strong relationship between the customer segments, the most engaged customer, and the brand.
By engaging with customers through various channels such as email, push notifications, WhatsApp, SMS and more, businesses can create a personalized and relevant experience that resonates with the entire customer journey.
Infact, research from Salesforce shows that 64% expect tailored engagement based on past interactions.
When a customer feels connected to a brand, they are more likely to stay loyal, make repeat purchases, and even advocate for the brand to others.
This boosts retention, increases sales and also helps to create a positive reputation for the brand.
Moreover, a customer engagement marketing strategy allows businesses to collect valuable feedback, which can be used to improve their products or services, customer brand engagement, and the overall customer experience.
This feedback can help businesses to identify pain points, address their customer's queries and concerns, and create better solutions to meet the needs of their customers.
How to implement a customer engagement strategy?
Implementing a customer engagement strategy involves a few key steps: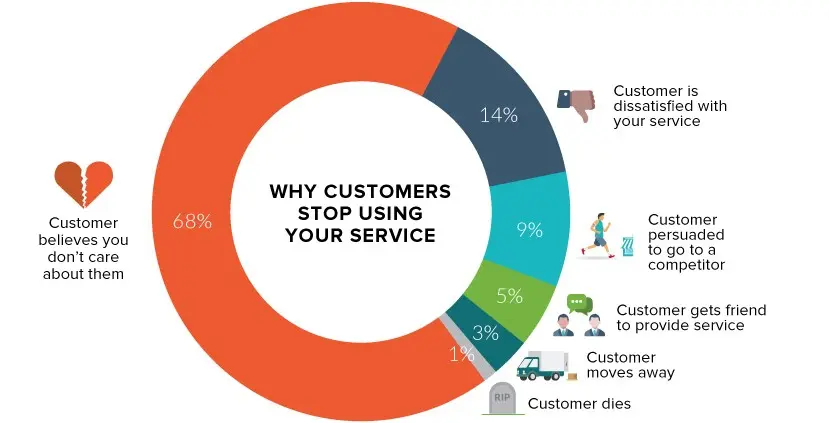 1) Identify your customer history and target audience
Before you can engage with your target customers further, you need to know who they are. Define your ideal customer profile, their needs, and their behaviors.
2) Define your objectives
Determine what you want to achieve with your customer engagement strategy. Do you want a loyalty program to increase customer loyalty, calculate customer engagement, drive sales, or improve average customer satisfaction?
3) Choose your communication channels
Identify the communication channels that are most effective for engaging with your target audience. This could include email, SMS, in-app messaging, web-push notification, or app-push notification.
4) Create engaging content
Develop content that resonates with your existing customers, engages new and existing customers, and aligns with your brand values.
Good quality content can be the differentiating factor in reviving dormant users and bringing repeat customers back to your website or mobile app.
5) Personalize your customer interactions to retain loyal customers
Use customer data to personalize your interactions, offer relevant recommendations and promotions that are tailored to each customer.
Gone are the days of one size fits all strategies. With customer engagement platforms, each customer can feel like a VIP with recommendations, emails, push notifications designed to their taste & preferences.
6) Listen to customer feedback
Collect and analyze customer feedback to improve your products or services and make changes to your own relationship marketing and customer engagement strategy accordingly.
Robust customer engagement platforms like Netcore comprise of features like NPS surveys, open text feedbacks, and app ratings that help understand the user pulse in real-time.
7) Measure customer engagement metrics in real time
Track and measure your customer engagement metrics, such as click through rates, conversion rates, user drop-off, to evaluate the effectiveness of your customer engagement strategy.
Customer engagement platforms come with intuitive dashboards, showcasing all relevant data along with insights, predictions and recommendations to scale your marketing efforts.
Top customer engagement strategies that businesses should consider for the coming years: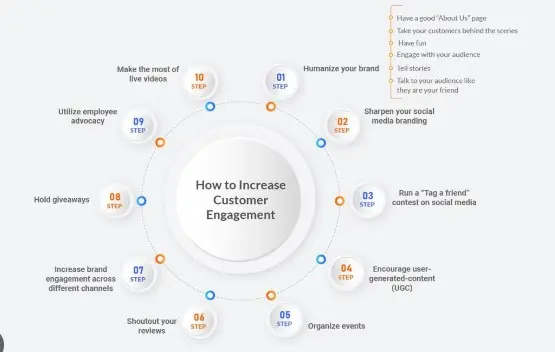 1. Maximizing customer acquisition and retention will remain a key focus area
To create a powerful customer engagement strategy, businesses must concentrate on activities that have a significant impact, such as efficient customer acquisition and increasing customer lifetime value.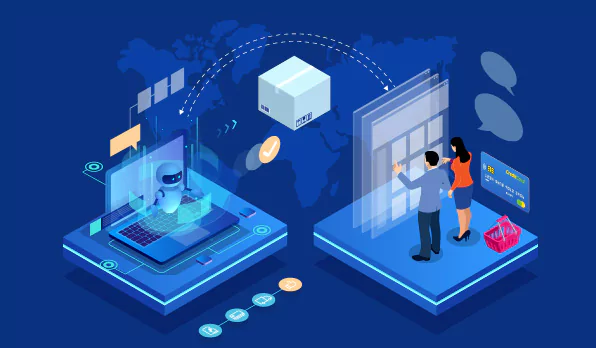 Data plays a critical role in this process.
Through the collection and analysis of real-time data, brands can develop comprehensive customer profiles that provide valuable insights to marketing, sales, and support teams, enabling them to engage with customers effectively at the right time and through the right channels.
2. Customers will demand omnichannel experiences
There's been a steep rise in the number of channels customers use to engage with brands. As a result, brands are required to keep up with the channels to understand their them better, making the customer journey even more non-linear.
Quoting IBM's Research Insights report, "Today's customers are diverse in how they shop—but they're united in their expectation that retailers and brands be present and ready to serve them wherever they are— physically, contextually, and at every point in their journey."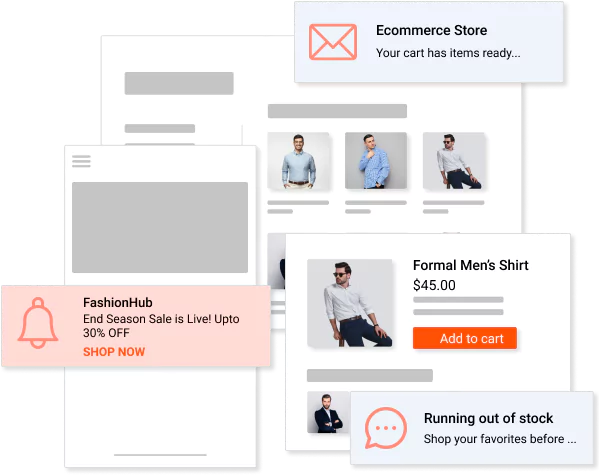 3. Precision will be crucial in personalization
While personalization is important, how accurate your personalization messages are is critical.
For instance, if a clothing brand sends you notifications about discounts on the latest sweaters that arrived during the summer season won't work as compared to sending notifications about their new summer collection.
This is why first-party data is now being eclipsed by zero-party data, which is data that customers willingly share to show their true self.
When brands earn that trust, they're successful in building in deeper and more valuable relationships with their customers, making it easier to send out targeted messages that are contextual.
4. Trust & Transaprency will be a non-negotiable
Customers expect personalized content and engagement, but only if it comes with transparency and control. They will share their data only if brands share how they will use their data.
To develop trust, brands need to respect customer data preferences by complying with data regulations and engaging only with those who want to be engaged. Doing this only enhances customer loyalty, and engages with those that truly trust your brand.
Top 5 customer engagement platforms for marketing success
There are many customer engagement softwares available, each with its own set of features and benefits.
Here are five popular important customer engagement platforms to consider:
1) Netcore Cloud – Customer Engagement Platform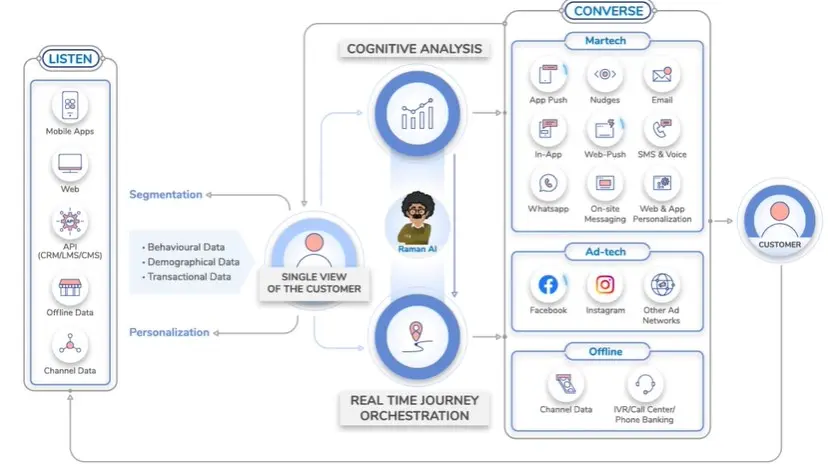 Netcore Cloud is a globally recognized marketing technology company offering a full-stack solution that help product and growth marketers deliver AI-powered intelligent customer experiences across all touchpoints of the user's customer journey throughout.
Building a unified view of customers, orchestrating omni-channel customer communication journeys, personalizing the apps and websites, optimizing user experience, real-time reporting, and providing actionable analytics, Netcore Cloud represents an all-in-one solution for a marketer.
With a global presence across Asia, Europe, and the USA, Netcore offers a rich martech solution on a single platform.
USERS ON G2 HAVE PRAISED NETCORE CLOUD FOR THE FOLLOWING POINTS:
Netcore Cloud is a platform that enables website and mobile app brands to achieve omnichannel growth.
The platform uses data analysis backed by AI/ML to automate the delivery of personalized multichannel campaigns.
These campaigns are targeted at the right user segments at the right time with real-time reporting and product analytics.
Netcore Cloud is a no-code platform, which means it's easy to use and adds speed and agility to the creation of amazing product experiences.
The ultimate goal of Netcore Cloud is to engage, convert, and retain users through personalized and effective multichannel campaigns.
2) Iterable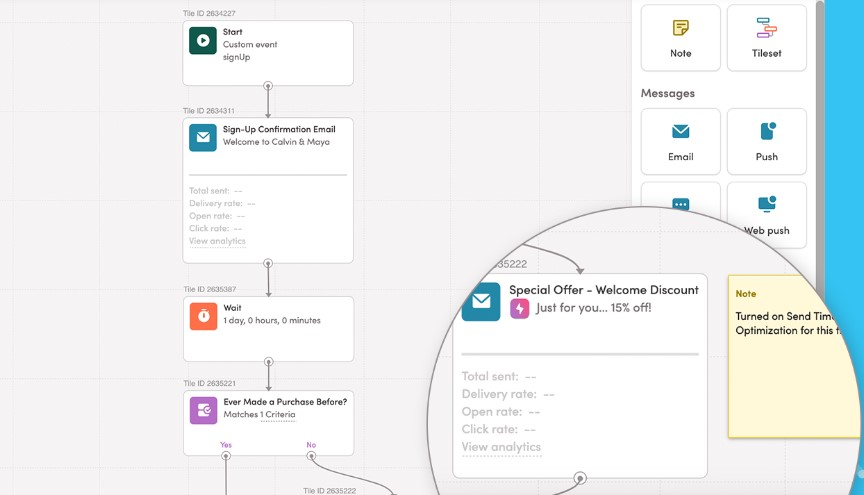 Iterable empowers growth marketers to create user engagement campaigns throughout the customer lifecycle and measure customer engagement across all channels.
Marketers can segment users, build workflows, connect and automate relevant touchpoints, measure and manage campaigns at scale without engineering support.
USERS ON G2 HAVE PRAISED ITERABLE FOR THESE POINTS:
User-friendly and easy to learn.
Provides solid functionality and customization options for marketing automation needs.
Open API infrastructure for transparency and external platform connectivity.
Support team is prompt and responsive.
Offers visibility into all platform activities.
3) Moengage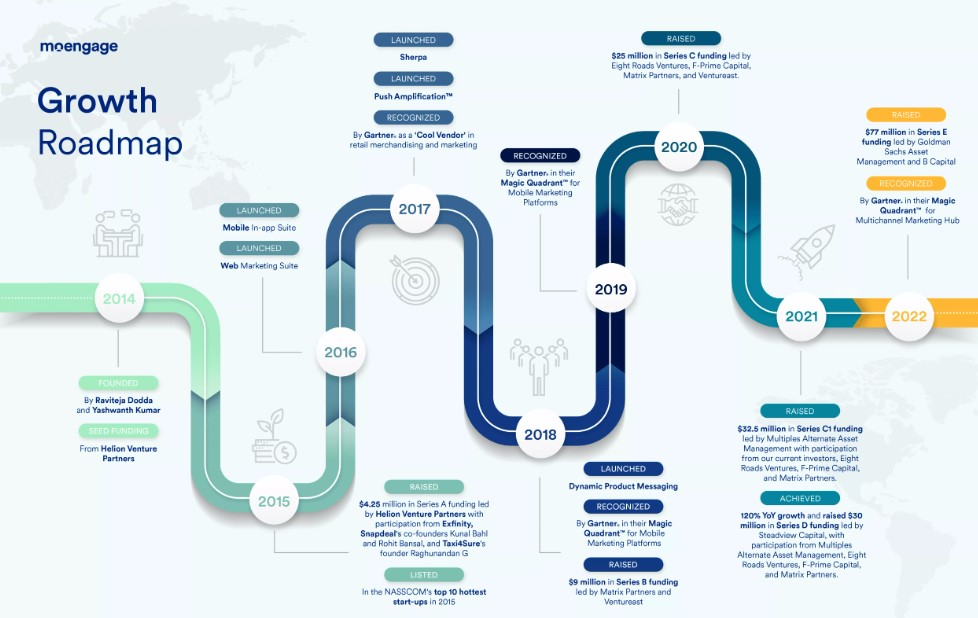 MoEngage is an insights-led customer engagement platform, empowering marketers with AI-driven insights and the ability to instantly turn insights into cross-channel experiences.
It empowers marketers to be customer centric, through intelligent insights about customers' journeys, preferences, lifestyle affinities, and more.
USERS ON G2 HAVE PRAISED MOENGAGE FOR THESE POINTS:
MoEngage facilitates hypothesis validation for user re-engagement campaigns and AB tests.
It allows the creation of multiple inbound and outbound campaigns, leveraging Facebook and Google audiences.
Sticky campaigns maximize engagement without compromising user experience.
Interactive graphs make it easy to analyze user paths, behavior, personas, engagement, and session time.
MoEngage provides valuable insights for data-driven decision-making regarding user engagement and campaign performance.
4) Braze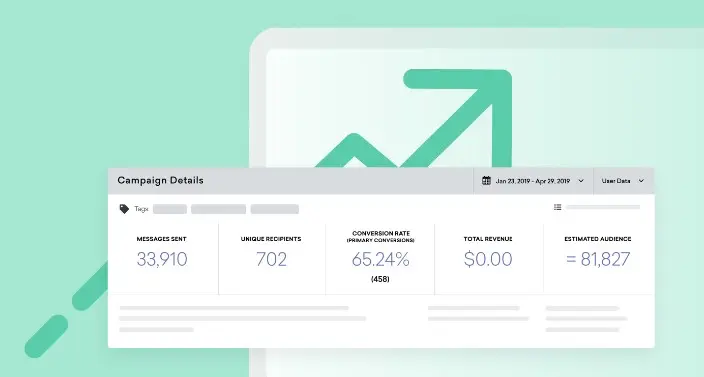 Braze is a leading comprehensive customer online and offline engagement platform that powers interactions between consumers and the brands.
With Braze, brands can process customer data in real time, orchestrate and optimize marketing campaigns and continuously evolve their customer engagement strategies.
The company is headquartered in New York with offices in Austin, Berlin, Chicago, London, Paris, San Francisco, Singapore, and Tokyo.
USERS ON G2 HAVE PRAISED BRAZE FOR THESE POINTS:
Braze is highly customizable and easy to use.
Braze is considered a standard for customer engagement platforms.
Braze's customer service team is top-notch and responsive.
Braze is one of the best in its category, outperforming other platforms such as Hubspot, Pardot, IBM Marketing Cloud, and Mailchimp.
Braze has a straightforward and intuitive user interface with advanced scheduling and AB testing options.
Braze offers an easy-to-use journey editor and works with liquid programming language.
Braze offers flexibility with the ability to create Braze-to-Braze API calls and has many training materials available to further users' knowledge.
5) WebEngage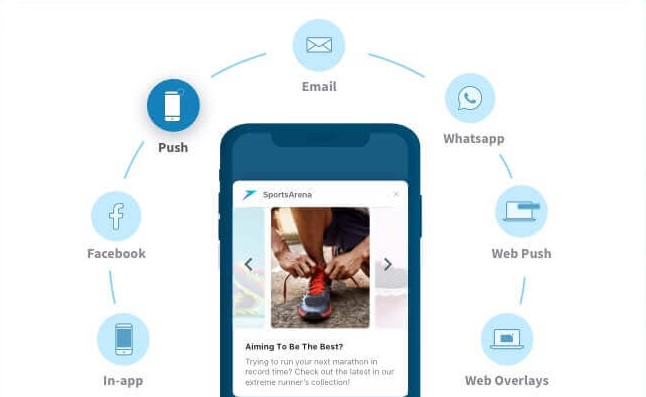 WebEngage is a full-stack marketing automation & customer data platform with ISO 9001:2015 certification.
WebEngage enables 800+ consumer-facing companies to engage & retain their customers.
These companies send out more than 30 billion messages per month using WebEngage across channels like WhatsApp, Email, SMS, Push Notifications, Facebook, Google & more.
USERS ON G2 HAVE PRAISED WEBENGAGE FOR THESE POINTS:
WebEngage is a user-friendly customer engagement tool with a wide range of features.
The platform offers easy navigation and an intuitive user interface with customization options.
It excels in segmenting users and personalizing communication through various channels like push notifications, email, SMS, and web push.
WebEngage tracks user behavior and provides detailed analytics and reporting for data-driven decision-making.
It is suitable for businesses of all sizes, offering powerful features to improve customer engagement and drive conversions.
Wrapping up:
The implementation of customer engagement platforms in your marketing campaigns is not just a strategic move—it's a transformative one. By integrating these powerful tools, you open the door to deeper insights and more meaningful interactions that resonates with customers.
It's about turning every touchpoint into an opportunity and every conversation into a connection that drives loyalty and growth. Embrace these platforms and watch your business thrive in a marketplace where engagement is the currency of success.