The festive season is here again! It's that time of the year when app users end up on a shopping spree, and mobile apps witness an influx of shoppers.
Multiple channels like emails, push notifications, and contextual nudges play a critical role in communicating and encouraging users to avail special discounts, offers, and other deals. It's what attracts more visitors and increases conversions for mobile apps. However, all these offers and strategies will be meaningless if your app offers a choppy user experience.
Almost all brands offer similar discounts and offers.. So, customers tend to stick to those apps that deliver a more convenient and easy-flowing experience throughout the user journey.
Therefore, to occupy your user's mind and wallet space, you need to present an engaging user experience. One of the best ways to achieve it is by using contextual nudges.

Nudges are one of the top ways to engage and convert new as well as existing users. You can attract their attention to relevant offers, discounts, products, and more on your app.. Right contextual nudges placed at appropriate places in the app, ensure smoother onboarding, faster activation, enhanced engagement, quick conversions, and high retention.
Top use cases to Drive Higher Conversions using Contextual Nudges
Here are some contextual nudges use cases that you must implement to improve the product experience for users and drive quicker conversions during holiday season sales, Black Friday sales, festive seasons, and others:
1. Nudge users to discover relevant discounts on their favorite brands
Users love personalization, and what's better than infusing personalization to drive sales. Leverage users' past behavior and purchases to nudge them to check out discounts on relevant products. For instance, if users have frequently been checking, wishlist-ing, or purchasing products from specific brands – you could nudge them to explore discounts/offers on those brands.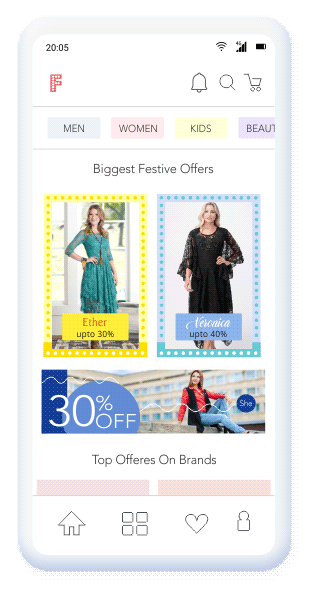 2. Boost sales by nudging users to wish list their favorite products before the sale
If you want your users to be excited about your season sale and maximize purchases, you must stir their excitement well in advance. How do you do that? By involving your users and making them a part of your season sale even before it starts. As you prepare to launch announcements of your season sale, know that you're still indulging in one-way communication. To involve your users, nudge them to add their favorite products to the wish list even before the season sale. Doing this amplifies sales during the season sale.
3. Engage users by nudging them to try the 'spin-the-wheel' feature
Most apps decorate their homepages and landing pages during the festive/holiday season to resemble a carnival. And nothing gives off the carnival vibe more than a game of chance. Apps offer spin-the-wheel features and other crate box opening features to attract customer's attention – and it works like a charm every single time. To make the most out of these, it's best to deploy a spotlight nudge to surface the spin-the-wheel feature and highlight what users could win.
4. Highlight value/benefits of upgrading to a premium account
When users do not see the value in upgrading their account, (possibly because they're unaware of the features that offer the desired value), they're unlikely to upgrade. The simplest way to encourage them to pay for the app is to Show them the added value and benefits of upgrading.
You can nudge users and highlight compelling reasons to switch to the higher version that offers special discounts, free delivery options, early access to some limited-time offers, and other such services. The best examples are discounts that users can avail during season sales by upgrading their accounts, such as getting access to a pre-season deal.
Implementing a tool-tip nudge that communicates the benefits of upgrading when users have added certain products to their cart is a significant contextual nudge use case to get more paid users.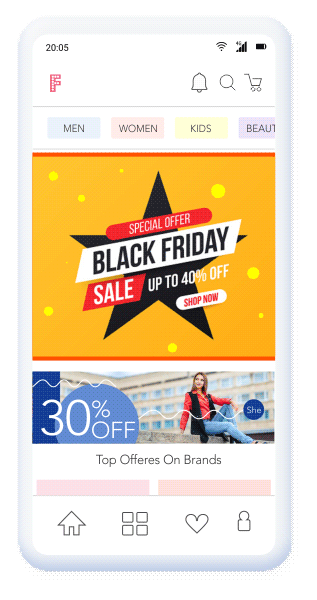 5. Drive quicker 'add-to-cart to 'check out' conversions
Many users tend to drop off before completing a purchase when the checkout flow is complex.The good news is, there's a subtle way to convert these abandoned carts to purchases by deploying personalized and contextual nudges to highlight the cart items that are either running on special discounts or are fast-selling.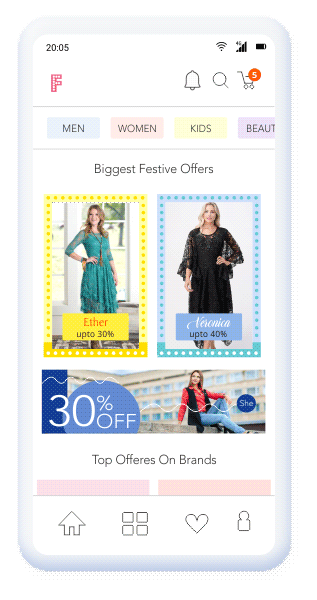 6. Highlight the offers on various payment methods
Highlighting offers on various payment methods is especially helpful to drive checkouts. Why? Because with such a variety of payment methods, the chances of users winning an offer or discount increase significantly. And we know lucrative discounts are a great way of boosting sales. But here's the catch: the more the options, the more cognitive load for users. An effective way to overcome this would be to highlight the most relevant offers to every user segment (maybe based on the cart order value) by deploying a spotlight nudge.
7. Increase traffic through referrals
Myntra, a leading Indian fashion ecommerce brand, often uses this technique during its end-of-season sale. When you enter the app, it nudges you to share the event with your friend to earn bonus points that you can redeem during your checkout process. This creates a perfect win-win situation for the existing as well as the new customer. How? Your current customers have the opportunity to earn bonus points (and discounts) simply by referring the event to a friend. What spells conversions better than getting your existing users to drive user acquisition for your app? This effectively engages more and more customers and ultimately makes your season sale a huge success.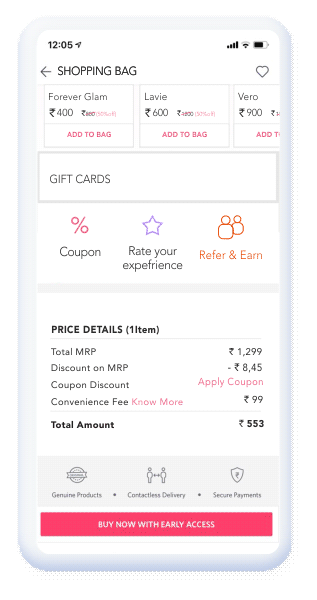 8. Increase usage of gift cards
The festive/holiday seasons are also a great time to send gifts to loved ones. You can make the most of this time by nudging your users to check out different gift card options to send to their friends and family. This idea works exceptionally well when users are unsure about what they want to purchase. So, in a way, you are providing them with precisely what they are looking for. H&M sets an excellent example for nudging mobile app users to purchase gift cards during season sales.
Bonus tips to help you drive higher conversions
With user intent to make purchases at an all-time high during season sales, you must leverage nudges to keep them engaged on the app. The key is to highlight relevant offers at the right time contextually. As you keep guiding users to the next following best action, you successfully drive quicker conversions.
Here are the top 3 tactics you can use this season. –
Test, Iterate, and Implement Personalized Layouts
Users tend to engage with apps that offer a familiar layout for them. For example, each time we visit Amazon, we will first see personalized suggestions based on our our previous searches and purchases. This instantly engages us to keep scrolling further. It Once you start scrolling, they will shows present you with the next section that promotes similar products with special discounts and offers. Each user's homepage is unique. different from the next one.
That's what you need to pick up. Unique homepage layouts for every user extend a personalized experience and engages the user to keep browsing and finally making the purchase.
To arrive at a layout that gives the maximum returns and engages your users the best. A/B split test different home screen layouts, CTA buttons, banners, and other variables for different segments of users to analyze which results in the highest number of clicks or conversions.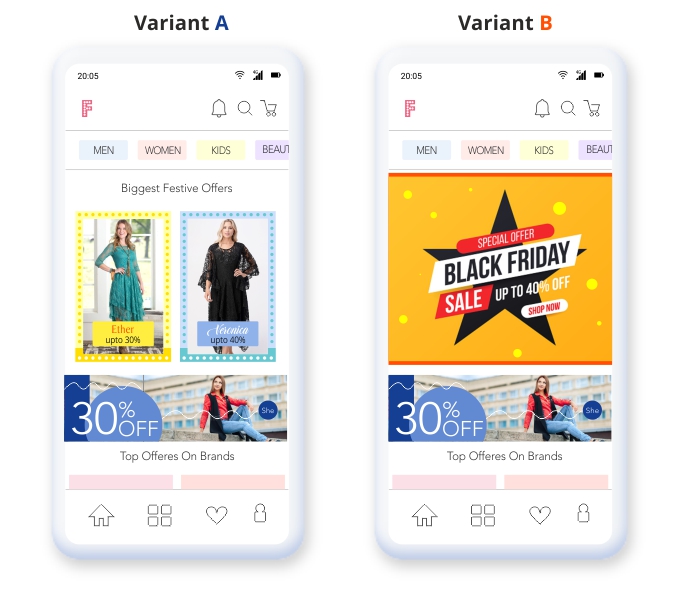 Ensure a Seamless Checkout
Having a seamless checkout helps reduce cart abandonment. Extra pages, form fields, and additional steps only add friction to the buyer's journey and put the transaction process at risk. make them reconsider their purchase decision.
Olivia, for instance, is a first-time guest user of your e-commerce clothing app. She loves your collection and instantly starts adding multiple dresses to the cart. When she finally decides to checkout, the app asks her to sign up before checkout. At this point, her user experience essentially gets broken, and she abandons the cart straightaway. She could have turned into a loyal customer if she was given a simpler checkout process, without making it mandatory for her to sign up. – you see, ensuring a seamless checkout, such as not making it mandatory to sign up for guest users before checkout, goes a long way and is thus a great tactic to drive higher conversion.
Additionally, offer as many multiple payment options as you can, to accommodate every user's preferences. of various payment modes. (digital payment platforms like – G-pay, Paytm, Credit/Debit card, Cash on Delivery, and more). It's essential to make sure you highlight the various offers across payment methods relevant to each user. This lessens the chances of user churn due to too many options.
Additionally, an app has multiple payment options to accommodate every user's preferences of various payment modes (digital payment platforms like – G-pay, Paytm, Credit/Debit card, Cash on Delivery, and more). It's essential to make sure you highlight the various offers across payment methods relevant to each user. This lessens the chances of user churn due to too many options.
Map out your User's Journey for Personalized Communication
Having a one-size-fits-all communication strategy isn't effective in driving conversions. Every customer is on the lookout for a personalized experience, which means finding relevant products quickly, receiving tailored product recommendations, and unique communication across every touchpoint, whether email, push notifications, web messages, nudges, or ads on social media. Delivering these personalized experiences based on customer attributes, behavioral data, and transactional data makes every campaign effective, leading to higher conversions and revenue.
Conclusion
So, what's the secret ingredient to boost conversions during season sales?
It is delivering an immersive and personalized in-app experience by leveraging the power of contextual nudges.. They make it easier for users to navigate the app, find relevant offers, and make quick purchases. 
At Netcore Cloud, we help you deliver these winning user experiences using our no-code Product Experience platform that lets you deploy contextual nudges without writing a single line of code, in a matter of 15 minutes. So, this festive season are you ready to fine-tune your user's product experience? We know we are! To discover more use cases you could implement on your app this season, connect with us!