For an eCommerce brand, success relies on providing a unique and personalized customer experience. Offering this completely personalized experience fosters loyalty and boosts conversions by making customers feel more connected to the brand. As personalization becomes the norm in the e-commerce world, brands are continuously optimizing their platform. However, only a few have completely embraced it in its true essence. Why? Because personalization is challenging to execute without the proper insight into your customer's behavior.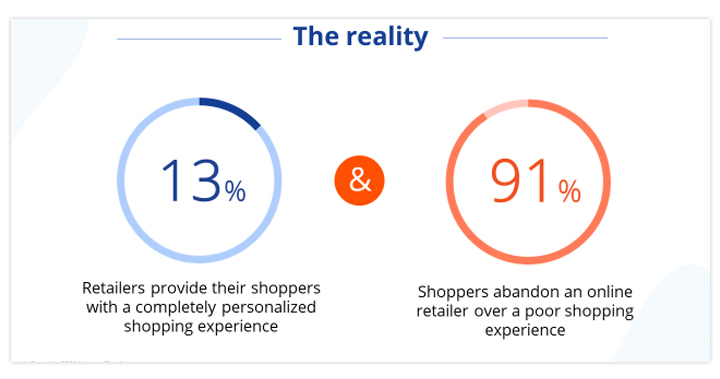 As most B2C brands try to personalize their stock-in-trade, the spotlight on key trends in eCommerce personalization is intensifying. An overwhelming 91% of shoppers would abandon an online retailer over a poor shopping experience. The need to make personalization a strategic priority has never been greater. Only 41% of retail executives say their eCommerce platform is somewhat personalized at best— while just 13% of online retailers provide shoppers with a completely personalized experience (Report). The reality is that most brands are falling short of delivering the eCommerce personalized experiences that their customers expect.
So how can brands successfully establish processes to understand their customers' behaviors? How can omnichannel personalization help drive higher revenue? Let's take a closer look at some of these burning questions.
Omnichannel personalization
Amid all the uncertainty caused by the pandemic, brands must embrace a more customer-obsessed framework that helps them engage with visitors in both the digital and the physical worlds. The need of the hour is to deliver digital experiences across all channels that are personalized for each visitor based on their unique buying behavior, browsing activity, situational data, social data, etc.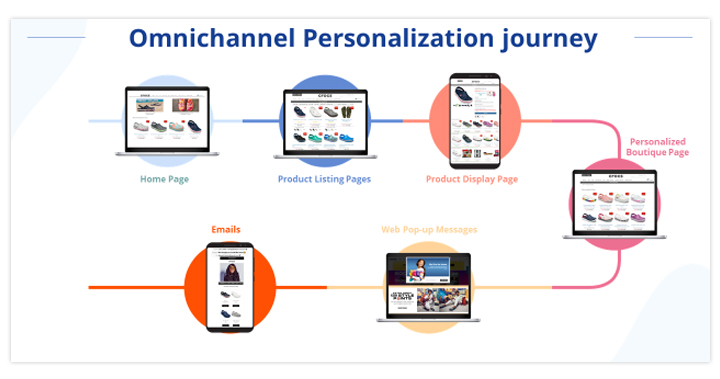 Omnichannel personalization is the next big thing in the ecommerce landscape, especially as the digital and physical space continue to blend. While most brands recognize the importance of omnichannel personalization, half of them say that gathering customer data presents challenges to personalization. B2C brands can make sense of their data to deliver seamless experiences by embracing technology, agile operating processes, and the right KPIs. Personalized digital experiences like product recommendations, content tailored to user's behavior, demography, clickstream data, dynamic online merchandising, in-store behavior, context, and location can significantly increase sales conversion. Not surprisingly, according to the recent report, 7 in 10 retailers who invested in personalizing customer experience have seen an ROI of at least 4X. Personalized experiences also result in lower cart abandonment rates, higher conversion rates, and, invariably, higher revenue per user.
Bridging the customer expectation gap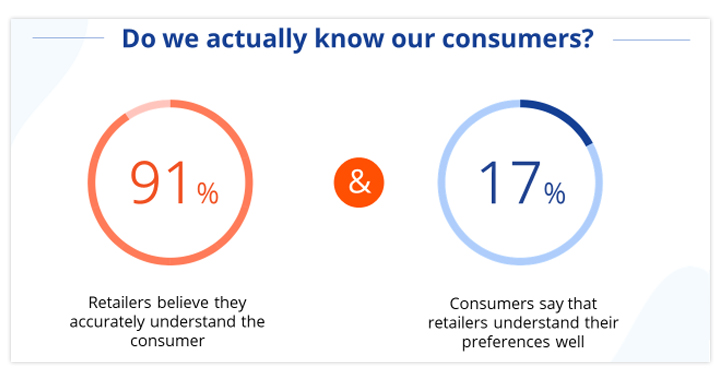 Most brands claim that they understand the needs of their customers. But reality paints a different picture. While 91% of retailers believe they accurately understand their customers, only 17% of customers say that retailers know their preferences well. This wide gorge between the brand's perception of their customers' expectations and the reality highlights the need to gather and track all relevant data. It is a matter of active listening and not shooting in the dark, especially when shoppers have a dime a dozen choices in the market.
Implementing effective personalization becomes an easy feat when B2C brands measure the right metrics. To ensure successful personalization implementation, brands need to understand their customers' interactions and map each touchpoint along their shopping journey. Personalization directly impacts critical metrics such as customer lifetime value, conversion rate, cart abandonment rate, average order value, and average revenue per user. 60% of retailers see average order value jump by 10% or more after implementing personalization.
Final thoughts
Customers today are in control of their shopping experiences, especially at a time when social media is working in their favor and they have unlimited access to the ever-evolving tech landscape. They are constantly dictating how, when, where they want to engage with brands. Most ecommerce companies recognize the needs of the modern buyer but face several hurdles for adopting personalization, including lack of IT bandwidth and finding the right solution partner.
Brands must act now or risk being left behind. They need to adopt a more holistic strategy for data management and enhance their entire data and analytics environment to meet changing user expectations. Retailers will have to rely on innovative technology providers to bolster their personalization efforts. With hyper-personalization being the number one priority for all brands, aligning strategy and technology to deliver next-gen personalization will play a key role in achieving customer-centric business objectives.
"By implementing a one-to-one personalization strategy properly in a highly contextually and relevant fashion, personalization can help retailers cross the crucial threshold of visits and views into what is the sweet spot for driving more conversions more, purchases, and more transactions."
– Tim Moran, VP – Enterprise Engagement, Netcore Cloud
Empowered with insights from personalization, brands can create more contextually relevant offers and content that is genuinely aligned with customers' demands.
To help brands understand the latest trends within the space, we recently hosted a webinar, where we covered all this and a lot more. In the state of eCommerce Personalization 2021 – Trends & Benchmarks, Netcore Cloud's Tim Moran, VP – Enterprise Engagement and special guest speaker Rusty Warner, Vice President Principal Analyst, Forrester, explained how brands could create a robust strategy for their buyer's through omnichannel personalization and much more. The speakers also discussed abstracts from our latest study and the innovations transforming the eCommerce Personalization space.
Missed the webinar? Watch it on-demand to learn all these incredible insights and tips, or download the full report.