App marketing ropes in sustainable app growth. Because no matter how great your mobile app is, you'll need dedicated marketing efforts to get it to your users' phones and for them to continue using it. But remember, acquiring new users for your mobile app is only half the battle. With apps losing 77% of their daily active users within 72 hours of installation, engaging them throughout their lifecycle is the key. From getting them to download the app and take their first action to becoming a regular and loyal user, you must have your acquisition, activation, and retention strategies in place to witness marketing success from your app.
We'll discuss 10 app marketing strategies to boost these stats.
Acquiring users for your mobile app
If your app is just your website in app form, why would your customers use it? Your app must provide experiences different from your desktop and mobile site, and users must be incentivized to download and continue using the app instead of the website.
For example, your app must offer a quick, easy-to-navigate UX and a more engaging interface. It must also deliver useful recommendations, engaging in-app experiences, and push notifications offering exclusive in-app offers, and more.
A useful app sees more downloads.
But is acquiring users your goal? Yes and no. You start by acquiring users, but that's certainly not enough. You need marketing strategies to engage users, so they keep returning to your app.
10 app marketing strategies
Here are 10 app marketing strategies and ideas for your users' entire lifecycle, from pre-launch to retaining users when you've acquired a good user base.
1. Pre-launch mobile app marketing
About one-fourth of the users uninstall the app after using it only once. So before you begin marketing your app, you need to make sure that your customers need your app and will stick to it once they download it.
Offer an unparalleled product experience with guided navigation, quickly lead users to the app's value, track and optimize the experience continuously, make data-driven decisions looking at user paths, and so on.
It's also vital to generate curiosity by targeting the problem you're looking to solve before officially launching your app. Creating a waitlist and encouraging interested users to sign up to get the latest updates or discounts/rewards is a great strategy. You can also collaborate with social media influencers to generate buzz about your upcoming app and other standard strategies.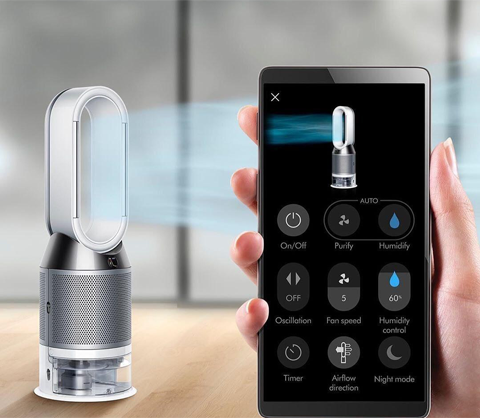 For example, Dyson heavily marketed its products and app through influencers and internet personalities using social media before officially launching the Dyson Link app. All over social media, especially on Instagram, influencers posted pictures and videos using and reviewing Dyson products and talking about their experience with the Dyson Link app.
2. Cover all users and platforms
You need to leverage both Android and iOS platforms to maximize your reach. Android holds an 87% share of the global market, while iOS covers a 13% share. Choosing the platform to launch your app first depends on your region. For example, an Android first app will help you target regions like India, Japan, and South Korea. While launching on the iOS platform will help you target the US audience.
Developing and maintaining an iOS app is much cheaper and easier than building one for Android. This is mainly because Android apps have to be optimized for many devices with varying intricacies. In contrast, iOS apps need to sync with only a few Apple models.
3. Acquiring users before marketing your app
You need an acquisition strategy before marketing your app and engaging the audience.
a. App store marketing
Google reveals that users discover 40% of apps through app store searches. Ensure your app name, title, keywords, description, subtitle, the number of downloads, ratings, and reviews are optimized for discovery. Also, leverage app store ads so your app appears for related keywords.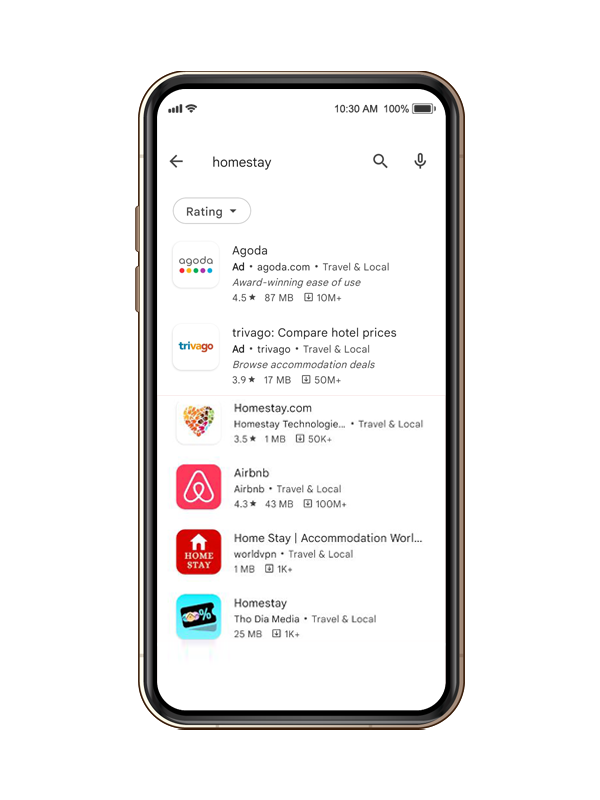 For example, Agoda and Trivago are the top appearances (via ads) when searching the keyword homestay on Google Play.
b. Exclusive app-only discounts
Offering app-only discounts is a proven method of acquiring new users. You can use email marketing and social media for advertising these exclusive app discounts that incentivize the users to download the app.
c. Referral offers for app installs and first actions
Use your existing users to bring in more users by offering referral offers that incentivize your current users when their referral installs the app and takes the first action.
For example, the Robinhood trading and investing app's referral program offers a gift stock to both users when existing users invite new users through personalized links.

4. Draw attention to important items with banners
Once your app has a good user base, it's time to engage and convert the users. Identify users' high-value actions and guide others via nudges and walkthroughs. Highlight personalized discounts and recommendations via tiles and banners in the app. Make sure you consider the user's interest and behavior to offer relevant and personalized recommendations so they keep coming back for more.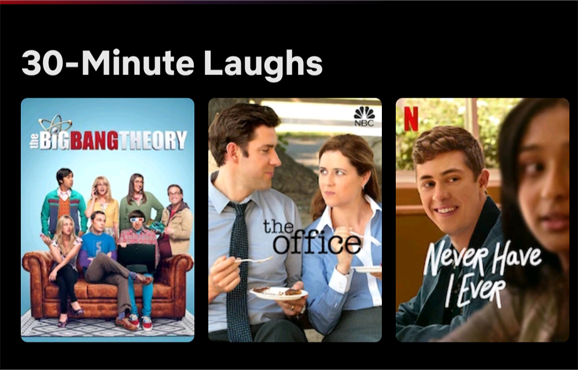 5. In-app marketing
In-app marketing helps you engage, convert, and retain your acquired users. Utilize in-app messages to deliver updates, highlight new features, offer personalized recommendations, send notifications with discounts and offers, encourage users to take specific actions, or remind users to finish a pending task. You can advertise your upcoming or trending products and highlight ongoing sales via banners within your app. A/B test your banners to find the ones that work best.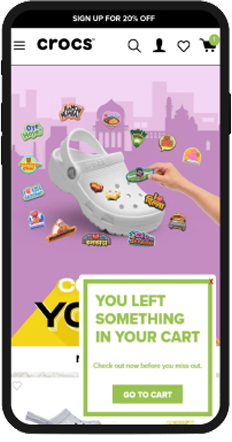 For example, Crocs leverages in-app messages to highlight app-only deals, time-sensitive discounts and abandoned cart reminders.
6. Get creative with your app push notifications
App push notifications keep bringing users back to your app and are known to increase your retention rate from 3x to 10x. Push notifications sent during the first week of app installation can increase your retention rate by 71%. However, sending 15 plain vanilla notifications per day won't work.
Get creative by sending relevant and personalized notifications basis user's behavior and history. Utilize interactive elements like images, videos, GIFs, emojis, and audio to craft rich notifications and capture your users' attention. You can use app notifications to deliver personalized messaging with discounts and offers, guide users to make a purchase by promoting specific products, remind users of abandoned carts, or send informational content.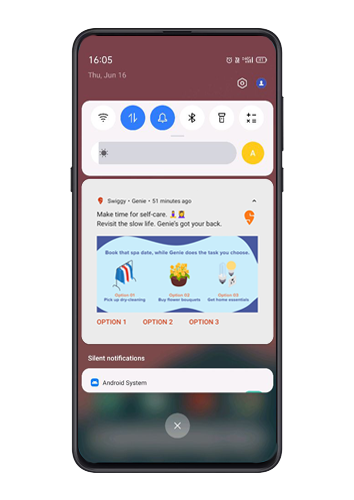 Swiggy, for example, uses engaging and humorous notifications with rich media (image and GIF) to get the users to click on their notifications and keep returning to the app.
7. Carousel notifications
Carousel notifications are advanced, more interactive versions of your regular push notifications, including two or more images for higher engagement. Users can navigate these images without opening the app and click on the image that interests them to go to the exact page. With about 40 apps on an average user's phone, you can also use unique notification sound tones to stand out from the crowd.
8. Videos within the app
Videos drive a significant chunk of internet traffic, proving they are a solid engagement media. So why not use videos within the app to engage users. Rich media always holds our attention, so instead of elaborating via text, think of mini in-app videos showcasing the latest or upcoming products and mini educational clips. This can be done easily in-app vs. on a mobile site. You can also incentivize customers or influencers to upload product reviews to leverage social proof.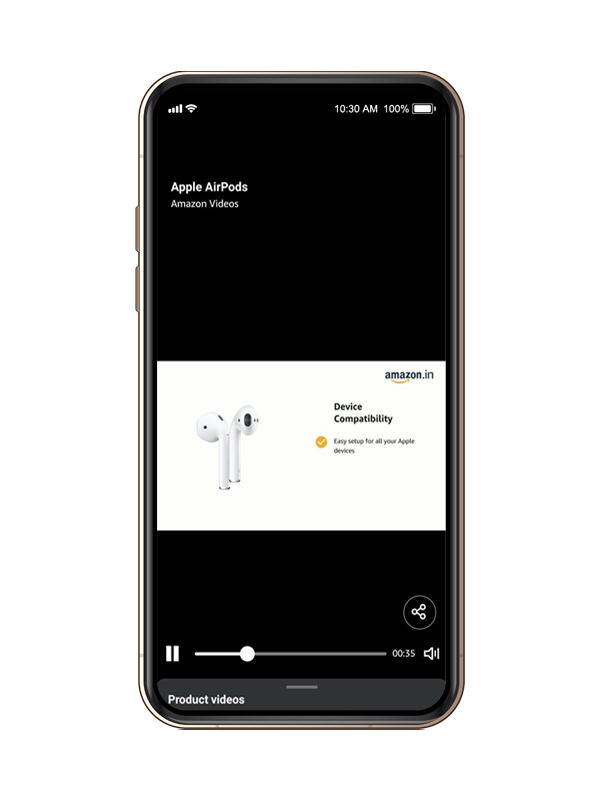 For example, Amazon's product videos help viewers understand the product specifications better. Amazon is experimenting with short vertical video series by embedding them in the app to increase engagement rates. Amazon also enables customers to upload video product reviews.
9. Get users in habit loops
Habit loops are patterns where a cue triggers the user to take action, followed by receiving a reward. In the case of apps, when you keep triggering users via nudges and (in-app and push) notifications to take app-specific desired actions, users eventually build a habit around it. This engages the user, so they keep coming back, boosting your engagement and retention rates.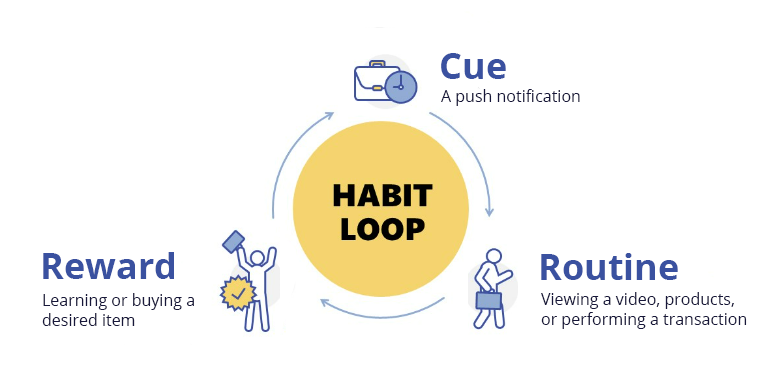 For example, a food delivery app can use push notifications as a cue to encourage users to (take action) come on the app. Once they are in, nudges can highlight time-sensitive discounts to encourage them further to place an order. And users can finally receive the food as a reward. Once a habit loop is formed, users will keep coming back to order food on seeing the notifications, boosting the app's engagement and retention.
10. Focus on user experience
While all the strategies help you acquire, engage and retain customers, the first and most important one is focusing on UX. Slow load times, complex navigation, and cluttered UI lead to a bad user experience. And one bad experience is sufficient to convince users to uninstall your app. Hence you need to keep the user experience at the heart of your marketing strategies.
Conclusion
Mobile app success needs precise acquisition, engagement, and retention strategies. These strategies begin with getting users to your app but, more importantly, focus on keeping them engaged so they keep coming back for more and bringing new customers via referrals. The most successful apps are easily discoverable, customer-centric, easy to navigate and add value to the customer's experience. They all offer unparalleled product experience, utilize rich media, leverage multiple channels to market, reward loyalty, and promote referrals. While quick to read, getting these right is difficult, especially without the right expertise and automation.
But that's not a problem. Netcore's engagement platform is an app marketing tool designed to boost customer engagement and retention. To know more, visit our customer engagement page.