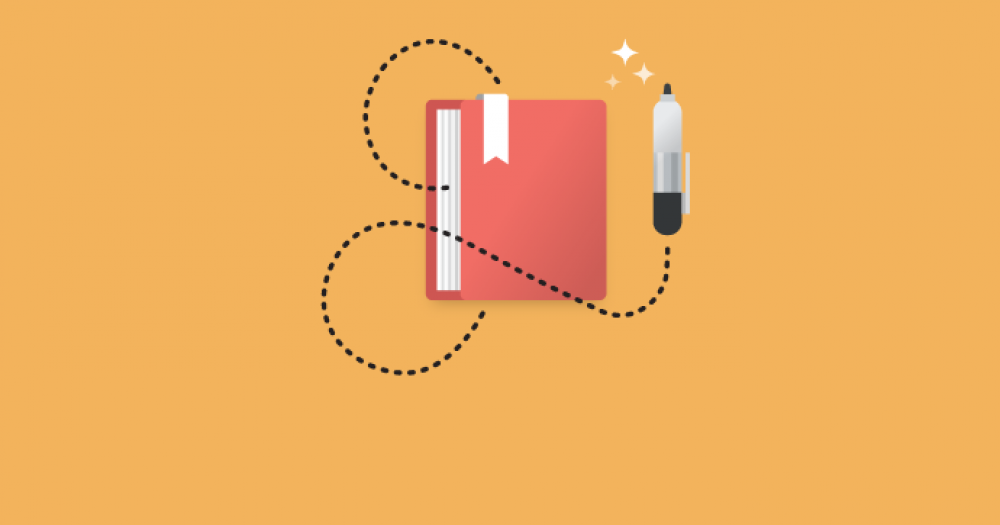 Web personalization remains a very highly confusing topic for many marketers. Now, why do I say that? On the one hand, it seems simple enough strategy – talk to you your customers the way they want.
On the other hand, it becomes quite complex when you think about the enormity of the exercise. What sort of personalization should I do? Would it be ok if I use X data for this customer? How do I measure success with personalization? Do I need to have different metrics for X and Y customers? It almost begins to sound impossible when you look at it from this perspective.
In this blog post, I will talk in detail about what web personalization truly means, what it is not, types, how you can get started with it, and measure success. If you're just getting started with web personalization, here's all that you need to know.
Let's start with the definition first.
What is web personalization?
As per the Business Dictionary, web personalization means 'tailoring the presentation of a website's content to match a specific user's instructions or preferences."
Fundamentally, web personalization is the real-time individualization of a website to cater to each individual's varying needs. As a digital marketer, I define web personalization as providing a great customer experience along with contextual and relevant information to the user at the right time based on their behavior and where they are in the customer journey.
Here's a bit of trivia:

Back in 1998, Jeff Bezos made a prophetic statement about the Internet. He said, "If we have 4.5 million customers, we shouldn't have one store. We should have 4.5 million stores." At that time, he was four years into the making of Amazon. Amazon had just started expanding its books category and ventured into cloud computing services. No doubt, today Amazon is a frontrunner among the businesses using web personalization.
Let's do this small exercise to understand the 'personalization' we are talking about here.
Take me as a returning user to your website. I am a user who is from Chicago, Illinois. It's evening here at this moment where I live. I come to your website at least 10 times in a single day. I work for Microsoft. Lately, I have been viewing certain pages a lot more than others and have made 2-3 purchases as well. I use my Mac sometimes to browse your website and mostly I am on my phone.
Now that's a lot of information out there and it can be used in multiple different combinations to create a unique personalized experience for me. The baseline is – there's no end to the number of personalized experiences you can create.
Talking of which, web personalization could mean different things to different businesses. It could mean personalization basis of:
Context
Type of device
Time of day
Time and location
Referral source
Behavior
Recently viewed products and categories
Items from abandoned carts
Most viewed pages
History
Past purchases
Loyalty program member
Past email interactions
Demographics
Gender
Age
Location
Here's one example of web personalization in action, take a look: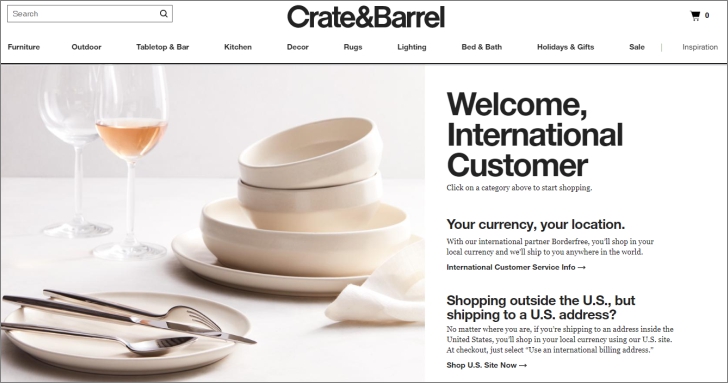 Here, Crate & Barrel – a houseware, and furniture company, used geolocation data to identify my location. The best part is it automatically sets my local currency and gives me shipping details as well.
Quite a great approach to welcome new users.
However, all these parameters touch the only scratch on the surface of web personalization. You can create an infinite number of experiences. The only restriction here will be the data that you have and the creativity.
Why web personalization? How does it help you as a marketer?
Now, you might be thinking – all that jazz is okay but, what does it really help me do? And why should I think about it?
Your customers love it and expect it.
It becomes easy to understand when you think about website personalization from the perspective of your customer or rather your own experience as a customer. Would you appreciate personalized offers and promotions when you're on a brand's website? What would you think about the experience when a brand gives you relevant and contextual information for your purchase? How about the content recommendations basis what you like? Quite likely that you will also love to have a personalized experience like most consumers.

According to Epsilon Research, 80% of respondents say that they are more likely to do business with a company if it provides personalized experiences and 90% of them said they find personalized experiences appealing.

People love personalized experiences. Salesforce, in its 2018 annual report on the State of Marketing stated that,

Businesses find it good for them.
Web-personalization has been revolutionizing the way businesses operate for some years now. This revolution is still underway. eCommerce and travel companies now rely largely on personalization to make recommendations, send personalized messaging and discounts. They were among the early adopters of this technology. Many online retail businesses and B2B businesses, especially those catering to users across different industries and verticals, have also started using it for its benefits.
As per a survey by Evergage and Researchscape International, website remains the most popular channel for personalization after Email.
Among the many benefits that it provides marketers with, here are the important ones:
Higher conversion rates
Improved customer engagement (e.g. number of pages viewed, interactions per session, page scroll depth, returning visits)
Relevant and contextual recommendations
Improved customer retention rate
Stronger brand perception and customer loyalty
Better opportunities to nurture customers
More sales through cross-selling and upselling
Efficient communication
Improves lead quality
Support Account Based Marketing (ABM)
What about the ROI?
Forbes Insights and Arm Treasure Data survey confirms that personalization drives growth. Every two in five i.e. 40% executives reported having a direct impact on sales, basket size, and profits in direct-to-consumer channels (Please see below for more). A sizable majority of 54% of leaders also reported having exceeded their revenue targets over the past year. This increase is credited to their personalization initiatives.
Needless to say, because of the way it transforms the business, many marketers want to deploy it. But they often rush into its implementation before they know exactly what it is. This causes them to notice quite a lot of loose-ends much later, leaving their strategy ineffective a lot of time.
Marketers can avoid many of these issues by placing the fundamentals right and by knowing what personalization is 'not'. It so happens, many times, marketers do not even need personalization.
What is 'not' web personalization?
As marketers, we often are guilty of using and overusing buzzwords. The vocabulary that we use day in-day out causes a lot of confusion and makes us use those words in a not-so-right way. It also might be that you do not need web personalization at all but something else. Thinking of which, it becomes important to know first what web personalization is not.
Here are some of the key differences between the keywords that are often used interchangeably or mistaken to be the same:
Web Personalization vs Web Customization:
| Web Personalization | Web Customization |
| --- | --- |
| Web personalization is controlled by businesses. | Web customization is controlled by users. |
| Web personalization requires an intelligent software platform that uses a combination of accurate customer data and criteria set by the business to present personalized content to the user. | Web customization is in the hands of the users that lets them see what they want, when they want and avoid what they don't want to see. |
Web Personalization vs Content Personalization:
| Web Personalization | Content Personalization |
| --- | --- |
| Based on the be-all-end-all principle of user experience. | Works on the principle of "the right message at the right time to the right visitor". |
| It can be applied to the web layout, design, interactive elements, and content. | Application covers email, social media ads, apps, websites, and so on. |
Web Personalization vs A/B testing:
| Web Personalization | A/B Testing |
| --- | --- |
| Web personalization is the individualization of web page for a visitor based on their past interactions, stage in the customer journey, source of traffic, etc. | A/B testing in the context of a website is the performance of an element of a page tested for a set of users. |
| Web personalization spans multiple pages and elements of the website. | A/B Testing is carried out for a single element of a web page. |
| The goal of web personalization is to understand your users and personalize their experience. | The goal of A/B testing to understand the response of your users to changes on a page. |
| Based on the data points collected during a customer's journey. | Based on the hypothesis. |
| Requires past data for success. | It doesn't need past data. |
| Different users have unique experiences because of dynamic changes. | All users have the same experience, once the change is finalized. |
Different types of web personalization
Now that we know what personalization is, what it is not, and what it does, let's dig deeper. Here are the two main types of personalization that we're exploring here:
User-Controlled or Explicit: User-controlled web personalization happens when a website is tailored to the criteria set by the user. The user primarily tells you about their preferences like location, language, gender, etc. For example, Blackboard gives its users the option to select the regional version of their website and set it as their default. Following the right selection, it showed me nearby Blackboard sponsored conferences and content relevant to my location.This type of website personalization shows products/services basis users' inputs rather than furnishing the entire list of their offerings. It relies on the premise that your users will explicitly tell you who they are.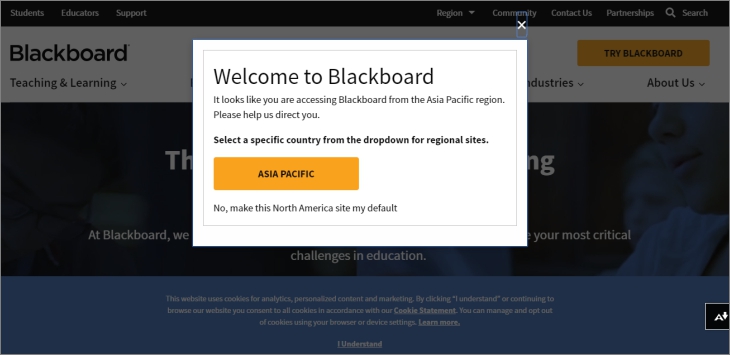 Profiled or Implicit: Profiled or implicit web personalization is based on the relationship of the user with your content and product or services. Though it doesn't require your users to explicitly tell you who they are, it does need their permission for you to collect data. This data serves as your source of truth about your customers. Amazon, Asos, Facebook, Spotify, and Twitter are some good examples here. These platforms have a massive amount of data at their disposal using which they know exactly what interests you. Now, implicit web personalization can be broadly categorized into two categories:

Behavioural:This type of personalization is based on the users' browsing history and how they interact with a website's content. The data collected is then used to understand their interests and gauge their persona. Netflix uses this type of personalization to show recommendations to its users. It not only changes the artwork of movie listings but also varies the content by the time of the day. Considering the amount of data it involves, it is deemed very complex but quite seamless and magical. Look at the ASOS example below. On my first visit, it didn't know if I would like to shop for women or men. So, it showed both the options. Now, I browsed men's clothing on my first visit and it took notice of that. Whenever I visit it now, it takes me directly to the men section on their website.

Contextual: Contextual personalization means optimizing web experience basis the context in which you're browsing. The context here refers to information like the time when you leave for work every day, the route you take, the weather outside, etc. Google Assistant and Apple's Siri are the perfect example of this. Both of them suggest activities or updates basis my GPS coordinates and the time of day.
What to personalize on the website?
After understanding what personalization, what it does, why it is important, it's time to get into knowing what all things can be personalized on your website.
Instead of changing the whole website or creating site variations, you can take it as a modular project. This will help you personalize different elements basis your audience instead of revamping the whole website. You can prioritize the high traffic and high value pages.
Let's take a look at what all elements can be personalized on a website:
Headline and hero image: The first thing that most web visitors come into contact with on your website is the headline and hero image. Take it as your first handshake moment with customers and win them by giving just the right information for just the right audience.
Navigation:You can easily improve product discovery by personalizing navigation menu. This specially helps businesses multiple different audiences.
Filters:Help users find products easily by surfacing the most relevant and personalized filters for your users. Online retailers are posed to benefit from this sort of personalization.
Call-To-Action:The CTA is great element to personalize – you can encourage user action and improve the quality of your leads as well. Let's assume you are a SaaS company offering both the free trial and enterprise subscription to your product. Based on their title, company size, and location, you can drive them to sales or sign up for trial. Doing so will help your sales team spend their time talking to customers who are more likely to convert.
Product Features/Listings:If a visitor comes from a certain industry or has specific user-affinity, you can show them relevant content to drive them closer to the purchase decision. This can be particularly useful for multi-category businesses in retail or B2B.
Product Recommendations: This can be used for both the first time visitor as well as the returning ones. For first time visitor, you can ask users to share their interests and recommend useful resources on your website (please refer to image 1.1). For repeat users, you can make use of the data about pages where they visited, page visit duration, etc. (please refer to image 1.2).
Customer Testimonials and Logos: It is a common practice among B2B businesses to display customer testimonials and client logos on their website for social proof. Businesses that operate across categories can personalize them for their audience. Consider the below example, wherein you can show logos of businesses in retail and software-related companies matching visitors' firmographic profile. It will improve the reliability of your content.
Featured Blog Posts/Case Studies/Whitepapers: Relevant recommendations for blog posts, case studies and whitepapers can amplify your customer engagement and help you drive additional revenue as well in case you are media company. These content assets can be personalized to show the reader recommendations basis their reading history, behavioral as well as firmographic data.
In-cart recommendations: To increase your cross-sells and upsells, you can display relevant recommendations basis the in-cart products. You can factor in the price-point, category, past purchases, and wish list while doing so. Look at the below example of Amazon.
Cart abandonment message: Many a time while shopping online, users leave products in their cart and come back later to resume shopping. It is a great idea to remind them about products they left in their cart, saving them time and driving purchases.
Offers and promotions: Present offers and promotions to your customers basis what they viewed or just added in the cart.
Live chat: Personalizing chatbot gives users an experience of talking to a human while browsing your website. If you balance subtlety with relevance, you can deliver an amazing experience.
In-line messaging: You can display discounts, offers, or show relevant events to audience using this spot. Both new and returning users can be targeted basis their behavior, demographics, and firmographic data.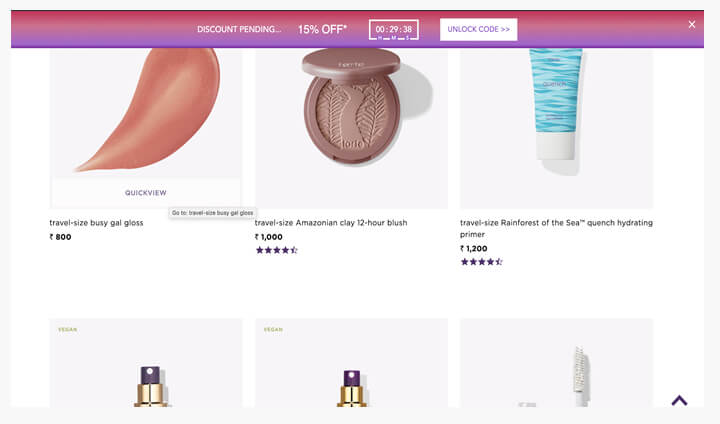 These are some of the examples for elements which you can personalize on your website. You can experiment with several other spots as well like surveys, sign up forms, timers, and many more. Let your creativity guide you here.
How to get started with web personalization (any industry)
Personalization can be applied by any industry and any business vertical. It is a myth that it is only meant for eCommerce. What matters is how you define your goals, KPIs, and put personalization to use.
I will discuss the implementation strategy for the implicit type of web personalization here (as it is most commonly desired as well as applicable). And I recommend thinking about web personalization in a bit different way than what we are normally accustomed to with other marketing activities.
Most of the time, it all starts with having a clear objective and a plan. But with web personalization, I suggest a slightly different process. This because for a personalization strategy to work, first, it is important to have information about your visitors, which will help you define your goals and plan in a realistic and achievable manner. Here's how your web-personalization process should look like: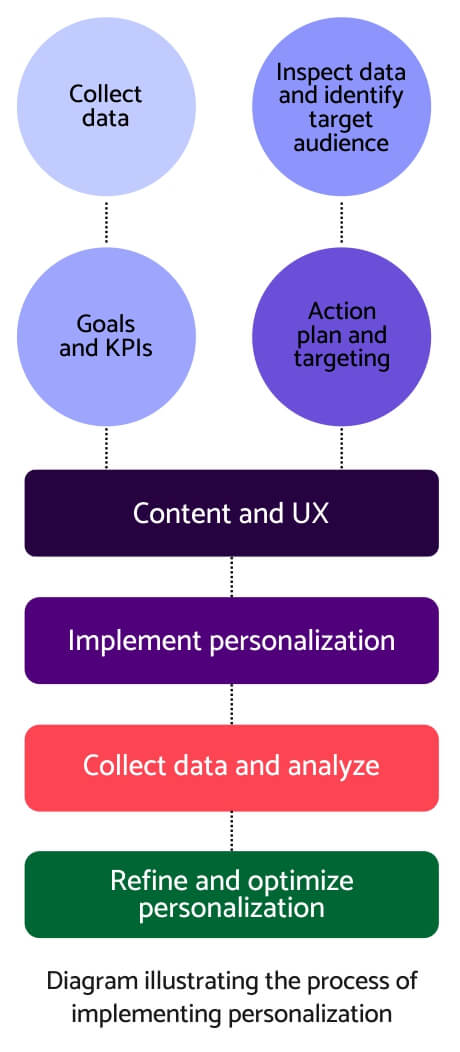 Collect Data: Data is what makes personalization possible. Without it, you can't do marketing. Now if you do not have a data collection strategy in place, create one and start collecting data. Understand that with personalization, data is bound to increase the complexity of your operations and be prepared for this. While you do that, you also need to ensure:

that you collect quality data
that you are adhering to all the data regulations
that it is available to your marketing systems at the time of decisions
that you have one unified set of data breaking all silos.
that you have systems in place which help you connect the right kind of data at the right time for relevant experiences

Inspect data and identify target audience: Once you have collected data from all sources, you need to clean it and build the personas of your visitors. This step will serve as a basis for how you connect data with experiences. If you're just getting started with it, we recommend you to use business logic here to segment your audience. Be mindful that it is not a one-time exercise and will require regular efforts because of changes in audience behavior. You can start with identifying traditional demographics and behavioral segmentation and further apply more granular data like browsing history, past purchases, characteristics, product usage, and so on.Note that segmentation is not personalization. If you focus primarily on segmentation, it will cause you to limit the sample size before you even start. So, instead of using audience profiling as the targeting, you must only use it as a starting point to understand your audience and identify opportunities. Good personalization starts broad and then builds on over where you discover the most value.
Set your goals and KPIs: It is at this stage that you begin to think about what is achievable, and what needs to be measured. After you develop a good understanding of your audience data, you can move on to create an actionable plan and define goals to be achieved. It could be some of these:

Improve conversion rates
Engage indecisive shoppers
Encourage repeat purchases
Drive returning users
Reduce cart abandonment rate
Reduce bounce rate
Increase first-time visitor sales
Improve customer onboarding
Get feedback or product reviews

Here're some of the personalization ideas you can use to start:
How can I improve the recommendations? – What goes well with what, what color/size/brand the user is specifically looking for, similar users also purchased, what you might like, etc.
Do my users have any preferred language?
What do they prefer in terms of style or price-point?
What products or services should I prioritize basis the visitor data and the search query?
Should I reach out on exit intent, on-load, on-scroll popups?
What offers will be relevant to the visitors?
What is that one thing if customized for every customer can improve the overall experience? Could it be applying the coupons automatically, personalized forms, stock alerts, or triggered notifications?
Action Plan and Targeting Approach: At this step, you lay down the strategy for personalized web journey for your users.You'll be deciding the pages you need to prioritize. For most businesses, it will be the homepage, inside pages (product detail/story pages), search results page, listing pages, shopping cart, checkout pages, and error pages, and so on.You'll need to think about how your audience uses navigation. You can lay out a plan for personalizing navigation workflow for your audience as well.Also, think about targeting logic at this step. Targeting logic is basically how you connect your data to the personalized experiences you want to deliver. Note that this part is where things get a bit complex with personalization. No doubt, your personalization tools can do this for you. But that would be the technical side of it. By that I mean, you also need to think about it in terms of ROI. As Andrew Anderson said, "the simple act of creating an experience is not the goal, the goal is to do so in a way that generates the greatest ROI for my organization."A chart like this may help you organize your ideas: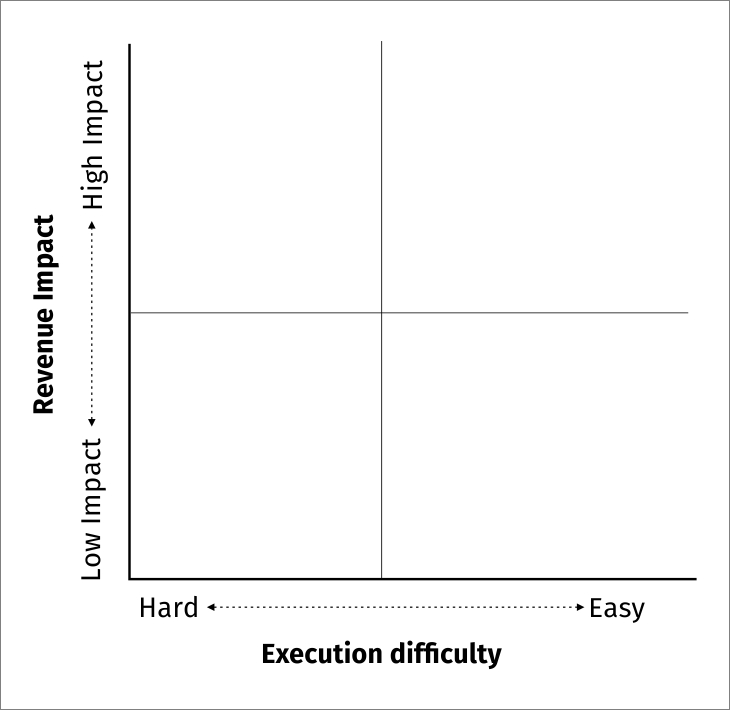 Many organizations do this using plain business logic. They decide which segments have the highest impact value and opportunities and test variations on them to maximize the ROI. This approach comes with downsides related to optimization, management, and execution. And therefore, the increased cost and lesser ROI.Andrew Anderson recommends another way to approach it – focus on discovery and exploitation. This begins by having 2-3 versions of the messaging (along with the default one), executing it in the multiple variations, and serving to everyone in the audience. He then recommends analyzing the results by segment and calculates the total gain by giving a differentiated experience. It will have two eventualities:i) In case you're right, the highest performing version for your users will be one or both of the messages. You can use the messaging that works for your non-converting users.ii) In case you're wrong, you will need to identify any other segment of your audience who will respond better to this messaging or test new variations of messaging.This process ensures you do not lose your ROI because of arbitrary logic or increased cost of resources. Note that it will be an iterative process. It takes you to your greater wins even by proving you wrong at times. Since all of this is a lot of work, we recommend deploying machine learning and algorithms which will determine how to go about delivering a distinct personalization campaign to each individual. Alternatively, you can use tools built on machine learning and AI technology.
Content and UX: Finally, the most interesting and straightforward part of your web personalization game.Now that you know what needs to be done, for whom and when you can very well get on to the part of creating that experience. Only that the amount of content and experiences you need to create is infinite when it comes to personalization. How do you achieve that?First, you need to assess what sort of content fits well into the experience you're trying to create. For some businesses, it may be predictive recommendations based on the inventory, contextual messaging based on location, profession, and the industry or navigational changes by understanding how they browse your website.Smart personalization tools can mix and match existing content assets such as product images, offers, and even text copy. This helps you create multiple versions of a single piece of content, and therefore, multiple experiences. For example, you can swap the image in the header or change the navigation layout you present for women shoppers on your website or show the image of a medical professional on healthcare-related pages, and so on.Look at the below example of Tarte, an international cruelty-free cosmetics brand: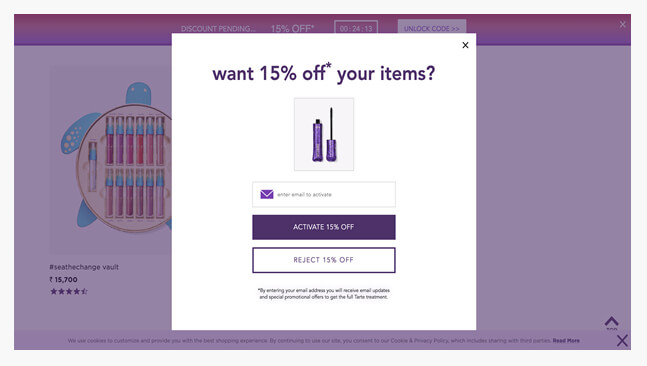 It took notice of the product page I spent the most time on. On noticing that I am not doing any activity on their website and was also about to close it, it came up with just the right offer.Now, that's personalization done really well.Most of the marketers think about web personalization in terms of content only. And that's a mistake. Think about how you can personalize the UX along with content.
How to measure success with personalization?
Ismael Sow wrote a great article on how to measure personalization. In it, he highlights
Connect your personalization tool to your data suite: This means you need to send the experience data from your personalization tool to your primary analytics which could be Google Analytics, BigQuery, Data Studio, Mixpanel, Adobe Analytics, or something else. Here are the reasons why:
Personalization execution tools have a limited set of reporting and analytics compared to an analytics suite.
You can validate and cross-check the numbers. Note that every analytics system has some discrepancies. If it is less than 5% between your personalization tool and analytics system, that's fine. However, if it goes above 10%, then there's something wrong with your set up.
Have an equal-sized segment for comparison: To be able to do accurate 'before and after' analysis, make sure to compare the same size and set of data. Doing so will clear the difference between personalized and non-personalized experience.
Be rigorous with stats: There's a personalization tool running on autopilot for you doesn't mean you do not need to dive into the data. Be sure to determine you are getting the right data, and the results you're optimizing against are accurate. Personalization stats have to be treated like A/B testing for maximum impact. Here're some of the things that you need to check:
Check both qualitative and quantitative data.
Account for any seasonal and contextual effects that could impact the results.
Use the learnings for iteration.
What's the role of AI/ML in website personalization?
The concept of personalization is quite old. However, in the last decade, Netflix and Amazon showed the marketing world how it is done. They led the industry from the front by innovating the rules and becoming the early adopters of artificial intelligence and machine learning for personalization.
How do AI and ML help with in personalization? At its core, AI is essentially a system designed to mimic human behavior. While machine learning, a type of AI application, can process data and rules, identify patterns, learn and iterate for itself.
AI provides marketers with sophisticated capabilities to understand user needs, interactions, and preferences at a scale. It comes with various set of abilities such as natural language processing, semantic reasoning, and image processing.
While ML ensures the personalized experiences in terms of communication, products and services remain relevant to the user. It can be used to test out multiple marketing models and algorithms to arrive at the best fit for the individual user in their unique context. Netflix is a good example of how ML is used to come up with recommendations for various experiences:
Both these technologies when combined together empower marketers with the capability to provide thousands of relevant personalized experiences all at the same time.
Last year a survey by Forbes and Arm Treasure Data found that marketers are increasingly optimistic about the possibilities with AI for their personalization strategy. It highlighted that, more than seven in ten, 71% of leaders say AI is important or essential to their personalization efforts.
Use cases for website personalization
Personalization use cases can be as broad and diverse as the availability and complexity of your data. The best way to figure out the use cases you can work on is by rapidly testing out all the relevant ones and focusing on the ones which deliver the best results. It also requires a collaboration between IT and marketing forces to develop use cases, pilot them, and iterate.
For the sake of inspiration, you can refer to some of the key use-cases listed below:
Demand generation
Using precise matching of messaging, and dynamic personalization of the website, businesses can improve the quality of the prospects they push into the funnel.
Lead nurturing
Move your leads closer to the conversion by offering them relevant and contextual content and recommendations.
Improve user acquisition
Leave a lasting impression on the first-time visitors by tailoring your website experience and onboarding basis their demographics.
Improve conversion rate
Drive conversion rates by minimizing distractions and simplifying user experience basis your user's affinity.
Reducing bounce rate
Make your customers stay longer on your website with the right messaging and product recommendations.
Improve product discoverability
Facilitate product discovery by personalizing navigation, recommendations, menu, filters, and category pages for your users.
Increase average order value
Optimize your AOV by understanding your visitor's past behavior and providing them right recommendations on every visit.
Improve upsells/cross-sells
Send targeted recommendations to your users for related and complementary products.
Increase user retention
Dynamically change the appearance of your website to cater to the needs and interests of returning users.
Improve customer lifetime value
Boost your LTV by providing your customers with personalized experiences across all channels (both offline and offline).
Drive customer loyalty/repeat purchases
Keep your customers engaged by adding interesting content or products and showing them to your users.
Event Promotions
Promote events to your users basis their location, user affinity, and interests.
Drive subscription sign-ups
Target users with personalized messaging prompting users to subscribe.
Improve content recommendations
Send users content recommendations basis their content affinities.
Engaged Customer Support
Give your customers special attention while resolving their issues.
Reduce Cart Abandonment Rate
Nudge your customers to purchase by sending them targeted promotions basis the products they added in their cart.
Conclusion
Personalizing is a wonderful technique. If done well, you can massively improve your user experience and ROI. But it also brings with it a lot of complexity which can be managed through a strategic approach that I shared in this article. Understand that personalization is a lot more than that, and therefore this post can just be a starting point. And while you do that – make sure to keep it subtle and not be creepy, handle the multi-channel and cross-channel experience, and choose the right tools.