Introduction
'Help your shoppers find it so they can buy it."
In today's economic climate, businesses of all sizes are constantly seeking ways to increase their profits by improving conversion rates and driving more sales. Simultaneously, online shoppers want more value and relevance from brands.
According to a survey, a whopping 75% of shoppers are more likely to purchase from brands that offer personalized experiences. A Deloitte report even revealed that 60% of millennials are willing to dish out their personal information in exchange for tailored offers and messages.
"Modern shoppers prioritize the benefits of personalized experiences, and even though data privacy is still a concern, personalized experiences matter more."
Nicholas Einstein, VP of Product Marketing and Global Head, Analyst Relations, Netcore.
If brands want to win over shopper loyalty and stay ahead of their competition in 2023, they've got to cater to unique needs and preferences. And one surefire way to do that is to deliver personalized product recommendations. Take a cue from the big guns like Amazon, Walmart, and Best Buy, who have mastered the art of product recommendations as a cornerstone of their marketing strategy. It's time to follow suit.
But what about marketers? They desire an integrated technology stack to offer product recommendations across various touchpoints and channels. This is where Netcore steps in; our product recommendation engine uses AI-powered intelligent decision-making to show potential shoppers what they are most likely to buy across the web, app, search, email, and more!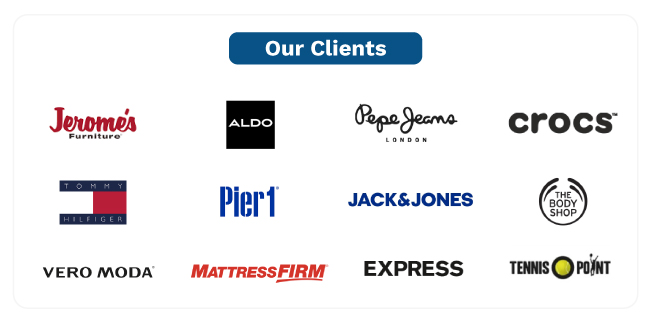 Netcore's clientele across industries
This blog explains why marketers must leverage our capabilities in 2023 to achieve truly unprecedented marketing success. Let's dive right in!
How do product recommendations impact the shopper lifecycle?
Product recommendations create frictionless experiences throughout the purchase journey. That's their greatest value-addition. To move deeper into the topic, let's understand what a typical ecommerce purchase journey looks like: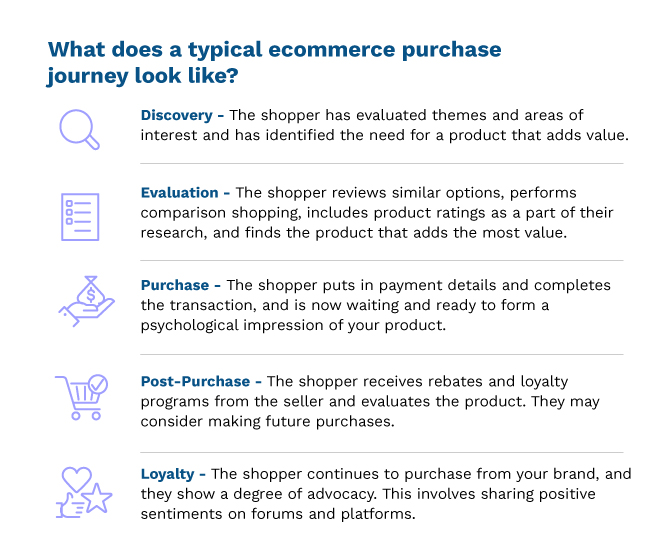 The journey (from discovery to loyalty) that every shopper takes
The goal of any online business is to generate loyalty. To generate loyalty, product recommendations are like a secret weapon! They provide a proven framework to boost repurchases and win over devoted shoppers. It's a way to break free from the endless cycle of focusing solely on customer acquisition strategies. Forbes claims that companies frequently spend five to twenty times as much money bringing in new shoppers as they do keeping their current ones.
Here's how product recommendations can be used in a mock shopper journey: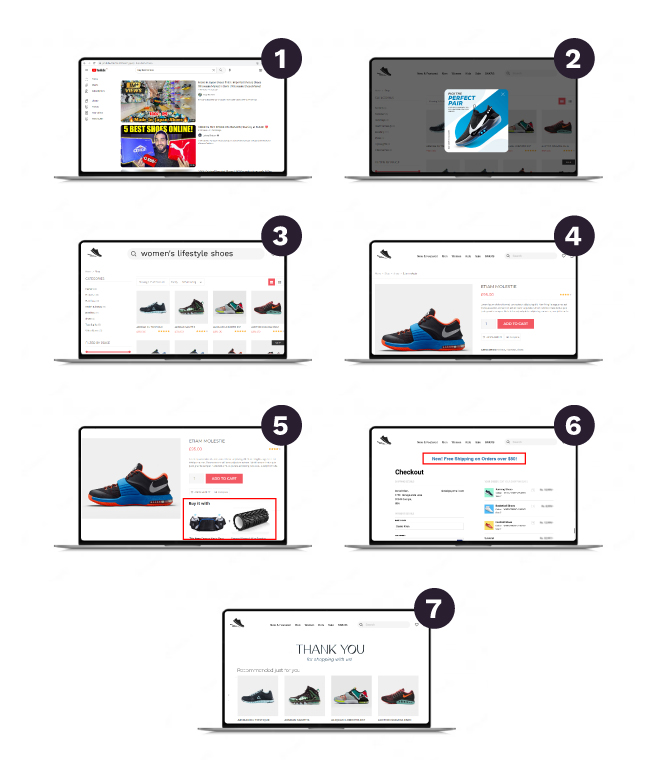 Jane's purchase journey, as she searches Youtube for a pair of running shoes
Introducing Jane, a 28-year-old avid marathon runner currently searching for a new pair of running shoes for her upcoming marathon. Let's explore how product recommendations can elevate her shopping experience:
Jane is an avid marathon runner; she wore out her shoes in a marathon recently. Now, she's browsing through online videos to find the best shoes for running and for going to the gymn.
Eventually, she lands on a store's homepage and discovers it's a next-generation version of the pair she wore out. A personalized banner ad showcasing the latest running shoe and its specifications captivates her.
Behind the scenes, the website analyzes Jane's past purchases and browsing history to recommend the latest popular running shoe model that fits her preferences.
Jane evaluates the latest version and realizes that the shoe does not provide the right amount of arch support. She uses the search bar to look for better options. The search results page shows multiple options, reviews, ratings, and relevant product recommendations based on Jane's search query.
Behind the scenes, The website's search algorithm auto-suggests popular running shoe brands and models based on Jane's query.
As Jane clicks on a recommended running shoe from the search results page, she lands on the product page, which includes detailed product information. It also contains recommendations from other categories.
Behind the scenes, The website uses cross-selling to suggest related running gear that complements the running shoes to increase the Average Order Value (AOV) and engage the shopper effectively.
After adding the running shoes and running gear to her cart, Jane sees personalized recommendations for additional items that other shoppers bought along with the products in her cart, such as a hydration belt, fitness tracker, or foam roller.
Behind the scenes, this is done by analyzing Jane's browsing history and providing a few more recommendations on the cart page to increase AOV further.
During the checkout process, Jane sees a promotion for free shipping on orders above a certain amount. The website calculates the total value of Jane's cart and presents her with a rebate on the checkout page, allowing her to qualify for free shipping if she increases the value of items in her cart.
After completing the checkout process, Jane lands on the thank you page, which showcases recommendations for similar products and related accessories, such as a water bottle holder or a phone armband that she might be interested in for her next purchase.
Overall, these personalized product recommendations enhance Jane's shopping experience and increase the likelihood of her becoming a loyal shopper.
For further knowledge on lifecycle marketing strategies, we recommend downloading our Solutions Guide for marketers. It's a valuable resource for a shopper-focused lifecycle approach to increase product discovery and boost conversions.
 You can download it for free today.
Having explored the benefits of product recommendations at various stages of the shopper journey, let's now examine the diverse types of product recommendations available across the channels most commonly interacted with by shoppers.
Types of product recommendations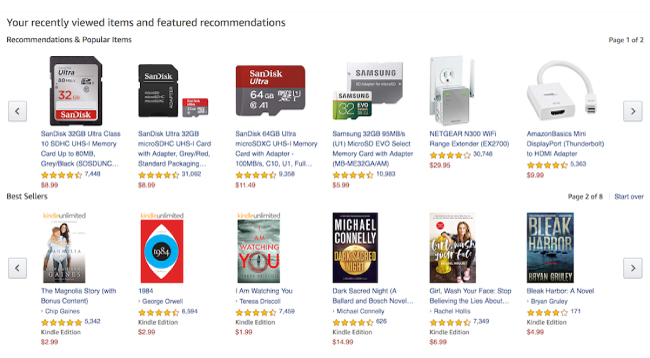 Amazon's robust product recommendations across their online store
Product recommendations are of various kinds. From a Direct to Commerce (D2C) ecommerce perspective, a product recommendation engine is one of the most widely used marketing technologies. Nearly all online ecommerce retailers, such as Amazon, eBay, and Walmart, deploy this technology daily.
These brands have hundreds of thousands of stock-keeping units (SKUs) across their inventory. To display them effectively, marketers need to deliver product recommendations based on how their shoppers behave instead of simply broadcasting an array of products in the hope that they'll pick and choose products from the catalog randomly.
Although in a perfect world, product recommendations should be placed everywhere across the ecommerce site for maximum effectiveness; many online retailers still have not treated the technology with open arms. According to a study conducted by Statista, 81% of shoppers reported not finding any recommendations on the product listing pages.
Here are a few examples of some broadly used product recommendations across channels:
Analyze a shopper's browsing or product view history and create 1:1 tailored product recommendations that can be inserted anywhere on your site. For maximum impact, display them on the homepage or when the search page returns with no results.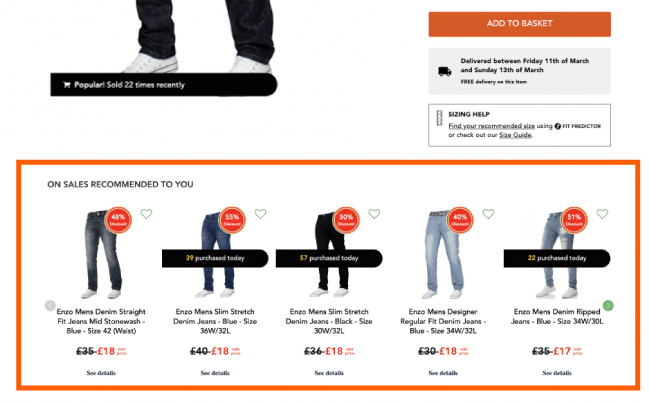 On sale, recommended for you products on a website
Analyze your shop's overall sales data and display products frequently sold to enhance the shopping experience. Leverage AI algorithms to recommend top-selling products to your shoppers at a site or category level.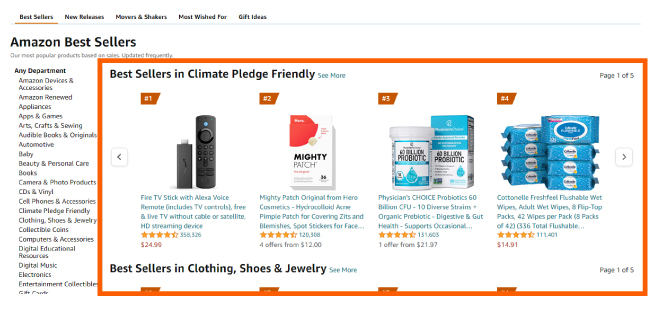 Bestseller products across a category on Amazon
Display products that have been frequently bought along with an anchor product. For instance, if a shopper is on the product display page of an academic book that is frequently bought along with a guide to understand the book, the algorithm will recommend the guide. The brains behind this kind of product recommendation is collaborative filtering.

Bought also bought recommendations on Amazon
Display a list of products similar to those in the Product Display Page (PDP). This is done based on 'text matching' and 'category matching' logic. Text matching is done where products are recommended when their title text matches the title text of the product viewed in the PDP. Category matching is when the product category being recommended matches the category of the product viewed in the PDP.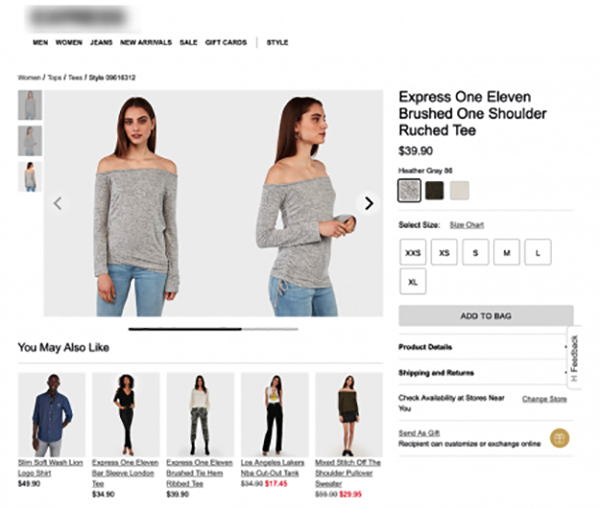 More like this recommendation on a website
Analyze a user's session data and cookies to arrive at a list of products the visitor viewed in recent sessions. Products are sorted based on the time of the shopper's visit.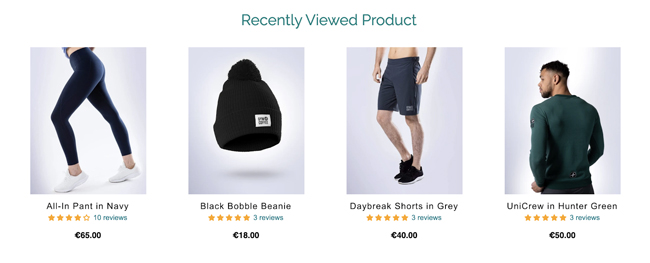 Recently viewed products on a website
Use product images to create visually appealing and on-brand personalized outfits for a specific product. This recommendation provides style inspiration for shoppers and exposes shoppers to products that complement what they wish to buy.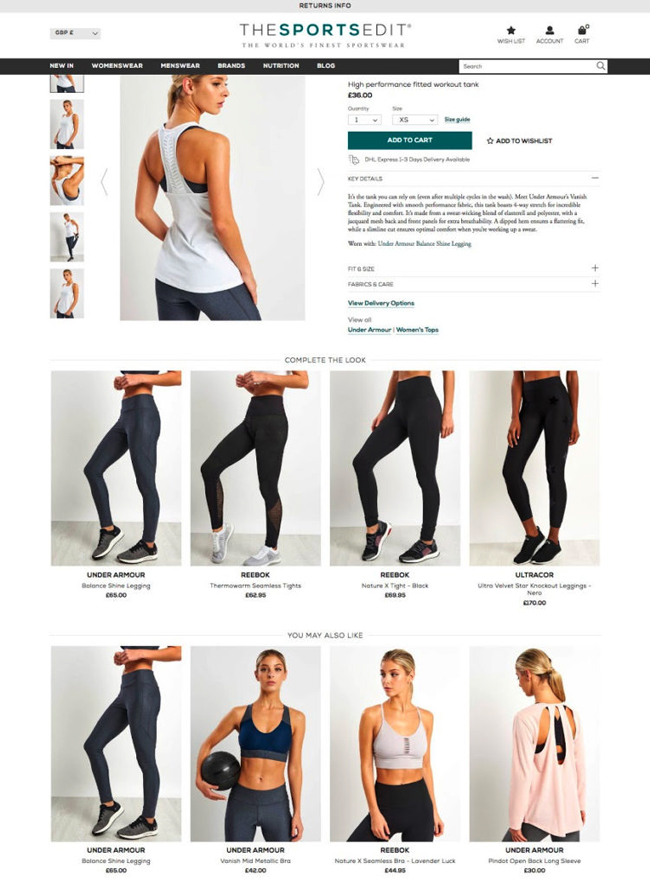 Complete the look recommendations on a website
Now that we've acquainted ourselves with the characteristics of different product recommendations, it's time to examine how to put them into action. For brands to optimize their return on investment, they need to execute these product recommendation strategies across multiple channels. So, let's investigate the process.
Product recommendations in email
Emails have always proved to be among the best channels for increasing conversion rates. In addition to the standard transaction emails, sending personalized recommendations can influence the customer back to your site or lead them to the same for the first time.
Here are a few recommendation strategies email marketers can implement today –
In-mail personalized welcomes – Automate welcome messages for your shoppers when they sign up and subscribe to a newsletter; you can incorporate the information captured to customize offers, discounts, and recommendations that convert them.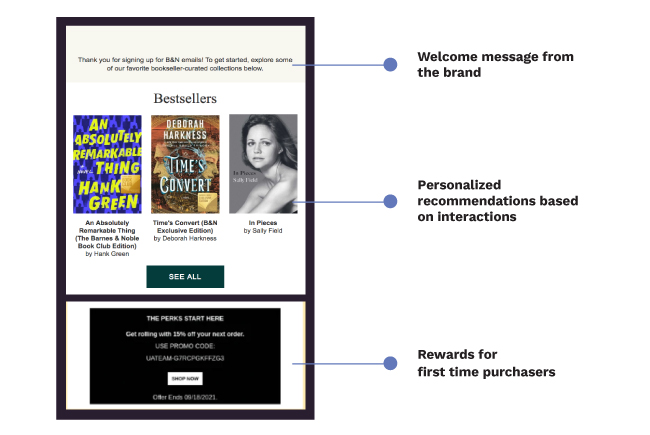 Personalized welcome emails from a brand
Abandoned cart emails – Send reminders to your shoppers about the products they have added to their cart but have yet to purchase. Complement this with dynamic product recommendations that are in tandem with the abandoned product or better options based on the shopper's behavior.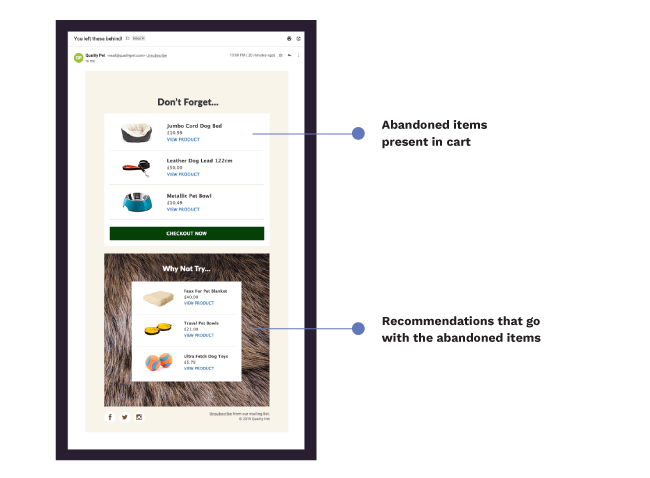 Abandoned cart emails from a brand
Back-in-stock triggers – Send emails to shoppers who have viewed, searched for, or carted products that have since gone out-of-stock or are once again available. You can then add new arrival recommendations or showcase best-selling items that complement the out-of-stock products or are at least similar to them to incentivize a purchase.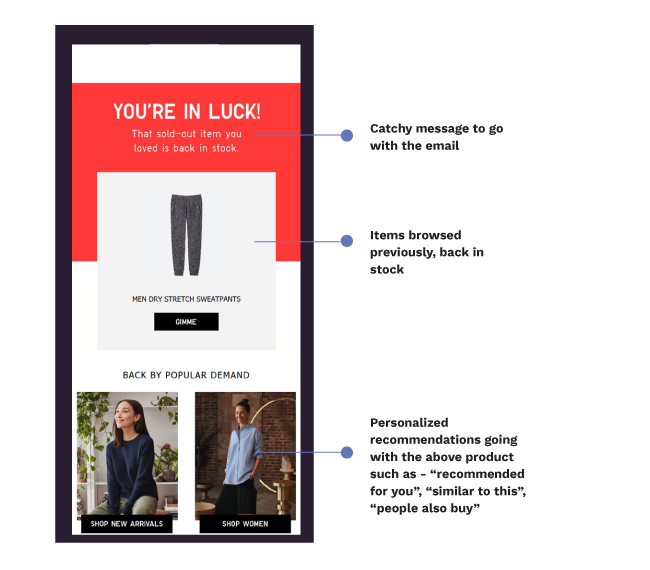 Back-in-stock email triggers from a brand
New arrival emails  – If your shopper has shown affinity(product views, add-to-carts) towards a specific category, use new arrivals' emails to inform them of product launches and new collections in that category.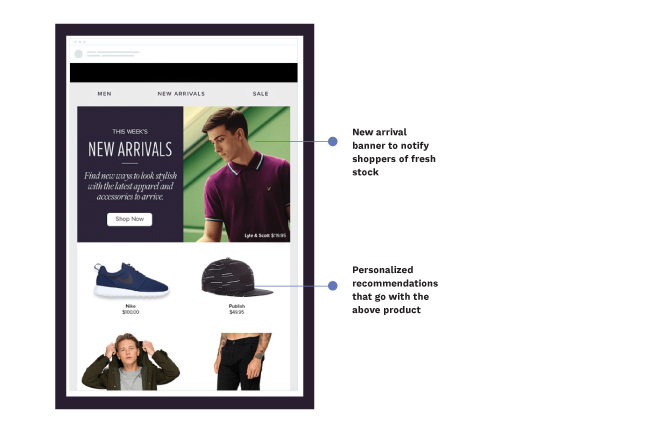 New arrival emails from a brand
To know more about our comprehensive list of email triggers and use cases around implementing the same, download our feature-packed, free Solutions Guide. It consists of a comprehensive list of email triggers that you can leverage today and improve not only your shopper engagement but also – conversions, AOV, and more!
Download our solutions guide today –  Get your free copy
Product recommendations in search
Product recommendations across searches are essential for marketers; personalization is applied to the items generated based on the individual's browsing and purchasing habits, as well as product information (such as product inventory).  They are created in real-time to guide shoppers in the right direction as they type in the search box with instant and intelligent suggestions. Here are a few examples and use cases of the same.
Here is a list of search-based recommendations marketers can implement today – 
1:1 search results – Craft unique journeys for each shopper. Leverage our AI algorithms to analyze browsing behavior, recent purchases, and affinities to understand shopper intent better and dynamically curate recommendations via search results that are likely to be purchased.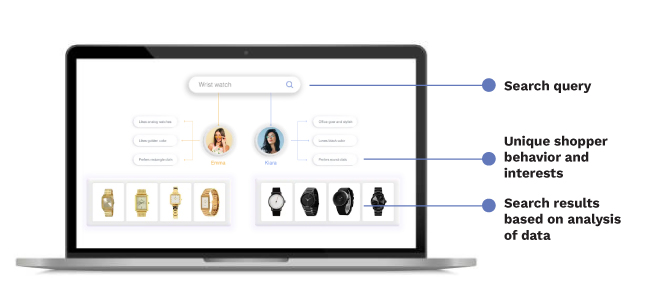 1:1 hyper-personalized search results
Autosuggest in-session recommendations:
Recent searches – Leverage each shopper's behavioral and historical interactions to tailor product recommendations via search results. By incorporating past searches, purchases, and browsing behavior, deliver more relevant and individualized results that improve the user experience.
Trending queries – Detect changes in shopper behavior over a short period with AI, and display popular products via recommendations that may only be in high demand for a limited time to improve discoverability.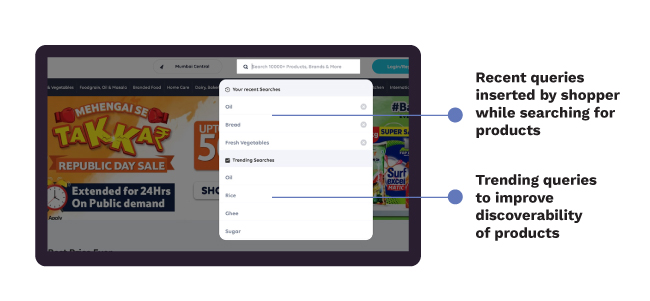 Trending queries on a website
Search recommendations based on demographics and affinities – Use demographic, device-specific, location, and affinity data to personalize product recommendations based on how similar shoppers browse and purchase.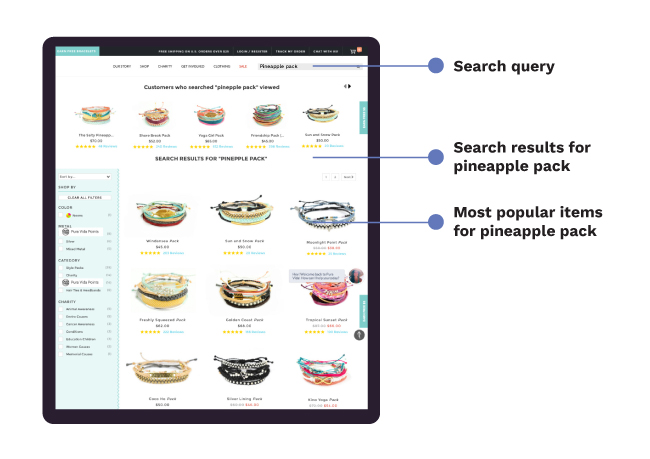 Search recommendations based on demographics and affinities
But that's not where our functionality ends. Did you know? With Netcore UNBXD, you can also adapt to shoppers' preferences in real-time. Understand shopper goals in the context of the current session and show relevant products with In-session Personalization. Explore In-session personalization today!
Additionally, we've prepared an all-inclusive Solutions Guide for marketers, which covers every tactic necessary to transform yourself into becoming a search personalization expert.
Download our solutions guide today –  Get your free copy
Product recommendations across web and app
According to surveys, the most common expectation among mobile app and web users is personalized marketing. Personalized offers completely transform the app and web user experience. 72% of users only interact with personalized messaging.
Furthermore, people enjoy the feeling of being cared for, even if it is by software. Personalized communication creates the illusion of a natural person on the other end of the screen, catering to your wishes. Here are some personalization use cases that web and app, marketers can leverage today.
Here is a list of web/app-based recommendations marketers can implement today – 
Recommendations via welcome offers/messages – Make a strong first impression on new visitors. Showcase product recommendations and offers via pop-up messages. Encourage them to create an account, to access further perks.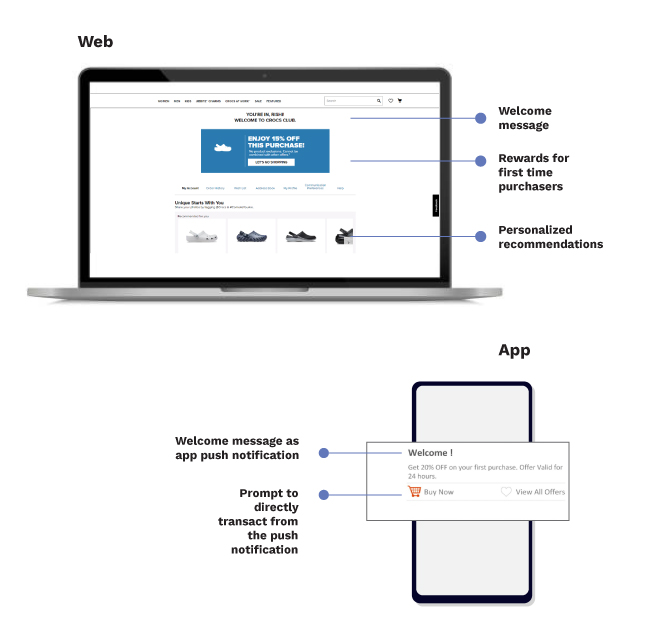 Recommendations via welcome offers and messages
In-cart recommendations –  Remind shoppers who added items to their online shopping cart but have not yet completed their purchase. Leverage push notifications and pop-up messages on the web or app to encourage them to return and complete the transaction. Showcase recommendations that go with the product currently in the cart.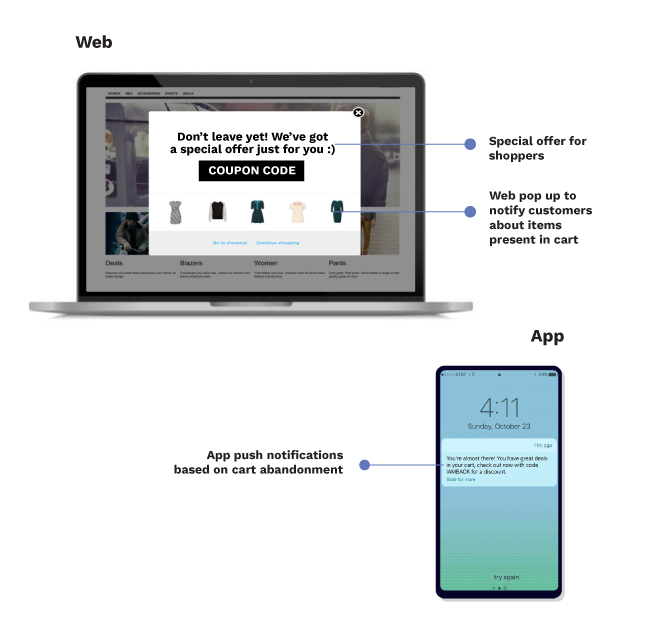 In cart recommendations
Hot and trending:
Hot messages – Highlight the most popular products at the moment and inform shoppers about the best-selling products or those that have seen an increase in sales.
Trending messages – Focus on products currently popular or which have become popular recently. Send push notifications based on the shopper's browsing history.
Both hot and trending recommendations can be tailored to the shopper's browsing behavior and preferences. This increases their relevance and the likelihood of a conversion.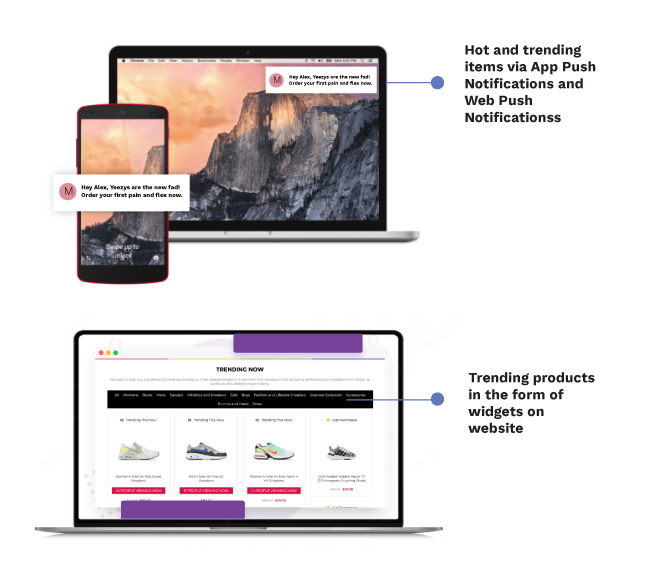 Hot and trending messages on the web and app
In conclusion, web and app personalization is absolutely necessary for marketing success. They are two of the most important and most used shopping channels. To know more about some web and app use cases, we recommend you check out our Solutions Guide. It is a manual to guarantee success and is a valuable resource for marketers and category managers today.
Download it for free – Link
Product recommendation advantages
Technology consultancy leader Mckinsey emphasizes – scalable personalization in ecommerce reduces marketing expenses by 10%–20%, boosts sales conversion rates by 10%–15%, and boosts shopper satisfaction by 20%.
These figures will inevitably rise as brands introduce personalization tools at various touchpoints, including marketing, product recommendations, on-site search, pricing, pre-and post-sales support, checkout, customer service, etc.
Here are 5 product recommendation advantages:
Via personalized email blasts and targeted messages, generate large amounts of traffic to your site. Increase the opportunity to leverage more user data to develop advanced shopper profiles.
Personalized recommendations and interactions via an engine to provide a sense of value for your shopper. This converts them from casual browsers into serious shoppers and instills long-term loyalty.
Average Order Value (AOV) goes up when you leverage a product recommendation engine to display personalized options. Shoppers tend to spend more on products based on personalized recommendations.
Increases the number of items per order
In addition to AOV, you can increase the number of items ordered when the customer gets options that cater to their interests.
Increases departmental efficiency
The volume of data required to create a personalized shopping experience is considerable. Use an engine to reduce the workload on IT and engineering while automating day-to-day processes and increasing efficiency.
Provides advanced reporting capabilities
It's important to stay on top of data to keep a personalization system running. Accurate real-time reporting allows marketing teams to leverage actionable insight supplied by the system and structure better marketing strategies, thus generating more revenue.
Now that we've grasped the concepts underlying product recommendation – techniques, strategies, and benefits – let's look ahead at what the future holds for us.
The future of product recommendations
Personalization is taking the shopping world by storm. Thanks to advancements in technology, businesses can now provide highly targeted recommendations and experiences, all while communicating with shoppers in natural language.
By leveraging shopper data and insights, companies can access a broader range of data sources. They now offer personalized experiences across various platforms and devices. With immersive technologies like virtual reality and augmented reality, the shopping experience becomes even more personalized and engaging.  The future certainly looks bright!
Brands that have already mastered personalization will now have the opportunity to tap into higher-quality data derived from more connected shoppers and improve the quality of personalization across all channels. As we move forward, we can expect even more innovation and personalization advancements to shape how we shop and interact with our favorite brands in the years to come.
So, get ready to shop like never before – with personalized experiences sure to delight and amaze your customers!
Before you leave, remember to download our Free Solutions Guide, made for ecommerce marketers. It lists all the above functionalities and more. It also covers use cases around the topics discussed. It is by far the most comprehensive resource around personalizing the shopper journey in 2023.