Huge retail outlets in malls stock a large number of brands. Customers of all kinds – economic buyers, brand loyalists, fashion lovers, and trend followers, can find what they need or desire. But there is no personal touch in the shopping experience. You roam around looking for what you want, might feel lost in the sea of options, and have to ask for personal assistance, which you may or may not get. Being a customer yourself you obviously don't want to get lost in those long aisles for hours only to return empty-handed.
Traditional shops have lesser variety and fewer brands than a mall, but the sales staff give personal attention and assistance that make the customers feel special, and enhance the shopping experience.
The gap that exists in these are filled by 'Personalized Product Recommendations' that enable online businesses to offer their customers the best of both worlds. A huge product inventory in which their customers can find all that they want, and have a great shopping experience.
In another blog post here, we explained the basic details about what is product recommendation, its benefits, how do the product recommendation engines work, and the kinds of product recommendations. Be it an e-commerce brand, a media-OTT brand, or for that matter, any other – the basics are the same.
The best of sites use product recommendations as their smart strategy to make their customers feel that they are getting a completely personalized experience that is unique to them. Think of all the times you felt Netlfix knows you better than your closest friend. Or the time when MakeMyTrip recommended you hotels based on your recent search. And while you are sifting through your cart, Amazon would offer you recommendations of products and you do end up adding a few more things in your cart.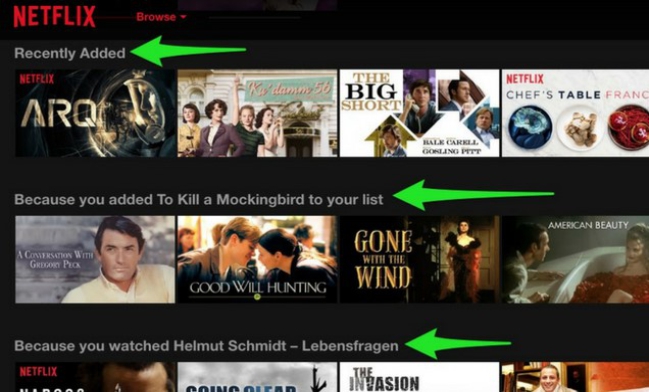 These brands ace their recommendation game based on important strategies they have adopted to get the best out of the product recommendations. In this article, you will find the most important strategies to consider for having a successful product recommendation engine in place. There are multiple ways to formulate them based on:
Audience segment
Testing
Recommendation site
Time of recommendation
Volume of recommendation
These strategies have a huge appetite for data. The good news is that the product recommendation engines have just the right amount of data to feed the strategies. These engines use predefined algorithms and aggregated customer data to show the customers what they might be interested in. So, here is the different customer data the recommendation engine is looking at:
Geographic location
Demographic information
Search queries
Purchase history
Current shopping cart
Behavior in social media (likes, shares, etc.)
Now that you know what strategies you want to concentrate on and what kind of data a recommendation engine is capable of gathering, let's talk about some of the best Product Recommendation Practices that you should keep in mind no matter what you are selling.
1. Test your recommendation strategies
Product recommendations are great but blending its power with your human direction can do wonders. A "trending offers" may work well on the home page, but not in the checkout page. "Customers who bought this, also bought" on the shopping cart page may work better than that on the product page. The best way to know what works and what doesn't is by testing out the strategies.
When in doubt, A/B split test. Combined with all the above points, testing the recommendations across pages, timing, channels, and segment can help you achieve amazing results. Keep monitoring the performance of your recommendations and adapt and refine your strategies.
2. Spread out your recommendations
Place your recommendations in expected as well as unexpected places. Product pages, home page, check out page, shopping cart page on the website and app are obvious places where you can place your recommendations. But why limit to these sites only?
Why not place them on your 404 page and give your customers an easy way to click back to your website? Or, may be the order tracking page, or the order confirmation page. The point is, evaluate all possibilities that you could use to attract your users' attention.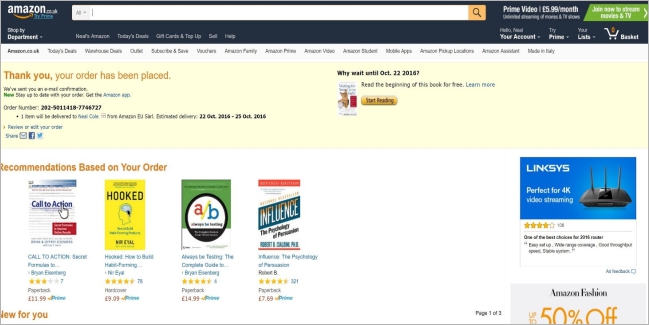 Also, you can expand to offsite recommendation as well. You can also put recommendations in your cart abandonment emails, follow-up emails, or even newsletters. If someone has looked at the same product several times, you can send emails asking if they're still interested and show similar products. Use geo-location data, and send push notifications to serve consumers recommendations. This is your chance to be everywhere your customer is and it's up to you to leverage their presence across multiple channels.
3. Analyze right customer behaviors
The first step to product recommendation is understanding that every customer is different and understanding their reason to buy something.
Some customers may like a product based on say colors/style and another customer would choose a product on the basis of brand. So you should be able to identify this and act upon it.
A customer buys solar-powered bulbs and garden lights. He is probably interested in environment-friendly stuff. So, he might like garments made of organic fiber and colors. So, recommending eco-friendly products make sense. A customer has been buying diet food. Promoting exercise equipment, gym wear, yoga mat, etc. can work.
The idea is to go above and beyond the obvious strategies like "since you liked that, you might like this". Customer behavior data is a treasure. Dive as deep as you can to bring out valuable insights. Chase the 'why' behind what your customers are buying or browsing and your recommendations can never go wrong.
Related Read: Real-Time Personalization: Why Understanding Consumer Behavior is the Secret to Crafting 1:1 Customer Experiences
4. Find your optimum level of recommendations
The thing about recommendation is that most of us believe that the more you expose customers to your products the more likely they're to purchase it.
But, the one thing you want to avoid at any cost is bombarding your customers with recommendations. That too irrelevant ones.
And even if your recommendations are spot-on you might just end up tuning out your customers if you go ahead and place your recommendations left, right and center on every page.
You should be concentrating more on the 'quality' of your recommendations as opposed to the 'quantity.' The sole purpose of your recommendation is to show them what they're actually looking for.
5. Use social proof
If it's a product you want to buy or a series you want to binge watch, as customers you always want to check out the reviews to make sure you're getting the worth of your money and time (in case of series).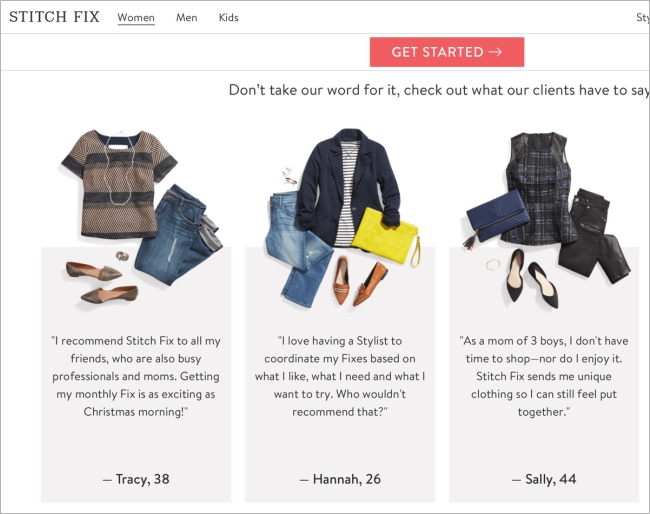 The popular tabs like 'Best Sellers', 'Top Picks' and 'Customers Choice' further add to the credibility of your products and urge your customers to view more offerings and finally buy them.
Picking the right recommendation strategy
Your website traffic comprises a variety of users. Some may be first-time visitors, some one-time and many frequent. And obviously the data you have on your regular users would be much more than what you have on your one-time users.
When it comes to product recommendations, there are three major types of strategies you can look at, depending on the data available:
Global recommendation strategies
This is apt for new users during their first visit for which brands lack a user data profile. The best approach to this would be serving them recommendations based on the popularity of products and the latest trends.
Contextual recommendation strategies
Here you tailor recommendations according to the product attributes (i.e. color, style, and brand), traffic source, device, operating system, local weather, time, the frequency at which different products are purchased together, and many more aspects which the AI engine provides you.
Personalized recommendation strategies
This is hands down the most sophisticated strategy-type. The type of recommendation today's customer wishes to experience. It leverages both product data and user data to surface relevant recommendations for each user on an individual and personal level.
If you are doing it, do it right
Choosing the proper strategy for the desired objective is essential to success, and the misapplication of strategies can have serious repercussions. Not only can it cause a loss of revenue, but it also may drive customers to lose faith in both the value of recommendations and your ability to deliver personal, engaging experiences altogether.
Your customers come from different sources, some know what they're looking for other will be like that friend who always orders the chef's recommendation at any restaurant. So customer experience is taking over as the key differentiator between online entities, brands must capitalize on the opportunities afforded to them through recommendations, leveraging them to make them a contributing factor to overall success.
If you feel the need to invest in a robust multi-channel personalization suite then feel free to contact us right here.