Personalization is on the rise. More customers are starting to expect a customized experience when they shop their favorite brands online. In fact, 80% of customers are more likely to purchase a product or service from a brand that offers them personalized experiences.
To wow customers and get more sales, you need to create the best possible shopping experience. An incredible 91% of shoppers would abandon an online retailer for a poor shopping experience, and more than 3 in 4 shoppers want a more personalized experience that fits their preferences.
There are countless ways to personalize the shopping experience of your fashion and apparel brand. When you create customer-centric widgets, pop-ups, emails, and ads, you make it easier for customers to find and purchase products they love.
And that's not all: customers who have a unique, valuable experience with your e-commerce website are more likely to purchase… and make larger orders.
The power of personalization
With AI-powered personalization, you can automatically collect data on an individual's tastes, preferences, and shopping habits. Then, you can use that knowledge to recommend products and share content that will lead to a higher add-to-cart rate, improved conversions, and higher revenue with a strong ROI.
Here are 15 concrete examples of personalization for fashion and apparel brands, and the results you could achieve by implementing similar strategies on your e-commerce site.
1. Personalized offers for new and returning customers by collecting personal information
90% of customers are willing to share behavioral data, like their online browsing habits, if it provides a seamless shopping experience. By collecting information from new and returning website visitors, you can tailor every message and offer to make them more likely to purchase.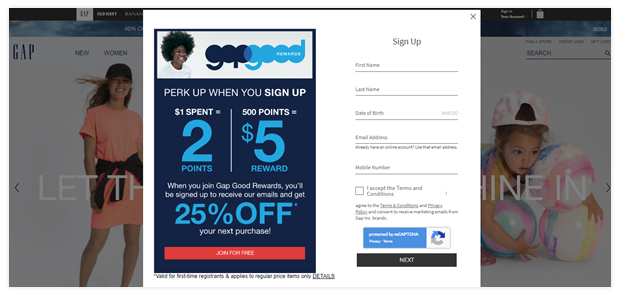 For Gap, this pop-up is the building block of personalization. They can use the data they collect to welcome new subscribers, send birthday messages, and other personalized emails and offers.
2. 'Bestsellers' or 'Trending Now' widget
This widget, often found on the home page, displays a unique collection of bestseller items that appeal to each customers' interests and tastes.
Previous users will see items based on their account information or shopping preferences, and the widget even works for new users by incorporating location and device data. The result is the perfect blend of popular, personalized products that can increase your click through rate (CTR) by 90-110%.

Levi's uses this 'Bestsellers' widget to recommend a sample of the most popular products for each customer. 
3. Personalized new arrivals
Even if a product is brand new, not all your customers will care about it. Base your recommendations on their previous purchase history or commonly viewed items instead.
Add personalization to the New Arrivals section on your home page to get 110% more customers to click and start browsing products.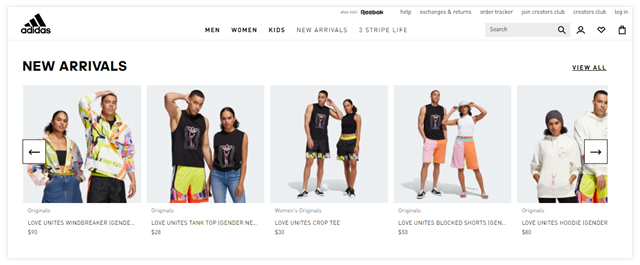 Adidas prominently features a selection of new arrivals on their homepage.
4. 'Just For You' widget
Your customers know what they're looking for, but you need to help them find it. Offer relevant, personalized product recommendations on your home page to immediately capture your visitors' attention and generate a 120% increase in CTRs.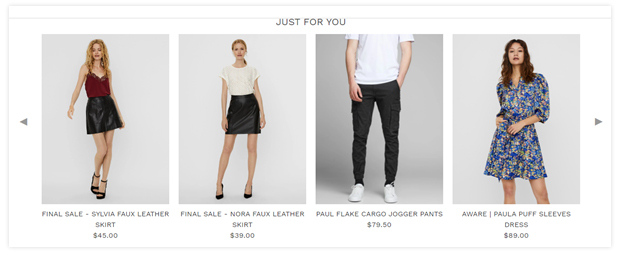 Bestseller Clothing uses this 'Just For You' widget to provide a carefully curated selection of product recommendations for every website visitor.
5. 'Recently Viewed' widget
The 'Recently Viewed' widget triggers an interest in previously viewed products and makes it easy for customers to complete their purchases. Re-ignite excitement by showing the products a customer looked at longest or is most likely to purchase. With personalization, you can drop your cart abandonment rate from 60% (or higher) to 46%. 

Bestseller makes it easy for customers to revisit products they looked at previously.
6. 'Wear It With' widget
Your customers are always trying to visualize how your products will look like an outfit. Use the 'Wear It With' widget on product pages to curate an outfit your customer may like based on their browsing habits and style preferences. 
Using this method to cross-sell products is one of the most effective ways to increase sales as 75% of retailers reported 10+ page views per customer after adding personalization.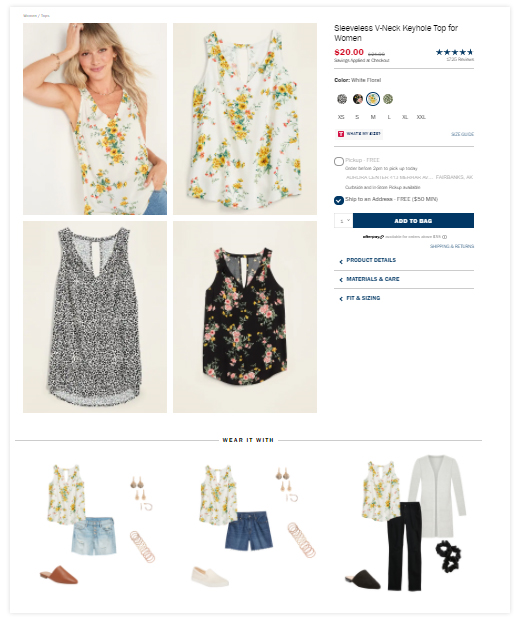 Old Navy recommends tops, bottoms, shoes, and even accessories to help customers build a better outfit.
7. 'Customers Also Viewed' widget
The 'Customers Also Viewed' widget lets you incorporate personalization with social proof on every product page. It's also a great way to upsell products: display personalized recommendations of related high-end items to encourage customers to purchase more.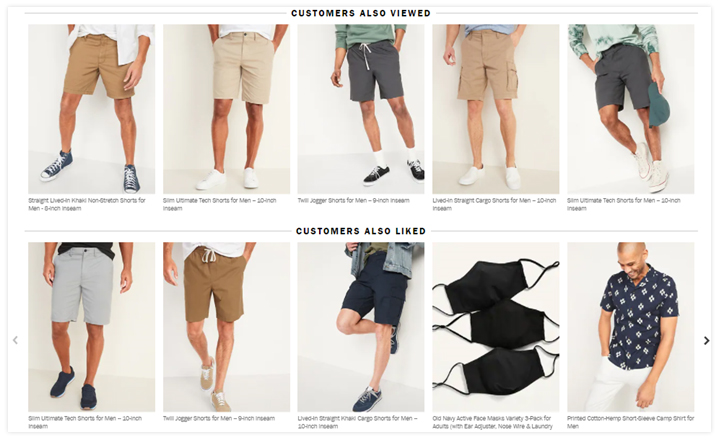 Old Navy gives customers two personalized widgets to choose from on their product pages.
8. 'You May Also Like' widget
Use your knowledge of a customer's tastes and preferences to help them discover incredible products they may not have found on their own.
On every product or collection page, you can cross-sell by recommending complementary items that customers are likely to enjoy. For example, you could encourage someone looking at a soccer jersey to browse and purchase other products such as shorts, socks, and boots.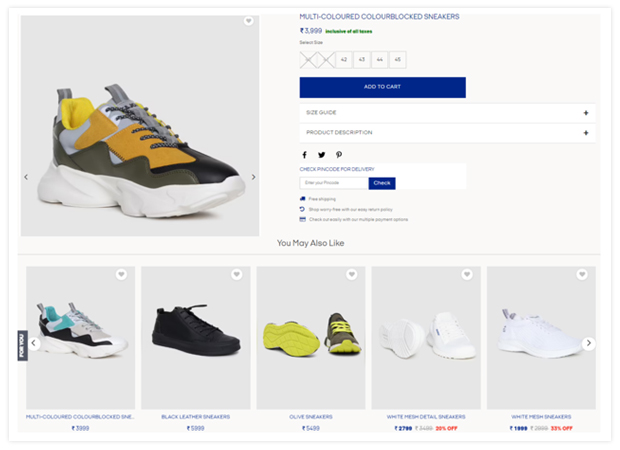 Jack & Jones gives hyper-contextual recommendations so customers can quickly and easily discover other products they may wish to buy.
9. Personalized boutique page
A personalized boutique page shows a custom storefront for each customer based on past and real-time behavior. Since these products are chosen to match shoppers' tastes and interests, brands will see up to a 150% increase in CTR and a subsequent boost in revenue.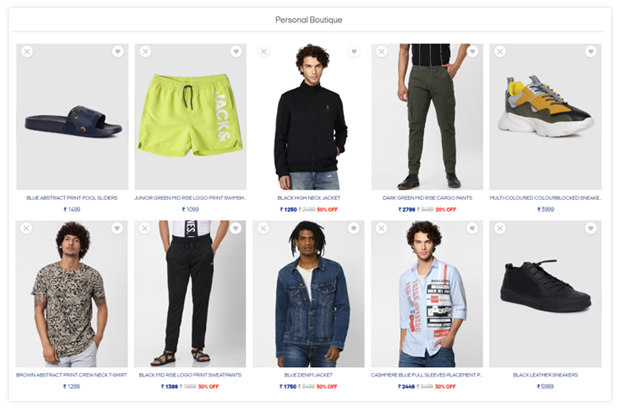 Jack & Jones generates a personalized boutique page for every single visitor.
10. Exit intent pop-ups
If someone is about to exit your website, an exit-intent pop-up can encourage them to keep browsing. When used properly, the pop-ups can increase your conversion rate by an incredible 10%. Keep customers clicking by displaying a personalized collection they just can't pass up on.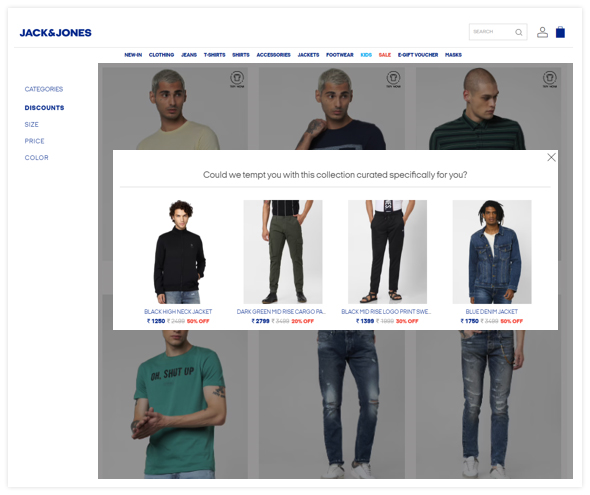 Jack & Jones automatically pulls items that are most likely to be viewed, clicked on, and purchased.
11. Personalized discounts through web messages
Personalization doesn't have to end when someone exits your site. If a shopper recently abandoned their cart, send a personalized web message to get them back online and browsing again. Or, use these messages to promote deals of the day, flash sales, or new and exciting products.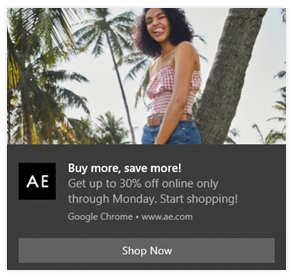 American Eagle uses Chrome's web messages to offer a special 30% online discount.
12. Personalized cart abandonment emails
Send abandoned cart emails to the segment of customers who left your platform after adding products to their cart (an average of 70-75%). Personalize these emails to encourage users to purchase those abandoned products, or go the extra mile by upselling or cross-selling complementary products based on data you've already captured.
Adding personalization to abandoned cart emails can deliver a 6X higher transaction rate than a non-personalized email.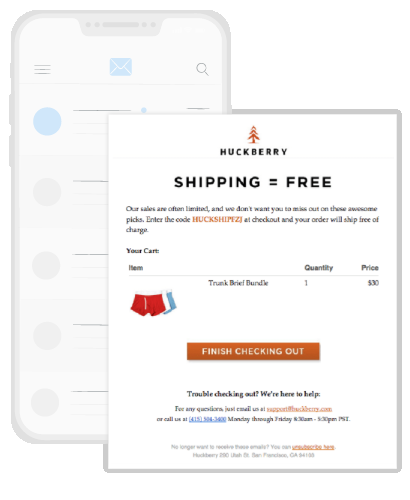 With this email, Huckberry is re-engaging interested buyers even though they've exited the shopping platform.
13. Personalized re-engagement emails
Have some dormant customers who haven't purchased in a while? Ensure that your customers don't stop using your platform and get them back to browsing by sending a personalized 'We miss you!' email to their inbox.
Show them products they would love to see based on previous browsing and purchase history and nudge them back onto your platform. Effective use of email personalization generates 17% more revenue per email than the average campaign.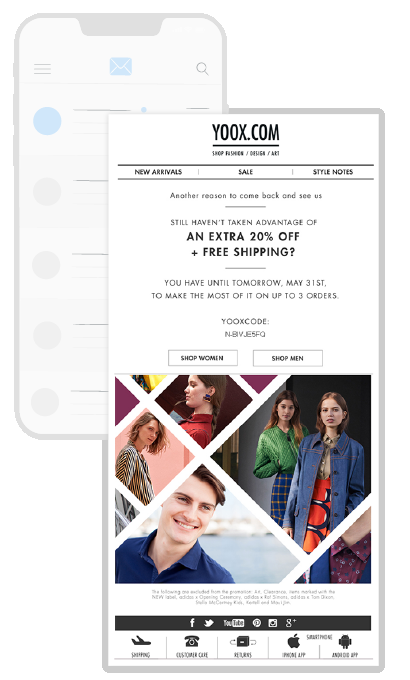 Yoox encourages customers to come back with this special discount offer plus the option to browse new products.
14. Mobile app personalization
72% of customers admit that they only engage with marketing messages that are customized to their specific interests and desires.
By creating a personalized experience on your mobile app and showing relevant deals or frequently visited categories, you're ensuring that every interaction is specific and helpful.

The Amazon mobile app's homepage shows deals and collections tailored to each customer.
15. Personalized social media ads
Personalization doesn't have to end with your website and emails. Show your customers sponsored ads and stories on Facebook and Instagram based on their browsing history.
Using personalized advertising can increase your marketing spend efficiency by 10-30%.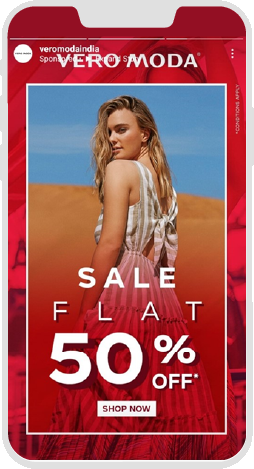 Vero Moda's Instagram ads promote products based on an individual's shopping habits and preferences.
Start personalizing your shopping experiences
Personalization is no longer a nice-to-have: it's a crucial piece of any fashion or apparel brand's marketing strategy. If you're not giving personalized recommendations to every customer that lands on your site, you're missing an opportunity to build loyalty and sell more products.
With a personalized experience on every platform, you'll become your customers' go-to trusted source for product recommendations and stay far ahead of competitors who are still struggling to engage with users.
Skyrocket your conversions with AI-led personalization from Netcore. Within 5 weeks, our customer-centered product reviews can increase your conversions by 8-13%. But you don't have to take our word for it: discover 7 real-life examples of how Netcore's Personalization Platform is helping global brands boost revenues and retention.