"Great leaders are consistent, with their effort to change the status quo and inspire others to take action. It's just not the intensity, but also consistency that makes a leader great." – Simon Sinek in his bestseller "Start with Why."
The energy is crackling at Netcore Cloud as we are delighted to announce that we have been recognized as a leader in G2 Reports for the fifth time in a row.
Based on user reviews, Netcore Email API is acknowledged as a leader in the Transactional Email and Email Deliverability categories.
Our customer-first philosophy and approach towards delivering customer-centric products for consumer (B2C) brands have made us the leader in various grids and indexes.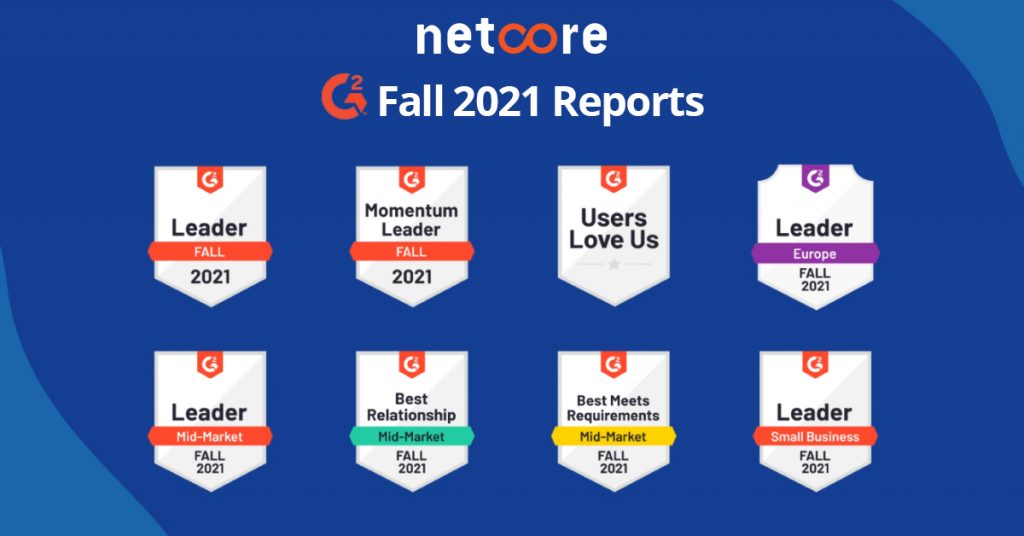 Leader in Transactional Email and Email Deliverability
We have ranked #3 in Transactional Email Grid Report and #5 in Email Deliverability categories with the highest Net Promoter Score (NPS) amongst the leaders. We have an average rating of 4.5 stars out of 5. As many as 93% of the customers have rated us either 4 or 5 stars, and more than 77% of the users have rated us five on a scale of 1-5.
These ratings are a clear testament to our customer-first philosophy and the lengths we go to make emailing easy for our clients.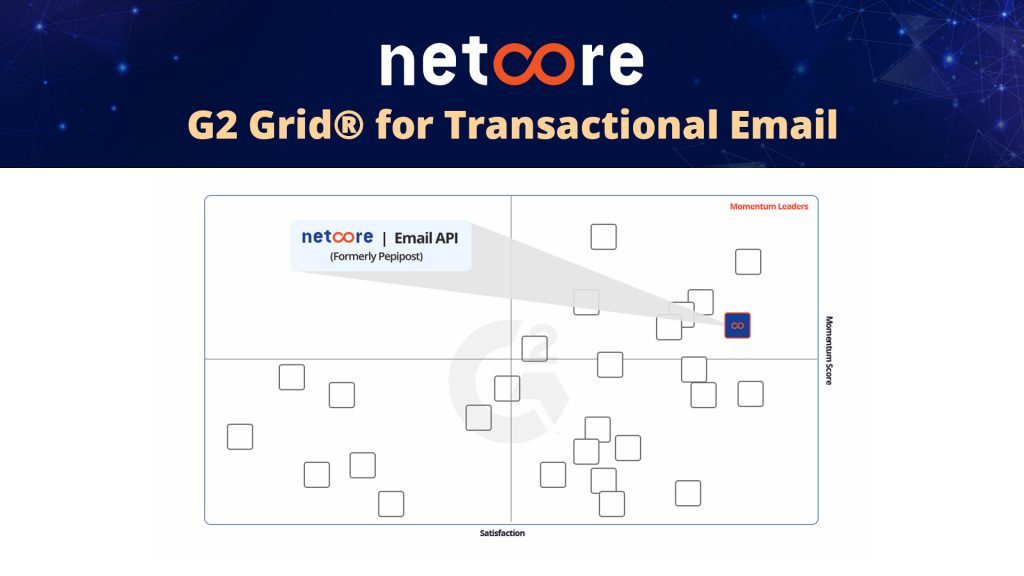 The fastest-growing Transactional Email API
Based on the user reviews, Netcore Email API has ranked as #1 in the Momentum Grid after scoring the highest momentum score for the third time, an acknowledgment of our rapid growth in all aspects of the product. Momentum score is a collective score that includes employee growth, review growth, social growth, and web growth. Our sky-rocketing growth coupled with uncompromised customer satisfaction has helped us gain a significant market presence.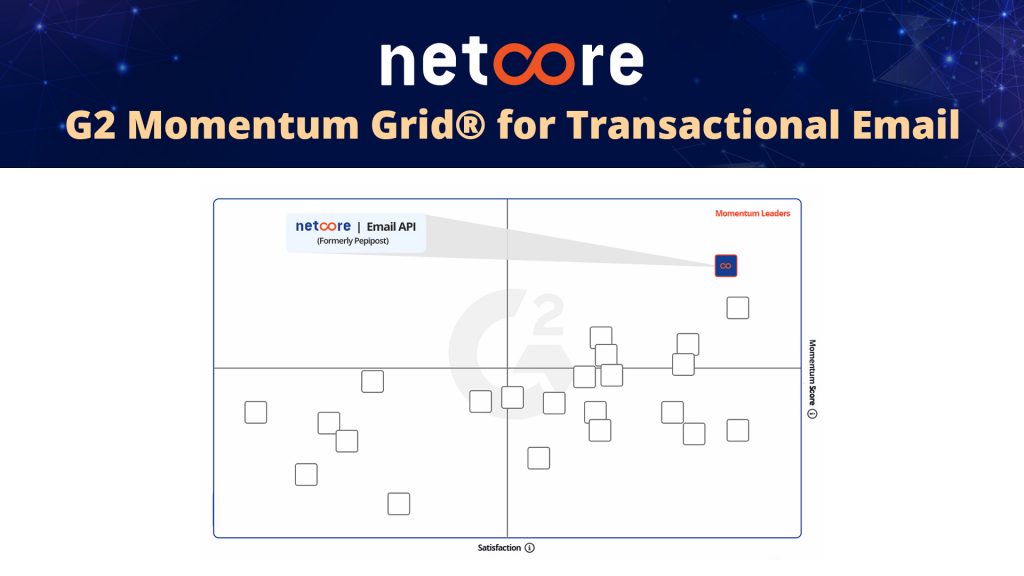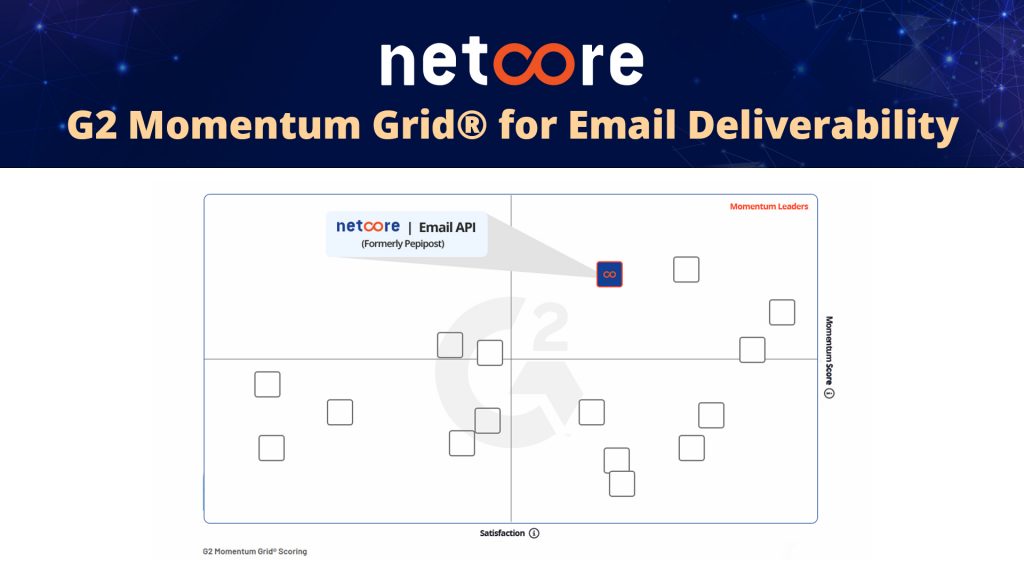 The shortest implementation time
Netcore Email API also has the shortest implementation time, with minimum intervention required. We have ranked second in the implementation index of the Transactional Email category. The score is a function of ease of setup, implementation time, user adoption, and other factors.
Easiest to do business with
Additionally, we have one of the highest 'Ease of doing business with' and 'Quality of service' scores within the category, which rank us second in the 'Relationship Index'. This score is a composition of ease of business, likely to recommend, quality of support and other factors. Our rank in this index highlights our priority to make doing business with us a breeze.
Easy to use platform
Netcore Email API's platform is also one of the easiest to use. It has one of the easiest to use platforms and admin panel. It also scored one of the highest in the 'meets requirements' composite scores. Netcore Email API has ranked second on the composite score of the usability index. We're constantly striving to innovate and make email marketing easy for our customers and our rank in this index proves just that.
Europe's loved Email API
Netcore Email API is Europe's loved ESP – we have ranked 3rd in the Europe Regional Grid in the Transactional Email category. European users have rated us one of the highest in 'Ease of use' and 92% of our customers are likely to recommend us. 70% of the European users have rated us 5 stars and more than 93% of them have rated us 4 and 5 stars.
What our customers said on G2
Here's what our customers say about Netcore Email API:
What do you like best?
Support from the Netcore team for a smooth transition helped us transition within a week. The granularity of user journeys is genuinely remarkable. The funnel lets us optimize every detail of the email, from subject to the location of CTAs. This tool is ideal for running e-mail operations of e-commerce companies. The automated report generation tool helps our team to monitor the health of the account with ease. This tool is a dream for running targeted email campaigns smoothly. – Ferril V
What do you like best?
I like almost all the features that are included in my plan. Easy to integrate is the most important thing for me. The dashboard that shows the analytics is another feature that I love. It shows everything and it is very helpful to extract a lot of data from it. Adding 2FA is a plus in my opinion. – Jenny T
What do you like best?
I like that it is very accessible, and it is a breath of fresh air for startups and businesses looking to improve their automation habits. I also like that it is straightforward to use, and the interface for setting up has clear instructions. I believe it is a great tool. – Leonardo-Emil M
Way forward
Our mission is to empower brands to deliver exceptional 1:1 customer experience in the most human, helpful way. We are thrilled about the G2 reviews and numerous distinctions that we have received owing to our customers. We will continue making email simple, fast, reliable, and intelligent.
If you would like to review Netcore Email API on G2, you can do it here.
If you haven't tried Netcore Email API for your applications yet, this is a great reason to sign up for a demo here. The setup is easy, and if you get stuck at any point, our team is always available to assist you in getting your emails delivered into the inbox!
We are always here to assist you with our 24×7 support to make sure that you have the best email experience.
#fortheloveofemails