We have some great news to share!
We are delighted to announce that Netcore Email API (formerly pepipost), a consistent leader for the last 1 year, has yet again been recognized as a leader by G2 in their Summer 2021 reports.
We have gained leadership in the following categories:
Transactional Emails
Email Deliverability
Mid-Market Transactional Email
Europe Transactional Email
Small-Business Transactional Email
We are extremely grateful and humbled by the results. They inspire our entire Netcore team to provide our customers with the best email platform and the most exceptional service possible.
What is G2?
G2 is the world's largest tech marketplace where businesses can discover, review, and manage the technology they need to reach their potential.
G2 is a business product review and ranking platform where verified users share their software and technology experiences and feedback, it is one of the most credible websites for us to check Netcore cloud's reviews and feedback given by real customers.
To rate products in each category, G2 uses its own Grid® Methodology and a proprietary algorithm. They use a combination of more than 15 data points, including G2 user-submitted consumer reviews and data gathered from web sources and social media.
We Ranked in the top 5 in Transactional Email and Email Deliverability categories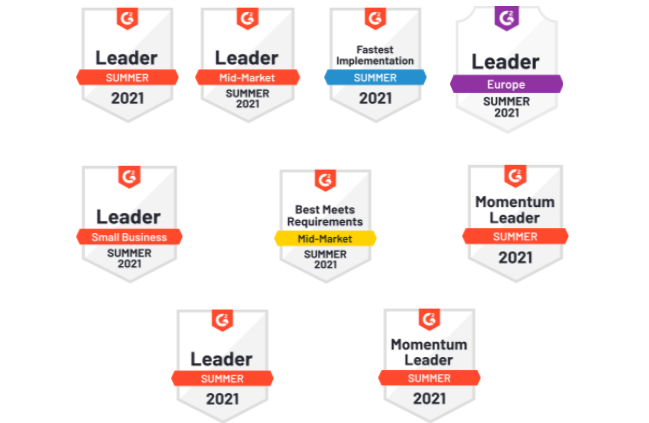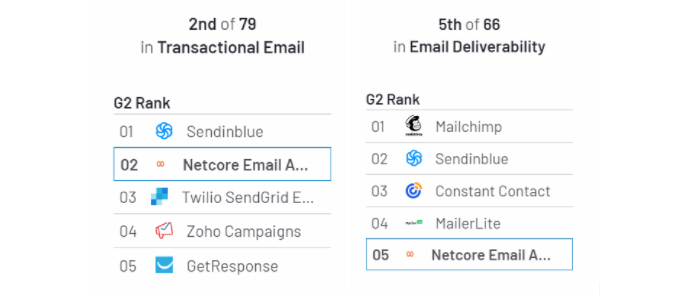 Second in Transactional Email Software category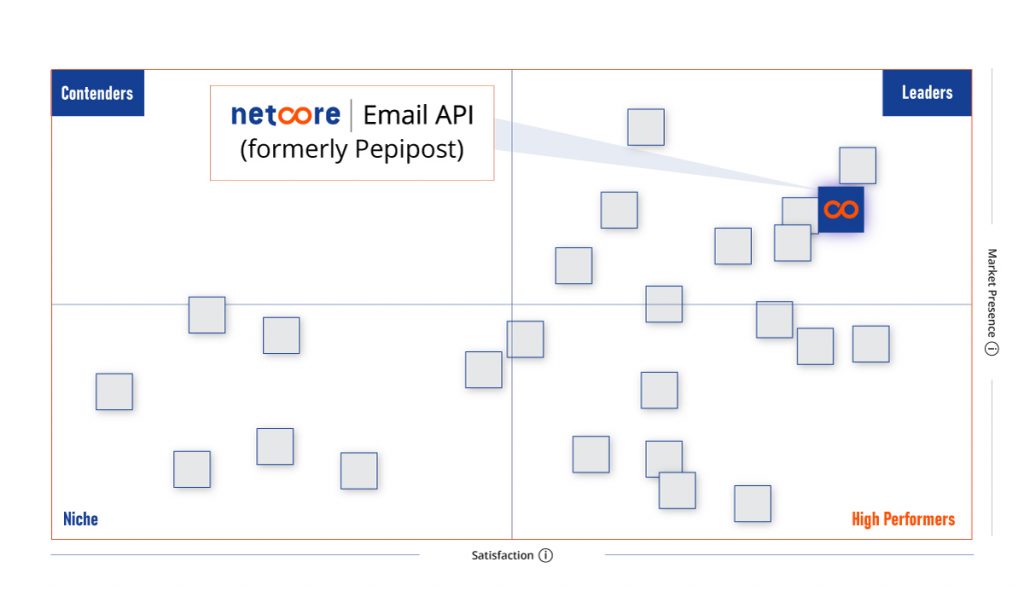 We are glad that Netcore Email API has moved up to the second rank in Transactional Emails since the last spring 2021 reports where we ranked third in this category. We have been placed in the leader quadrant which signifies that we are highly rated by G2 users and have substantial satisfaction and market presence scores.
Along with this, we have also been placed as leaders in the mid-market, Europe, and small businesses categories for transactional emails.
All thanks to our in-house AI-powered superfast MTA – "Blaze" to optimize speed and deliverability. It leverages machine learning and artificial intelligence to maximize efficiency for more incredible speed with your transactional emails and better inbox delivery for your marketing emails.
Check out our guide to Email Deliverability 2021, it contains everything you need to improve your inbox placement with mailbox providers and all the best practices you need to follow in 2021!
Fifth in Email Deliverability Software category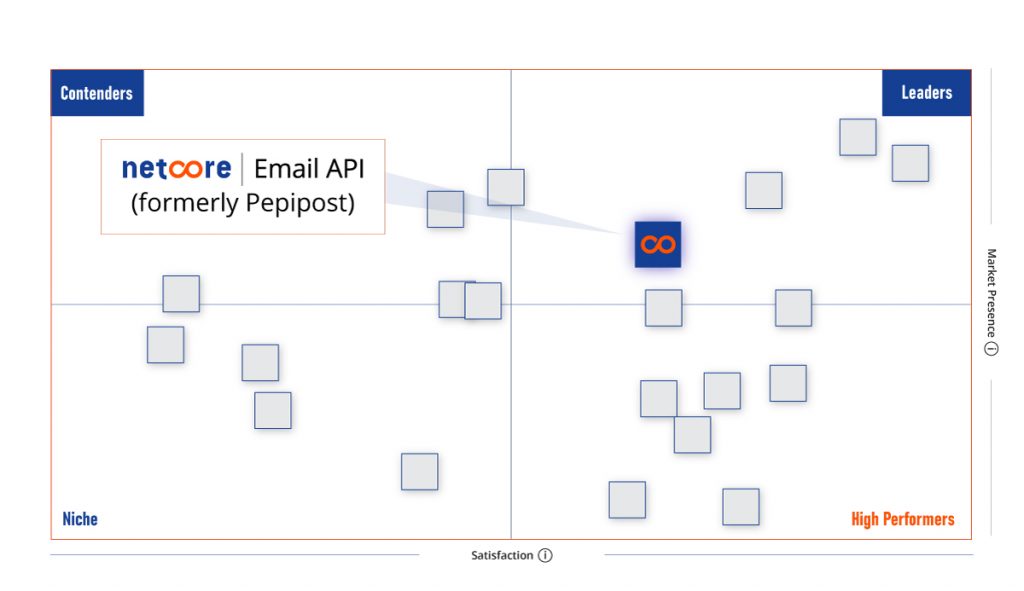 We have been placed in the leader category for Email Deliverability which shows that they are highly rated by G2 users and have substantial satisfaction and market presence scores.
With our powerful AI engine – Raman, you can deliver faster and optimize your emails better.
There are several ways we improve our deliverability rates:
Predictive engagement.
CRED consulting on inboxing strategies.
Adaptive sending behavior.
The best practices for content and authentication.
Deliverability expertise combined with the experience of 20+ years.
Leader in G2's Transactional Email Momentum Grid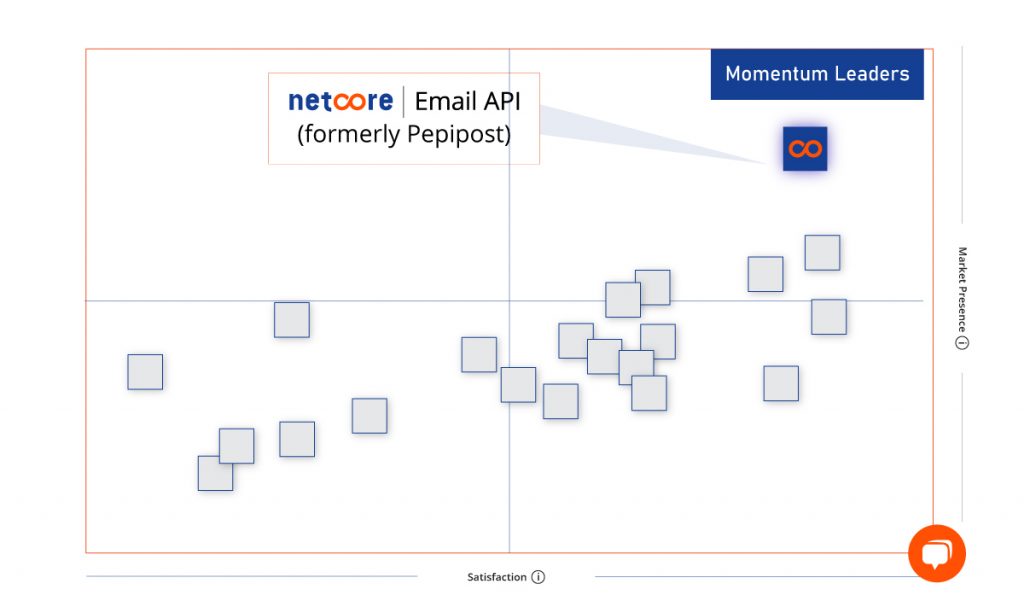 We are ecstatic that Netcore Email API is ranked #1 in the Email Momentum Grid of the Transactional Email category.
The momentum score of a product is determined by a proprietary algorithm that considers social, web, employee, and review data that G2 considers to be important in determining a company's momentum. The momentum score provides a benchmark for all product comparisons and market trend analysis.
Netcore has been recognized as the momentum leader for Transactional Emails which signifies that Netcore has been ranked in the top 25% of the category's products by their users.
Leader in G2's Email Deliverability Momentum Grid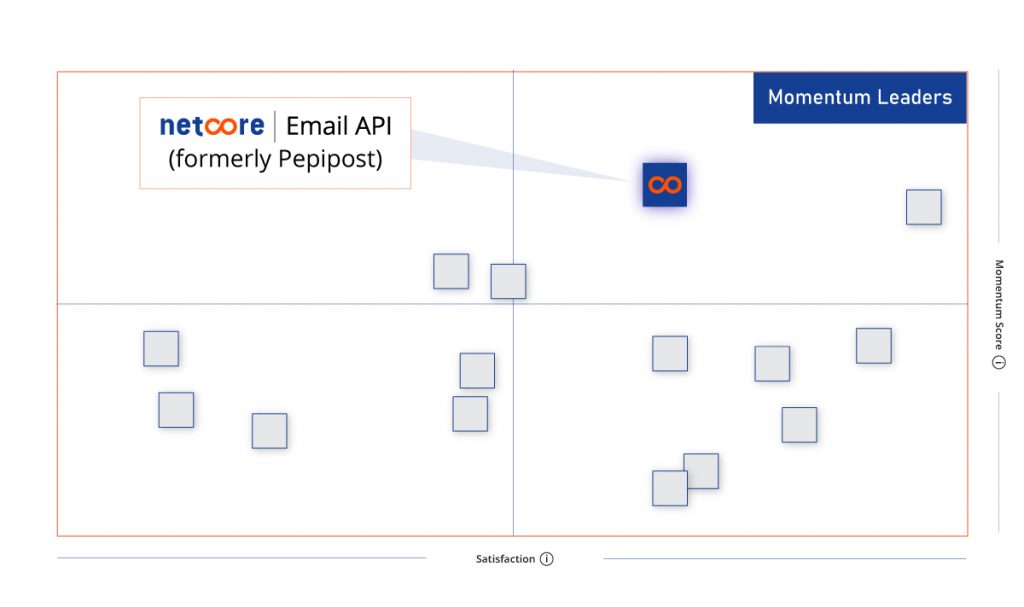 Netcore cloud API has been recognized as a leader in the Email Deliverability momentum grid and is ranked #2 In this category, this has been possible because of our valued customers that have shown their appreciation of our product and ranked us second in this category.
We have received great reviews about our SMTP services as well.
With our SMTP or RESTful APIs, you can integrate your application easily within minutes.
Our Satisfaction Rating is the highest!
Netcore Email API scored the highest satisfaction rating in all categories. We were over the moon when we received this news from G2!
We at netcore always do our best to keep you first. These ratings prove to us that you appreciate and like the work we're doing! Such high ratings inspire and encourage our entire team to keep enhancing our email platform to create a better experience for you!
About Netcore
We're a global Martech product company that helps B2C brands create amazing digital experiences with a range of products that help in acquisition, engagement, and retention.
Netcore's email marketing and email API products help brands with all of their email requirements and provide the users with a smooth and easy experience.
Best-in-class support
Our customer-first mindset pushes us to support our clients 24×7, and our reviews show results!
"Great service and very useful" "Pleasant and very Supportive" "Amazing customer service support" "Good service and support" are some of the reviews left by our customers on G2.
We want to make sure that email marketing is an easy and effortless experience for you, High-quality assistance from our technical team to guide you and resolve any query you might have.
Why Netcore over other ESPs(Email Service Providers)
Built for scalability, security, and reliability.
Unmatched and unparalleled deliverability, with 95%+ global inbox placement.
Raman, the AI engine that churns actionable insights, learns from millions of user engagement touchpoints, and guides you to create the best campaign for your brand.
Personalization and product experience platform.
We co-own your KPIs and make them happen.
24×7 support that you can always count on!
Customer Feedback and reviews
We are delighted to see so many positive and encouraging reviews from our customers who have gushed over our user-friendly, reliable, and efficient product.
We are delighted to have contributed to making their email experience the one to remember, we strive to help our users with all their needs and queries with the help of our products, services, and support team.
Final thoughts
We would like to thank our trusted customers for their appreciation, support, and valuable reviews. We assure you that we will keep sending emails reliable, efficient, and simple for you.
Impressed by our product? Want to leave a review?
You can do so on G2 here.
For those who haven't tried us out yet, this is an excellent reason to sign up for the demo here. The setup is easy as pie, and if you get stuck at any point, we're always available to assist you in getting your emails delivered into the inbox!
We are always here to assist you with our 24×7 support to make sure that you have the best email experience.
We will make sure that you have a seamless experience using our platform!
#fortheloveofemails