The worldwide cart abandonment rates for 2022 ranged from 50% for grocery shopping to 98% for cruise and ferry bookings, with other industries ranking somewhere in between (source: Statista). Ecommerce stores lose $18 billion in sales revenue each year because of cart abandonment (source: bigcommerce). No wonder recovering abandoned carts is among the most critical objectives for online businesses.
Since digital ads and promotional messages seem to be losing their grip on customer attention, newer technologies must step in to compensate (and surpass). This article discusses such a technology set to change the fundamental way in which marketing works.
Introducing Inbox Commerce.
While this technology is industry-agnostic, this blog focuses on how Inbox Commerce – RCS, WhatsApp (for business), and AMP for email can specifically help recover abandoned carts.
What is Inbox Commerce?
Inbox Commerce is the practice of marketing products/services, innovatively engaging with customers, and conducting transactions right inside emails and app/push messages.
This technology enables selling and buying via a user's email or messaging app inbox. Brands can use RCS to create rich, contextual, two-way marketing conversation via the SMS.
They can also leverage a WhatsApp Business Account to offer their entire product catalog and accept payments within WhatsApp. AMP emails showcasing products and letting users choose and pay right within email would be another typical example. This approach focuses on simplifying the customer experience to make it convenient for users to connect with brands. They can effortlessly buy products/services without redirects to sites and apps.
How Inbox Commerce can help recover abandoned carts
Rich Communication Services (RCS)
Rich Communication Services (RCS) is an innovative messaging protocol to enhance text-based and multimedia communication on mobile devices. This cutting-edge industry standard has been developed, used, and endorsed by tech giants, mobile network operators, and device manufacturers.
Google has been championing RCS as a next-generation messaging protocol. Through Android integration, development of messaging apps, acquisition of relevant technology, and support for industry standards, Google has been a driving force behind the widespread adoption of RCS.
Unlike traditional SMS, RCS comes with rich features – read receipts, typing indicators, group messaging, and the capability to easily share high-quality images, videos, and files within the message.
RCS aims to bring an interactive, feature-rich messaging experience directly to a user's mobile phone.
RCS seamlessly incorporates many attributes typically associated with over-the-top (OTT) messaging applications such as WhatsApp and Facebook Messenger. It's unique in that it operates within the pre-installed messaging application on Android devices, eliminating the need for users to download additional apps or establish new accounts, unlike OTT applications.
Numerous surveys and research studies have consistently revealed that a significant percentage, ranging from 70% to 75% of consumers, prefer engaging with brands through private messaging compared to traditional channels like promotional emails and banner ads. However, in its basic form, SMS only supports one-way communication, lacks visual elements, and restricts text to 160 characters.
Here are a few ways in which RCS can nudge users to recover abandoned carts:
Remind them what they are missing
Has someone left high-end trekking boots in their abandoned cart? Well, show them what they are missing out on.
RCS supports high-res images, videos, GIFs, emojis, and similar visual elements. Give people a 360-degree GIF of the boots. Or, maybe send a video of the boots in use on rough or slippery terrain.
Your customers chose those items for a reason. Remind them that the reason was good enough for them to go back to the cart and buy the products.
Help customers make the decision
Perhaps a customer isn't sure about making the right decision. Is the snow cone maker really something they need?
Help tip the scales by sending rich, dynamic content that supports the purchase. For example, send visual content (using a carousel) that lists a few occasions on which the customer can make snow cones – "Five Holidays That'll Get Way Better with a Home-Made Snow Cone."
When customers see that they've made the right choice, they'll feel better about checking out the abandoned cart.
Help customers make a switch
Okay, maybe the customer's initial choice wasn't too good and they really don't want the items in their abandoned cart. But what if they could just make better choices immediately?
Send across your brand's product catalogs within a single message. Don't worry, it won't scramble visually because this is exactly what RCS is designed to do.
Maybe customers simply want that dress in a different material. Or perhaps, the latest iPhone is too expensive, but the one before that fits their budget.
Widen the choices for customers to go for the products they really want. Not only will this make people buy something they like, it will also build your brand's image as customer-first.
Be upfront about costs
Most customers would back out of a purchase if they were to suddenly come across hidden/add-on costs. So, show them precisely what they have to pay right from the get-go. Use RCS to send a shipping calculator so users can calculate how much to pay for delivery before completing the order.
Keep things clean, and you'll have fewer abandoned carts to deal with in the first place.
WhatsApp in Inbox Commerce
WhatsApp Business allows companies to establish direct, personalized communication with customers. They can use it to send promotional messages, updates, and offers. WhatsApp's intent is to generate a more intimate and real-time connection with its audience.
Notably, WhatsApp's 'Click to Chat' feature enables brands to integrate a direct chat link on their websites or social media platforms. Customers can click the WhatsApp icon and immediately enjoy easy communication with the brand.
WhatsApp Business is especially useful for delivering solid, immediate customer support. It can also drive marketing campaigns through interactive and immediate interactions.
Additionally, WhatsApp's broadcast lists let companies send messages to specific groups of recipients. It is perfect for disseminating marketing content, updates, and announcements.
Payment gateways can seamlessly integrate with WhatsApp, enabling customers to transact securely. The official WhatsApp API provides the capacity to incorporate various payment gateways, including but not limited to PayPal, Stripe, and Razorpay.
Here are some of the ways in which you can leverage WhatsApp to abandon recovered carts:
Share social proof
The most trusted review comes from fellow customers. If someone is hesitant about their chosen items, assure them they've chosen well.
Use WhatsApp to send positive reviews of a certain product or service left behind in the shopping cart. Try to keep these reviews as recent as possible, but that is not a hard and fast rule.
With WhatsApp Business, you can share customer reviews, ratings, testimonials, product images taken by other customers – anything that emphasizes the product's superior quality.
Make it easier to recover the cart
You know what made Google so successful in actually improving their employees' health? They made "being healthy" easy and attractive.
Do the same for abandoned carts. Make it super easy for people to complete the purchase. Using WhatsApp, you can let people complete payments with one click – two simple steps and their purchase is complete.
Ask them directly
The big advantage of WhatsApp is that it facilitates direct conversation between brand and customer. Use it.
Send a message directly asking the customer if there's a reason they have abandoned their cart. Give them multiple options to answer: budget, displeasure with available products, need more time to decide, etc.
Additionally, allow customers to type out their answers. They should be able to tell you the problem, just as they would to a friend. Not only will this help brands get more accurate, actionable information, but it will also foster closer business relationships with end-users.
Once the customer answers, do what is needed to address their problem. For example, if they state that the cart items are too expensive, redirect them to cheaper (but not worse quality) items. You can also inform them of any upcoming sales or discounts and advise that they buy the items then.
Either way, you'll know the real problem, which will make you infinitely equipped to solve it—no more guesswork.
AMP for Email
Make 'Buy Now' a breeze
Why make customers click a CTA, go to a website, log in, navigate to the cart, and then buy? Too many intermediate steps make it more likely for a customer to bounce.
Cut down the number of steps with Inbox Commerce by making the 'Buy Now' link possible inside the email. Users can enter their payment information and confirm the purchase without leaving their inbox. It does not get faster and easier than this.
Bring ease into any user journey, and customers will reciprocate by converting.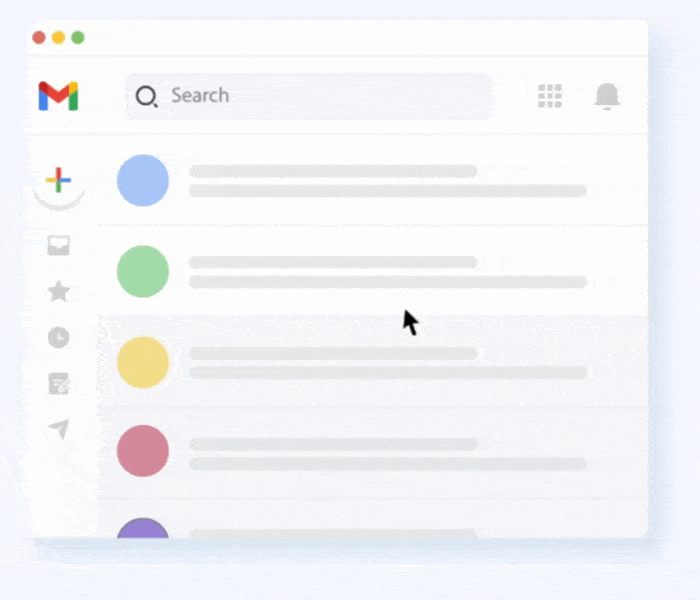 Display social proof to assure customers
It's normal for customers to oscillate a bit when deciding about a purchase. There are plenty of options to choose from, and achieving the features vs. budget balance gets difficult, too.
Give customers a boost of confidence by displaying positive comments and testimonials about the products. If, say, 50 people are talking well about something, it surely must be worth the expense.
You can present these reviews within the email body in stylized layout elements. Inbox Commerce allows you to display multiple reviews in ways that save space; users can look through them comfortably, even on mobile screens.
Don't forget to enable in-email payments: allow customers to check out and complete their purchases immediately.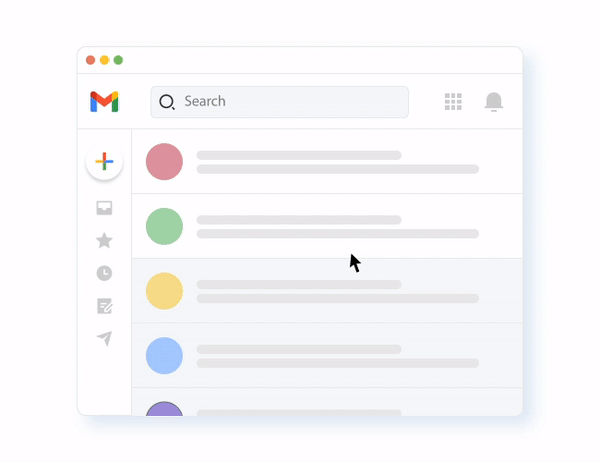 Create a little FOMO
Are any items in an abandoned cart part of a limited-edition release? Or maybe they're running on a time-bound discount that ends in 3 days? If that does happen, why not tell the customer what they might miss out on?
When we know that something is scarce, it automatically becomes more valuable. Nothing drives people to act like the fear of missing out (FOMO) on something if they don't act fast.
You can also use Inbox Commerce-enabled emails to give customers updated, real-time information on the availability of a product. Draw attention with an alert such as, "Only 5 more left!", except the '5' changes to '4', '3', '2', '1,' and '0' as days go by – automatically within the same email.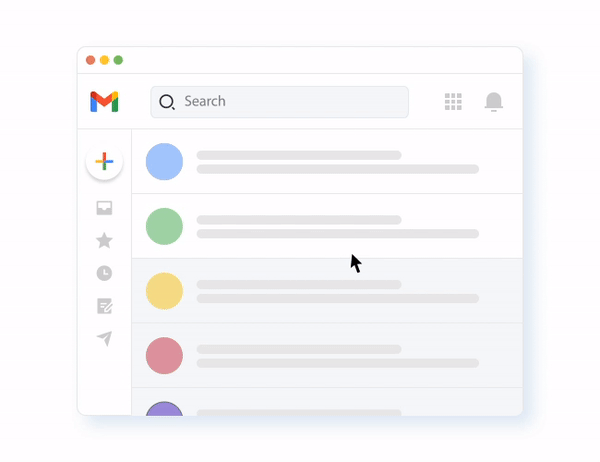 Persuade with personalization
Maybe a customer is undecided about buying something they feel may or may not work for them. Instead of convincing them to make such a purchase, show them other relevant, personalized options.
If someone has left a pair of pumps, show them other high heels. Sometimes, even a different color suggestion could work: a Cashmere scarf in burgundy left behind in the cart? Maybe they'd go for Carmine.
You can get super creative with images: give customers a distinct, visually-compelling reason to reconsider their choice, and hit the 'Buy Now' button.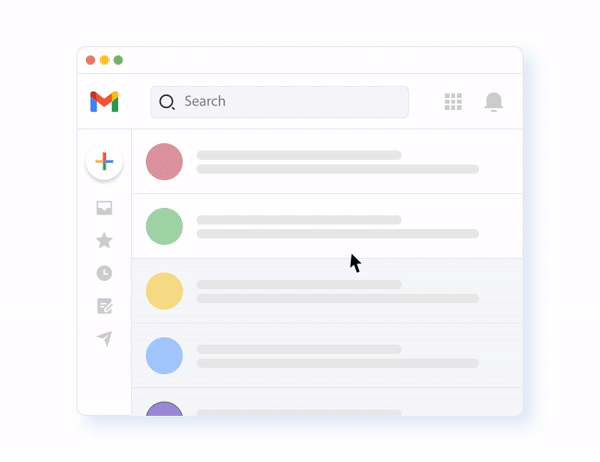 Respond to questions quickly
Is a customer is confused about optional/extra charges? Perhaps your UI is a bit challenging for a new customer to claim a discount coupon code? Cart abandonment can also occur because a customer can't move forward without some assistance.
Ensure that customers can get their questions immediately answered. Inbox Commerce elements can include FAQs that expand when clicked on, conserving screen space without compromising on detailed information.
You can also include live chatbots that can answer questions within the email. They can fetch answers from your site's backend to instantly address queries and offer guidance.
Sweeten the deal with a reward or a game
The best way to get your customer's attention is to show them they are valued. Offer tailor-made discounts and promo codes, and give customers a good reason to stick around and go through with their purchase.
Engage your customers in exciting ways. Offer your discount at the end of a simple, enjoyable game. It's easy to use elements of Inbox Commerce to present quick-n-easy games within emails – spin-the-wheel, pick a card, or a 30-second quiz.
When you give users a dash of fun, they're more likely to get into a better mood and feel good about making the purchase they had put on hold so far.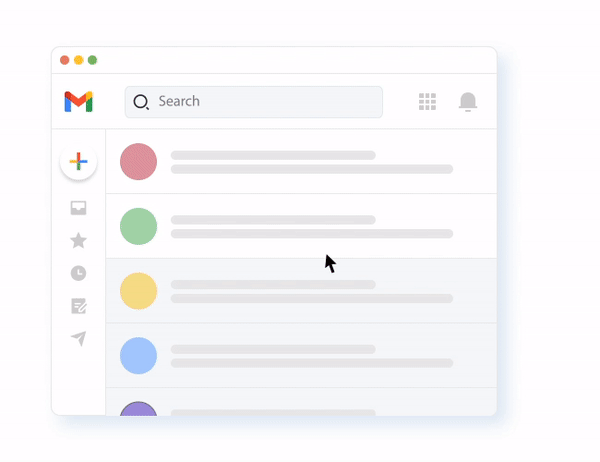 Help abandoned carts find a savior with Inbox Commerce
Ease, convenience, and novelty are the building blocks of a great marketing strategy. Inbox Commerce combines all three with the ever-compelling power of marketing technology.
And it's not just any new-fangled, untested technology. Several of our clients have already achieved outstanding successes with Inbox Commerce.
So, let's talk about helping you replicate one of those success stories. Connect with us to understand how you can benefit from our expertise and experience.
Serving over 6,500 customers across 40 countries, Netcore delivers over 1 billion experiences every day – including 500 million emails and 700 million push notifications. Netcore's AI is trained on 25 billion+ interactions from 1,300+ eCommerce stores, making it an invaluable asset for global brands.
We're constantly studying customer behaviors and patterns, optimizing processes at different levels, analyzing results, and bringing innovations to meet the highest goals in cart recovery.