Be it on Instagram, TikTok, or Twitter, you would have seen a blue tick next to user profiles and assumed (correctly) that they were verified profiles. It denotes that the profile genuinely belongs to the person whose name is on it.
In a world of internet fakes, the blue tick has become a symbol of authentic identity on social media. When users follow or interact with a blue tick profile, they feel assured that they are engaging with a genuine person or brand.
They develop trust and affinity, the two most-valued goals in communication.
Now, what if the blue tick's assurance came to the world of email marketing? Thanks to Google, it has.
Organizations seeking to use Gmail for marketing communication can now get a blue tick next to their name, signifying that their emails are originating from a legitimate source.
The idea is to reassure users that they are receiving emails from the authentic company/brand instead of a scammer.
Have a look at the image below.

Which email do you think your users are more likely to open?
To quote Google, "Strong email authentication helps users and email security systems identify and stop spam, and also enables senders to leverage their brand trust…..This increases confidence in email sources and gives readers an immersive experience, creating a better email ecosystem for everyone."
In this article, we explain everything about the new Gmail Blue Checkmark – what it is, why it came about, and why your organization needs it to create customer trust. And how you can get it.
Quoting from a Statista report, "As of the third quarter of 2022, around 32 percent of worldwide internet users between 16 and 64 years expressed concerns about companies' misuse of their personal data." Internet-savvy users understand the value of their data and their need to safeguard it from unauthorized usage. This bit is significant when we talk about the Gmail Blue Checkmark.
Gmail's Blue Checkmark – what it is
Essentially Google/Gmail will display the familiar blue tick next to a sender's name to indicate that the sender is legitimate (and not a scammer using a brand's identity). It's what you'd exactly see on an Instagram profile, except that it appears beside the email sender's name.
Gmail's blue tick expands on its existing Brand Indicators for Message Identification (BIMI) – a technology that enables companies to authenticate their brand logo. It ensures users that they are receiving an email from a genuine, logo-certified brand.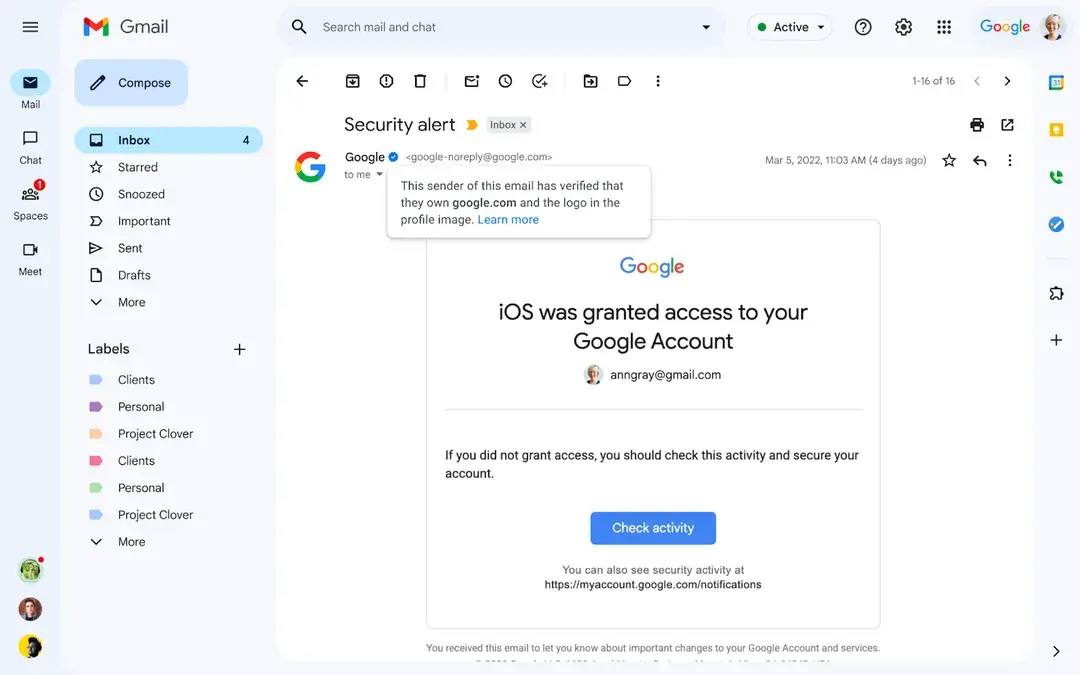 Check out the image above. When you hover over the blue tick, it will display a message saying, "the sender of this email has verified that they own xyz.com (domain name) and the logo in the profile image."
Google's intent is to provide a visual confirmation of the email sender's verified identity. The customer would know the sender is not trying to acquire their data for unethical use.
Gmail's Blue Checkmark – how it works
The blue tick conveys that an email sender has gone through the security clearances to acquire BIMI authentication.
BIMI is a feature that requires companies to implement robust authentication mechanisms, verify their brand logo and be able to safeguard user information with greater certainty.
Before the advent of the blue tick, BIMI-enabled senders got to display their brand logo as an avatar right next to their name in users' inboxes. When users see this, they instinctively know that they're not getting contacted by an impersonator.
Do you really need a Blue Checkmark for your Gmail account?
If you're a business/organization that wants to email your customers, the answer is an emphatic "yes," and here's why.
While BIMI is perfectly effective in ensuring that email senders can protect user data (and use it by ethical standards), their user base might not be aware of it.
Most email recipients do not know what BIMI is and therefore it doesn't make a difference if a sender declares they are BIMI-enabled. Most don't realize that a BIMI opt-in means increased data security, especially since brand logos can, under certain circumstances, be faked.
Hence, all the effort brands had put into getting the BIMI didn't always translate to increased user trust, because users didn't always associate BIMI with enhanced authenticity.
In comparison, the blue tick is already a globally recognized symbol of "verified identity." When Gmail places that tick next to a sender's name, they immediately relate: blue tick = the real deal.
The increase in spoofing, phishing, and fraud emails has led users to be equally cautious about protecting their data. Generally, they won't open an email unless the content is relevant and they feel it comes from a safe, verified source.
Additionally, the fact that you went through the complicated process of opting in for BIMI actually pays off in this instance. Users can see that you've put in the work, and you get rewarded with more trusting users, higher open rates, and their willingness to give their information.
Who can get a Blue Checkmark?
All Google Workspace customers and legacy G Suite Basic and Business customers can go for the Blue Checkmark. As of now, the feature is mainly designed for organizations, since signing up for BIMI is primarily done by corporate entities, not individual users.
How to get a Blue Checkmark?
You will automatically get qualified for the Gmail blue tick if your account has BIMI in place.
If not, you have to get BIMI first, and here are the steps:
Implement DMARC with an enforced policy of p=quarantine/reject
Configure BIMI for your domain
Get a VMC issued for your logo from a trusted certificate authority
A prerequisite of BIMI is an airtight DMARC configuration set on your company domain. The DMARC records let the email recipient decide how to treat emails from brand domains with failed or absent authentication. Basically, the receiver can check if it's safe to display the brand's logo.
The entire process of BIMI-approval can get complicated and fairly time-consuming. Describing each step would turn this article into a short ebook; if you're curious, have a look at the in-depth explanation in our other blog:
The Blue Checkmark makes a difference to your email marketing
If you're trying to conduct digital business in 2023 (or afterward), you know the increased focus on data security.
Users will rightfully hold back their interaction if they do not trust a vendor or brand. It's on the brand to go the extra mile and achieve third-party verification of its data security status.
The blue tick is an essential step in this direction to encourage users' email engagement and interaction. However, getting through the process of getting that tick (via BIMI opt-in) isn't exactly a cakewalk.
Getting the DMARC implemented and the VMC issued for your logo requires technical expertise, considerable set-up effort, and significant digital paperwork.
This is where Netcore can step in. We can help you get your BIMI approval quickly and conveniently. You can send emails with a blue tick and establish much-valued trust with users; after all, they can make or break your brand.
Our goals revolve around optimizing and refining email practices to achieve maximum customer engagement.
For the second year in a row, we received the "Highest overall customer rating" as a Customers' Choice, in the 2022 Gartner Peer Insights "Voice of the Customer" Report.
Connect with us to understand how you can benefit from our expertise and experience. We send over 20 billion emails a month on behalf of 6500+ businesses across 40 countries. We're constantly analyzing results, studying trends and forecasts, optimizing processes at different levels, and bringing innovations to meet the highest goals in email ecosystems.