Who doesn't like receiving gifts? It's a great way to show people your affection, and it's become a mainstay in the post-pandemic era. Limitations in physical meetings can be compensated by sending personalized gifts to your loved ones. One doesn't even need an occasion to gift! But picking the right gifts is often tricky for people, especially when they're shopping online.
This new era has given rise to many gifting and lifestyle brands that are constantly trying to one-up the other in this challenging market with the looming threat of marketplaces and rising demands of new-age customers.
Omnichannel engagement for better gifting experience
Getting consumers to discover the right gifts and getting them to purchase are some of the challenges especially faced by gifting and lifestyle brands. It's even more challenging in direct-to-consumer (D2C) channels. By delivering personalized content across multiple channels like in-app via nudges, emails, push notifications, and across the web, you can show the best offers and products based on an individual customer's preferences.
When 80% of customers are more likely to purchase based on personalized experiences and with so many channels available today, personalized omnichannel engagement is a must-have to maximize returns from every customer interaction with your gifting brand.
Now, let's look at 21 ways your gifting and lifestyle brand can engage with customers better by delivering personalized experiences across channels.
1. Bestsellers widget
Often seen on the website homepage, this widget shows the best-selling products that may pique customers' interest.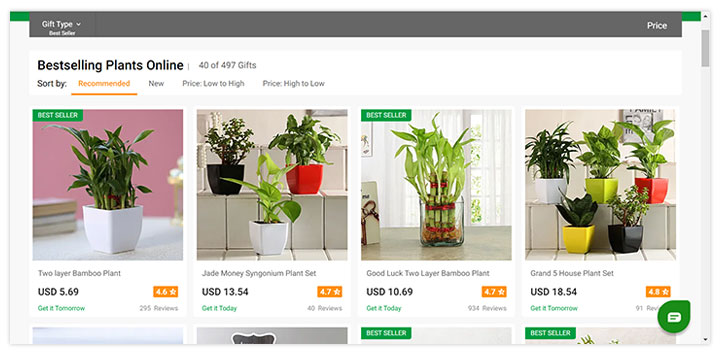 Ferns and petals go further and show bestselling products by category to show the most popular products across different segments.
2. Show new visitors a welcome offer
Converting a customer at first interaction takes some persuasion, given that there are many gifting and lifestyle brand options and little to no customer data. Customers can get too picky. Showing them a welcome offer or discount on first interaction increases the chances they purchase items.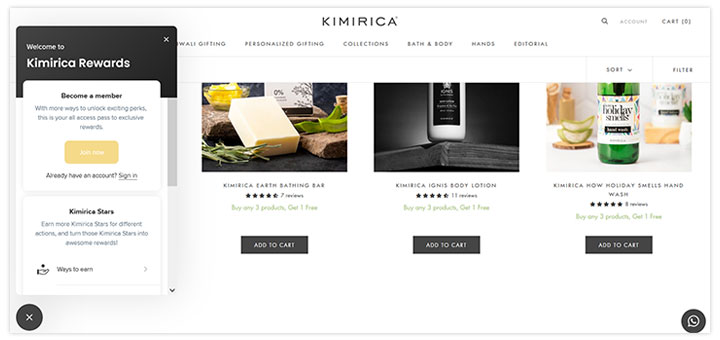 Kimirica shows membership rewards as a welcome offer to encourage more interactions.
3. New arrivals
The new arrivals widget shows the latest products your gifting brand has in store for customers. You could also personalize these new arrivals based on customer viewing and purchase history.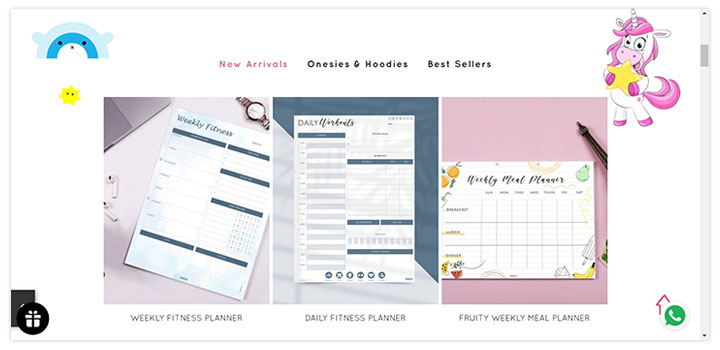 Mango People shows new designs of their products by category to encourage customers to see what's new. This might just trigger an impulse add-to-cart or purchase and is a great way to introduce customers to the brand and what they bring to the table.
4. A/B banner
Gifting is subjective, and some products that are considered a good choice by some may not be attractive to others. So how do you find this out and show the best products? A/B testing banners. Your gifting and lifestyle brand can show different product banners to different audiences to see what's working.
Here is Harry's banner for the UK: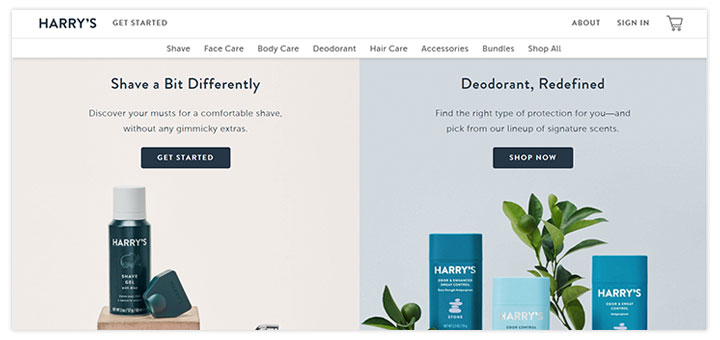 And a different one for the US: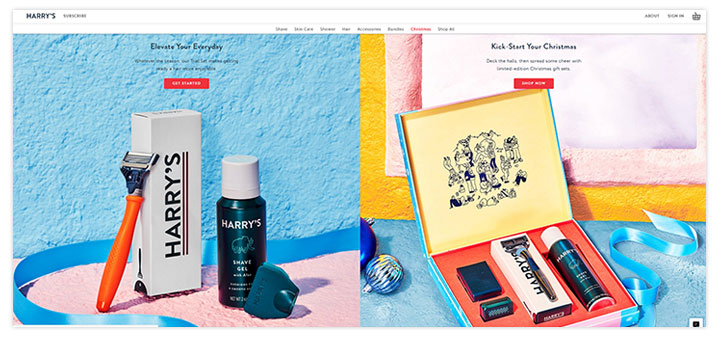 5. Search personalization
Customers have specific tastes and preferences when they're buying- whether for themselves or others. Your gifting brand can show personalized search results to reflect these tastes and show the most relevant and personalized products.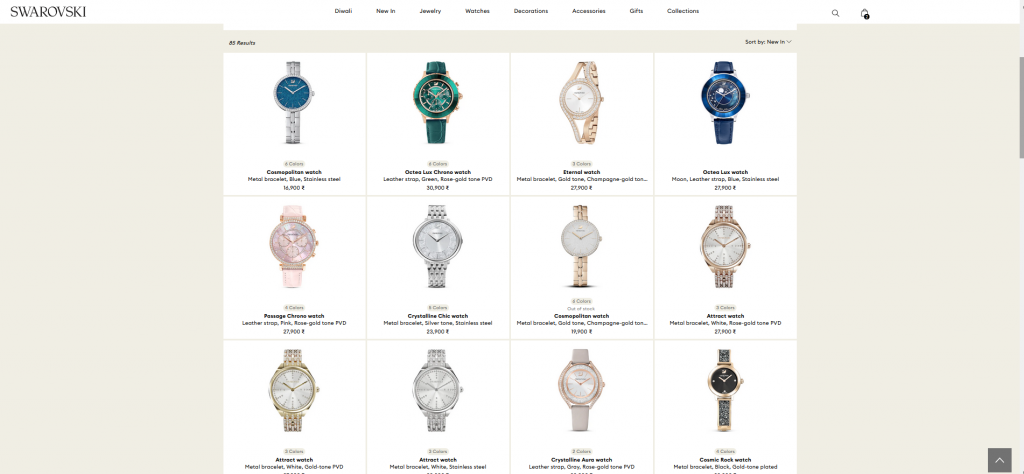 Swarovski shows only round-face watches once it learns that the user doesn't prefer square or rectangle shapes.
6. Product display page
The product display page or PDP is the last point before a customer adds an item to the cart. Displaying as much information as possible without making the page crowded is an excellent way to ensure higher add-to-carts.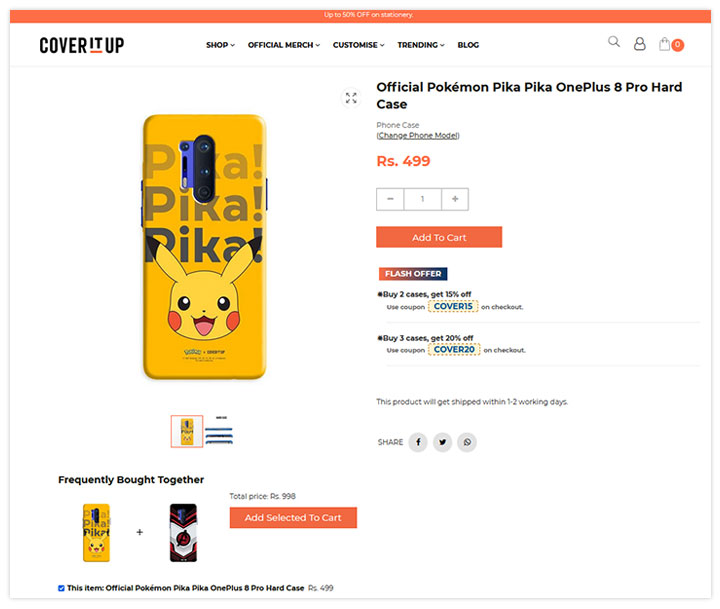 Coveritup, on its product display page, shows product information and also additional offers.
7. Seasonal offers
Seasonal offers and festivals are a great way to boost conversions. Running special offers and discounts at this time encourages more shoppers to purchase.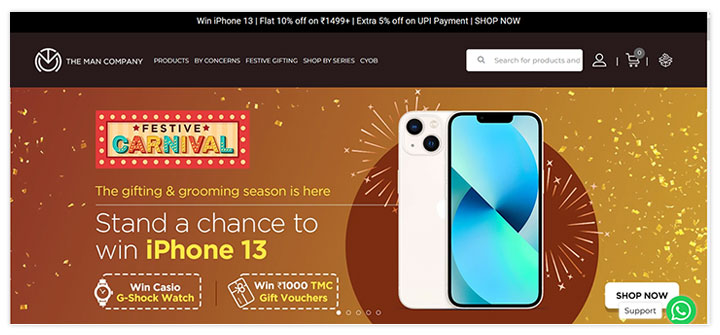 The Man Company encourages shopping more with a variety of discounts and lucky draw contests.
8. Recommend the best products based on a customer's previous behavior
When looking at a particular product or after adding to cart, you can show a 'You may also like' widget to display similar products. These could be items that other shoppers also purchased and hence likely that the current shopper also does. This way, you can show products that the customer may not have discovered on their own.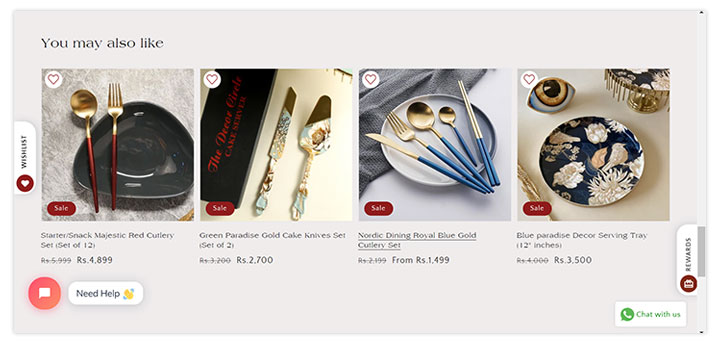 The decor circle shows attractive cutlery to compliment when a viewer is looking at a ceramic plate.
9. Recently viewed products
When browsing their products, customers may often forget that they've already seen something they liked and keep on browsing. This may lead to a drop in interest and them exiting your website without picking a gift. And we don't want that.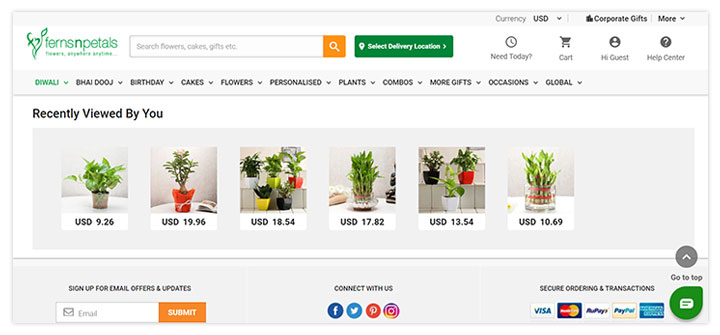 You can see in the above example where a widget shows all products recently viewed by someone using the website.
10. Web push notifications
You can stay in touch with visitors even after they switch tabs and start browsing other sites. Or have just become inactive. By delivering offers via personalized web push notifications, you can re-engage them regardless of whether they're on your website or not.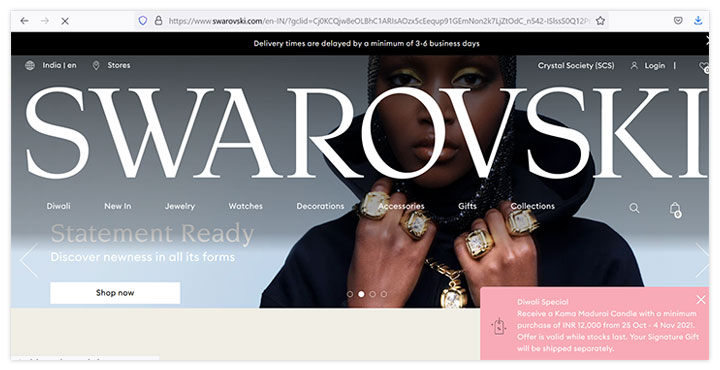 Swarovski shows a special limited-time offer with web push notifications.
11. Cross-selling related products
Certain items work well with others. But your customers don't know that until you show them. 'Works well with widget' is a good way to cross-sell products that compliment each other in how they'll be used.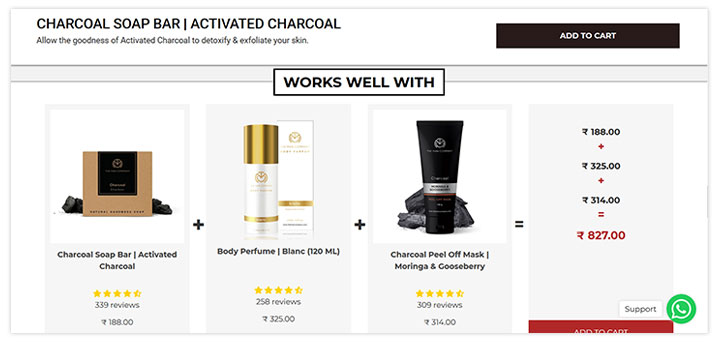 The Man Company shows products that 'work well with' the item currently being viewed. The result? If the customer likes it, the cart value can increase significantly.
12. Upselling (you may also like)
Upselling is a different way to increase cart value where more expensive versions of the same product are shown to the same customer. Depending on what the customer values and if they like the higher-priced product, it can persuade them to checkout with a higher cart value.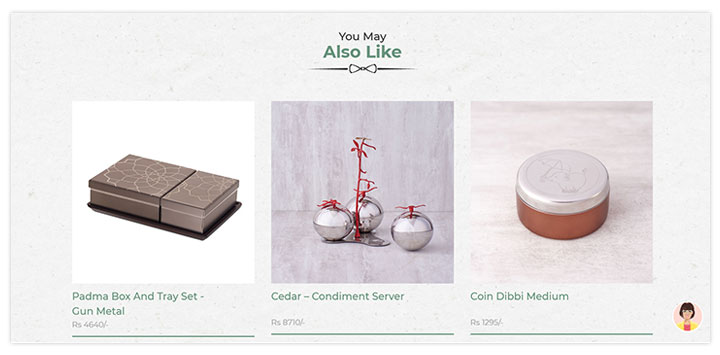 Arttdinox shows similar but more expensive versions of a container.
13. Exit-intent popups
A final attempt to keep customers on your website is exit-intent popups where you can show your best offers before the customer drops off. By giving them a reason to stay on the page and take action, you increase the chances of retention and purchase.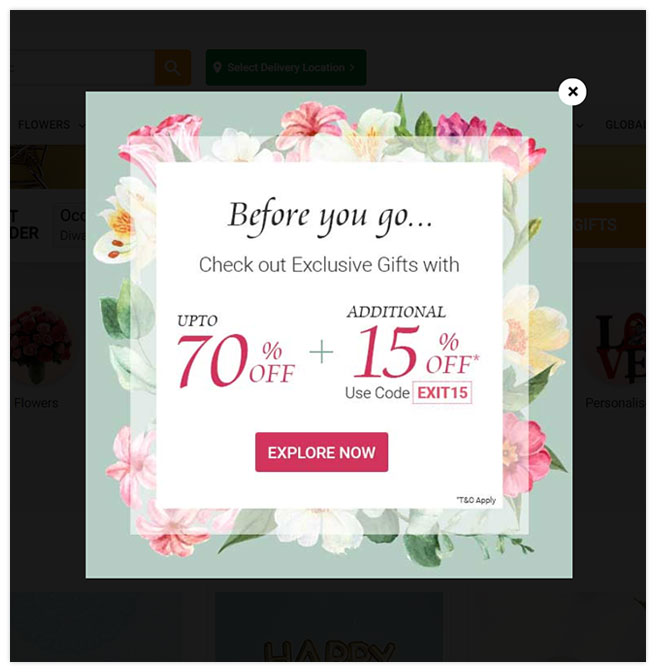 Here you can see significant discounts as a last attempt for the visitor to purchase items.
14. Personalized cart abandonment emails
Even after exit-intent popups, users may abandon their carts. At this point, you can send them emails with personalized offers to re-engage them.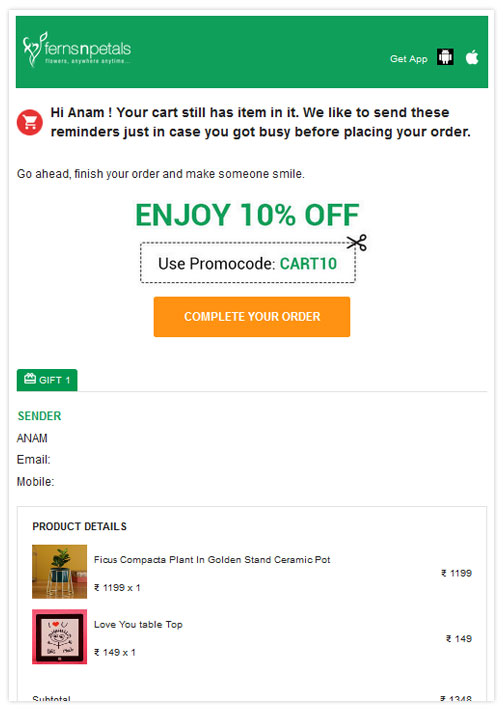 Here you can see an email with a list of all the products in the cart with an offer to encourage completing the checkout.
15. Reactivate dormant customers to encourage re-purchase (email)
While gifting is an occasional activity, customers can also purchase some of these items for themselves. When customers become dormant and haven't purchased for a long time, you can send personalized emails with offers.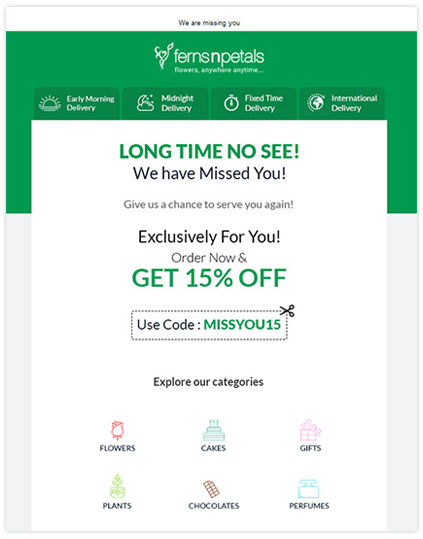 Here we see an exclusive 15% off for encouraging the customer to purchase again.
16. Web message
If a visitor keeps browsing for a long time in the same category, you can show them a web message with an offer to get them to purchase it.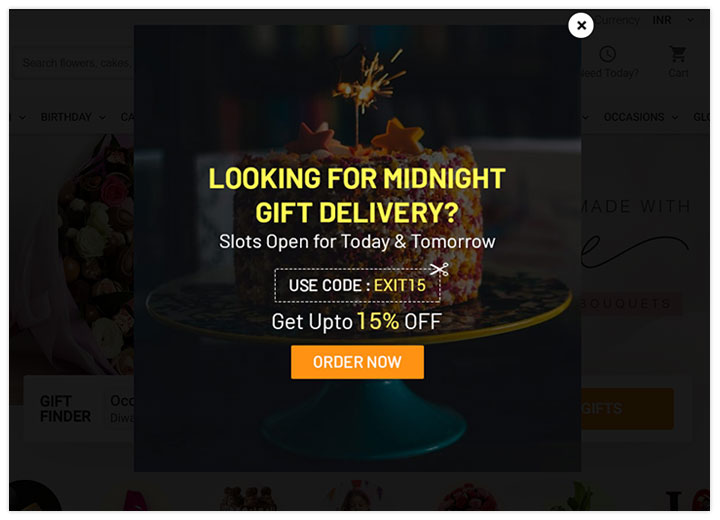 Here we have a 15% off while also informing about the delivery slots to further encourage conversions.
17. Smart push notifications
Web notifications are seen only on computers, but you can reach consumers through your gifting brand's mobile app notifications—smart push notifications sent at the right time boose chances of a user completing the order.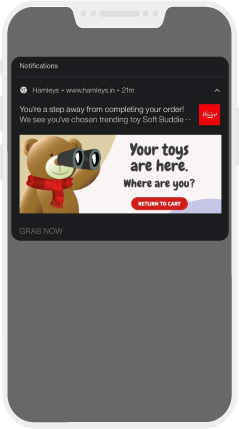 Hamleys use a pleasant-looking push notification to remind customers to complete the order.
18. In-app messages
In your gifting lifestyle app, showing an in-app message with an attractive offer personalized to their choices grabs user attention. The message could also show a big offer your brand is running, so users know to check out these discounts.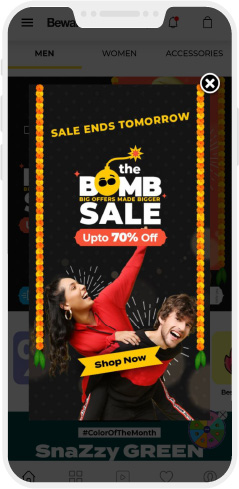 In the above example, you can see an in-app message showing a 70% discount, something every user should see.
19. In-app nudges
A more subtle way to boost conversions from the cart is by showing in-app nudges. Once the product is in the cart, your gifting brand can show a nudge for completing checkout. Nudges can also be used as a gentle push for other actions like adding products to a wishlist.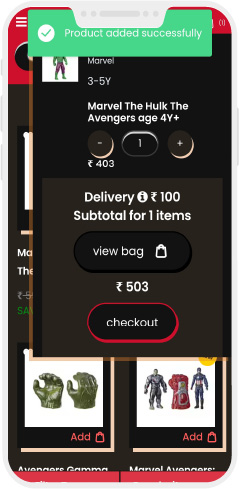 Hamleys promptly shows that an item has been added to cart and has the checkout option visibly placed.
20. SMS
Aside from online channels, SMS is a great way to deliver short texts with offers on your gifting and lifestyle products. You could send personalized and limited-time offers on SMS.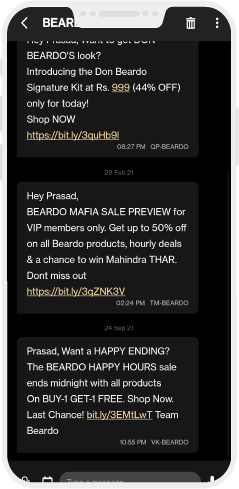 Beardo sends a variety of promotional offers over SMS.
Reach your gifting brand's customers better
Simple recommendations are limited, and personalization helps your consumers pick the right gifts. You ensure higher customer engagement by powering your D2C gifting brand recommendations with AI and delivering them across multiple channels. This leads to more add-to-carts and purchases. When an astounding 91% of shoppers willfully abandon an online store for a poor shopping experience, showing them personalized recommendations across touchpoints can make a lot of difference to the bottom line.
To learn how Netcore Cloud can help your gifting and lifestyle D2C business, check out this page.