Interactive Inboxes
From B2C platforms to D2C websites and marketplaces, eCommerce is the biggest generator of business on the internet. We can buy products from anywhere in just a few clicks. However, one of the biggest challenges that sellers face is converting people that browse into shoppers and loyalists. Some eCommerce brands benefit from familiarity and pull, but most need to push (persuade people to visit brand properties).
Competition in eCommerce is intense, with several platforms competing for attention from billions of shoppers. Brands use email, SMS, WhatsApp, and push notifications to engage with customers. This is the world of Martech, driving retention and engagement. Adtech is even bigger, attracting users elsewhere on the internet to acquire new customers. As competition grows, Martech and Adtech spends spiral and could hurt profits if not controlled.
The internet has made every online shop accessible and equidistant. However, we are fickle and not easily persuaded. We ignore most brand messages, making it hard for them to reach us. This forces them into ever-increasing customer acquisition costs (CACs). Even when we have a relationship with brands, we always look for attractive deals.
The internet has widened the pool of buyers and small sellers and brands compete to attract customers. Sellers can easily set up an online store and/or expand their presence on marketplaces. Technology has made acquisition, retention, and lifetime value maximization easier. However, ensuring speedy delivery and managing returns are challenges that still exist.
The internet has transformed shopping, yet eCommerce has largely remained the same. Actions and transactions still occur on the brand's properties or via intermediaries on their websites and apps.
All this is about to change. We are entering the 'Inbox Commerce' era, where transactions can be completed directly in messaging apps, removing click-throughs.
AMP in email eliminating redirects and creating mini-apps inside email.
SMS becoming two-way (regulations in India keep it one-way).
WhatsApp opening its platform for brand conversations. WhatsApp Pay will simplify buying inside the app.
RCS, similar to an SMS upgrade, bringing commerce and consumers closer.
AI-enriched product catalogs improving relevance and recommendations across channels.
Chatbots creating search and browse workflows.
ChatGPT showing how a search bar can become a window to everything.
These innovations will change the 'where' of commerce. Traditionally, brands have been expected to bring buyers to their websites or apps to complete transactions. This created friction because push messages like email and SMS had to make customers click and visit the brand website.
Introducing interactivity in push channels ensures commerce can be done directly from the inbox. This could be one of the most significant milestones in eCommerce in years if not decades.
The biggest impact among all these innovations will come from what I call 'Email Shops.
The current state of eCommerce
Before discussing Email Shops, let's look at eCommerce through a few slides and tables.
eCommerce sales growth and projection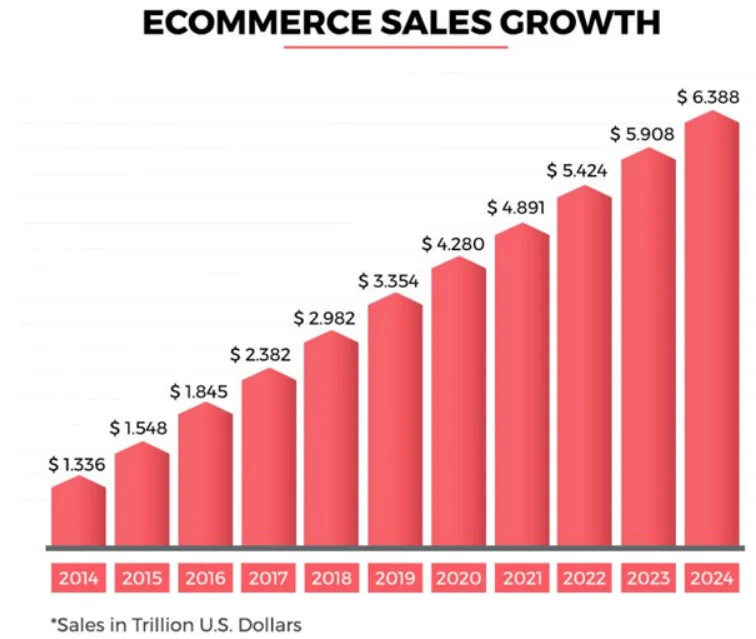 (Source: outgrow)
The biggest eCommerce sectors (in billions)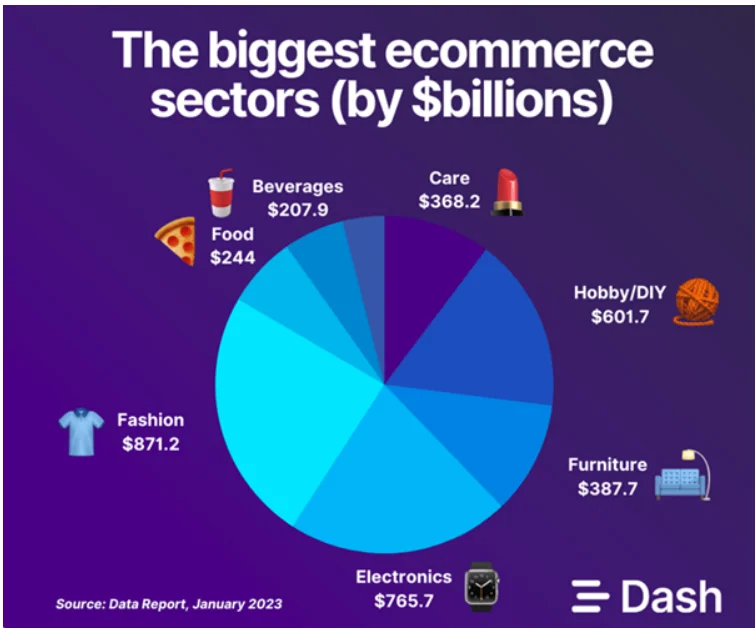 (Source: Dash)
Top online purchase drivers in 2023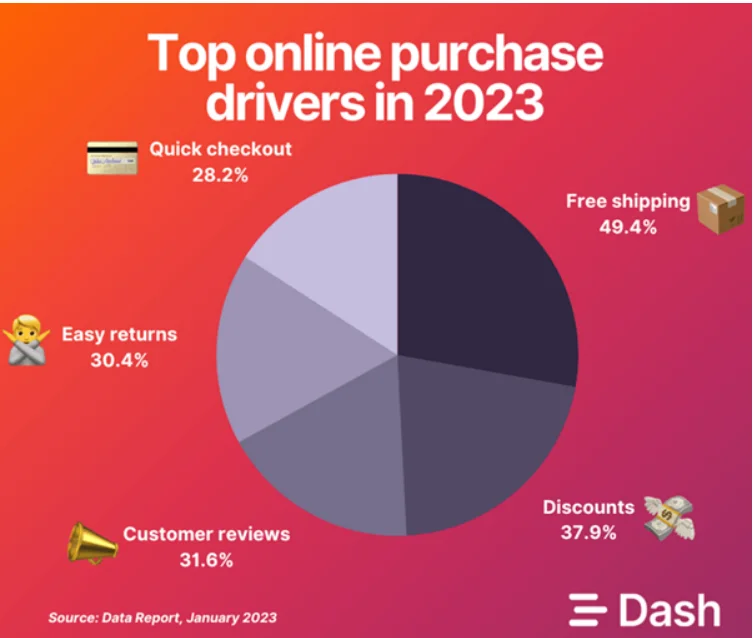 (Source: Dash)
How do shoppers first hear about new brands online?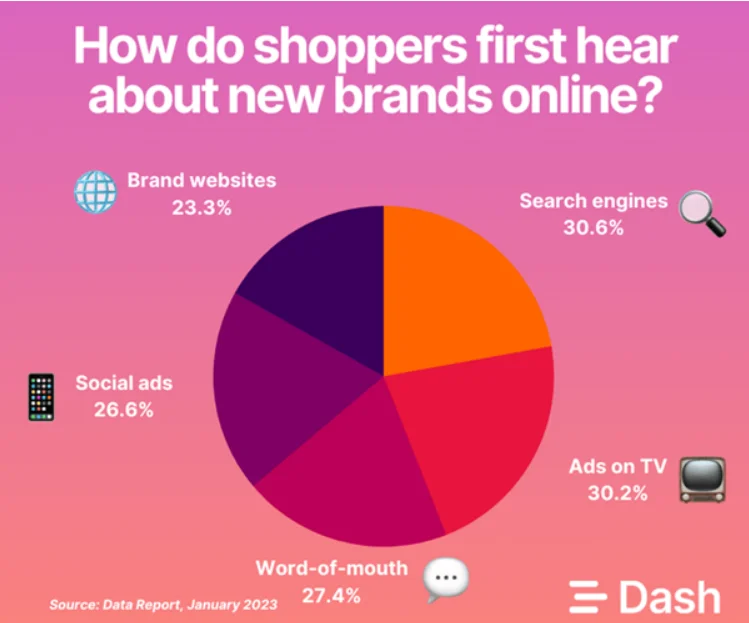 (Source: Dash)
Most popular eCommerce platforms in 2023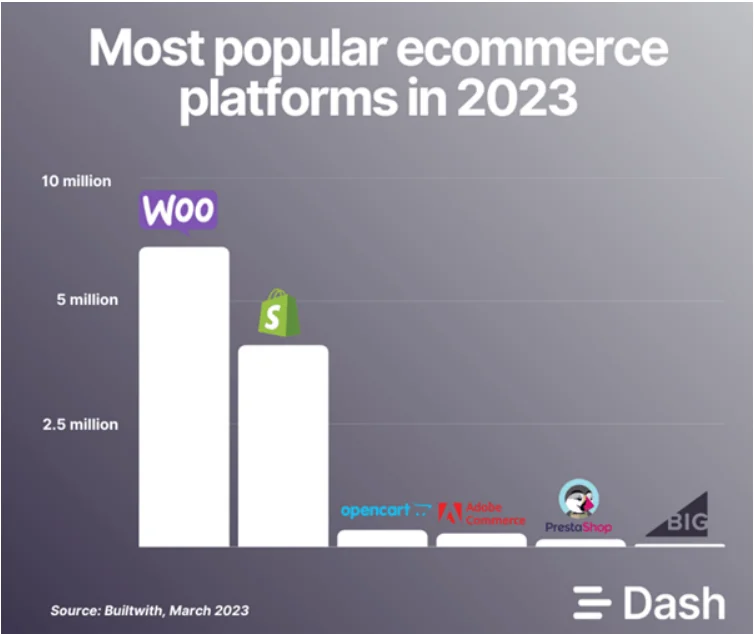 (Source: Dash)
eCommerce beats in-store shopping in convenience and time saved
Online shopping trumps in-store shopping thanks to convenience, time, and product selection, factors physical stores struggle to compete with. Stores do have some advantages over eCommerce that are difficult to replicate. However, retailers have managed to close that gap. Brands use digital channels and location services to push customers to reserve items for in-store pickups, giving them the best of both worlds. Augmented reality is helping consumers see products in their homes. However, these offerings are a poor substitute for a tactile experience.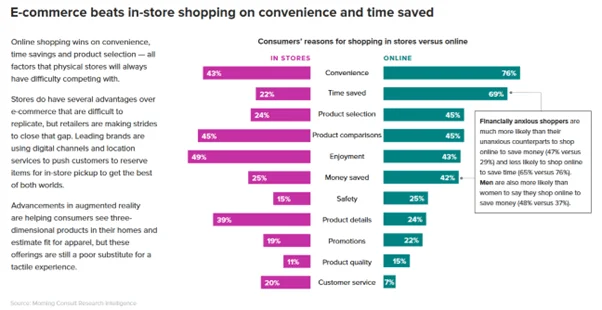 (Source: Morning Consult)
What does convenience really mean?
Ultimately, convenience means shopping from home, ideally enabled by free and fast shipping. Among shoppers who said they shop onoine because its convenient, its all about staying comfy and saving time. Compared with shoppers who preferred going to stores, convenience-driven online shoppers particularly enjoy algorithmic recommendations, comparing products across websites, and, of course, quick shopping.

(Source: Morning Consult)
Why do consumers abandon their shopping carts?
(Source: Forbes)
20 eCommerce challenges and solutions
Cyber data and security
Converting shoppers into paying customers
Attracting the perfect customer
Customer experience
Customer loyalty
Online identity verification
Competitor analysis
Price and shipping
Product return and refund policies
Finding the right tech partners
Customer support
Cross-border eCommerce
Marketing budgets
Going omnichannel
Data privacy
Logistics
Store agility
Customer expectations
Placement of elements within your page
Sustainability
(Source: vue.ai)
5 trends that will shape the future
Personalized experiences – 43% of consumers prefer companies that personalize experiences.
Interactive content – 81% of marketers believe interactive content is more effective than static content.
Intelligent chatbots – businesses can save 30% in customer support costs through AI-powered chatbots that give consumers high-quality service.
One-click ordering – it can help customers save time by choosing a default shipping address and payment method.
Augmented reality – the augmented reality app market is expected to reach $15 million by 2022.
(Source: outgrow)
eCommerce trends to watch for in 2023
Social eCommerce playing a larger role, including as a point of sale.
Economic uncertainty turning customers into intentional shoppers.
International eCommerce is expected to grow
Consumers want sustainability, and brands are looking to deliver.
Consumers and merchants using digital payments.
Automated customer service offering convenience and speed while maintaining quality.
Delivery experiences becoming more important for shopper satisfaction.
Shoppers want easier returns, while retailers implement strict policies.
(Source: Fedex)
2023 eCommerce Trends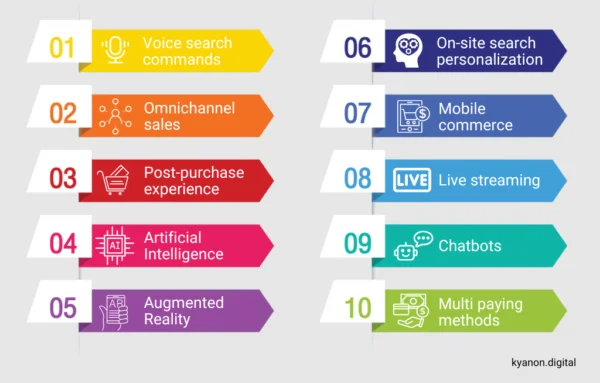 (Source: Kyanon)
eCcommerce trends for the year 2023 and beyond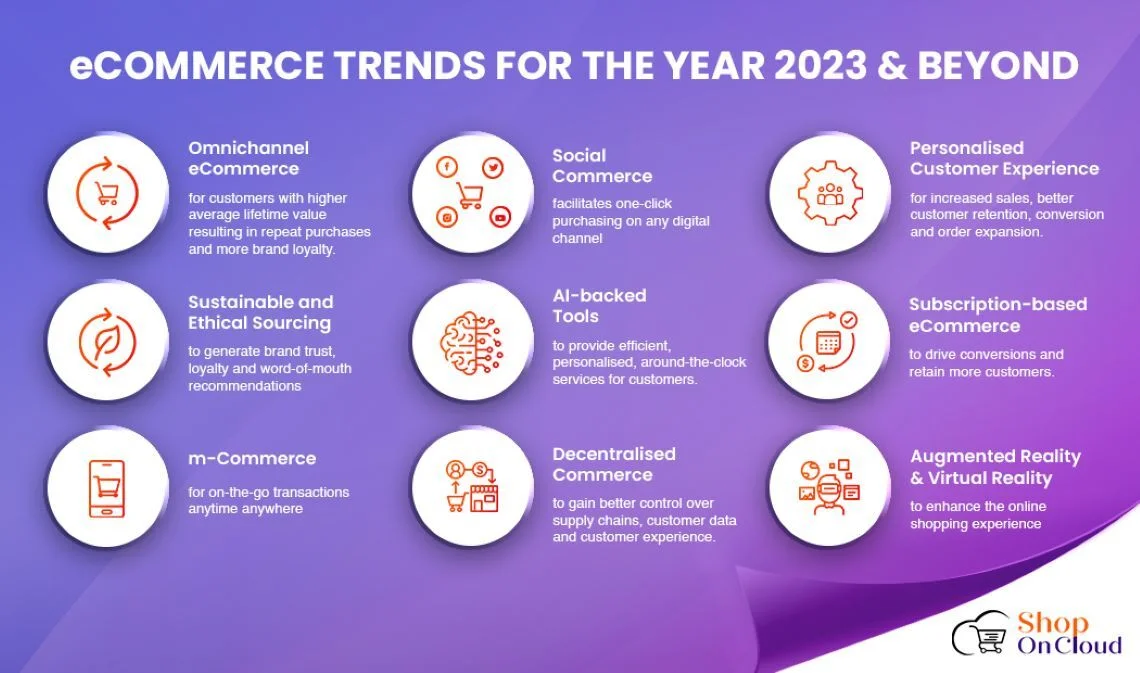 (Source: ShopOnCloud)
Omnichannel shopping: the best of both worlds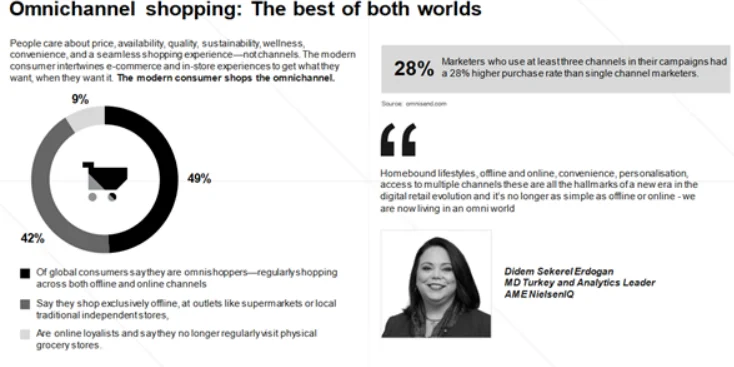 (Source: Nielson)
The evolution of eCommerce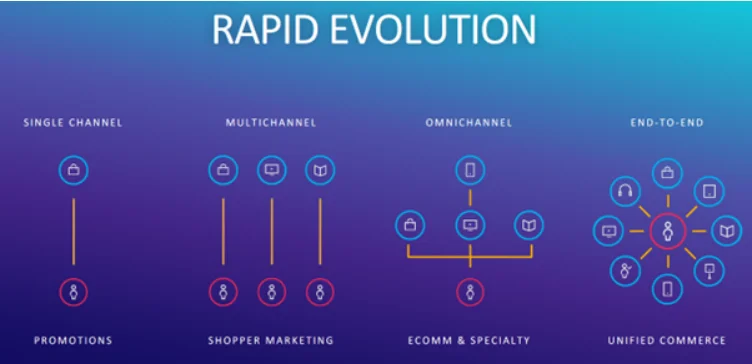 (Source: Beth Wade's presentation at Shoptalk)
My key takeaways:
While offline is massive, online is gaining ground and has been for the past 25 years.
The future is omnichannel.
Supply chain challenges have increased in the past couple of years.
Cart abandons and returns are key challenges.
However, a few things have yet to be discussed.
How to remove the friction of conversion in shopping.
Innovations in push channels.
How email can transform eCommerce.
We will look at these when we discuss 'Email Shops.'
Continued in Part 2…