We have all been tempted to pick up a new skill or two during the COVID-19 lockdown haven't we? Whether it's a result of peer pressure or the situation demanding us to upskill ourselves, we have definitely come to the happy realization that our journey of learning doesn't stop despite the lockdown. For online learners like business professionals or students, this can be attributed to Education Technology (EdTech) platforms. EdTech and e-learning has opened up a whole new avenue for us to make use of our time productively during the lockdown. And yes, the five minute food recipe videos on YouTube have been a great source of inspiration too.
The EdTech industry has been a huge beneficiary of the digital revolution in the education sector. EdTech in India alone is a $2 billion industry, while being home to over 4,450 EdTech startups. From basic school education to professional certification programs, there's something for everybody. EdTech at large caters to learners across generations, and the need to engage them all is a great challenge.
With learners eagerly adopting EdTech platforms during the lockdown, EdTech has garnered a lot of interest. With learners being restricted indoors, their behaviour has also changed. Learners are regularly accessing EdTech platforms on their desktops/laptops for a more immersive experience rather than through hand-held mobile devices with smaller screens.
A report by SimilarWeb in early May this year analyzed the top 35 e-learning websites, to understand the pandemic's overall impact on the EdTech industry in India. It found that this segment has seen a growth of 25.87% over the last year. Players like Udemy, BYJU'S (Think & Learn Pvt. Ltd.), Coursera, Toppr, Gradeup (Gradestack Learning Pvt Ltd), and Unacademy are seeing these times as an opportunity. Some of the takeaways from the analysis were:
● In April 2019- Feb 2020 the segment had average visits of 102.2M. However, in the last 28 days (prior to 5-5-2020), the segment has seen 128.8M visits already (4.6 M visits daily)
● Bounce rate has improved by 8.5%, and visitors are spending 2 minutes 49 seconds more time on these platforms
● There is also a shift in device preference among the users, as 68.29% of users till February end were using mobile websites. However, desktop has overtaken mobile web traffic by 51.75 in the last 28 days.
A lot of these platforms have been offering deep discounts and free subscriptions as a part of their initiatives to enable learners to continue their learning journey at home. How can these platforms adapt to a post-COVID situation when learners go back to their regular lives? While remote learning is here to stay, how can they plan for future growth?
The way ahead for EdTech
Artificial Intelligence (AI) in 2020 is a powerful tool to enhance customer journeys with personalization. It can help address core business objectives like user experience for EdTech platforms. End-to-end user experience across multiple platforms like mobile, web and apps are like an infinity loop, they cannot be ignored post the lockdown or COVID-19 crisis. EdTech players should therefore work towards creating a wonderful experience for their users at every stage. This will go a long way in reducing user churn rate in the long term. Additionally, users with higher lifetime values should be identified and prioritized with value offerings.
So what can EdTech platforms do differently to retain their users post the lockdown? Well, they can surely take a leaf out of the playbook that OTT streaming platforms have been using for some time now. While EdTech platforms rely mostly on video based content like OTTs, it is now the time for them to innovate with personalization technologies. They will need to optimize, personalize and humanize their offerings in the near future. As competition in the segment is already cut-throat, it will become critical for EdTech platforms to know the likes, dislikes and interests of its users by carefully analyzing their digital footprints across devices with the help of Marketing Technology (MarTech) tools.
Here are some ways EdTech can continue to wholistically engage its users in the post-COVID world:
Use AI to gather better insights
EdTech platforms today can be accessed via both apps and internet browsers on a variety of devices. To ensure user engagement and delight throughout, AI led tools can be used to plot personalized customer journeys. Customized recommendation engines can be built which are geared towards optimized course suggestions and a variety of other applications for its users.
For example: if a segment of users on an EdTech platform have signed up for courses related to digital marketing, with the help of AI they could receive,
Personalized course recommendations and reading references
Peer based gamification elements like module completion
Reminders to complete modules through mobile push notifications
Updates on live webinars or test results over WhatsApp
Leverage AI to improve Customer Experience (CX) with chatbots
Customer service can be a make or break for competitive industries like EdTech. AI powered chatbots can be used to quickly address customer queries 24*7. AI powered chatbots in contrast to logic based chatbots are more efficient, not to mention more affordable these days. They can be intuitively used for a variety of use cases.
For example: chatbots can help users get a quick walk through of the courses that a platform offers in a certain domain and guide them to one that best suits their requirements through a series of self assessment questionnaires.
Use gamification elements
Gamification is a great way to get users to spend more time on a platform and explore all its features before the trial period ends. EdTech platforms can engage users in a fun and interactive way with the use of dynamic elements like timers, spinning wheels, shareable course completion badges and learning contests.
How to convert and retain app users at scale using personalization
Use app insights to hyper personalise user experience
With all the user data generated during the lockdown, it will become essential to learn about habits of users, interests, their likes, dislikes, wants and needs to stay relevant and competitive in the market. These insights can further be used to cross sell products or services to existing users and retain them.
For example: a learner who has completed a digital marketing course may be interested in a marketing analytics course in the future.
Use customized app push notifications
App push notifications may be annoying to some users, but if done right, they can yield great results. Highly personalized messages can be sent to nudge users in a relevant and timely way using AI. Notification reach can be amplified with send time optimized media notifications. User attention can be garnered with customized notifications by
testing various parameters with the help of AI.
For example: users who have signed up for digital marketing courses can get app push notifications about course updates and new courses in digital marketing which may be of interest to them.
Use website notifications to your advantage
With the latest updates on popular internet browsers like Firefox and Google Chrome, website notifications have taken a hit. These changes favour quieter notifications on browsers for increased engagement. Quiet notifications are triggered discretely only after the user has completed certain actions on a webpage like read 75% of its contents. Customized and contextual notifications will result in higher intent traffic flowing into websites, better engagement, lower churn rate and a seamless experience for users who are likely to spend more time on a website.
Make use of the right email automation strategies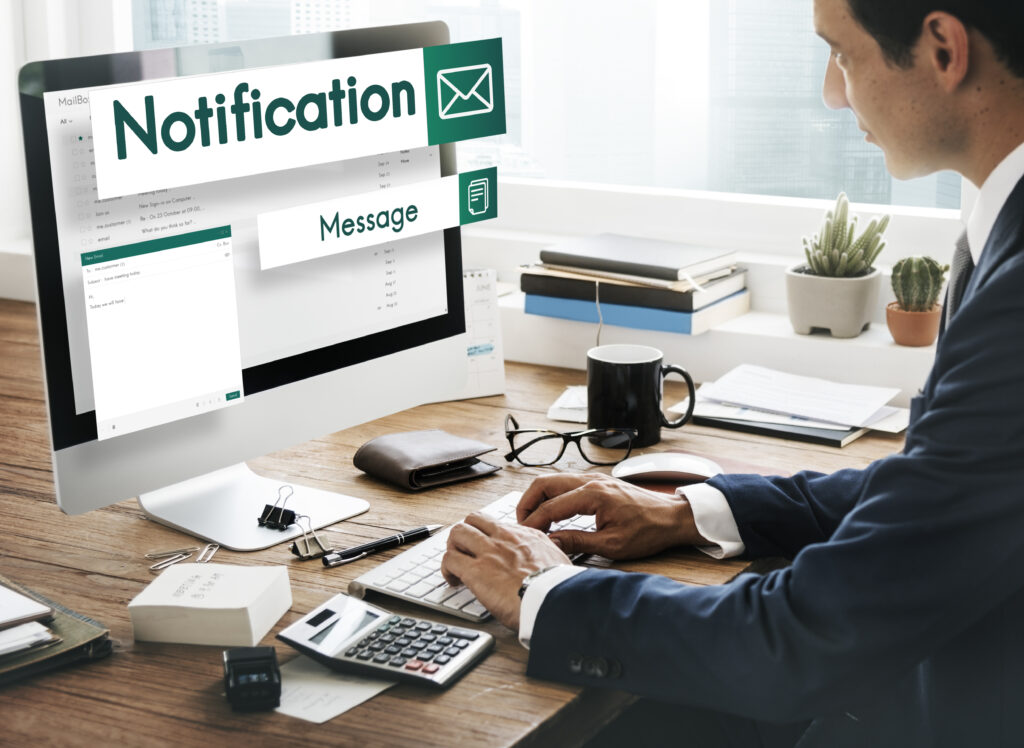 While the lockdown situation has come with its own set of challenges, it offers a great opportunity for marketers to break the clutter with exceptional email campaigns. Alert users about webinars, offers, new courses and industry updates of their preference with email automation. Customized email campaigns triggered by customer actions in real-time can result in an uptick of high-intent traffic on platforms. Check the efficacy of multiple versions of email campaigns with MarTech tools.
Leverage WhatsApp notifications
The lockdown has created a situation where messaging platforms like WhatsApp have witnessed upto 40% increase in usage. By using WhatsApp Business Solution, EdTech platforms can seamlessly interact with customers on WhatsApp. With features suited for a wide variety of use cases in the form of templates like customer queries, billing, feedback and alerts, instant user gratification is guaranteed with this service.
Leverage User Generated Content (UGC)
The power of user created content is relatively unexplored in e-learning. Make use of UGC on EdTech platforms (example – math tricks & shortcuts) to improve peer learning and engagement. Studies have shown that peer learning is powerful. But UGC should ideally be monitored using AI and help drive search relevance on EdTech platforms.
It is important to keep your communication with users as humane as possible during these testing times. Keep users in the loop about all the latest happenings in the industry and help them choose courses most aligned to these needs. This is most relevant to users considering shifting career domains like an IT professional looking at the data sciences job market.
EdTech users may be required to reskill themselves post the lockdown too. Using the best MarTech tools, EdTech platforms can help deliver what their users need the most – the right kind of learning to keep themselves relevant in the post-COVID world.
Ready to learn what MarTech suits you the best? Reach out to us today.