As we continue to grow together in 2022, we want to take a moment to share some highlights from 2021, and give you a glimpse of how we have been preparing to help you power personalized experience at scale and increase customer delight.
500+ Brands Onboarded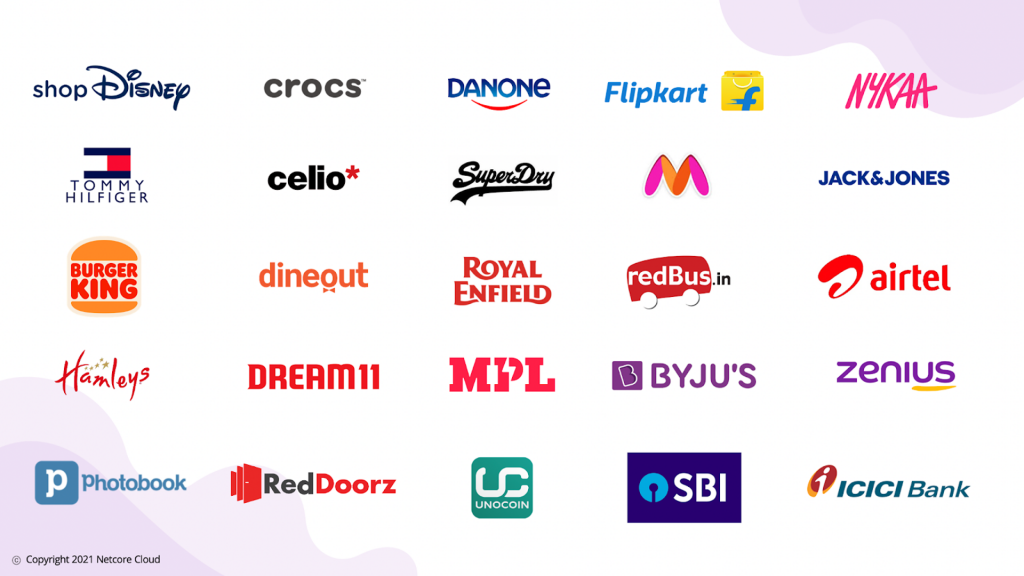 Over the last year, we have been busy making new friends across different verticals. A few notable logos include: shopDisney, Crocs, Hamleys, Danone, Photobook, RedDoorz, Tommy Hilfiger, Celio, Jack & Jones, Burger King and Dineout. Then there is Flipkart and Myntra from e-commerce, Dream11 and MPL from gaming industry, SBI and ICICI bank from banking sector, Byjus and Zenius from edutech to name a few more.
Acquisitions & Investments
Tech innovations at Netcore Cloud are always in tandem with the pulse of the market. While most of the product features are developed in-house, Netcore Cloud has also been relentlessly acquiring and investing in companies offering similar products to cover more ground in less time.
In 2019, we acquired Boxx.ai to empower brands to deliver exceptionally personalized experiences. In late 2020, we acquired Hansel.io – a real-time, no code, Product Experience (PX) platform to boost user activation, conversions, feature adoption and contextual engagement on App & Web.
In 2021, Netcore Cloud made a strategic investment in Easyrewardz – a Flipkart-backed omnichannel consumer lifestyle management platform that empowers brands with best in class CRM/loyalty solutions. We also invested in Profitwheel – an adtech startup, which helps businesses to optimize their ad spends by identifying the most profitable customers & markets across digital platforms like Google, Facebook, Instagram, Twitter & YouTube.
In January 2022, we made a fresh investment in Rocketlane, a purpose-built customer onboarding platform that helps businesses accelerate time to value, and deliver a transparent, consistent, and delightful customer onboarding experience.
With all these acquisitions and strategic investments, Netcore Cloud takes a clear lead over its global competitors in offering a full stack customer engagement and experience platform to our customers.
Global Expansion – EU, Latin America & Australia
Backed by products designed for scale, Netcore Cloud embarked on a journey to conquer new territories. Identifying a huge potential for growth, we focussed our expansion operations in Europe, Latin America, Australia and New Zealand.
Enabling these aspirations, Krish Ramachandran joined us as the Chief Revenue Officer to grow our business in Europe and South America. As a former Sales Director at Freshworks, he played a pivotal role in the company's expansion to Non-English markets and built their global partner channel spanning over 50 countries. We were also joined by a new Country Head for Australia and New Zealand – Chantal Capablanca, who comes with a wealth of experience in marketing & technology across organizations of repute including Emarsys, OVATO and Traction Digital.
375 people hired globally
As Netcore Cloud is rapidly expanding and preparing for an IPO, one of our important focus areas last year was to grow our team across various departments. We invested in strategic hiring across our Customer Success Team, Product Team, Engineering team and Support team. We hired over 375 professionals globally, bringing our total headcount to over 800+ by the end of 2021.
Netcore Cloud also brought on board Ramesh Srinivasan as the chief executive officer for India operations. His experience covers successfully scaling and accelerating revenue growth for Fortune 500 companies like Microsoft, Tyco, Verizon, Schneider Electric & Oracle. We were also joined by Nishant Jain as group head for business strategy and corporate development, to fast-track us towards overseas expansion and catapult our ARR base by 2x. Having held leadership roles at organizations like EY, Exfinity Ventures and Eka Software Solutions, Nishant comes with rich experience in business strategy, M&A operations, corporate development, and a wealth of knowledge from the SaaS world.
1 Trillion Digital Interactions
That is the scale of digital interactions we enabled between brands and customers in the last one year. This translates to more than 500 billion communications across push notifications, email, WhatsApp and SMS. Netcore platform also analyzed and processed almost half a trillion customer events which helped businesses to orchestrate engagement across different touchpoints in their customer journey.
50+ Success Stories
Brands that embraced digital adoption and powered contextual communications with Netcore Cloud, experienced tremendous gains in their customer engagement.
Sendo, a leading Vietnamese e-commerce retailer, increased their web and mobile app transactions by over 51% with Netcore Cloud customer engagement platform. Crocs India, a leading Footwear Brand, achieved 42X ROI using our personalization Suite. Walmart-owned Myntra drove 94% inboxing and 60% better open rates with Netcore AI-powered email delivery. Kumu, the largest social entertainment app in the Philippines, witnessed a 38% uptick in feature adoption using Netcore's No-code Product Experience (PX) platform.
Each case study is a testimony to Netcore Cloud's commitment to deliver success at customer engagement and experience for our customers and partners.
Awards and Recognitions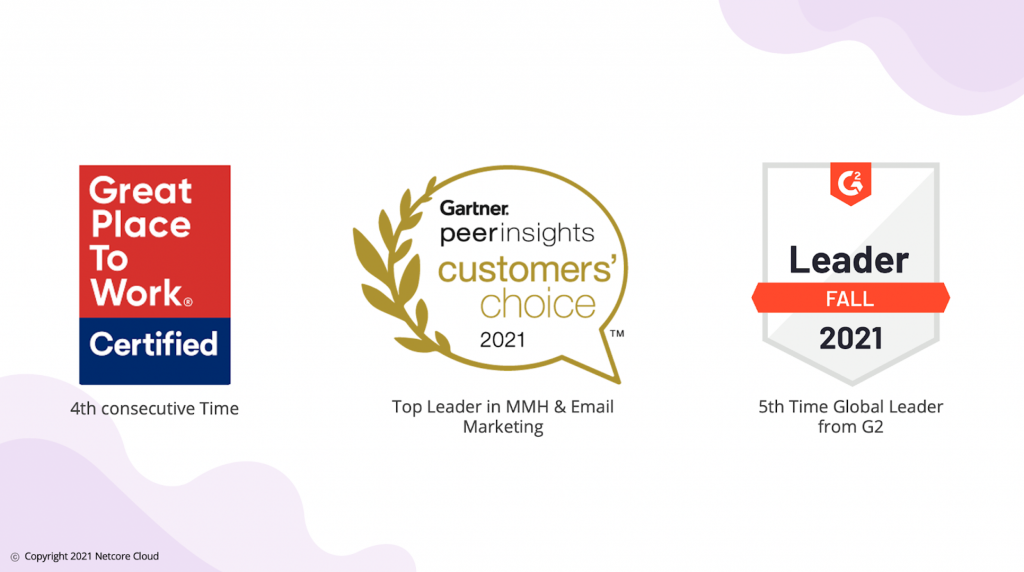 Netcore Cloud has been recognized as a Great Place To Work for the 4th year in a row. Great Place to Work® is considered the 'Gold Standard' in workplace culture assessment and recognition. It takes an organization to excel on all the 5 dimensions – Credibility, Respect, Fairness, Pride and Camaraderie for employees to earn this recognition.
Another important highlight from 2021 is that Netcore Cloud achieved the highest overall customer ratings of 4.6/5 as a Customers' Choice in 2021 Gartner Peer Insights 'Voice of the Customer' Report, with 88% of reviewing customers willing to recommend our product to others.
We are also proud to share that we have been recognized as a global leader in G2 Crowd for the 5th time.
These achievements stand as a testament to Netcore Cloud's work culture, customer obsession and martech leadership.
RAMAN – Our AI Engine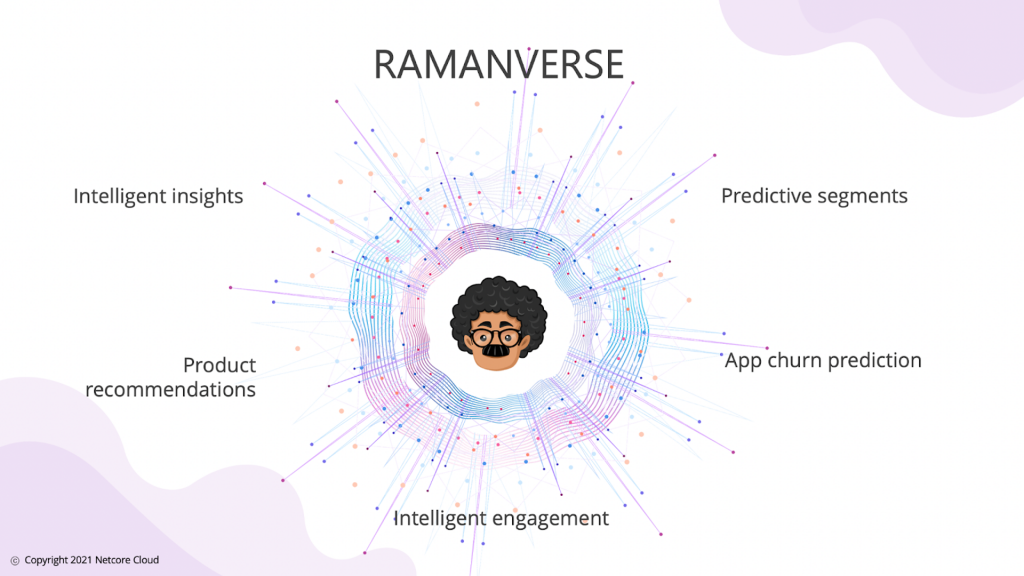 A couple of interesting AI features that our customers vastly benefited from over the last one year include:
EDGE – Our Flagship Product Event
Towards the end of 2021, we conducted EDGE – our flagship product event and announced the latest & cutting EDGE advancements in our Customer Engagement and Experience platform.
We brought in interesting augmentations to journeys such as Business triggers, Geo-fence, Control group and Split action in Journeys to enable more relevant communications across the user journey. We introduced the Product performance dashboard that allows e-commerce analysts to dive deeper into retail data, discover trends, predict outcomes, and make better decisions. We also announced Personalized Site Search & Discovery for intelligent search experience, increased product discovery and improved conversions on apps and websites.
During the event, Khatabook shared their success story about how they turned their mobile app into a #growthengine by leveraging our contextual nudges and walk-throughs. And, TopKarir Indonesia spoke about how they leveraged our platform to gain deep insights on user navigation, and shared their experience of how they boosted customer engagement. You can find a recap of the entire event here.
Netcore Customer Data Platform (CDP)
Over the last 18 months, our Product and Engineering teams have been working very hard to solve two of the biggest challenges faced by any organization globally as of today. Firstly, the attention recession at the consumer side due to overwhelming communications from multiple brands; secondly, the problem of data residing in silos hindering a single view of the customer to power relevant personalized experiences. With that, we announced our biggest product release ever at the EDGE event – Netcore Customer Data Platform (CDP).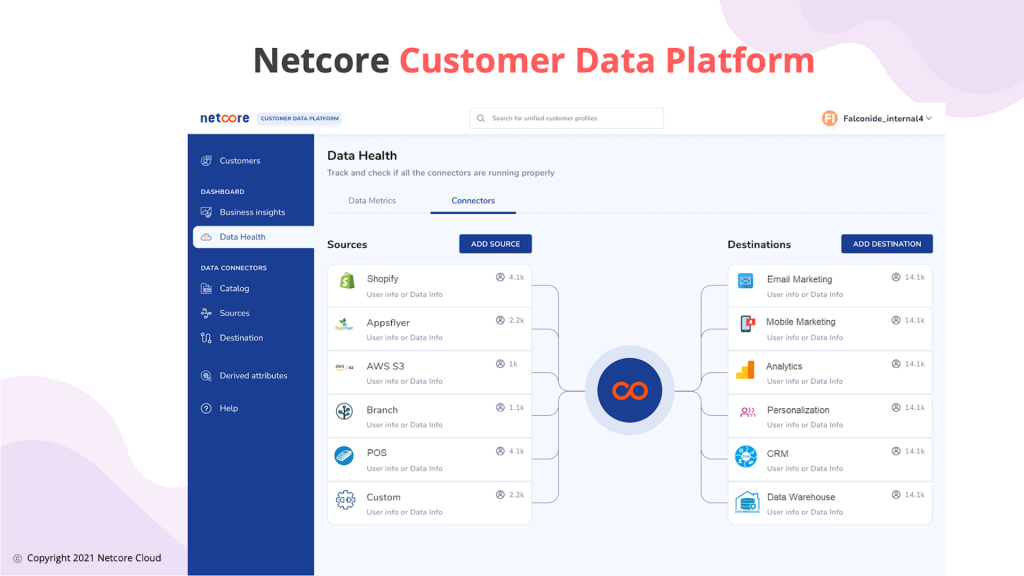 Using Netcore CDP, businesses can now stitch customer information across multiple data sources, be it Shopify, Appsflyer, Branch or a POS terminal, and build a single view of the customer. At any given time, you can track numerous data points such as the number of transactions a customer has done, browsing behavior, his total lifetime value, total revenue contributed by a customer and more – all from a single dashboard.
With the CDP platform coming in, Netcore Cloud unifies the communication stack, engagement stack and the product experience stack into a full stack customer engagement and experience platform enabling you to deliver a superior digital experience to your customers.
That would mean, businesses do not have to stop at building a unified view of their customers. You can further leverage Raman – our AI engine to identify the next segment of users who have a higher probability of purchasing a product, uninstalling the app or likely to perform any activity of their interest. You can send contextual messages over multiple communication channels such as Email, push notifications, SMS or WhatsApp and deliver highly personalized experiences on web and app – seamlessly under the same roof.
What Next
There are four driving principles for product development and strategy at Netcore Cloud.
Higher reachability to customers – The objective here is to help businesses target their customers more effectively. It can be a strategy to bring in more new channels like WhatsApp, Google RCS, Viber, or a new technology to drive higher engagement like Send Time Optimization, or any strategy that can help to increase your overall reachability to customers.
Agility & experimentation – Another focus area at Netcore Cloud is to make experimentation effortless for product managers, marketers and growth managers in order to build enticing marketing campaigns. Bringing no-code technology with Product Experience (PX) platform was just a head start!
Ease of data access, intelligence & actionable insights – The objective here is to make data access a lot easier, and to bring in more intelligence and insights powered by Raman – our AI engine, so that you can power data backed campaigns yielding better customer engagement and experience.
Personalized digital experience – The fourth and the most important guiding principle for us is to enable personalization at scale in the most seamless way possible.
Overall our roadmap for 2022 will be around these 4 driving principles.
If you would like to learn more, you can schedule a personalized walkthrough of our platform at your convenience. For general queries, including partnership opportunities, please email [email protected].