A Definitive Guide to Sunset Policy in 2020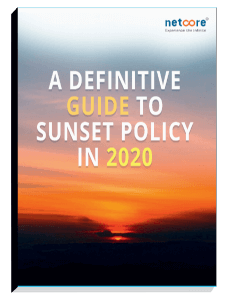 Sunset Policy is an Email Marketing jargon used for a data pruning practice where the inactive users in your mailing list need to be removed from it if they are not responding to your Email Campaigns after a certain period.
Thus, the Sun needs to set on these email addresses and hence the name. The period for which these inactive users should be kept in your CRM system needs to be defined by you and will vary across brands.
In this guide, you will learn:
What is Email Sunset Policy?
How to Maintain a Healthy List Hygiene?
Case Study: Client facing low Email Deliverability in Gmail
Benefits and Steps to implement a good Sunset Policy
Having a good Sunset Policy can be a dealbreaker for a successful Email Program as it affects your Email Deliverability and hence the chances of your brand's emails going into inbox or spam.






Access Global Email Trends Report 2020
Why Choose Netcore for Email
AI-Powered Email Delivery & Campaigns
Powerful Transactional APIs for seamless integration
Actionable Analytics for Email Intelligence
Advanced Customer segmentation, Send time & Subject line optimization
Managed Consulting Services by Email Experts
White-Glove Services for smooth onboarding