Selling products in the product-led age has provided a narrative shift in the way companies offer products to customers. Here, the product plays the protagonist.
It has also caused a shift in the way users interact with products. With such dynamic user needs, brands need to fire up their product in a way that lets customers fully experience and discover the product's value in a short period.
This PLG playbook is your pocket guide to an in-depth understanding of product-led growth and uncovering key strategies to embrace and implement a product-led strategy.
Table of Contents
Product-led Growth defined
Product-led growth is a business methodology where the product drives each stage of the end-to-end user journey.
In the product-led framework, the product becomes the primary driver of acquisition, conversion, and retention and eventually impacts scalable business growth. Every department across the organization comes together to empower the product to support and drive key business goals.
Popular examples of product-led companies
Slack
Though Slack puts channel suggestions and keyboard shortcuts on empty slates, the most important stuff is reserved for a full-fledged onboarding flow.
Slack manages to achieve interactivity effortlessly. In the beginning, users receive a prompt to create a Slack channel, type in an email address for an invitee, try out sending a direct message, and even set up Google Drive.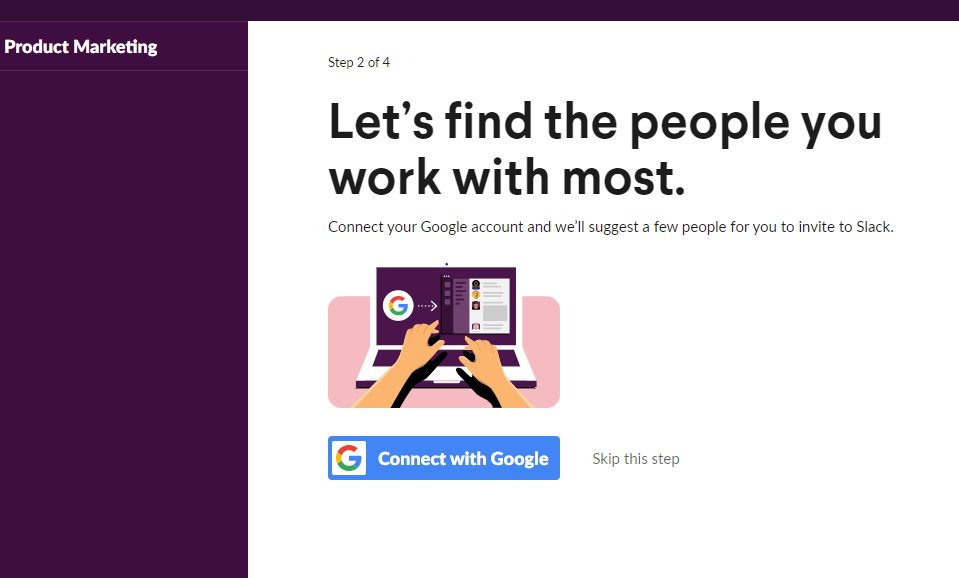 This happens in a hands-on environment, inside the app; this is how Slack engages users with its product.
Studying products like Slack helps us realize that PLG is more than just free trials and in-app messaging. It is about engaging with pre-qualified leads and converting them into actual customers.
At its core, Slack is about delivering a positive user experience, which is the foundation of its PLG capabilities.
Dropbox
Dropbox takes product-led growth tactics one step further by capitalizing on features like shared folders and referral bonuses.
Their referral program gives users extra storage space for every new user they bring into the platform. Existing users are happy to get free storage. They are willing to share their Dropbox links via blog posts, emails, and social media.
The new users brought in by the referral program are happy because Dropbox solves their pain points.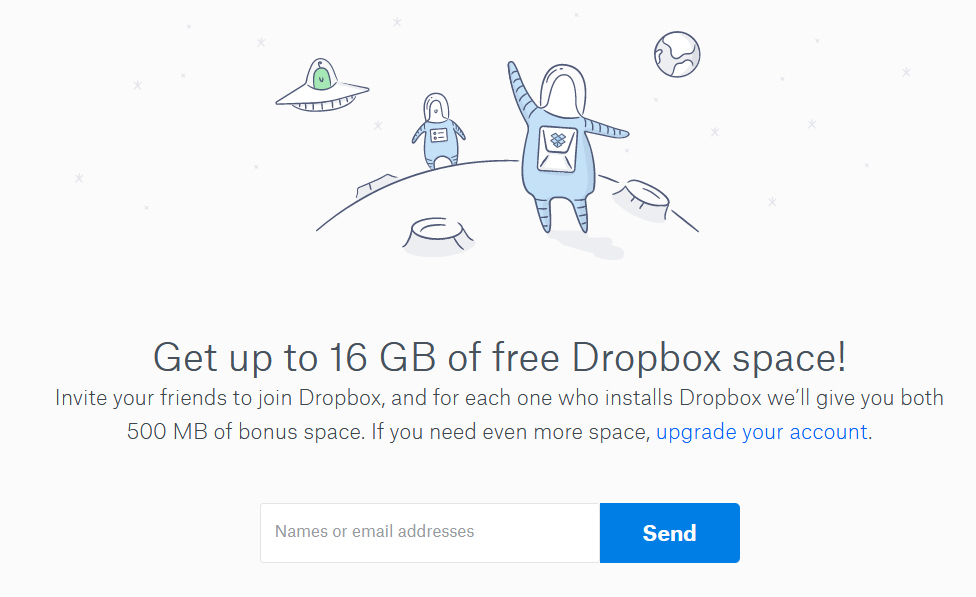 Venmo
Venmo is another excellent example of product-led growth where a product grew exponentially through peer-to-peer networking. The features that attract users to Venmo make payments more manageable without extra charges.
Unlike its competitors, Venmo doesn't charge users to send or receive more money, except for credit card-based payments.
Venmo is one of the most popular payment-splitting apps among millennials.
Users can make payments despite insufficient Venmo balances because the deficit amounts are retrieved from a primary funding source, such as a savings account, credit card, or debit card.
Another highlight is the "trust" feature that lets users auto-pay for recurring expenses, like the monthly share of rent due.
According to the COO of Venmo, Michael Vaughan, "Venmo's all about the experience in connecting people to what matters to them the most – to other people, to businesses, to other apps – and making that experience must more enjoyable. It's simpler and in a lot of ways more fun."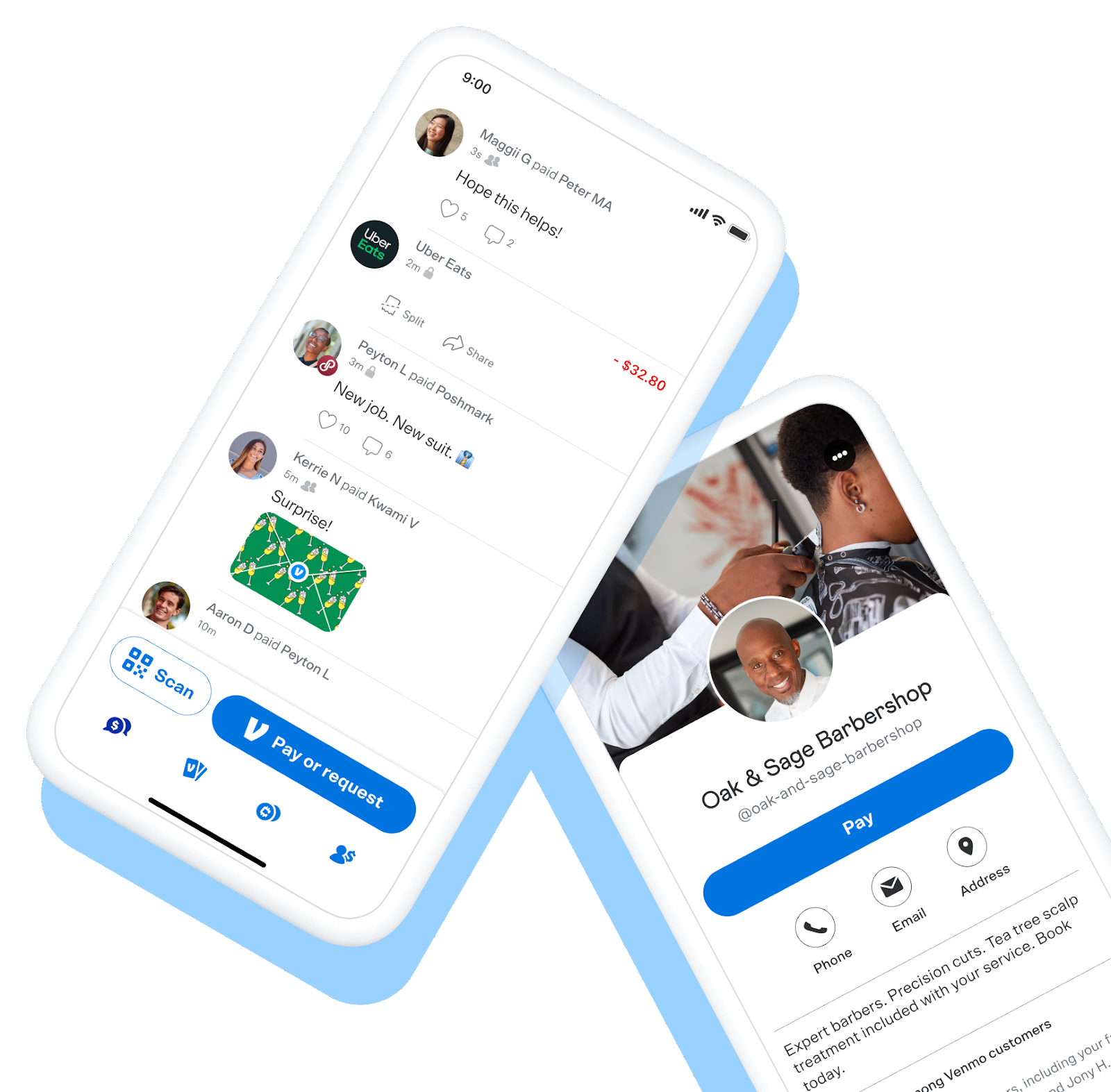 Here's what product-led companies have in common
Frictionless onboarding
Companies with a product-led strategy ensure that onboarding is easier for their users. It includes asking for minimum information before the user starts using the product and realizes its value.
Deliver value quickly
The goal of product-led companies is to deliver value to users quickly and efficiently. Companies that want to be product-led must ensure they can provide value to their users in their initial interactions.
Virality
Product led growth organizations have a strong virality component. These organizations work hard on user research, user experience design, product development, and building features that provide value to customers. The virality can be in value, exposure, referrals, or word of mouth.
Value before money
Instead of capturing credit cards and pushing new users into a particular pricing tier, focus on delivering value to your users first. Paywalls must always follow product experience.
End-user focus
Designing for end-users means putting their needs first, listening to their problems—and committing to consistent improvements to solve them. Product led growth companies create exceptional experiences by focusing on solving every user's need.
Benefits of being product-led
Helps scale faster
Product-led businesses tend to scale faster than most other companies by offering a freemium model and improving their onboarding process for new user acquisition.
Doing this sets up a base for product-led companies to expand their top of the funnel and service more customers globally in a short period.
This gives a larger audience to evaluate your products at their convenience. You not only save time and money, but you also earn more revenue and customer trust.
You have better chances of improving your retention rates when you have more significant acquisition rates.
Lowers customer acquisition costs
A product-led strategy helps companies establish faster sales cycles where prospects onboard themselves and realize value from the product much faster. It allows them to convert free users into paying customers quickly.
With less hand-holding at each level of the product experience, companies can cut down on sales, marketing, and support expenses. Such faster sales cycles also lead to reduced customer acquisition costs.
Creates a more intuitive, user-friendly product
A product designed by focusing on the end-user is almost always a more intuitive and user-friendly product.
Building a consumer-grade product may require additional forethought and resources. But the result will be a product that users will welcome with open arms.
So the most significant benefit of implementing a product-led growth mindset is that it lifts your product in the eyes of the users and provides an edge over competitors in the market.
Gives an edge over competitors
Low-barrier to entry and the increasing affordability of creating and owning digital products have led to more competition in the market.
This means that users now have more options available at their disposal. The moment your digital product or app stops providing value, your users can easily switch to the competing apps in the market.
As a result, even leading platforms like Facebook and TikTok have reported a substantial increase in advertising costs year-over-year.
While the marketing costs rise, the customer's willingness to pay for products or specific features decreases. It is becoming increasingly expensive to acquire customers.
So as marketing expenses go up and profitability goes down, it makes more sense to make your product the primary driver of user acquisition by strengthening its core.
Brings product experience to the center of strategy
When product experience plays a central role in a buying process, the product handles and builds on the onboarding experience.
If you have used platforms like Slack, Duolingo, or even Netflix, you have experienced how each of these products facilitates the onboarding without reaching out to a sales rep to find value and eventually adopt the service.
So now, instead of having your sales reps do all the work, the product does the heavy lifting for the companies to onboard, engage, and retain users.
Metrics to measure product led growth
Acquisition
The number of users who have signed up for your free model over a certain period.
Activation
The activation metric is when the user reaches their "Aha!" moment or experiences meaningful value in the product.
Customer Lifetime Value
The total worth of revenue a single customer brings in for your business during your relationship.
Time to value
The time it takes new users to reach their Activation moment.
Free-to-paid conversion rate
The percentage of users converted from a free trial to a paid account.
Expansion revenue
Expansion revenue measures the revenue generated from existing customers through upsells, add-ons, cross-sells, etc.
Net revenue churn
Your business's monthly recurring revenue in a given period net the revenue you gained through existing customers.
The average revenue per user
This metric measures how much revenue you are generating from each active customer.
Product qualified lead
A product qualified lead (PQL) is a lead that has experienced meaningful value using your product through a free trial or freemium model.
Ways to become a product-led company
Minimize effort for new users to realize the value
Users coming to your product must be able to understand and recognize the value of your product in very few steps. For this, the best solution is to reduce friction during onboarding and nudge users towards the functionalities to bring them closer to their "Aha" moment.
The ideal solution here is to let users experience the value of your product before they decide to purchase it. This is an effective way of reducing the cost of acquisition and accelerating user growth on your product.
Deliver personalization
Context and relevance mean everything while implementing any product-led strategy. The entire user journey from onboarding to retention must be unique and personalized for every user.
In addition to targeted welcome offers and home screens personalized with the user's name, the entire product experience in terms of – introducing features or even guiding users to the following best action using nudges and walkthroughs needs to be personalized.
Show your users what they love and what matters most for providing a great product experience. Users are willing to abandon products that do not meet their expectations.
Personalization is the key to delivering the promise of being a user-focused product.
Pinterest is a poster child when it comes to delivering personalized app experiences. Pinterest's journey to 454 million monthly active users focused a lot on user experience. The social media giant practiced personalization and ensured the content was aligned with their tastes and preferences.
Pinterest's personalization is based on data, including demographics, ratings/customer feedback, and analyzing what users are doing on the app, eventually helping users get more value.
Leverage existing users to attract new ones
One of the most potent ways to drive growth is by including strong network effects into your product experience. With these network effects, your user receives more value as more people sign up.
For example, Slack says the more people you have on your team's account, the easier it is to centralize communication on the platform. This is a natural incentive for bringing people you work with onto the platform.
Another good network is introducing referral programs where users can unlock features or increase usage quotas in exchange for inviting new users.
Trello is another excellent example of leveraging existing users to attract new ones.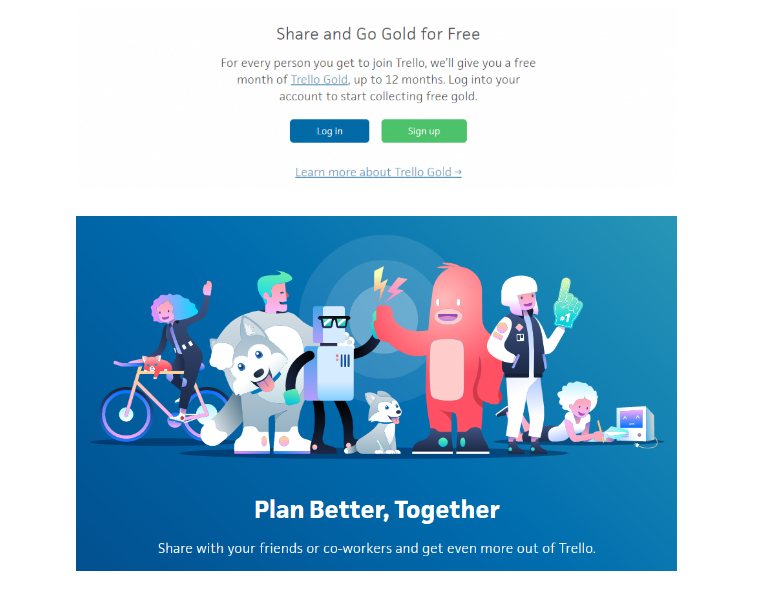 Take product improvements decisions based on user data points
A well-designed product is a prerequisite for PLG. So your product must be intuitive—with minimal friction, sticky features, and a shorter time to value.
‍For building an engaging product experience, you need a deep understanding of your users' journey and the problems they're trying to solve.
Companies should build their entire product around making it easier for users to solve their problems. You need to offer effective user onboarding centered around user goals and provide ongoing, contextual in-app communications for things like new features, upsell prompts, etc.
‍On top of that, you need to make clever use of user data to iterate on their existing product. Gathering and storing data has only become more accessible now. When this data is worked on alongside the qualitative feedback from your customer-facing teams, it helps you bring practical product improvements based on actual product analytics.
Make it a company-wide effort
Product-led organizations move in the direction of meeting the needs and desires of their users. The culture of collecting and leveraging contextual feedback at each level of the user journey drives the company.
PLG is a far-reaching, company-wide methodology expecting companies to align across departments. It demands coordination and collaboration across departments in the organization.
‍A cross-functional team is what makes PLG the best go-to-market strategy. It leads to more informed and aligned decision-making across your business.
‍Product-led growth strategy requires scaling sales, marketing, and customer service functions through your product. Since the product does the heavy lifting, it frees up your team's time, energy, and creativity for the high-value, more strategic work.
Prioritize Product Experience
Product led growth requires offering your customers an exceptional product experience across all user journey stages – from onboarding to retention.
The pillars of product-led growth are built on product experience. Product experience is the key to sustainable growth by ensuring that your users are engaged and provided value at all the touchpoints they interact with within the app.
Prioritizing product experience means:
Onboarding new users with contextual walkthroughs
Driving feature discovery and adoption
Converting and retaining users
Planning and innovation based on customer needs and demands.
Now that you have the product-led strategies laid out let's jump to the next step – integrating these strategies into your product and seeing them in full action.
Enter: Netcore's no-code Product Experience platform – To complement your efforts in driving product-led growth for your mobile app brand. The product experience suite is built to empower product and growth owners to achieve faster growth.
You can now deliver superior product experiences with absolutely no code. Deploying no-code
contextual nudges and walkthroughs across the user lifecycle help users navigate through the app easily with smoother onboarding. It leads to faster activation (which implies reduced time-to-value), increased feature adoption, and better user engagement – all of which lead to app stickiness and higher retention.
Nudges make your product better equipped to guide users with the right information at the right time and improve the overall in-app experience – which is equivalent to product-led.
Connect with us to explore how Netcore's no-code Product Experience platform can help you become product-led.
FAQ
What is the main difference between sales-led and product-led companies?
A sales-led approach applies the traditional method of selling, where a product is pitched through a sales rep speaking to you. In contrast, a product-led approach involves handing over the product to the buyer for them to realize the product's value.
For a sales-led method, the point of contact can be a sales development representative, account executive, or customer success manager. But for the product-led method, the product itself influences the buyer's decision to purchase.
How do self-service trials or freemium drive product-led growth?
Freemium options and trials are a great way to measure product usage and engagement. Improving your offering allows you to understand conversion rates' variables (usage, demographics, churn, etc.).
The data recorded during the freemium or trial periods help companies to tailor their products according to the specific feedback they receive from their users. This practice of freemium options and free product trials helps drive product-led growth.
From the customer's point of view, freemium and self-service trials are great for them to realize the value of a product before making any monetary commitments.
How does product-led growth reduce customer acquisition costs?
Customer acquisition costs are the costs incurred to bring in new customers. The expenses done on sales teams contribute largely to customer acquisition costs.
But the product-led growth strategy reduces the burden on the sales teams, allowing companies to control expenses on sales and improve efficiency metrics like customer acquisition cost.
How do I tie product-led growth into my company's product-led strategy?
Implementing a product-led growth approach in your company's product-led strategy is not enough to offer a try-and-buy option for a self-service buying journey.
As a company, you will have to make your product take center stage and make the engagement a key metric for users throughout the pre and post-sales.
To bring your product to the center stage, offering a great product experience is indispensable. The product experience provided to your customers makes your product-led strategy work.
A product-led growth approach requires you to blend different aspects of business like sales, marketing, customer support, and education in your product. Your product should be able to do the talking and the selling.
How do you measure product-led growth?
Measuring product-led growth requires companies to consider several critical metrics like:
Time to value
Expansion revenue
The average revenue per user
Customer lifetime value
Net churn
These metrics help companies understand the performance of their product. Companies can predict the improvements to make their product a better fit for their product-led strategy.
How to become a product-led company?
To become a product-led company, you must keep the following things in mind:
Have a well-designed product: By this, we mean to design for the end-user.
Prioritize on short time-to-value: give your users something of value before you can expect value in return.
Make good use of user data: Successful products use user data to iterate on their existing product.
Product-led growth is company-wide: a far-reaching, company-wide methodology that requires coordination and collaboration across departments.