Personalization has been a buzzword in the marketing world for the last few years. Every marketer dreams of executing that perfect personalized campaign which hits all the right notes. By now, we all know that it is about reaching the right person at the right time with the right message. And technology has also supported marketers in realising this dream through marketing automation.
Using marketing automation, marketers can have a deep view into the customer journey, track user behaviour, release trigger based messaging, deliver contextual content and maximise reach with multi-channel campaigns. But is that all they have to do? We believe they have to go one step further.
The one area where personalisation fails the most is understanding the actual needs and pains of the customer. It starts with the knowledge that generalized marketing doesn't work and that all your customers have varying needs and challenges.
To this end, we have prepared a list of the brands with award-winning personalized marketing campaigns. It may help you make the most of your marketing automation.
4 Brands Who Aced Personalized Marketing Campaigns
A giant in the space of productivity and collaboration tools, Dropbox wanted to generate demand from Dropbox Business among marketers. The challenge was – they didn't have any experience with this audience. But they knew – marketers are hard to impress and that they have to provide immediate value to them.
With the help of Transmission B2B (previously known as Pulse), they came up with the idea of the Marketing Dynamix campaign. It was built on the insight that marketers often struggle with personality clashes and communication issues in their team. Therefore, the campaign was structured around a highly engaging 'marketing personality' assessment tool hosted on a microsite. The tool helped marketers learn about the personality traits of their team and practical ideas to improve team relationships, productivity, and efficiency. It was designed in a way that users would find it easy to take the assessment, consume personalized content, share results, and invite others.
The idea resonated well with the marketers – hitting right on their pain-points in a fun way. The result? They achieved 220% of target MQLs and ROI of 25:1.
Key Takeaways
Creative use of technology and data to deliver a personalized experience.
Create a strong value proposition aligned with the messaging framework.
Liberty Mutual is an American property and casualty insurer. The company found out that 11% of auto insurance policyholders leave their insurance in a year. They figured that many of the policyholders are lured by "Switch & Save" messaging norms in the industry advertising and that customers are rarely aware of the full benefits of continuing the insurance.
Liberty Mutual found an opportunity in this challenge. They researched their customer pain points and found that they worry too much about what they can't control. Psychographic analysis of customers further revealed that they only trusted themselves when it came to solving life's biggest worries. They used this insight and turned into an interesting content marketing brand – MasterThis. The idea was to empower customers with relevant information which makes them worry less.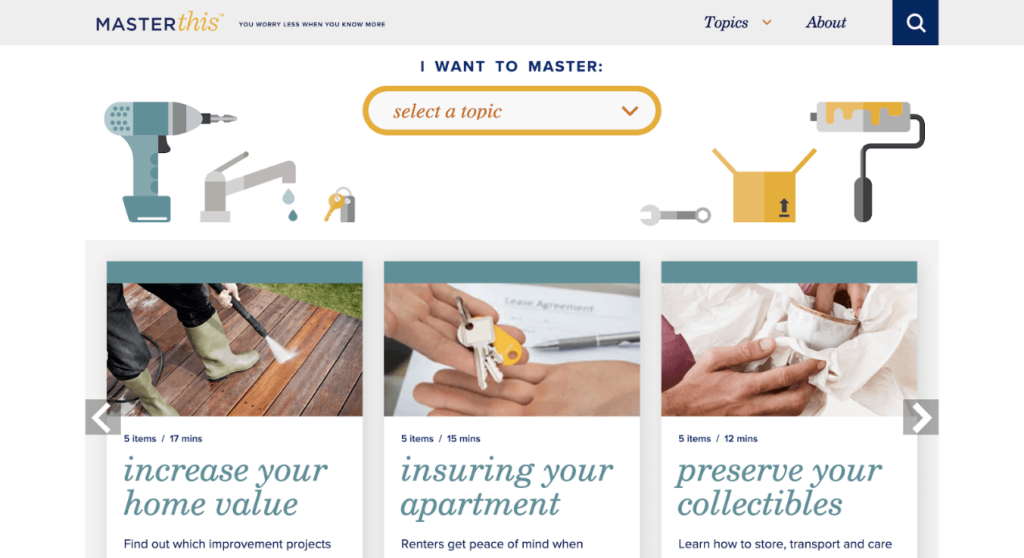 MasterThis leans towards tried and tested 'DIY' style of content. It packages content into Masterkits – a set of sequential guides taking users from stage of awareness to mastery.
The content was distributed using various customer touch points: email, social media, advertising, direct mail, voice assistants, sponsorships and more. To deliver the right content to the customer at the right time, in the right context, they used a mix of first, second and third-party data.
All these efforts increased the time-on-site on their website by 800%. Other than this, it cut down the bounce rate in half and recorded 90% customer reach. The success of the campaign can further be estimated by the fact that 75% of MasterThis users reported they were highly likely to recommend Liberty Mutual.
Key Takeaways
Make personalization meaningful. Tune your personalization to your audience's pain points.
Offer them value in your personalized offering.
Ingredion is a leading global food ingredient solutions company. They help food manufacturers with product formulation insights and ingredients. Basis their research, they found out that people can be classified as preferring one of four mouth behaviors types or eating styles: Cruncher, Chewer, Smoosher and Sucker.
Using powerful insights, they launched "You are what you eat" campaign integrating PR, and digital content marketing techniques with the support of marketing automation. The campaign was an immediate success and resulted in the marketing ROI of 20:1 while achieving 4.5M OTS (Opportunity to see).
The objective of the campaign was to create a shift in the focus from tastes and ingredients to consumers and their eating styles. It started out with promoting the idea of multi-sensory enjoyment of food with an entertaining and educational video – Ultimate Crisp Experience:
This was promoted via a targeted multi-channel campaign using the web, PR, display ads, PPC, social and email. A series of engaging content across varying formats – videos, flipbook, report, infographic, and webinar – was created and used to nurture prospects through automated email campaigns.
Key Takeaways
Identify the purpose of your content for each stage of the customer journey.
A strategic stream of diverse, highly engaging and relevant content for each stage of the customer journey – acquisition > awareness > engagement > conversion.
Smart use of marketing automation to optimize content distribution and collect prospect insights.
Effective distribution of content across owned and paid media channels.
Command Line Heroes is an original podcast by Red Hat that talks about stories of open source heroes changing the world from their command line up. The podcast educates listeners about the open-source development, and discuss tech trends. With this series, Red Hat has succeeded in establishing its leadership in the open-source community. The series is three seasons old now and has 23 episodes. Instead of overtly pushing Red Hat products, they preferred to create a human connection with their audience. The strategy was further supported by cross-channel distribution with lots of opportunities to engage with the audience.
A continuous and earnest effort was made by Red Hat to understand what inspired and interested in their audience. They went to hundreds of tech conferences, interviewed the participants and continue doing so to refine the strategy. Apart from this, they used a cross channel distribution by using newsletters, blogs, webpages, and videos. All this effort resulted in over 45k subscribers, 800k downloads, and more than 75% audience retention.
Key Takeaways
Your audience's interests and behaviour are constantly updating. Keep yourself updated about their preferences, needs, and challenges constantly.
Make your content easily accessible by using multiple formats and distribution channels.
Take a step back from being too pushy in selling.
Key Lessons on Personalized Marketing
1. Define personalization for your brand
The first and foremost step in the effective implementation of personalization is to define the objective, customer needs, and pain-points, audience touch-points, etc. These all differ from one brand to another.
Therefore, the personalization efforts need to vary too.For example, an e-commerce company with a young audience would benefit more from personalizing product recommendations and helping the users find products easily. In this situation, it may need to track customer data and take out insights.
Now, let's consider another example. There's an XYZ B2B company in the accounting software domain. It finds its audience struggle with various sorts of business issues that are hard to guess and track through data. In this case, it will need to directly hear from its customers.
Therefore, before setting out to launch your personalization game – pay attention to what it means for your brand and your customers.
2. Right resources and tools for personalization
Before setting out to plan your strategy for personalized marketing strategy, ask yourself if you have enough resources and tools to manage this exercise.
Without the support of a team and good automation tools, you may find yourself struggling to manage the huge amount of data, and processes you need to set up for the campaign.
It also is required to ensure you send the right message to the right audience only and takes away a lot of manual load and guesswork from the marketing.
3. Drive consistency in personalization
Personalized experiences are hardly noticeable if the messaging is disjointed. According to the New Jersey Institute of Technology, 60% of US millennials expect consistent experiences when dealing with brands online, in-store, or by phone.
Having consistency across all the channels improves the credibility of your brand. You can achieve this by setting up a clear action plan, content style, and design guidelines.
4. Diversify distribution of content
Personalization can't work in silos. It needs to be spread equally across time and space to interact with the customer in a timely manner. Having a well spread out personalization strategy gives you more opportunities to connect with your customers and create a lasting impression in their memory.
In this case, both the repetitive effort to reach and the channels play a crucial role. Marketing automation tools come in handy to implement this and save marketers a lot of time.
5. Identify the purpose of each distribution channel
Each distribution channel in the execution of personalized marketing campaign behaves in its own unique way. In this case, the important consideration is to understand audience behaviour and the purpose of each channel.
Some of the good questions to ask in this case are:
At what stage of campaign would this channel be relevant?
How do our customers interact with this channel?
When are they most active on this channel?
How much time do they like to spend here?
What sort of content do they like to engage with on this channel?
6. Personalization isn't a one-time exercise but a process
A successful personalization exercise is a result of continuous efforts to develop and refine your understanding of your audience. As technology progresses, the audience behaviour and needs tend to shift in unpredictable ways.
Hence, it becomes crucial to identify any changes in the marketing personas for your brand every six months. At the same time, marketers must not overlook past lessons. Marketers must build on what they already know, and keep on adding to it.
Also Read: The 'AI plus Personalization' Boon: Transforming E-Commerce
As a final note, we would like to reiterate that personalization is unique to every brand. A good personalized marketing strategy relies largely on the marketer's understanding of the customer and research.
Always take into account the bigger picture – and build insights in an incremental manner. To learn more about how can a cross-channel growth marketing platform like Smartech be your partner in your personalization strategies, get in touch with us today!