Nudges! This new kid on the block is sweeping appreneurs off their feet. Every product manager today is banking high on nudges to build a lasting app impression on their users.
In an attempt to gain user attention faster, brands fail to understand user's unique expectations resulting in increased app uninstalls. The cost of hiring developers to get those nudges up and running is again taking a toll on businesses.
But, what if I say that you can create these nudges without typing a single line of code?
Yes, you heard it right! Now you can build seamless and immersive in-app experiences with Netcore's No-code Contextual Nudges and Walkthroughs.
What are no-code nudges?
No-code nudges or walkthroughs is a platform that helps you build personalized and contextual user experiences, guiding users to key app features with absolutely no code.
It gives you end-to-end control of users' in-app experiences. Right from onboarding, to user activation, to getting in-moment feedbacks from the users. No-code nudges helps to improve your app performance, all with no coding efforts.
In simple words, no-code nudges are codeless personalized navigators driving users to the best features of your apps seamlessly.
It gives you ample area to experiment and analyze what works for your audience and what doesn't. These nudges come in a variety of templates, from a humble tooltip to a stark spotlight. But, it's your call what you deem right for your users.
Another cool benefit of nudges is that it allows you to bucket users based on their actions.
For instance: App users who clicked on the nudge to explore a new feature or the ones who bounced out of the app. This type of user action helps you identify which user is yet to click on a nudge and accordingly direct them to their best or in this case 'aha' moments.
This process of bucketing different audiences is called no-code segmentation.
What is no-code segmentation?
Setting up the right segment needs a lot of engineering efforts and match-funding. Often, product managers or businesses are not equipped with the knowledge or finances to tackle this problem. This results in weeks and weeks of struggle to cut through the right audience.
No-code segmentation enables you to segment users from Day 0 to Day n, based on their unique behavior, preferences, and real-time attributes, helping you gauge the next best action and influence deeper app engagement without any hard coding or engineering hassles.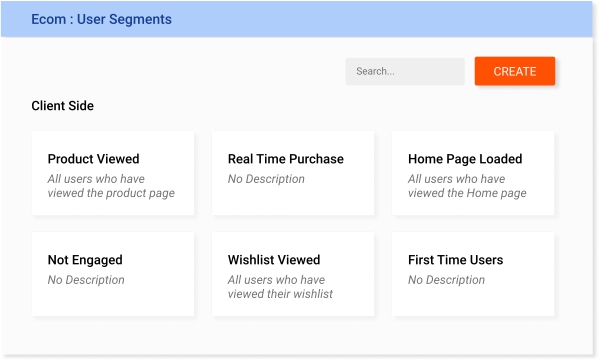 With no-code segmentation you can efficiently eliminate the developer costs. This means, you can segment your app users, customize their experience and create unique nudges, all without implementing any code.
What makes no-code segmentation different from general segmentation?
Since manual integration involves tedious coding to extract data, product managers are constantly on the hunt for instant integration solutions. With no-code segmentation, you can automatically fetch user data and create multiple segments, again with zero code. After all, businesses today want solutions that are easily scalable and as agile as their users.
No-code segmentation is the perfect tool to achieve your business goals because:
It is simple to use
Offers high scalability
Saves your productive time
Requires zero coding
Not convinced enough? Here's a quick comparison to help you make a better decision: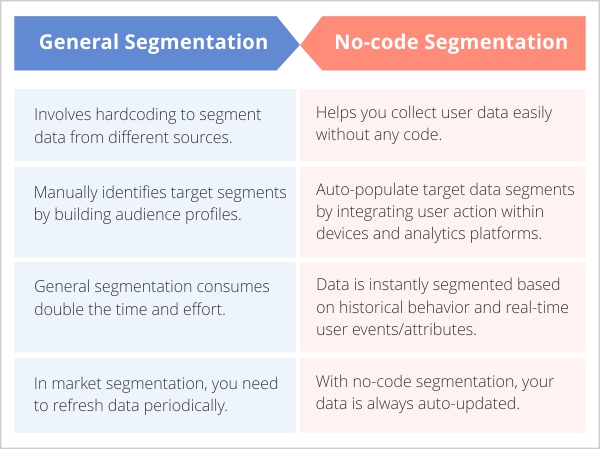 What are the ways of using no-code segmentation to nudge the right users?
By now you must have known that no-code segmentation is designed to make complex jobs easier for your app users. It is your rescuer from the series of spreadsheets that has been the glue holding your marketing operations in place for a long time. But, before committing to any new technology right off the bat, it's crucial to analyze if it suits your product and audiences.
Here are the different ways of leveraging no-code segmentation to your benefit.
Create user buckets with no-code segmentation
Build unlimited user segments and create in-app experiences with zero code. Identify target audiences based on user attributes or user-initiated events in the interaction map to contextually nudge the right users at the right time. Build granular user adoption journey maps to arrange D0 to Dn users.
Integrate data from multiple sources
Get complete control of your data by integrating multiple analytics providers and unifying all user actions within the devices under a single umbrella. Integrate with different analytics providers by adding all your events into a single dashboard to create user segments, trigger nudges, and set goals.
Protect critical information from prying eyes
Secure your data within the app's ecosystem without any worry. With Netcore's SDK integration your user data is directly segmented without passing through the main servers. So, the only information shared here is the meta-data, which is the event name unrevealing any confidential data. For data sensitive companies, this is truly a win-win situation.
Cultivate meaningful data with auto parsing
Why get your hands dirty in data, when you can easily populate all kinds of data including user events by auto parsing it into behavioral and attribute sections. Leverage the data to build unique segments based on historical user behavior (clicks, views, and scrolls), real-time user attributes (location, name, and age), or a combination of both.
Leverage interface that powers segmentation
Build and edit complex workflows with extreme ease. Analyze interface by tracing user footprints to funnel out power users from the crowd. Create multiple segments using sequential nodes of user segments.
For instance: The users who took action A, and then action B, and who live in USA, form a segment in itself. Create similar sequential segments for product paths in your app using the interactions map.
What are the steps to identify your target segments?
1. Create data segment by unifying data
Auto-populate user data by observing key metrics like historical behavior, user attributes or events to segment audiences into different nudge buckets.
2. Observe every segment in isolation
So, once the segment is defined, you can now analyze the individual needs of the respective segments and cater to them effectively.
3. Integrate unique nudges to fulfil user needs
Based on the analysis, drag and drop unique nudges for the respective segments to build deeper engagement within the app.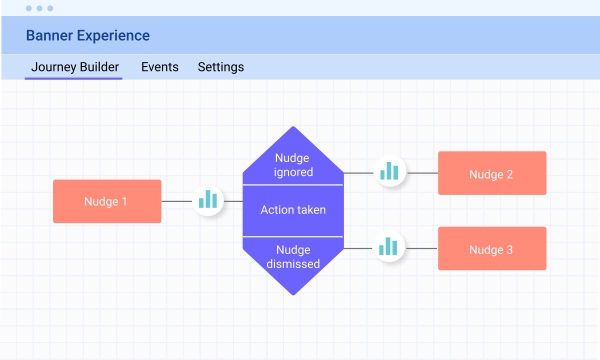 For instance: There are 3 segments in the image. Let us name them A, B, and C. Now, Group B has completed all actions whereas Group A & C has dismissed it, which implies that you can create a unique nudge for Group A & C to remind them to complete the action.
Stay consistent and repeat the process to get desired user action. You can also make certain tweaks or customize segments based on granular details to further refine your audience. The key is to constantly analyze user events and propose the next best action to them.
Bottom line
No-code is the future, period.
With the agility and flexibility that this platform offers, it's evident that no-code platforms will be rising by leaps and bounds in the future. Most businesses today want a swifter way to operate their marketing practices. A no-code solution like this can help you to create delightful app experiences real-time without taking lessons from a coding workshops.
Moreover, not only the enterprises but even bootstrap companies have started realizing their dream of creating value-driven apps for users without breaking a bank. It would be safe to say that the emergence of no-code has brought a democratic wave in the IT industry with beaming opportunities for non-technicians.
In short, if you are a product manager or app owner looking to transform your product experience to the new level, then Netcore is your trusted ally.
To know more about our no-code product experience platform, write to us or request a demo right away!
---