Believe it or not, e-commerce is gradually becoming synonymous to personalization. And I can't emphasize enough on the fact that your customers are constantly asking for tailored experiences.
Which is why brands are leaving no stone unturned to provide their users with 1:1 shopping experience. While some brands are still facing blockers to implement personalization across their ecommerce store, other brands have fully adopted personalization as their core marketing strategy.
Not only that, they are constantly optimizing their personalizing strategy to know their customers better and providing them with a hyper-personalized shopping experience.
Personalization has undeniably become massive! According to Accenture, 91% of consumers are more likely to buy from brands that provide relevant recommendations and create a more personalized experience. It's important for you to know that marketers who personalize their customers website experience can expect a 19% uplift in sales.
Here are some of the smartest examples of ecommerce personalization strategies some brands have adopted and reaped the benefits from in terms of better engagement, sales, and ROIs.
1. Secret Escapes' web personalization
This one's my favorite and definitely deserves a spot at the top. Secret Escapes, a UK-based British travel company, customizes the on-site experience of its users based on the keyword they type into the Google search.
For example, if they have typed "spa retreat" into their search box, they will land on the website page which has a luxury spa picture in the background and a pop-up with an enticing offer on luxury spas.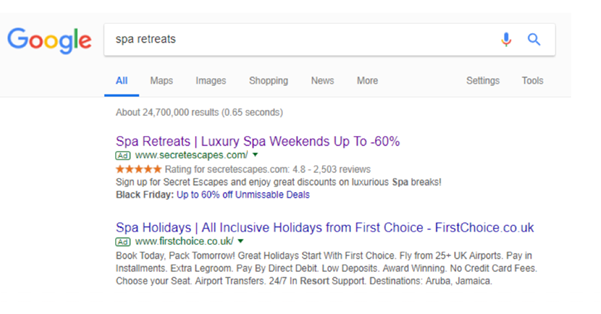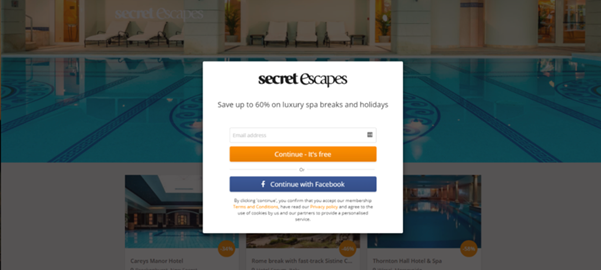 The copy and the imagery change dynamically as per the user intent. Secret Escape was able to get a 26% increase in sign-ups with this technique of personalization. Well, that's well-deserved!
2. Stitch Fix's personalized clothing styles
Stitch Fix is another UK-based online retailer whose whole business model is based on personalization. The fashion brand allows its customers to have an access to personal stylists who help them pick clothing styles that complement their taste. These hand-picked clothes are then sent to customers' doorstep so that they can keep what they like and send back the rest. And they only have to pay for the items they keep.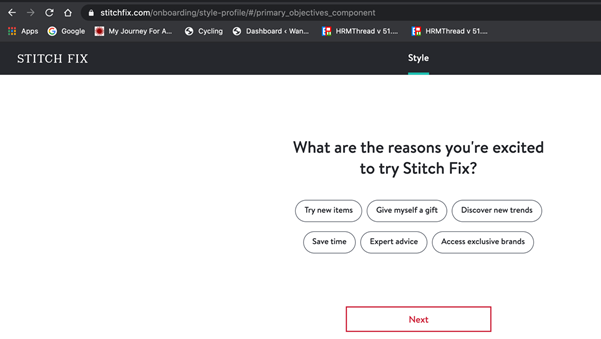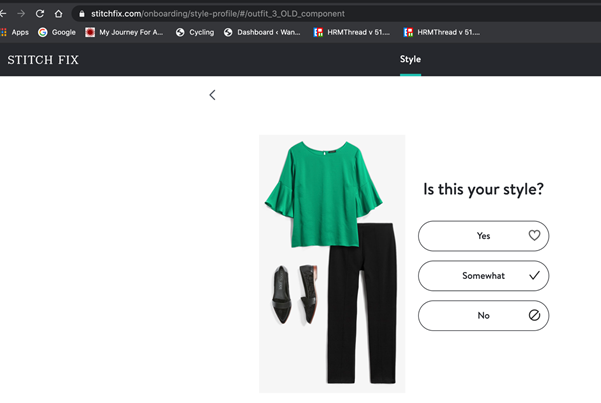 This indeed makes their customers happy as it allows them to choose what works best for their budget and closet. But what's even more interesting about this brand is its whole personalization process.
They ask a series of questions about their customers' fashion choices and based on that recommend five fashion items. And since they only pay for the items they keep and send back rest, the brand stores that information to understand their customer preferences better. As a result, their stylists are able to improve recommendations over time.
Lesson – When a brand cares about its customer preferences and curate the right products for them, it eventually helps them create a hyper-personalized experience for its customers.
3. Pull & Bear's navigational approach
Personalization and recommendations are mostly data driven. It usually takes ecommerce brands some time to collect data and understand customer behavior to personalize their shopping experience.
However, online retailers like Pull&Bear start providing a personalized shopping experience right from the start even to the first-time visitors. The session for new visitors starts with options such as whether they are looking for men or women clothing. And from there on, it continues to navigationally personalize their user experience.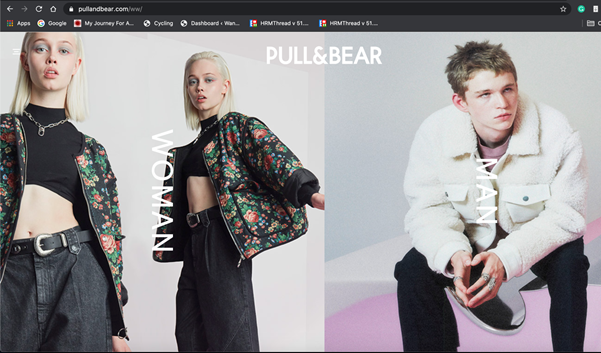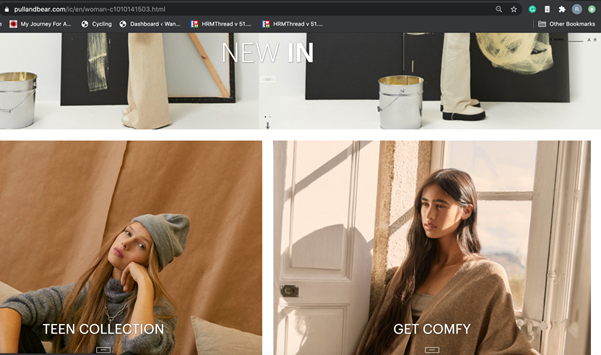 So basically, you don't always need tons of data to personalize the user experience. In fact, you can create a relevant experience by making your website intuitive every step of the way. The brand does ask users for their consent to use their data. The stored cookies help them hyper-personalize user experience in the future sessions when their users would engage, create accounts, and buy products.
4. Naked Wines' recommendations based on scores
I love it when small brands take inspiration from some of the biggest brands, especially when those inspirations help them make a positive impact on their customer experience. Naked Wines is perhaps one of them. The UK-based retailer makes wine recommendations to its customers based on user reviews.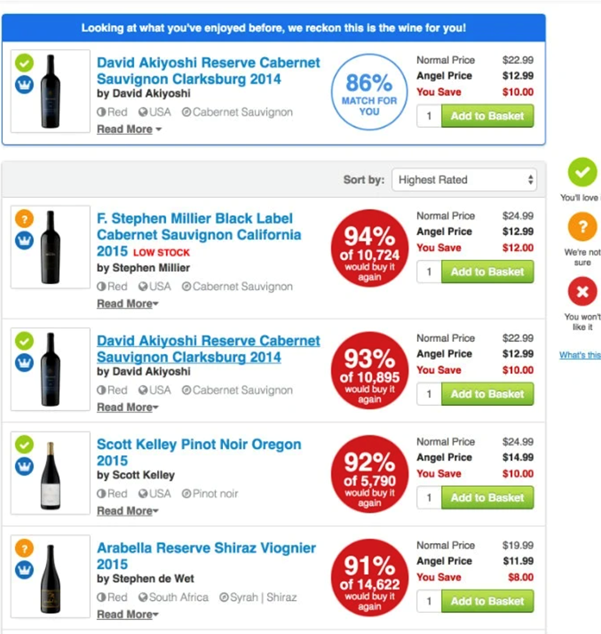 Basically, they make the most of their customer ratings by suggesting wines based on their user feedback. Does that ring a bell? Yes, most OTT platforms like Netflix and AmazonPrime use the same recommendation methodology to make content recommendations to their new users based on the most popular and highly-rated movies or series.
Naked Wines also knows how to stay relevant to their users without a huge amount of data. It has proven that effective personalization can also be achieved with a moderate amount of data.
5. SkinKraft's hyper-personalized skincare solutions
SkinKraft is an Indian skincare brand which has recently become famous among its users for providing customized skincare solutions. The multi-billionaire brand leverages data analyticsto formulate personalized skincare regime for its users. The brand first conducts a holistic skin assessment of its customers by asking questions related to their age, gender and skin concerns.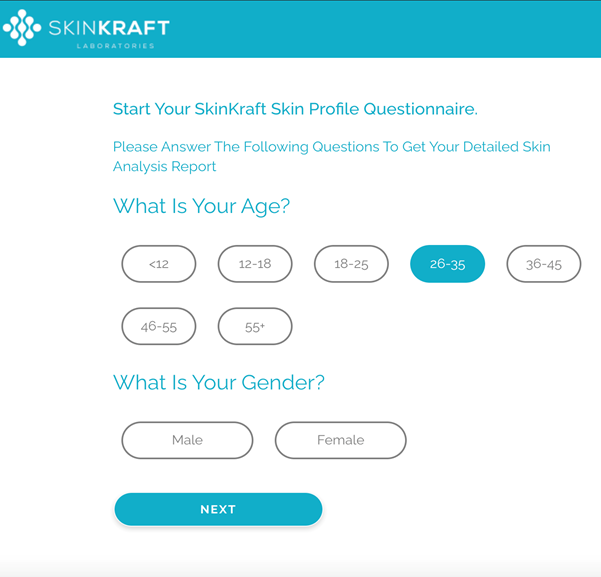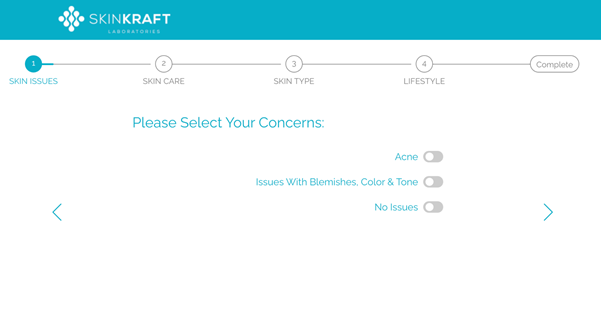 This not only helps SkinKraft make personalized product recommendations but they also use these data points effectively to make better products for their customers. According to Skincraft's CEO and co-founder Chaitanya, they are already profitable and their profit is growing by 30 to 40% month on month.
6. Retarget in-session based on customer behavior
Exit intent pop-ups are now quite common among ecommerce marketers. But, using them to offer customized discounts and offers isn't that common yet. So, if you are retargeting your customers onsite, make sure you are timing or triggering your pop-ups to match the behavior of your customers during that particular session.
For example, if your customer has been scouring your website for brown leather shoes, your pop-up offer must be on the same product. Your exit intent pop-up is most likely to show a desirable result if it has dynamic content for each user. And definitely these pop-ups can be triggered based on cart value, number of sessions and browsing behavior.
7. Boozt's hyper-personalized homepage
Well, Boozt knew that it's difficult to offer hyper-personalized experience to its customers on their first visit. So, they decided to hyper-personalize their customer experience in the second session and in all the subsequent sessions after that. This is only possible if you collect as much information and data points as possible from the first session.
For instance, if you click on the women category on your first visit, then on your next visit, t will automatically redirect you to the women category page if you type boozt.com in the address bar.
Similarly, if you select your preferred country on the first visit, they will remember your choice and take you to the right store page. This way they are dynamically changing the home page for their customers in real-time.
8. Topshop's Personalized style guides
How often you come across ecommerce stores that offer on-site assistance to its visitors in the form of quizzes, size measurement, and style guides? Very few, rights?
But Topshop does exactly that. After you answer a few questions related to your taste, style and choice along with size and budget, it will create a whole personalized wardrobe for you.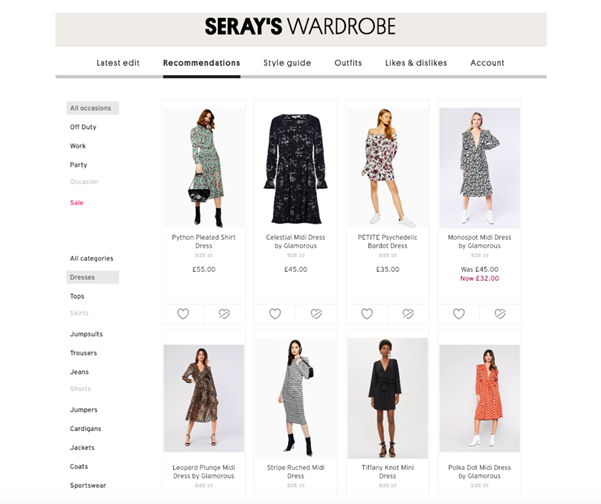 The best part is they keep updating your wardrobe with new products based on whether you like or dislike the products recommended in the wardrobe. And they don't forget to inform you about your wardrobe updates through emails.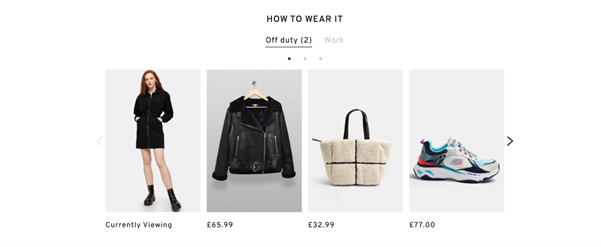 Also, when you land on a particular product display page, it will show "how to wear it" widget under the product, which basically helps you 'team up that top with the right bottom wear'. So, along with creating a personalized wardrobe, Topshop also offers you a personalized style guide to assist you and make an informed buying decision.
9. Help customers "pick up where they left" like Zalando
This is another smart example of ecommerce website personalization that I really like. Sometimes we casually scour the website, look at products, but don't make a purchase for numerous reasons. And there is no way to know which all products you looked at in the next session.
Most ecommerce brands show you "recently viewed items" during that particular session in real-time. But only a few brands store those cookies for your next session. That's what Zalando does.
When you visit their site the second time, it will display the products you checked the last time on the home page with a very compelling title "Pick up where you left off". That's quite a subtle to remind users what they looked at during their last session. I totally loved it!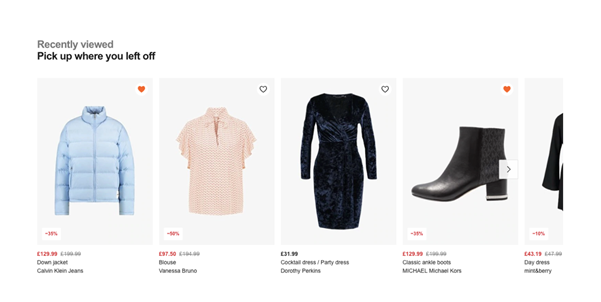 10. "Add a gift note" form like Alaya Tea
This is the simplest yet the smartest way to personalize products in your ecommerce store. So Alaya Tea has "Add a gift note" box beside the displayed product and allows its customers to add a personalized note if they are buying that item for someone else. Goes without saying, filling the box is optional.
I personally loved this idea as I often buy gifts online and send it to the receiver directly from the website. So, if I get a chance to personalize that gift item by adding a note that goes along with that gift, I am definitely going to grab that.
Basically, Alaya Tea offers personalized gifts without having to launch entirely new line of items. Isn't that brilliant?
Fact! The personalized gift market is set to be worth $31.63 billion by 2021. Alaya is definitely making the most of it with the limited items they have in their ecommerce store.
Final Thoughts! Looking at these brilliant examples of ecommerce personalization, we can very well say that website personalization has gone to a whole new level. Brands are constantly optimizing their personalization strategies and engines to stay relevant to their customers. Honestly, there is no survival if they don't as the competition is real tight. Also, your customers expect tailored experiences and want to buy products especially curated for them. Whether you are a smaller retailer or a mid-sized retailer, you cant afford to ignore these ever-evolving personalization trends.