What makes email marketing successful in 2020?
President and Founder of Synchronicity Marketing, Karen Talavera, talk about the underrated email success metrics that beginner and expert marketers need to monitor more than the ones commonly discussed.
Karen dives deep into many metrics and KPIs that email marketers consider valuable but really aren't. And then she mentions the metrics that matter.
About Karen Talavera
Karen is an expert at helping companies navigate these common challenges and come out thriving:
Email Program Development
Digital Marketing Strategy Creation
Email Problem and Opportunity Assessment
Email Marketing Professional Education, Training, and Workshops
Message Planning & Frequency Optimization
Test Plan Creation and Results Analysis
De-mystifying Campaign Metrics
List Segmentation, Management, Hygiene, and Deliverability Troubleshooting
And in this podcast, she spent the time with us to discuss the campaign metrics that she looks at when performing a campaign audit.
Open rates are an overrated email success metric
Let's get right into the topic.
A majority of email campaign monitoring tools and techniques offer great insight into the behavior of consumers.
But with all this data at hand, one metric continues to dominate as a measure of success.
That is – "Open rates"
When you think of it – The purpose of an email is to convert the audience or push them further into the sales funnel.
However, an open rate indicates 3 things:
Brand loyalty
The subject line's clickability
Frequency and relevance
If 50% of your email subscribers open your email, it cannot confirm if some of them moved ahead in the funnel or not.
We need to check if they clicked through on our offer, and base our success on what the users did after they clicked through.
Which metrics measure the real success of an email campaign?
There are new trends in the email marketing industry since COVID.
Many brands have increased their email marketing after a long time of inactivity.
Brands in the travel and hospitality sector that got hit the most are communicating with customers by planning.
Like Vail resorts for skiing, brands in the sports sector asked consumers what would influence their decisions to buy a ski pass.
So Dennis asks a pretty interesting question here. "What metrics should brands be looking at as a measure of their email campaign success?"
Karen mentions – "Conversions" are the most important success metrics, with "Click-through rate" being the second most important.
1. Conversions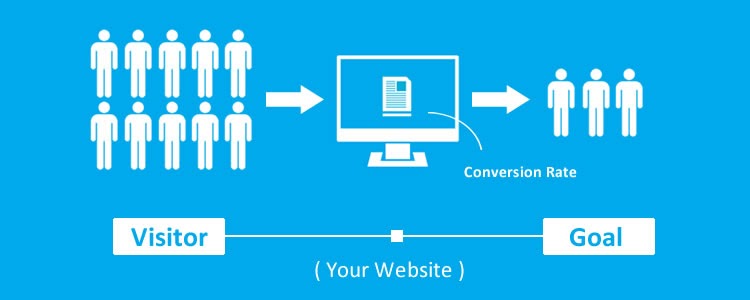 The click-through rate is the second most important in the general success metrics for an email. For an email to be successful, it has to convert the readers into buyers or subscribers or get them to opt-in for a trial.
But it all starts from what counts as a conversion for your business.
For eCommerce stores that sell low-priced products, a conversion would be a sale.
For a higher-priced B2B product, the prospects might need more nurturing and more convincing. So a conversion could be getting them to sign up for a free trial or get them on a sales call.
The objective here is to compel the reader into taking the action instead of simply consuming the content.
2. Click-Through Rate
A click-through is not the first one on the list of important email success metrics because a reader might click on something. After all, the content was interesting. They may want to consume more content.
It is a great position to be in. It means that this kind of content works. But the reason behind a click needs to be understood.
If a reader wants to "consume more content," then the content we shared worked really well. But it failed to put the prospect into a buyer's mindset.
But when the click arrives from a person in the buyer's mindset, their actions on your website change.
NOTE: You should absolutely continue sending the type of content that got your prospects to click. Because the more you engage your email subscribers, the more likely they are to remember your brand for future purchases.
There's more than just tracking "if" the user clicked. We also want to know "where" and "How many times" did they click on the email links.
This data collected over a period of time will give you enough insights into how we can make our future emails better.
Data-Driven Email Marketing – Does it matter to you?
Data-driven strategy means data is central to defining what brands do in marketing. Everything from what gets done to support and purport and grow awareness of the brand and what messages are sent to the different audience members.
You have to identify where your prospects are and how they engage with your brand.
Two eCommerce brands can appeal to two different segments of customers. One brand can appeal to the GenZ or millennials who are engaging on Instagram, Snapchat, and Facebook. At the same time, another brand might still be sending out flyers and catalogs.
It all starts from the data to identify where your prospects are.
If you don't have the data, that's telling you how your audience is finding out about you, signing up for email, following on social media, giving you their contact information, and how they're purchasing, how are you going to know where you should go fishing?
Without data, you wouldn't know where the fishing pond is for your prospects.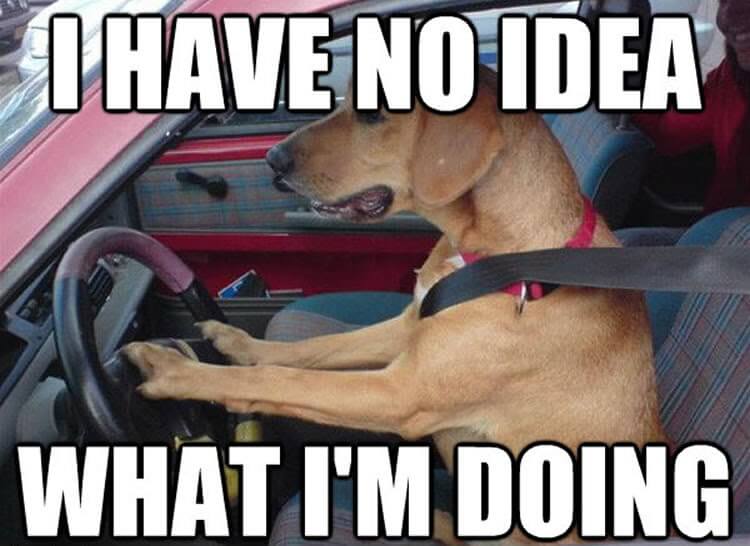 Marketing without data is gon' feel similar to what the little doggo here is feeling!
With data, you can find the pond where your prospects are and also determine the perfect bait to lure them in.
How Do You Introduce A Data-Driven Approach To Your Email Marketing?
In earlier days, it was necessary for a person to be a statistics graduate to understand the data intricately. But now, with the advance of AI and data science, almost every tool is accompanied by data analysis tools to help understand your email and user engagement.
With beautifully implemented graphs and charts, approaching data-driven marketing is no longer a game for the experts. It's now available to everyone.
Identify what metrics impact your bottom lines and keep a close watch on those using the graphing tools on email service provider platforms.
But there's a lot of non-email related data that you may need, including how people interact with your website or your mobile application.
Karen says, "Synchronizing the Marketing, Sales and IT teams is an important part of having a full-fledged marketing team"
Why You Must Align Marketing, Sales, and IT?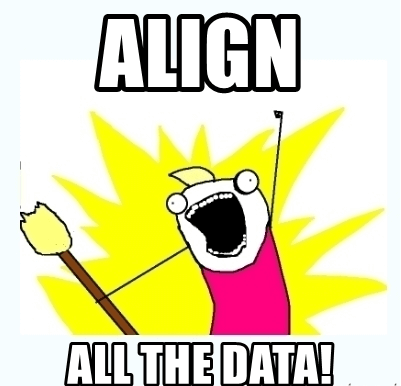 When we talk about a data-driven marketing approach, it's impossible to keep the IT and the Sales teams here.
The marketing team pushes forward the company and brings it in front of more people.
But the IT and Sales teams have access to direct customers. They touch customers in different ways, and for successful marketing campaigns, the marketing team needs to understand that.
The IT teams develop the apps, websites, landing pages, implement sales funnels, and add tracking codes.
The sales team are in touch with customers, talk to them frequently, and have sets of common objections.
The marketing team needs this information to create high converting campaigns. That's the essence of a cohesive marketing team and an efficient one thereof.
How To Build A Cohesive And Aligned Marketing Team In Your Company?
Get the marketing folks to join in sales and IT meetings. Allow open communication within these 3 teams to ensure that the data and learning are shared.
A marketing team is usually a bunch of people who experiment a lot to find what works. The major one here is to provide them with access to direct user analytics data or offer them someone who can answer all the teams' questions.
It's easier said than done if, until now, all three of these teams have been working independently in your organization. But you can start with finding one representative of the marketing team to join in discussions from sales and IT. This can further be increased as the cohesiveness develops.
What are some of the major shifts in email marketing since the pandemic?
Dennis moves on to the question that a lot of you might want to get an answer to. "What has changed since the COVID in the email marketing industry?"
Karen says there's a lot that has changed.
Brands who had ignored email as a marketing platform for a long time started emailing.
Those who used email only to promote offers have started focusing on content to improve engagement.
The travel and hospitality industries that were hit by the pandemic the most created campaigns around "Planning your vacation after the pandemic."
Emails and marketing started achieving more empathy
How A Brand Changed Their Campaign To Boost Customer Confidence In This Slowdown?
An example Karen cites is with the Vail Resorts, a skiing resort hit by the pandemic where many pass holders wanted to know what happens to their passes.
And the company wanted to find out how to get people to buy more passes for the future to keep the cash flow going.
Vail Resorts sent out an intelligently crafted campaign to ask users what's stopping them from buying passes for the future, and what would make them feel confident enough to do so?
They identified that people are unsure of the situation of the future and need an option to back out of an offer if they decide to opt-in.
The company announced enhanced benefits for season pass holders shortly after the survey was out, including full-blown cancellation insurance.
This is the kind of customized email marketing, paired with empathy and care for your customers that is bound to get you the results that you've been waiting for…
Karen's advice the budding email marketers
Learn as much as you can for free as possible. And one of the best ways to do that is to get involved in the industry through groups because there is a lot of free education.
A lot of those groups provide some great very affordable education.
Email Experience Council
Association of National Advertisers
Women of Email
Only Influencers
LinkedIn Groups
the list goes on…
Don't think that you can't join and you can't participate in any of these conversations or groups and that you don't have something to add, because they are all welcoming and eager for new members.
Get in there, sign up for all these groups' emails, or join them and get into the conversation because you're going to learn a lot very quickly, and you're going to make a lot of great connections to further your career.
Conclusion
We hope you have gained some interesting insights into email marketing from this podcast summary. Feel free to listen to the full podcast at ForTheLoveOfEmails Podcasts.