Let's understand App walkthrough this way. Suppose you wish to buy a new house. You contact a real estate agent to book a site visit. But, when you reach the spot, the agent blankly points out the site to you without giving a proper walkthrough of the house. Will you be interested in buying that house anymore?
Same is the case with your apps.
App walkthroughs are pivotal for businesses to get first-time users acquainted with the app and its features, in a smooth and swift manner, unlocking the value proposition it possesses for users. They are crucial for ensuring that users are aware of the app's capabilities and functionalities, making it essential to integrate effective push notifications to guide users.
What is an App Walkthrough?
App walkthrough or app-onboarding is a series of onboarding screens that demonstrates or introduces an app and its capabilities to first-time users and facilitates an exceptional First Time User Experience (FTUE).
App walkthroughs act as a digital guide that points out the right direction to its users, preventing them from getting lost in the complex app-sphere. Utilizing push notification services in the onboarding process can help keep users engaged and informed.
Think of it like a tour guide who escorts tourists in the right direction so they don't get lost during their journey. With the assistance of browser push notifications, users can be directed to the most valuable features of the app.
App walkthrough breaks down the complicated app journey into easy-to-follow instructions. It becomes easy for the users to apprehend the app features in the first look itself. This makes app walkthrough an immensely popular user experience strategy in the mobile app market.
As per the research by Techjury, mobile apps are expected to generate a revenue of $935 billion by 2023. That's not all, it's also revealed that an average smartphone user uses 9 apps per day and 30 apps each month.
Another report suggests that around 88% of mobile time is spent on apps, with 49% of people opening an app 11+ times in a single day.
These numbers are surely impressive for app owners and enterprises looking to extend their brand reach via apps. But before you play that song of victory in your head, you need to get past these two hurdles:
Increase your app downloads
Reduce user App-nesia (Users forgetting the apps leading to app churn)
Creating a solid app walkthrough can help you surpass these hurdles, encouraging users to download the app and use it routinely. Leveraging push notification marketing can be a game-changer in increasing app downloads and retaining users.
Now the question is…
How can appreneurs and enterprises use App Walkthroughs to their advantage?
There is a constant debate that users should be able to understand the app functionalities on their own. However, with apps getting complex by the day, there is an increased need to educate users about the app in a little more simplified manner.
Here are a few ways to reap the benefits of App Walkthroughs for your business:
As they say, the first impression is the last impression, and it applies to your app journey as well. Users anticipate smooth transition when they traverse through your app universe for the first time. And as an app owner, it's your responsibility to make this experience a pleasant one.
1. Use App Walkthroughs to Deliver A Great First-Time User Experience
Surprise your first-time app users by establishing a personalized and seamless onboarding flow. Engage real-time and make users discover the app by quickly instructing them on the key app features, registration process, login options, first-time promo codes, etc. Implementing real-time notifications can enhance the onboarding experience.
2. Enable Users to Discover App Features with app Walkthrough
Convert app users into power users with contextual walkthroughs to instantly familiarize users with the app and its features.
Send contextual in-app messages to highlight a new or existing low-adaption app feature to the users. This will reduce app-nesia and increase in repeat app usage.
Utilize contextual walkthrough to display tips in the form of instructional overlays and coach marks. It will guide action-driven users to learn the app swiftly on the go. Utilizing push notification tools can help deliver these tips effectively.
3. Customize User Journey And Direct Users Towards Conversion
From the moment a user installs an app, their app journey commences. And this is your opportunity to make them realize the value of your app by seamlessly customizing their experience.
Map user journey, spot its discrete stages and customize the app tour to meet each user's motivation and expectations. It will keep them sustainably engaged for a longer period of time.
Target the passive users by developing tailor-made walkthroughs across multiple app screens on the go. Save these context observations for future users that meet the qualification parameters you define. Implementing web app push notifications can further engage passive users.
4. Capture Real-time User Feedback to Detect Loopholes
For any business, customer feedback plays a crucial role as it helps you detect even the minuscule of a loophole in your app. It's an opportunity for you to improve the user interface effectively.
Go beyond the blanket feedback ideas of review and rating by taking live feedback from in-app users through qualitative surveys. Use the feedback received as a base to improve your UI or product/service offering.
Implementing all these strategies can help you build a successful app onboarding experience in no time. Using the best push notification platform can aid in collecting feedback and providing valuable updates to users.
Types of App Walkthroughs/App Onboarding
Onboarding is a crucial phase of any app user's journey as it establishes the first point of contact for users. There are different types of onboarding strategies that you can adapt to suit your business objectives. To make a flawless app, you need to define its purpose and this section will help you to precisely outline the same.
So, let's explore the types of app onboarding you can opt for:
1. Benefit-oriented Onboarding
The name itself says it all. This type of onboarding reflects the benefits or value the user derives by using a particular app.
These types of apps are conversion-driven with more focus on what the app does rather than how to use the app.
The onboarding screen consists of permission requests for opt-in services like accessing location, sending push notifications, etc.
One brilliant example of benefit-oriented app onboarding is of FitBit.
FitBit is an all-day personalized activity tracker app, designed for both men and women.
The app help users manage their goals, track activity, heart rate, record workout, monitor food intakes, and even their sleep patterns.
Fitbit uses 5 simple walkthrough screens to showcase what's in store, justifying the value it adds to its user.
Being a personalized app, the onboarding starts by gathering all the user information. This includes FitBit device type, birthday memos, height, weight, gender, other daily goals, etc.
Do take notice of the screens shown below!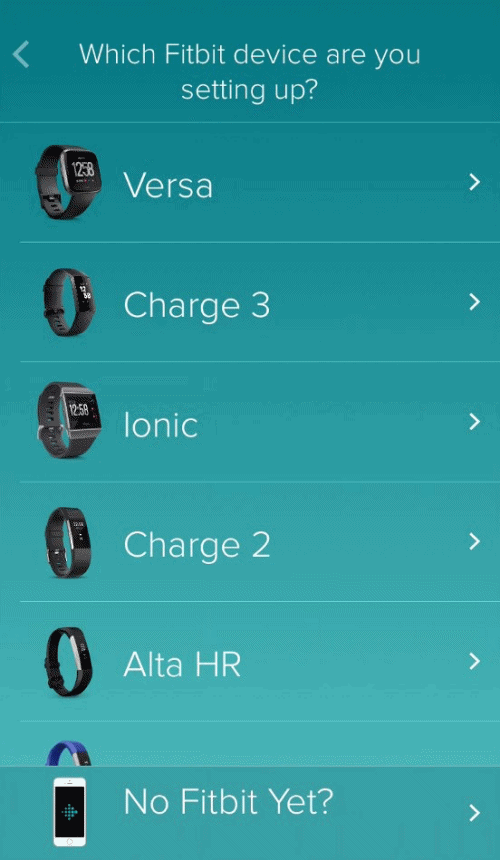 Image/GIF courtesy- Storyly
After collecting the information, the app creates a personalized dashboard which indicates that the personal tracker is now at your service.
Can an app get any cooler than this! If you are looking for an app that offers value to your user, that's the approach you need to follow.
2. Function-oriented Onboarding
This type of onboarding focuses majorly on educating the customers and busting their dilemma about the app's core functionalities and features.
The app tour guides user from start to end, giving a 360-degree view of the entire application.
Here is an example that explains how a function-oriented onboarding works
Flock
Flock is a team messenger and online collaboration app that empowers teams and workplaces, enabling them with tools and services to get the best output at work.
The app offers a plethora of features like create to-dos, 1-1 chats, group discussions, video conference, take team polls, share files… the list is never ending.
The app kick-starts with engaging screens that instantly highlights the top features of the app.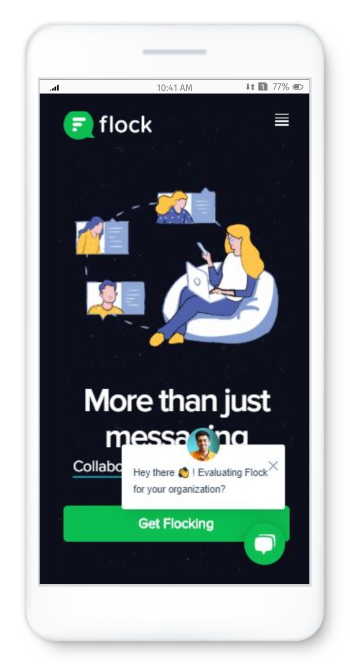 Flock takes its users' screen-by-screen, showcasing the very business tools it offers for teams to carry out their tasks effectively.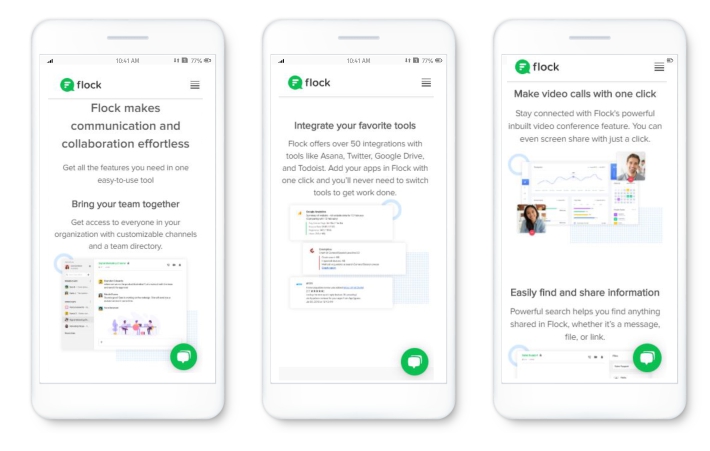 This in-depth journey enables users to understand the app and the features it provides in a better way.
3. Progressive/Action-driven Onboarding
In this approach, the app displays information as the walkthrough progresses, prompting users to take meaningful actions. This type of onboarding is most suitable for apps that rely on user-generated content (UGC).
Instead of talking about the value and features, progressive method makes prospects use the app amidst the onboarding.
The best suited example in this approach is of Instagram
Now this app needs no introduction. We all know it, use it and absolutely love it!
Instagram's onboarding journey starts by displaying the statistics of its customer base which is sure to create a FOMO.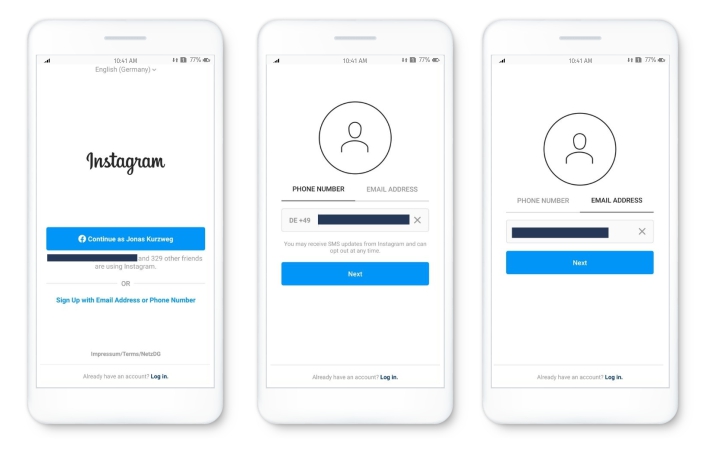 Image Courtesy- UXCam
Since Facebook is owner, Instagram shows its users a list of all their Facebook friends who are active on the app. This friend list is randomly produced basis their engagement history on Facebook.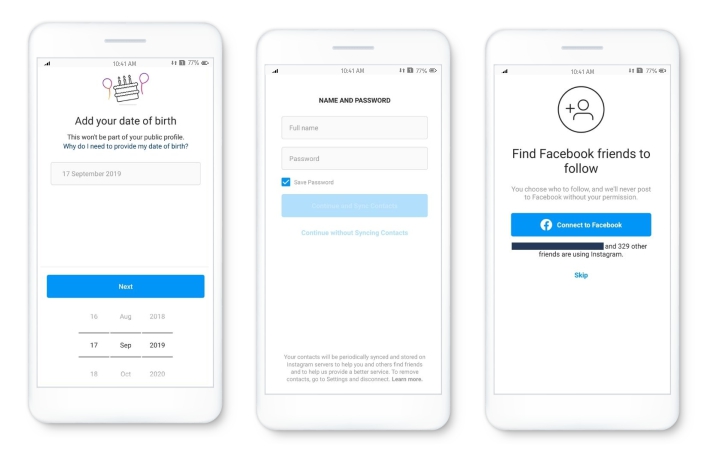 Once users select their Instagram friends, they will be nudged to make one last move i.e. to create an Instagram profile. And Voila! they are now a part of the ever thriving Instagram community.
Now if you too dream of creating a UGC-driven app, then this example is a perfect food for thought!
And always remember that in the end, whatever be the approach, the goal is to ensure that users understand the app and stay with them as long as possible.
What makes App Walkthrough Different from Product Tour?
There is a lot of skepticism among the marketers on whether there is any difference between App Walkthroughs and Product Tours or is it all a part of the same puzzle?
The answer is, it depends on your perspective. Ideally, they are not similar but not very different too. However, those who find these two terms different describe them as follows:

So as you can see, it kind of falls in the same chain.
However, from the onboarding point of view, there is definitely a distinction between both phenomena. While one focuses on an overall approach, the other is more exhaustive.
Bottom Line
Creating a strong app walkthrough can make or break your user experience. While it's essential to guide users and simplify their journey, app owners also need to be mindful about how the walkthrough is created.
According to a customer onboarding survey, 8 out of 10 users say that they've deleted an app because they didn't know how to use it.
Therefore, an app walkthrough needs to be designed in a manner that they only pop-up when a user calls for it.
Keep a pause until the user asks for any information, like a certain app functionality, leaving the rest for the users to decipher by themselves.
Constant nudges or pop-ups can confuse users. And, eventually, it will take too long for users to figure out the app and ultimately drop out.
App walkthrough is the new brewing user experience strategy for businesses. It helps build an instant connection with their prospect and navigate safely to their ultimate Aha! Moment.
In the case of a complex SaaS app platform, reaching the first aha moment will need a lot more work compared to other simpler apps. Unlike other apps, SaaS products demand users to take a series of actions to reach their core value.
Either way, the objective of having an app walkthrough is to help new users discover your app and its value during the first interaction. This is imperative for long-term success.
So if you want to maximize your app performance at scale, get in touch with us for a quick demo!