With Online Travel Agencies (OTA) making travel bookings easier than ever, the online travel sales has seen a rise of 10.4% between 2017 and 2018 and is expected to reach a whopping figure of 817.54 billion US dollars in 2020.
With the industry expanding so fast, and the marketing technologies evolving at an incredible pace, the customer expectations are growing too. The new-age customer has now grown intolerant to all kinds of mass marketing content and expects nothing less than an absolutely hyper-personalized experience. And every brand is now focusing on delivering it by adopting the latest AI-based personalization techniques.
Role of Personalization in Travel Industry
A study by American Express revealed that personalization is so important to the millennial generation that 83% of younger travelers and trip-seekers say they'd let travel brands track their digital behavior to collect data and yield a more personalized experience. The same study also revealed that 85% of all ages believed that customized plans and itineraries are more enticing than general mass offers.
A great user experience is one of the most important factors that determine the success of a brand. Deep level personalization provide users with content that is more related to their individual preferences and circumstances, thereby enhancing the user experience.
Today, to satisfy and serve customer demands for personalized travel experience, travel marketers are challenged to use AI and move beyond the generic tools. If your brand cannot stand up to the customer's expectations and cannot provide the desired experience, your customers are likely to find and move to another outlet, travel platform, airline, or hotel.
To bridge this gap, travel companies, and, more specifically, travel marketers, can start to implement personalized interactions with AI marketing. Most travel businesses aim to deliver excellent customer service to build a brand reputation, and AI technology can assist with implementing it in a wide variety of different ways. For example, AI can be used to tailor recommendations, improve personalization, and ensure fast response times, even in the absence of a staff member.
Let's understand more about how AI is helping reimagine travel marketing by understanding the basics of personalized intent based on unique customer journeys.
1. AI-powered Chatbots and Online Customer Service
Customers in every industry are demanding faster response times on online platforms. A study by IBM revealed that chatbots can answer more than 80% of the standard questions. In the travel and tourism industry, for hotels and other businesses, one of the most exciting uses of AI is for providing assistance to the customers online. Customer service chatbots could be a boon in the travel industry. Other than the benefit of scheduling and booking flights, chatbots can help unite additional services via an app. If chatbots are well trained and employed for all emergencies, then the passenger can experience a stress-free journey.
There has been a very widespread adoption specifically for the purposes of powering chatbots on websites, social media platforms, and instant messaging apps. If trained well, AI will be able to respond to customer questions and provide a valuable response to them. This comes in handy when a customer service rep is not available. AI allows businesses to deliver responses in rates that would not be possible for humans.
Example: Sam, intelligent travel chatbot!
Example: Mezi, the chatbot that was acquired by the American express, can make travel recommendations and arrangements at the customers' request.
2. Hyper-personalized Retargeting Campaigns
You can optimize a remarketing campaign if you segment your customers by rates of conversion likelihood. You can set retargeting for the most promising travelers by making higher bids on those who are more likely to make a purchase. It is possible to target adverts towards users through services like Google AdWords. Online users that have earlier interacted with a business similar to yours in the travel domain, such as by clicking on an online ad, visiting a travel website, typing in particular travel keywords, or interacting with travel booking contents on social media platforms like Facebook.
While online viewers are open to being served with retargeted ads, as many as 25% admit that they like reminded of products and services, they were looking at previously. Personalization marketing offers many advantages for retargeting campaigns. It also assures that the marketing budgets are spent on people with a high possibility rate of making a booking. It can also serve as a reminder to people to use exclusive discounts and offers – cheap hotels and flight deals, for example — from sites they've previously been browsing.
Example: The retargeting ad campaign on Facebook by Expedia.
The caption, "time is ticking," is excellent as it creates urgency for the customer as only a few days left until the New Year.
Example: Cheapoflights.com lowers their price offers and retargets it to the customers who keep revisiting it for a certain period of time
Here is another excellent example of a highly-personalised email campaign by Easyjet.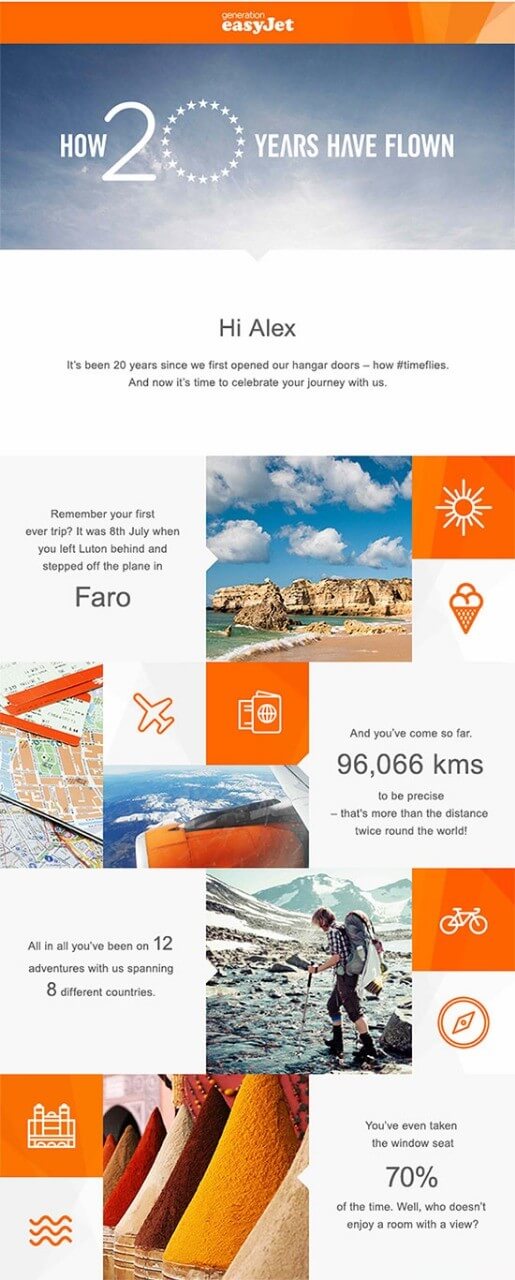 3. Data-based Tailored Recommendations
Behavioural data based personalised recommendations is one of the most impactful ways to drive the travel business. With advances in custom-built algorithms and machine learning tools, recommendation engines improve opportunities for cross-selling and upselling. By collecting relevant information from customers' recent searches, you can build a recommendation algorithm to offer suggestions for add-ons to their next trip.
Highly intelligent recommendations in terms of the size of the room they should opt for, the hotels, or room views that best fits their budget etc. strike the right chord, nudging the customers towards transaction. AI collected data can also be used to target customers through SMS, email, social media, and other channels, as well, enhancing the probability of bookings.
Example: Utrip.com lets you filter your preferences to build you a customized itinerary.
Example: After Expedia discovered that people search about 48 times across travel sites before booking a flight, it built a new flight recommendation engine that simplifies the process by analyzing customers' previous booking patterns and provides more relevant recommendations with better alternative routes.
4. Social Media Marketing to Pick up Steam
Social media is a place where content is often utilized and built in a way for interactions to feel more personal. It is one of the most common places where personalization marketing techniques can be executed well to engage with potential customers directly. In particular, Facebook and Instagram offer a wide range of tools for targeting and retargeting specific users through advertisements. In order to stay relevant, online travel agencies cant afford to not use social media to showcase their abilities to provide their customers with unique experiences that one may have trouble securing without professional help.
Entrepreneur magazine published an article that suggests that travel agencies are still responsible for 55% of all airline bookings. Even more for cruise and travel package bookings. This has a lot to do with the social media marketing model, one that can benefit greatly in tourism marketing. Travel agencies should make it their priority to lure millennials and meet their needs on their social media platforms as they taking on more and more of the travel population. Personalization and AI tools can also be implemented in other ways for businesses to build auto-response for comments that address specific questions or complaints. If done right then, the use of AI can serve as an effective marketing strategy. Personalization also opens up the potential for travel brands by using some complex algorithms to display a more human side through promotional content messages, email offers, and other event invites.
Facebook Example: TUI, the world's largest travel and tourism agency, is also one of the best performing travel agencies on the Facebook network. It often uses a social media management tool to find out where your customers are from.
Instagram Example: SmartFlyer has over 19.9k followers and knows how to take great pictures.
Pinterest example: Unlike Instagram, Pinterest is an aspiration planning site that is why Pinterest is a great part of social media marketing for travel brands.
5. Leveraging AI- Powered Emails
A study by eMarketer.com revealed that across various industries, 80% of personalization is distributed via emails. Given that the data science groundwork is completed, targeted emails are a relatively simple approach to execute without needing much additional engineering effort. Perhaps targeted emails are the most obvious ways within the travel and tourism industry for personalization marketing to be used. With the latest developments in email as a channel, (say, dynamic emails in Gmail), you run acquisitions, retention, as well as retargeting campaigns.
For example, a hotel might send an email to a customer before their anniversary reminding of a previous stay, encouraging them to do the bookings customer again or travel companies can send a run-up marketing emailer to a customer on their birthday, by providing special flight offers that would encourage them to treat themselves to a trip.
Example: Cape Tour Insiders, a travel firm, is using a person's name to get their attention for an offer for building an emailer list.
Example: Upon booking travel for Glasgow, Trainline offers discount deals for hotels in Glasgow in their run-up emailers.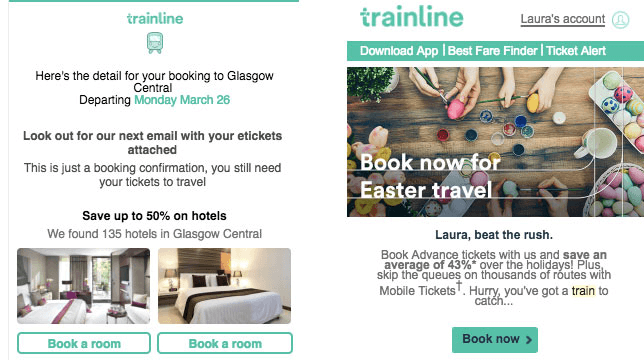 Final Thoughts
The demand for personalization in the travel industry is only going to increase with time. Human-driven customization will not be able to scale enough to meet those demands. Additionally, the amount of data and tools available will become overwhelming to marketers. AI is complex but powerful, and offers endless marketing implementation opportunities.
It is important to note that implementing AI in tourism will cause a massive shift from the traditional operating models. So remember to manage the ever-increasing clutter to build a convenient, simple, and personalized travel and tourism brand. It's also essential to note that, in terms of using enabling technologies, the travel industry is well ahead of many traditional commerce industries. Without technologies like data science, AI and machine learning, you wouldn't have access to the correct customer data in real-time to provide personalized updates.
Summing it all up, AI marketing solutions offer a compelling set of tools to help travel brands shift from a static world towards an age in which every customer will be recognized for their unique and dynamic persona.
To understand how can a AI-based growth marketing platform like Netcore Cloud can aid you in your personalization goals, get in touch with us today.