All successful brands have one thing in common: the belief that the customer is always right. The customers of today have spoken. For them, customer experience is the most important brand differentiator. This makes customer service a pivotal part of the entire branding experience. Today, customers over the world experience authentic, human interaction in real-time with brands to solve their problems and acknowledge their concerns. With two billion daily active users worldwide, WhatsApp establishes itself as an integral medium for customer satisfaction and experience.
Using WhatsApp Customer Service as a Game Changer for Brand Differentiation
WhatsApp as a platform for customer service has been leading from the front as a go-to customer support channel because it is inexpensive, has an excellent adoption rate, is very convenient to use, and integrates well with the existing tech stack of businesses. The open rates of this platform start from 85% and goes up to 99%.
Using WhatsApp API can help brands converse organically with their customers, helping generate leads, convert sales, engage with customers meaningfully, and be readily available at the customer's convenience at any point in time.
Why Use WhatsApp for Customer Satisfaction
Apart from the obvious reason of the already existing large customer base on WhatsApp, here are some additional advantages of adopting WhatsApp for customer service:
Advantages of WhatsApp
WhatsApp API helps brands build a mini helpdesk – by automating tasks, consolidating support queries, addressing frequently asked questions, sending in-purchase and post-purchase notifications
WhatsApp helps customers reach out to brands instantly in a manner convenient to them instead of choosing options on an IVR
Customers get to engage with brands on a medium they are already comfortable with, thereby encouraging customer engagement with high open rates and reducing friction.
WhatsApp supports team inbox where customer chats can be assigned to multiple agents
Ideas for Using WhatsApp to Automate Customer Service
Automate conversation to serve as first POC – Netcore Cloud aims to help brands create an automation flow that can serve as the first point of contact and resolve most customer queries without any human intervention. This reduces human effort in solving simple customer queries and concerns. It can also serve to collect all necessary information before the service ticket is passed to a human representative to minimize manual labour.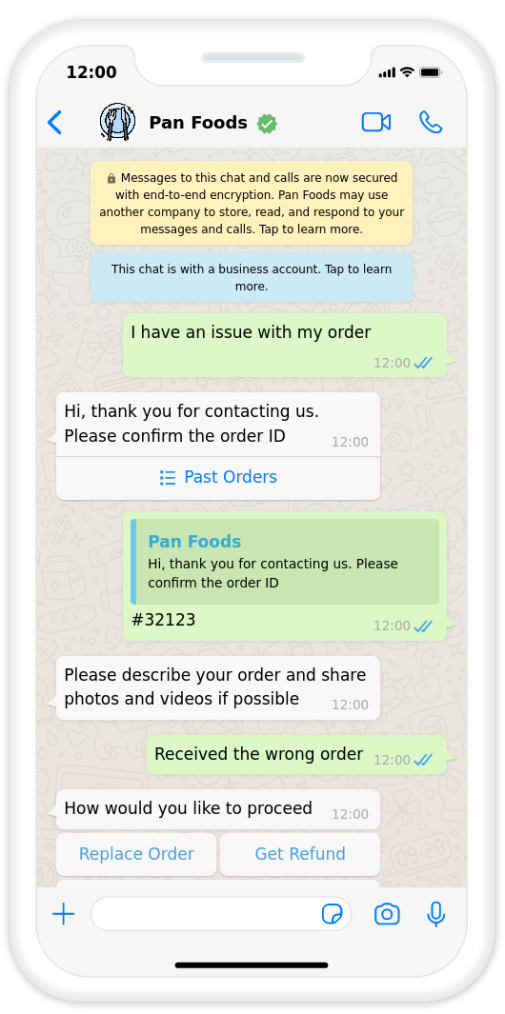 2. Keeping customers up-to-date with their order status – WhatsApp can be used as a customer support channel to send customers' order status notifications. Customers can receive order confirmation, shipping updates, tracking information, delivery and confirmations on real-time and on request bases.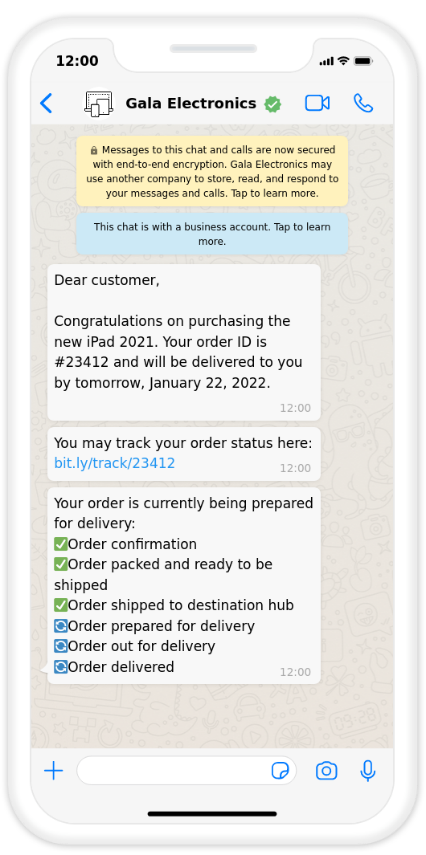 3. Collect feedback – businesses can overcome the low rates of genuine qualitative feedback on their product or service by asking for customer feedback on WhatsApp. Since this is an app where the customers are used to and are more inclined to use, they are more likely to give more genuine purchase feedback on WhatsApp than native apps or emails.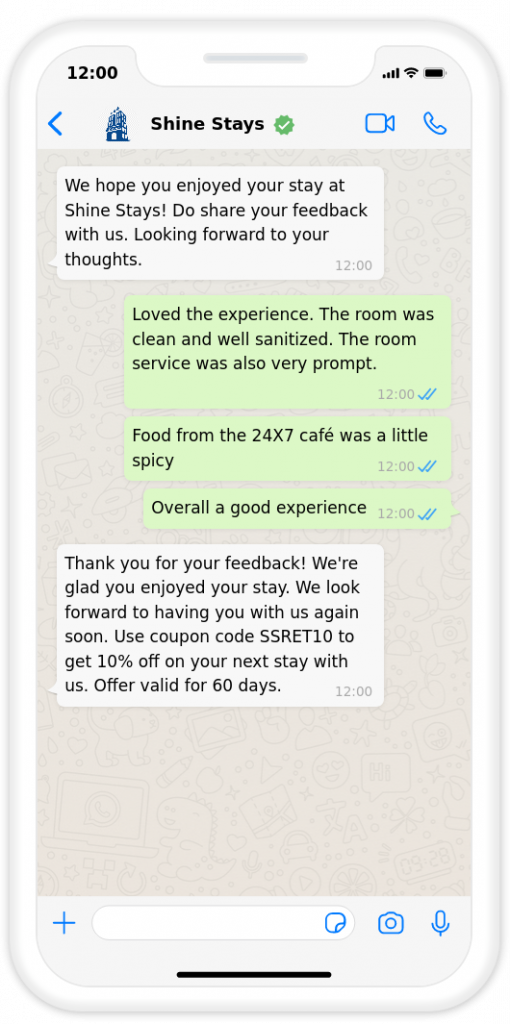 4. Leveraging rich media to augment customer support – WhatsApp API supports communicating through different files like PDFs, images, videos, GIFs, and audio files. This helps businesses augment their customer support for a richer experience for the customer.
5. Hassle-free bookings – WhatsApp is the perfect medium for assisting customers through the purchase process. At each stage, WhatsApp can be presented as a convenient mode of communication to address any concerns and guide customers with the next steps and instructions.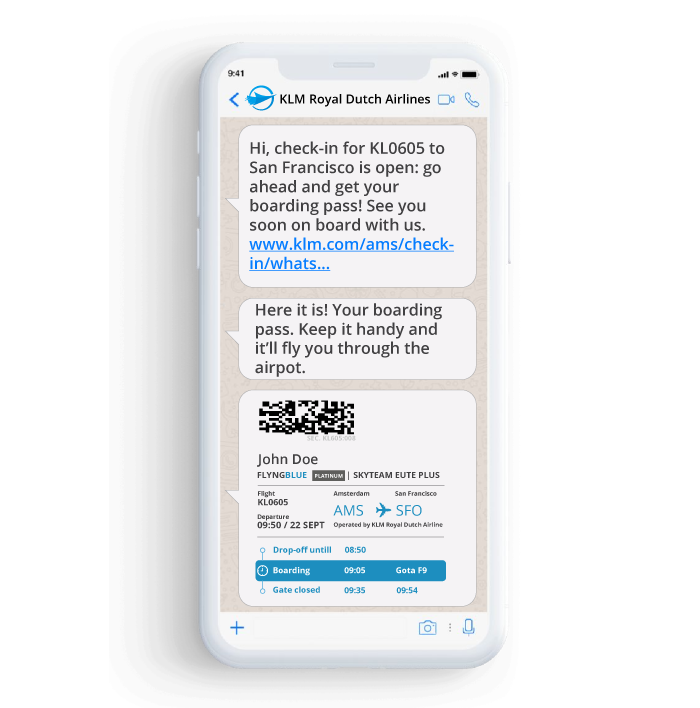 6. Product catalogue – Businesses can leverage pushing their products by creating an updated catalogue on WhatsApp. WhatsApp also supports suggesting products to customers from product inventory basis a series of engagement questions asked to the customer.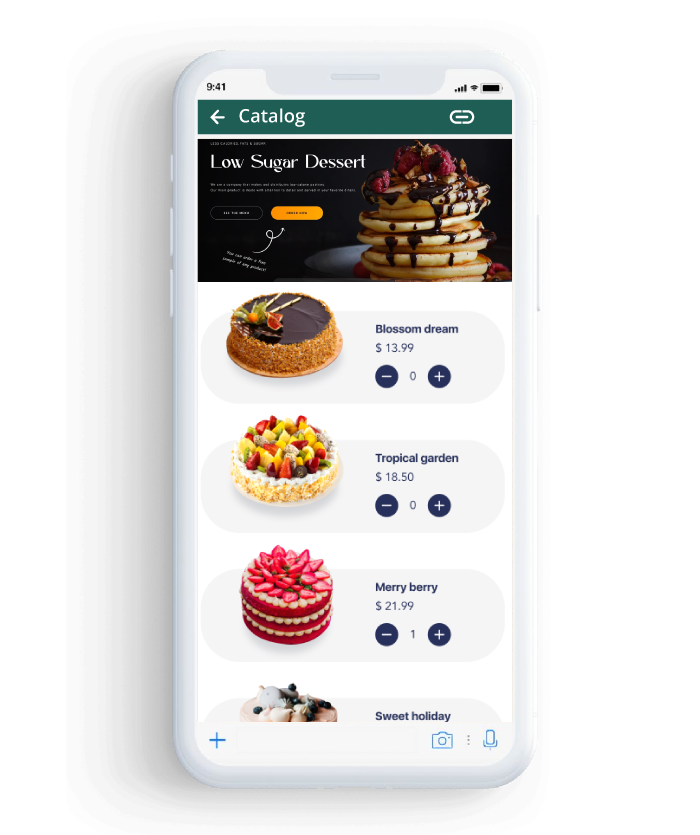 7. Scaling communication – WhatsApp empowers businesses to communicate with multiple customers in real-time and reduce TAT for customer queries in today's speed and convenience-driven world. A single agent too can operate multiple chats on WhatsApp unlike being limited to a single phone call at a time.
Revolutionizing Customer Service through WhatsApp
By incorporating WhatsApp API as a part of an omnichannel approach to customer services, businesses can scale new heights of customer service. Equipped with all necessary information, customer service agents can jump right onto solving customers' problems if human support is required. Thus, giving them a seamless experience not bound by the channel of communication.
According to Facebook[BD1] , over 100 billion messages are sent and over two billion minutes are spent on voice and video calls on WhatsApp each day. With such massive reach, using WhatsApp for customer service equips businesses to build strong relationships with their customers and reduce friction between them and their customers.
Download 7 Amazing Ideas to Automate Customer Experience on WhatsApp