Rule-base Personalization: Unlocking Higher Website Conversions With Data-Driven Experimentation
It is evident that because of the advent of the internet, customers are now loaded with information and options. In such a case, if a Marketer does not personalize his/her conversations and offerings, then it might be ostracizing.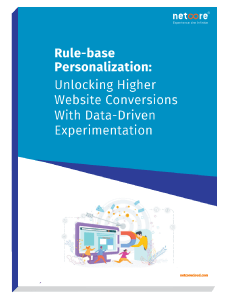 Here, you get to understand:
The difference between Magnetized and Demagnetized Marketer
Website personalization, their strategies, and types
Rule-based Personalization
Technology does give us power! AI-led personalization services have lifted the conversation rates by 10%. As a marketer, with the help of AI technology, you can understand your customers' past and real-time actions, inactions, needs, and intents. That's where your journey to personalization begins!






The E-Commerce Marketers Guide to Deep Personalization
Why Choose Netcore for Omnichannel Personalization
Patented AI-based model
Algorithms that improve your web & app conversions by predicting &
sharing right products for each customer in real-time
Quick integration Quicker results
Taking less than fifteen minutes, Smartech was built to integrate &
scale quickly to help you jump right into business
Performance Reporting
Measure conversion uplifts with advanced A/B testing within
5 weeks of integration
Personalization beyond home-page
Make shopping easy for your customers by greeting them with
personalized boutiques and communications using past data
10-13% increase in conversions
6-9% increase in add-to-carts
30-60% increase in CTRs
15 Minutes to integrate
5 days for going online
5 weeks to see results
Netcore vs Others
Long story short to help you make the correct choice
Competition
Integration takes 240 hours
Personalization on some pages
No personalization on messaging
No ownership of KPI
Click-stream data
Netcore
Integration takes 15 minutes
Personalized boutiques & more
Personalization across communications
KPI uplift with proof of concept
Click & eye-ball data