How a Leading Under-Fashion Brand Increased Website Conversions by 200% with Netcore's Personalized Boutiques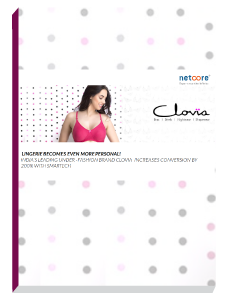 Key Achievements:
200% Increase in website conversions
65% CTR via banner image on home page
16X Uplift in ROI
Overview:
Clovia is the fastest growing lingerie brand in India, offering products at the best prices. Most online fashion stores face the issue of converting visitors to customers. So did, Clovia. Read the case study to know Netcore fixed this issue.
Challenge:
Converting visitors to Customers
Netcore's Strategy:
Predicted customer behavior and recommended them products with a personal tag "Picked Just for You."
Understood each customer's varying needs and offered them 1:1 personalization using their clickstream data and current context to predict their next action.






The E-Commerce Marketers Guide to Deep Personalization
Why Choose Netcore for Omnichannel Personalization
Patented AI-based model
Algorithms that improve your web & app conversions by predicting &
sharing right products for each customer in real-time
Quick integration Quicker results
Taking less than fifteen minutes, Smartech was built to integrate &
scale quickly to help you jump right into business
Performance Reporting
Measure conversion uplifts with advanced A/B testing within
5 weeks of integration
Personalization beyond home-page
Make shopping easy for your customers by greeting them with
personalized boutiques and communications using past data
10-13% increase in conversions
6-9% increase in add-to-carts
30-60% increase in CTRs
15 Minutes to integrate
5 days for going online
5 weeks to see results
Netcore vs Others
Long story short to help you make the correct choice
Competition
Integration takes 240 hours
Personalization on some pages
No personalization on messaging
No ownership of KPI
Click-stream data
Netcore
Integration takes 15 minutes
Personalized boutiques & more
Personalization across communications
KPI uplift with proof of concept
Click & eye-ball data