Solve: Why is my email blocked?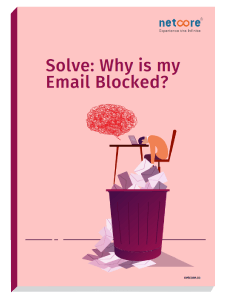 Are your emails getting blocked?
Blocked Email is the one that is being temporarily rejected by the receiving server not because of any issue with the recipient email address but because of the content in the message. In other words, it is the rejection of the message sent by you rather than any issues at the receiver end.
You may have experienced your legitimate emails getting blocked by mailbox providers like Gmail, Yahoo, Outlook, etc.
Here, in this ebook, we cover reasons why your email is getting blocked and how to find vulnerabilities in your emailing habits, to prevent you from getting yourself into this situation.