Personalization Playbook: Reimagining Offline-to-Online Retail With D2C E-Commerce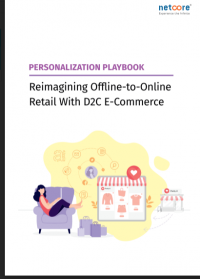 The global retail industry is going to lose almost $2.1 trillion in 2020 alone. That's a de-growth of almost 10%. While the offline retail industry is looking for regrowth silver bullets, the e-commerce sector is witnessing blistering growth across categories.
Large consumer segments that relied heavily on offline retail are migrating online for reasons of safety, comfort, and convenience. And, as a Direct-to-Consumer (D2C) brand; the time is perfect to strengthen your online presence – complementing your offline retail channels.
In this Ebook, you will learn:
Why D2C e-commerce is more important than ever in the post-COVID-19 world
Identify how you can get a consolidated customer data layer in place
Grasp how omnichannel personalization helps you increase customer retention and CLTV vs. only focusing on customer acquisition
Identify the metrics that matter most to your D2C e-commerce business
Why not reduce your reliance on e-commerce marketplaces like Amazon and instead set up and solidify your own e-commerce platform? Focus on crafting 1:1 customer experiences with AI-led personalization to keep your carefully acquired customers coming back for more. Again and again!
Why Choose Netcore for Omnichannel Personalization
Patented AI-based model
Algorithms that improve your web & app conversions by predicting &
sharing right products for each customer in real-time
Quick integration Quicker results
Taking less than fifteen minutes, Smartech was built to integrate &
scale quickly to help you jump right into business
Performance Reporting
Measure conversion uplifts with advanced A/B testing within
5 weeks of integration
Personalization beyond home-page
Make shopping easy for your customers by greeting them with
personalized boutiques and communications using past data
10-13% increase in conversions
6-9% increase in add-to-carts
30-60% increase in CTRs
15 Minutes to integrate
5 days for going online
5 weeks to see results
Netcore vs Others
Long story short to help you make the correct choice
Competition
Integration takes 240 hours
Personalization on some pages
No personalization on messaging
No ownership of KPI
Click-stream data
Netcore
Integration takes 15 minutes
Personalized boutiques & more
Personalization across communications
KPI uplift with proof of concept
Click & eye-ball data