Personalization Playbook: Delight OTT Users With AI-led Content Personalization and Recommendations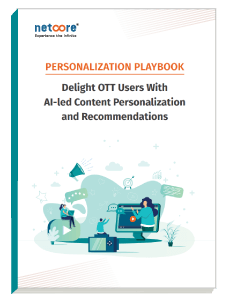 The COVID-19 pandemic has left a lot of us confined to our homes. This has seen us turn to OTT platforms to fulfil our need for education and entertainment. What was already a booming consumer industry, has grown exponentially in 2020, across regions.
Sample this – Netflix acquired nearly 15.8 million paid subscribers during this period and other major streaming platforms like Amazon Prime, Disney+Hotstar, and Spotify are also continuing to acquire a large number of users.
There is no time like now to acquire, engage, and retain users…
…and, one way to do that is by understanding every user at a unique individual level and show them personalized content that suits their tastes and preferences!
In this ebook, we walk you through:
Learn how 1:1 personalization and content recommendations will help increase content consumption per user
Identify the customer-level data points that need to be tracked and leveraged to build an effective personalization strategy
Understand key personalization use cases that help you keep users hooked to your OTT platform
Gain insights on the key metrics that content personalization and recommendations can impact across your website, mobile app, and marketing channels
Learn how to harness AI to get started on your content personalization journey today with us!